What's more thrilling than waking up the day of your flight to your vacation destination? Nothing. I personally love the process of traveling—driving to the airport, going through security, treating yourself to an overpriced cup of coffee while waiting to board, finding your seat on the plane, and getting ready for takeoff. Perhaps the most exciting part of it all is treating your skin to a mini facial mid-flight—and boy, do I know the products to pack in your carry-on to achieve this.
My name is Emma (@emmahassemer), and in today's post, I'm dishing all my recommendations on what skincare and cosmetic products to pack in your carry-on suitcase.
Dearest D-RAVEL Traveler,
Did you know that flying can create chaos for your skin? Planes have low humidity and desert dry cabins, leaving your skin puffy and gasping for moisture. If you want to step out of the plane with that post-spa glow, it's vital to have those travel-sized skincare products handy on flight. 
Before your next trip, check out these products to pack in your carry-on.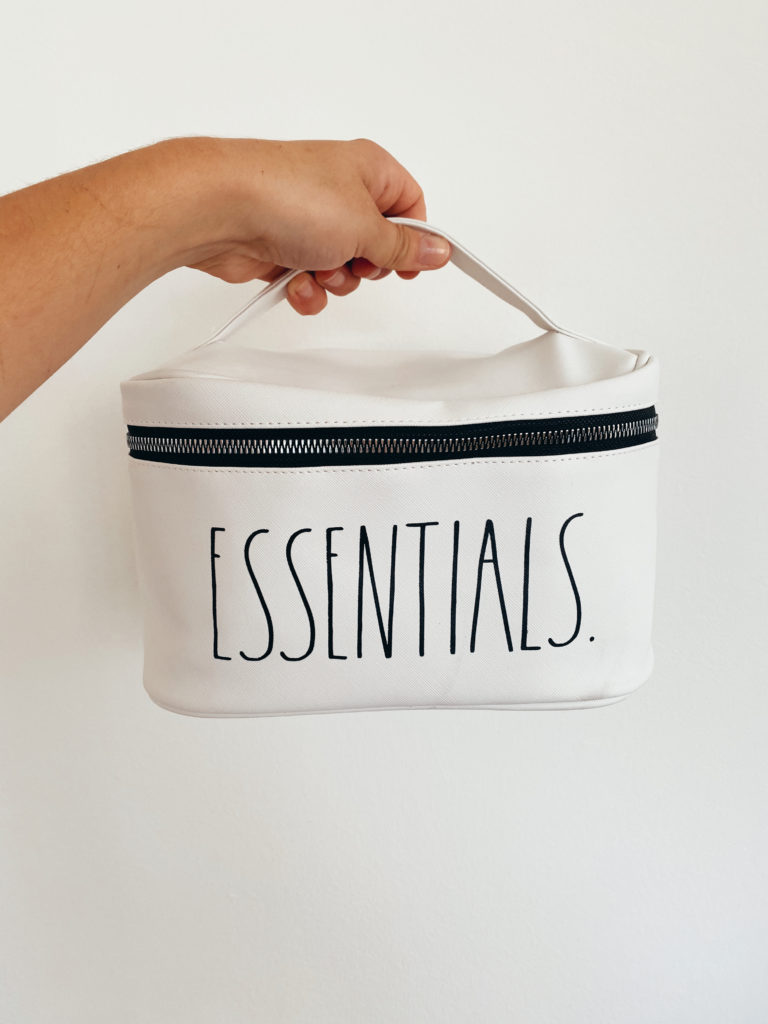 Hand sanitizer
Before laying one finger on your face, clean your hands using an alcohol-free hand sanitizer or a moisturizing sanitizing wipe. The amount of germs hitching a free ride on a plane is shocking, so you want to make sure your hands are as polished as possible.
I recommend using all alcohol-free products to prevent your skin from becoming even more dehydrated than it already is on a plane. That's why I can't endorse the Touchland Power Mist Moisturizing Hand Sanitizer enough. Not only is the packaging super cute, but the dermatologist-tested formula is infused with essential oils and aloe vera, which will leave your hands feeling softer than ever.
Click here to buy Touchland Power Mist Moisturizing Hand Sanitizer.
Skin cleansing wipes
Instead of washing your face in the plane's microscopic sink, use cleansing wipes for a hassle-free face refresher. My favorite are the Skin Cleansing Cloths from Cetaphil. Whether you're wiping off makeup, grease or dirt, these gentle wipes will leave your skin clean without drying out or messing up its pH balance.
These wipes are extremely affordable and can be purchased at your local drugstore or Ulta.
Click here to buy Cetaphil Skin Cleansing Cloths.
Toner
One of my favorite and easiest solutions to adding moisture back into my face is using a toner. Many popular toners on the shelves today are formulated with harmful and strong chemicals that do more damage to your skin than good.
Youth To The People's Travel Size Adaptogen Soothe + Hydrate Activated Mist is just what your face needs after cleansing. The soothing mist contains zero parabens, fragrance, dimethicone, phthalates and PEGs—in other words, there's nothing but good stuff in this bottle.
Click here to buy Youth To The People Adaptogen Soothe + Hydrate Activated Mist.
Vitamin C serum
I don't know how my skin ever survived without this step. My new skin obsession is vitamin C serum, which helps prevent wrinkles and fine lines, improves firmness and brightens your overall complexion.
My favorite vitamin C serum is the Summer Friday's CC Me Vitamin C Serum. The discoloration in my cheeks has disappeared and I have experienced significantly less breakouts since incorporating this product into my routine. Unfortunately, this product doesn't come in a travel size. But, I do also recommend the Ole Henriksen Truth Serum—great for all skin types and comes in the perfect size for your carry-on cosmetic bag.
Click here to buy Ole Henriksen Truth Serum.
Moisturizer
Lock in everything with your favorite moisturizer. Personally, I like to travel with a moisturizer that I know my skin loves instead of buying a travel-size one that I'm not familiar with. So, I will scoop a tiny amount from my big tube of moisturizer that I use at home and put it in a little salad dressing container. Moisturizer is a product that I don't like to recommend to others because everyone's skin reacts differently to certain products.
So, make this step easy and take a travel-size amount of your current go-to moisturizer for the plane ride in a mini container. 
SPF
Just because you're on a plane doesn't mean you shouldn't be protecting your skin from the sun! I can't stress enough how important sunscreen is, especially when flying. When you're closer to the sun,—especially if you're in a window seat—your risk for cancer increases.
It's hard to find a sunscreen that doesn't leave a white cast or clog your pores, but luckily for you I have one that does neither. Let me introduce you to the EltaMd UV Clear Broad-Spectrum SPF 46. This sunscreen is lightweight, oil-free and approved by the Skin Cancer Foundation. You can't get much better than that.
Click here to buy EltaMD UV Clear Broad-Spectrum SPF 46.
Face mask
If you're feeling extra, treat your skin to a face mask. I suggest packing a couple sheet masks instead of a liquid one to prevent any messes. Tony Moly has a variety of sheet masks for all skin types. My favorite is the I'm Real Aloe Mask Sheet, which is saturated with aloe vera and replenishes your skin with maximum hydration.
Click here to check out Tony Moly Sheet Masks from Ulta.
Eye mask
Before you take a snooze in the middle of your flight, pop on some cooling eye gel masks. As you close your eyes with these bad boys on your bags, you will mistake your basic economy seat for a spa lounger.
Pamper your under eyes with the Yes to Cucumbers Depuffing Under Eye Masks. Prior to placing them below your eyes, ask a flight attendant for a cup of ice and set it on top of the eye mask container for five minutes for a cooling effect. 
Click here to buy Yes to Cucumbers Depuffing Under Eye Masks.
Lip balm
I can't even leave to go into another room without my lip balm, let alone travel without a few of my favorite lip products. I'm obsessed with the Rosebud Perfume Co. Smith's Salve + Lip Balm. My favorite flavors are Minted Rose and Strawberry. This product leaves my lips feeling ultra moisturized and looking healthy.
Click here to buy a three-pack of Rosebud Perfume Co. Smith's Salve + Lip Balm.
Brow gel
Now that your skin is glowing to the gods, you don't want to cover your face in makeup. But, if you want to feel a little more put together stepping off the plane, brush your brows with some clear or tinted brow gel. My brows are a pair of wild ones, so this step is a necessity for me.
You can't go wrong with the iconic Glossier Boy Brow. Lightly coat your brows with a layer of this product for a natural fluffy look.
Click here to buy Glossier Boy Brow.
Now that you've packed all the necessary skincare, you're ready for takeoff. Make sure to grab these products to pack in your carry-on.
Safe travels!