With a new year comes new fashion, of course. So in order to stay on your trend A-game, we've compiled a list of the hottest styles for the S/S 2021 season to include in that suitcase. Take these trends anywhere this spring and summer season!
Eccentric Seamwork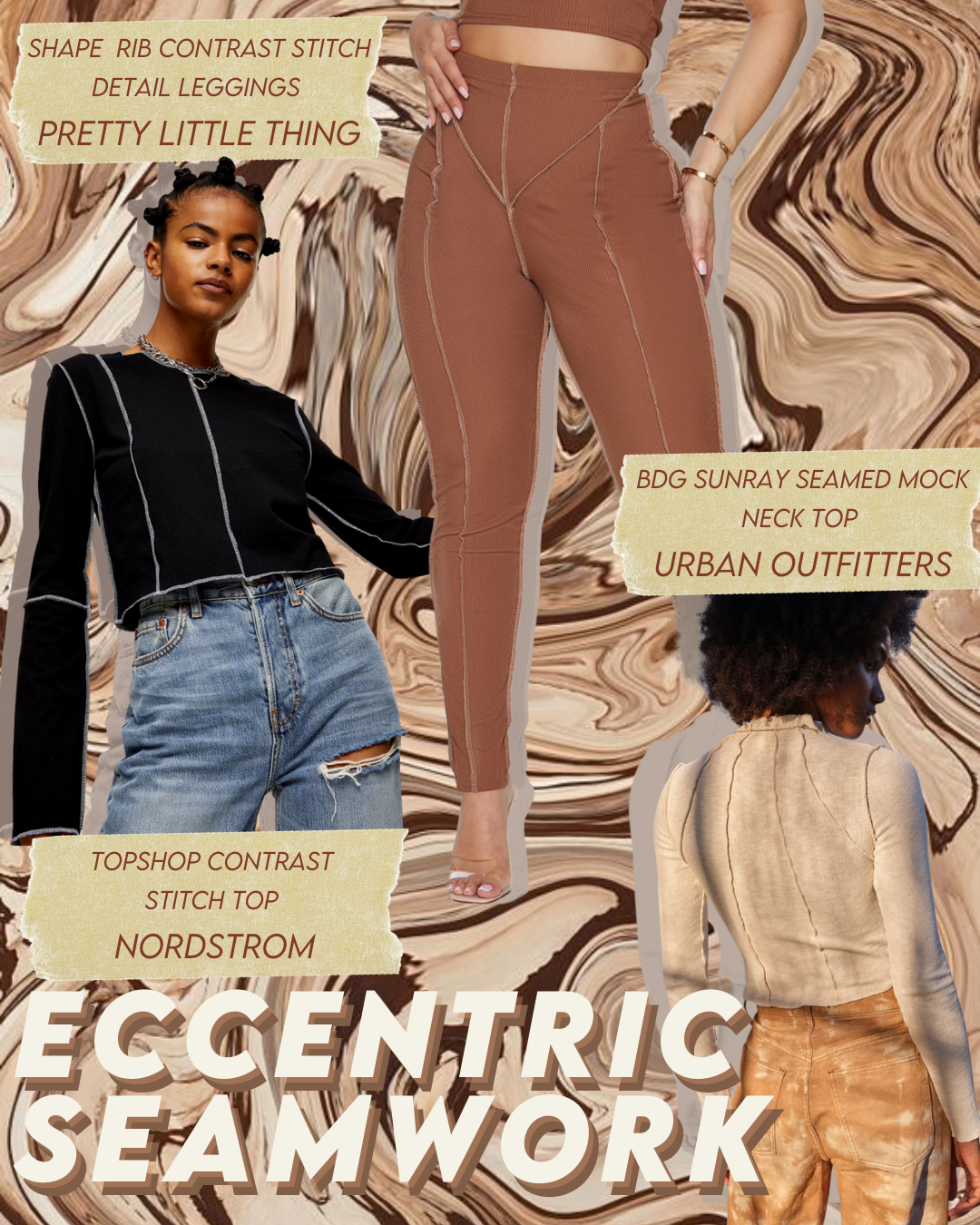 Clean seams? We wouldn't dream of it. Turn your trend game inside out with reversed-seam detailing, leaving your hems imperfectly perfect. We're obsessed with these neutral pieces that make it easy to incorporate a new trend into your classic wardrobe. Spice up your layered look this spring with the TopShop Contrast Stitch Top or brighten up your ensemble with the BDG Sunday Seamed Mock Neck Top. If you're searching for a hot statement pant this season, look no further than the Shape Rib Contrast Stitch Detail Leggings from Pretty Little Thing. Take on an edgy look this spring/summer season with some eccentric seamwork!
Patch Play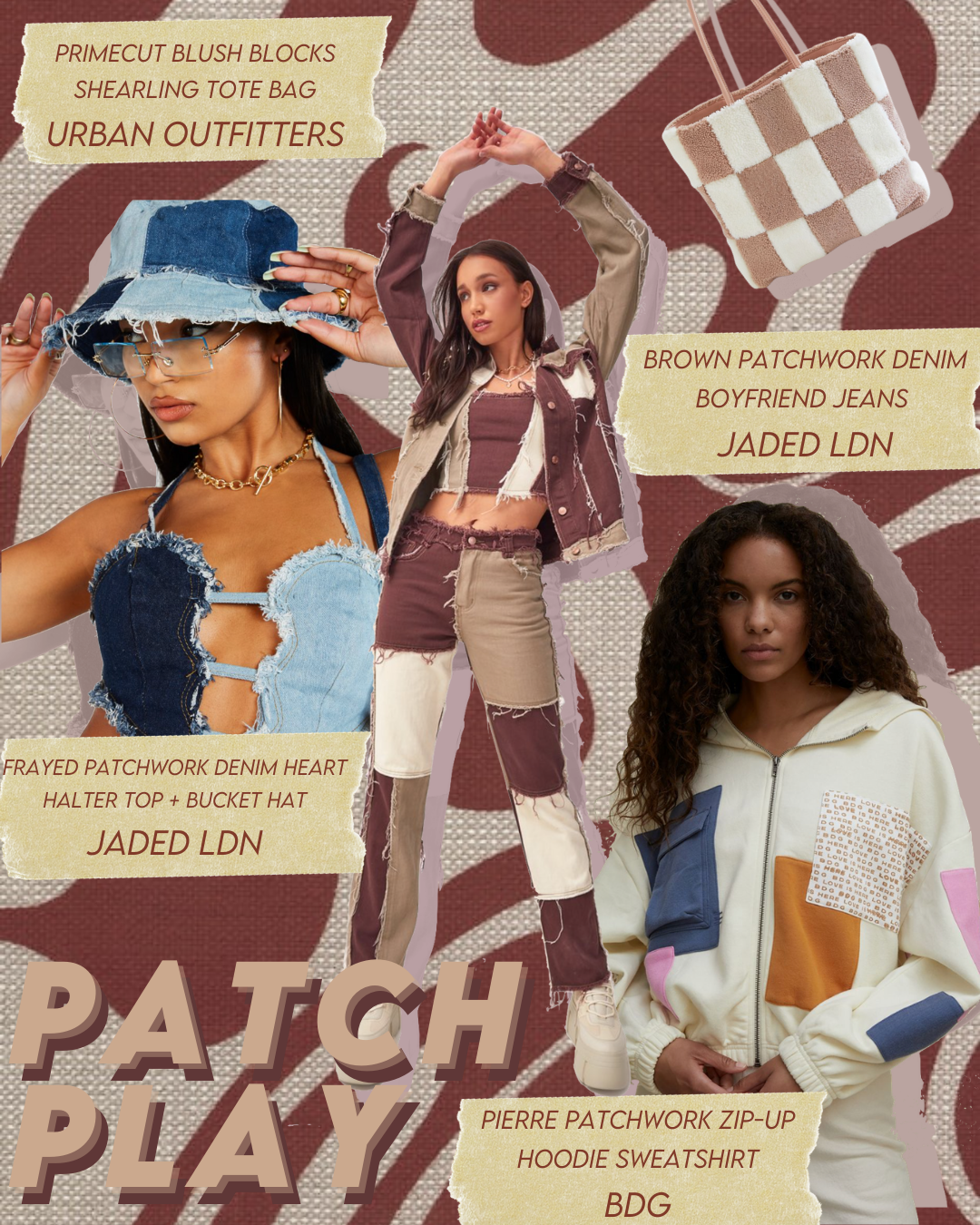 A trend we never saw coming but suddenly cannot live without: patchwork pieces. From these artfully distressed Patchwork Denim Boyfriend Jeans to the matching Patchwork Denim Heart Halter Top and Bucket Hat, Jaded London is taking over this trend. From statement pieces to subtle details, these patchwork pieces are an easy way to elevate your game this season. Take this trend home (since we are still largely living in COVID loungewear) in the BDG Pierre Patchwork Zip-Up Hoodie Sweatshirt for a cozier option. If you're not a statement piece person, then the PRIMECUT Blush Blocks Shearling Tote Bag is the perfect way to add this trend to a safer outfit. Go big or go home with some patch play!
Strapped In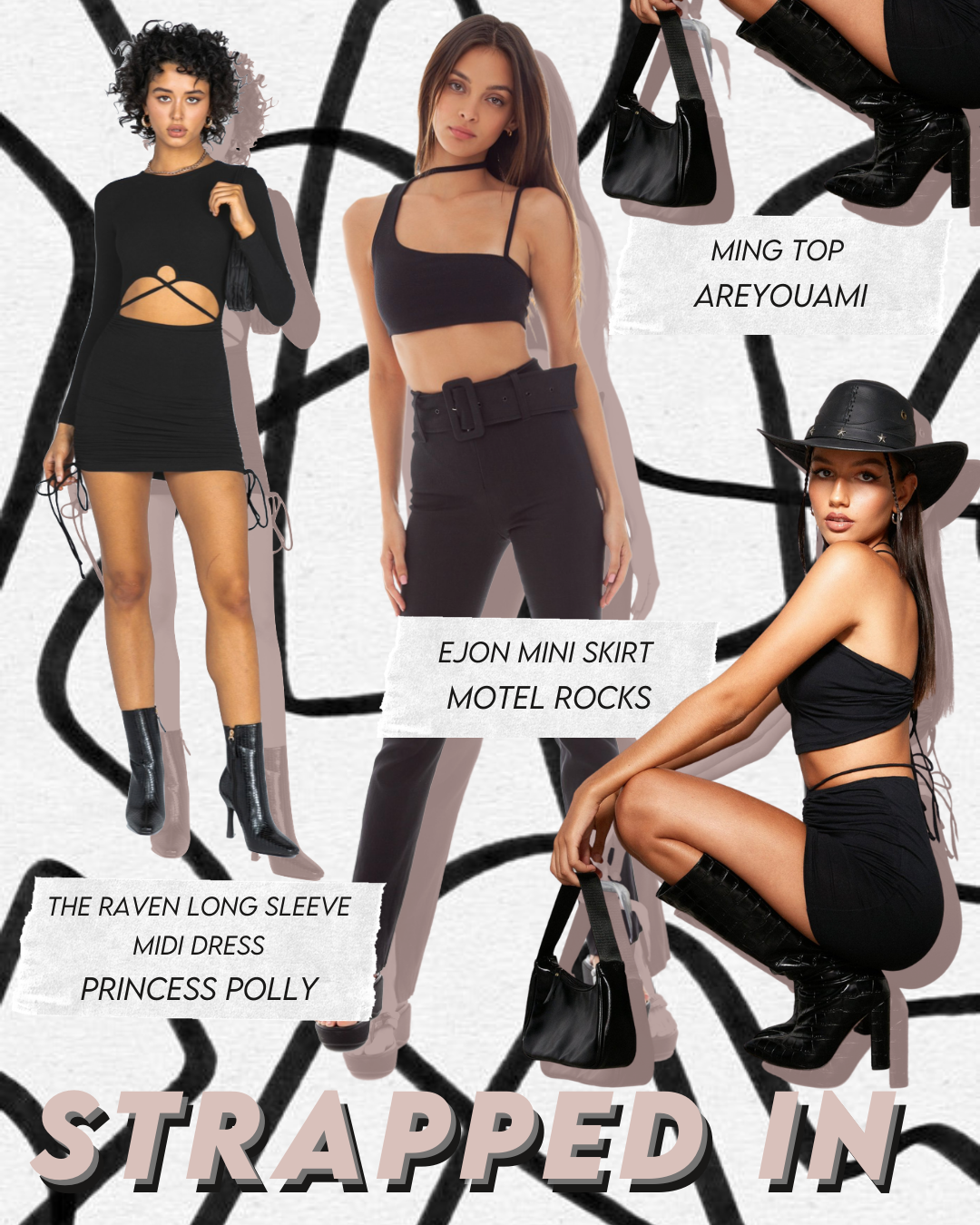 Ready for this next trend? Well strap in, because it's a wild ride. We've seen a lot of thin, strappy details this season that elevate a basic black ensemble with a sexy edge. Not your average LBD is the Raven Long Sleeve Midi Dress from Princess Polly, complete with side-ruching and a strappy cut-out. Wanting to prep for the warmer months? Check out the ARE YOU AM I Ming Top for a sultry spin on the asymmetric bralette. Finish off your look with the Euphoria-esque Ejon Mini Skirt from Motel Rocks, a Y2K-reminiscent ruched skirt with waist-gracing straps. We're loving this look on you!
Cut Out to the Chase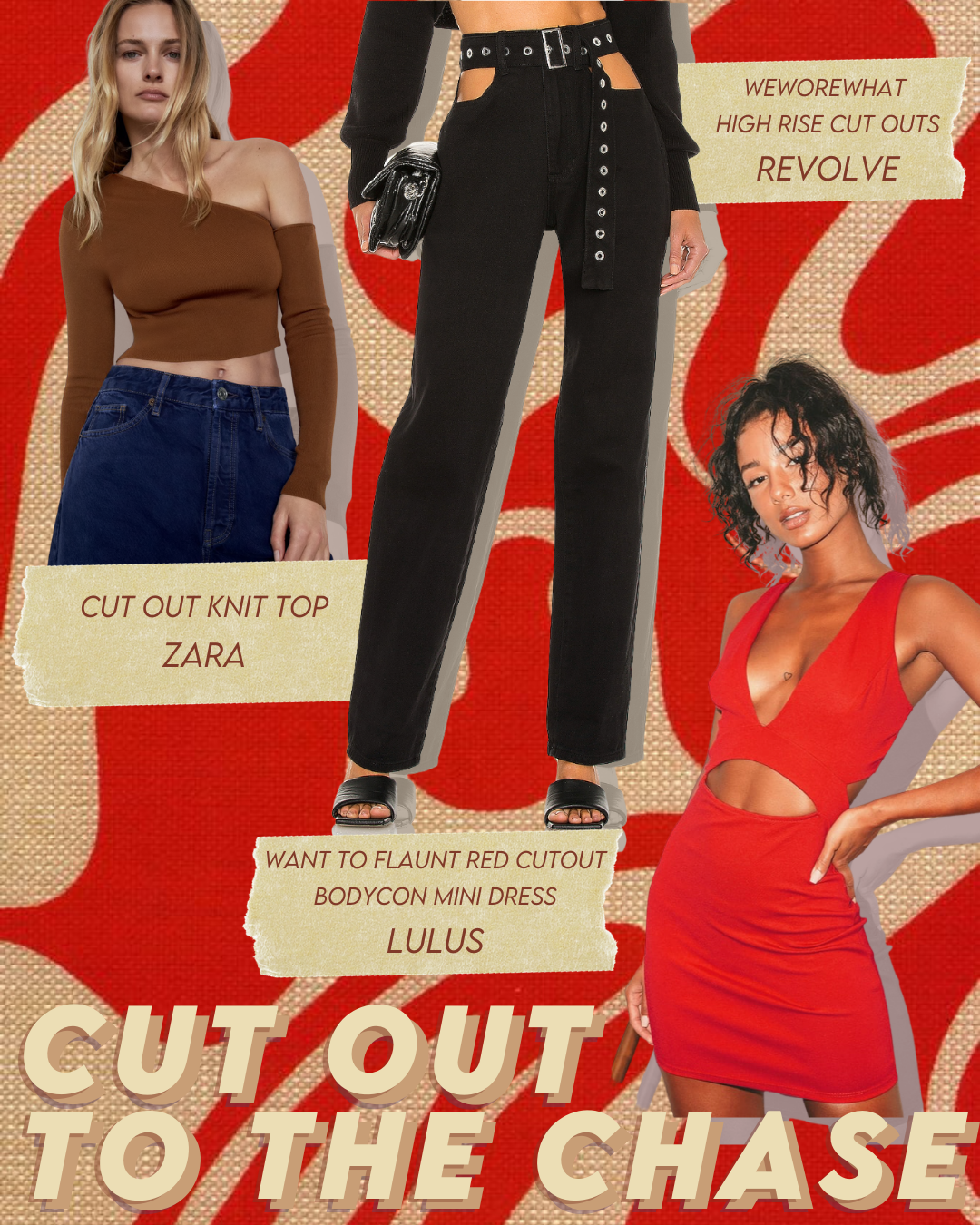 We'll waste no time introducing this creative cut out trend. From axed pockets in the High Rise Cut Outs from WeWoreWhat to an exposed midriff in the Lulu's Want to Flaunt Red Cutout Bodycon Mini Dress, we're cooling off for summer by showing snippets of skin. Looking for a more conventional way to rock this trend? We've fallen in love with this asymmetrical Cut Out Knit Top from Zara, perfect for adding just a hint of this look to your wardrobe. Pair with your favorite statement bottoms and boom, a cut out classic!
Earth Tones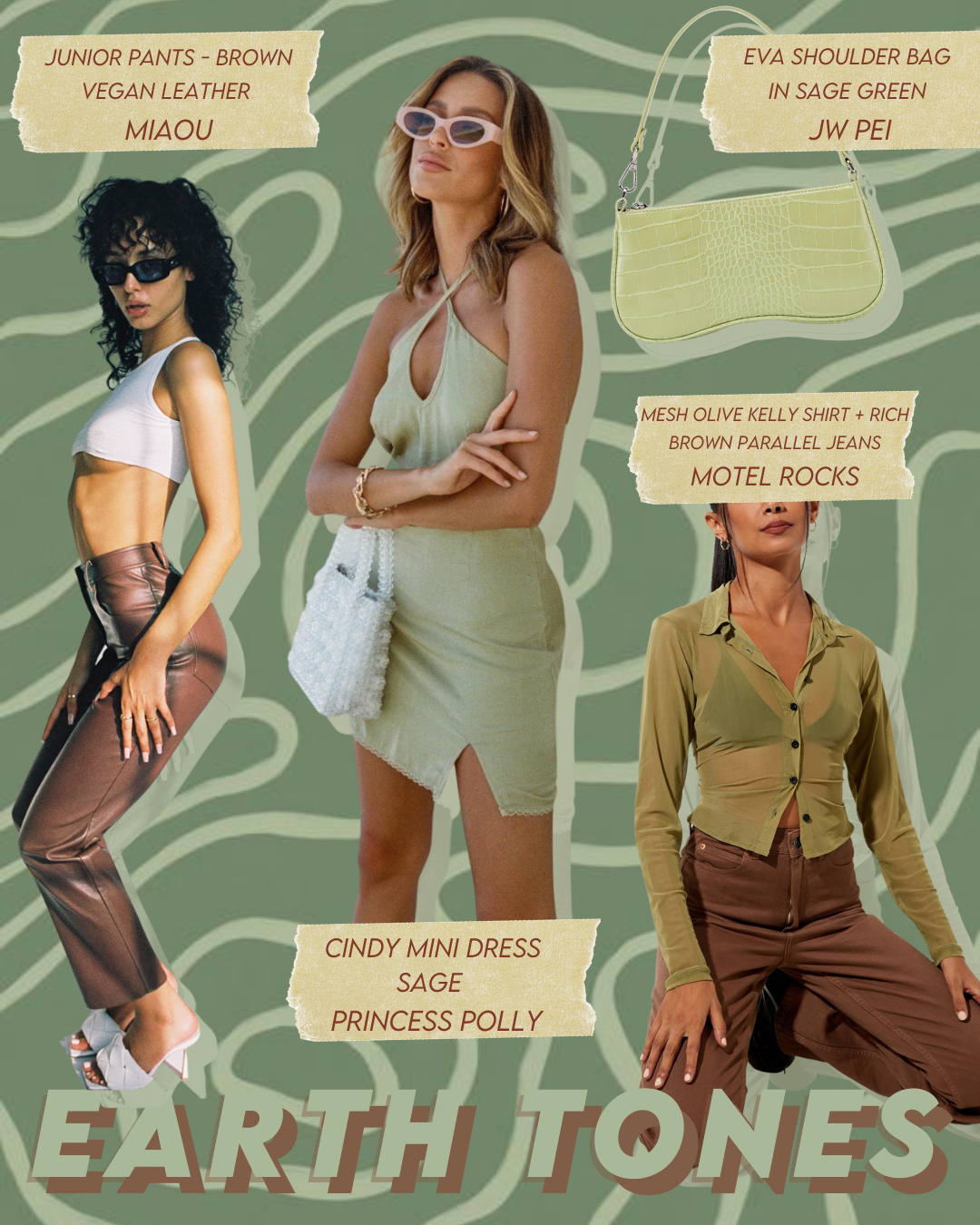 Remember when brown was fashion crime? Well forget it, because coffee and sage have been the hottest colors of the F/W season, and we can't see them fading anytime soon. Whether you wear them together like this Motel Rocks mesh shirt and corduroy jeans combo or alone with neutrals, these two colors are sure to keep you fresh this spring/summer season. Carry over the leather trend (with a mocha twist) in Miaou's Brown Vegan Leather Pants, or incorporate the strappy trend with the Cindy Mini Dress from Princess Polly. Of course no look is complete without a bag, so we recommend the Sage Green Eva Shoulder Bag from JW Pei for a subtle pop of color. Grow your green thumb with a healthy dose of these earthy tones.
Corset Craze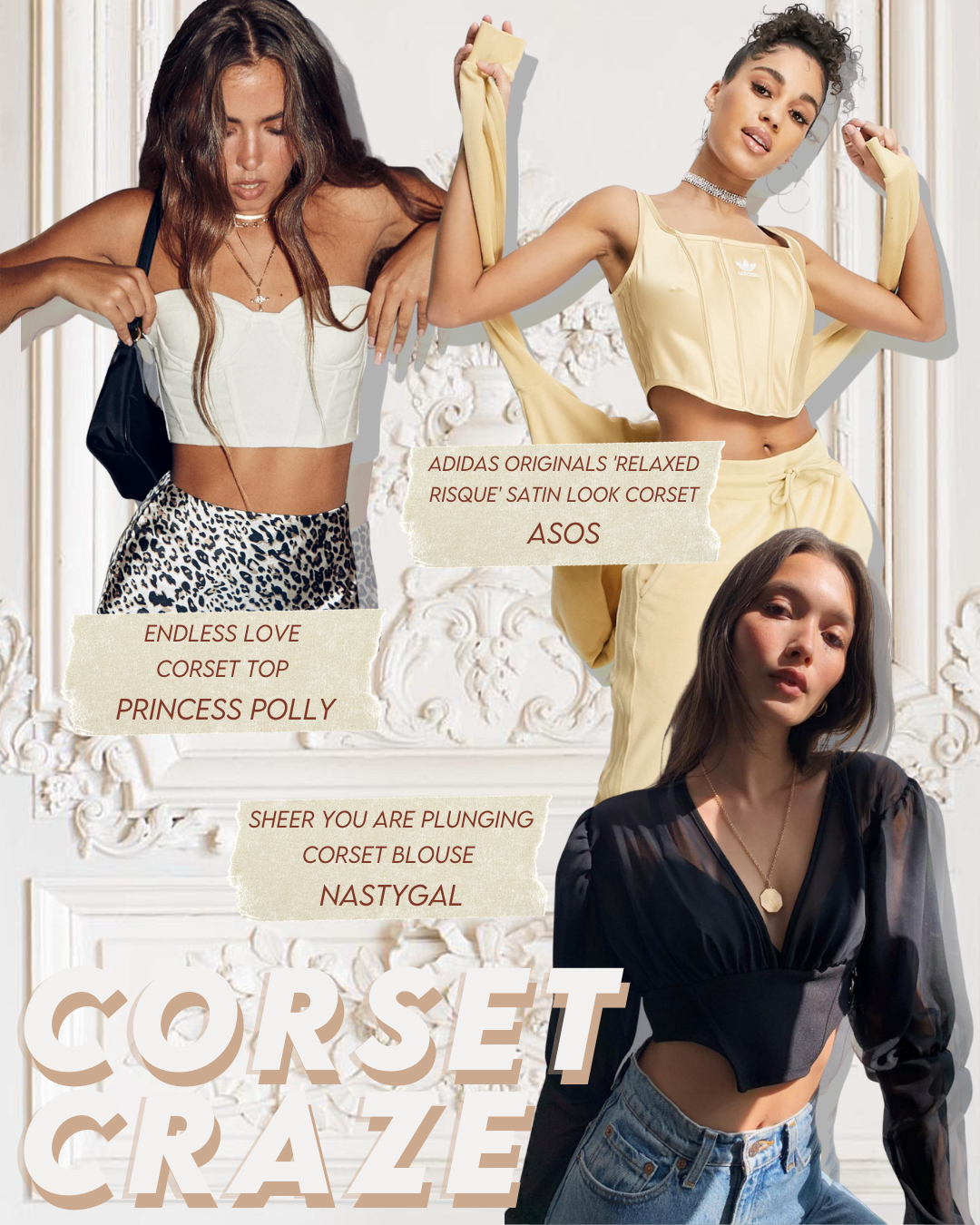 From Bridgerton to #CottageCore, you've most likely seen your fair share of this 17th century undergarment on your socials. Elevate an outfit with this sexy-chic statement piece that is sure to turn heads. Keep it simple with the Endless Love Corset Top from Princess Polly or dress up your favorite pair of jeans with the Sheer You Are Plunging Corset Blouse from NastyGal. More of a streetwear lover? Never fear, for Adidas is here. ASOS sells this Adidas Originals Satin Corset that adds a fashion-forward touch to your favorite pair of sweats. We're not sure Daphne Bridgerton would approve, but D-RAVEL does!
Faux Fur Fantasy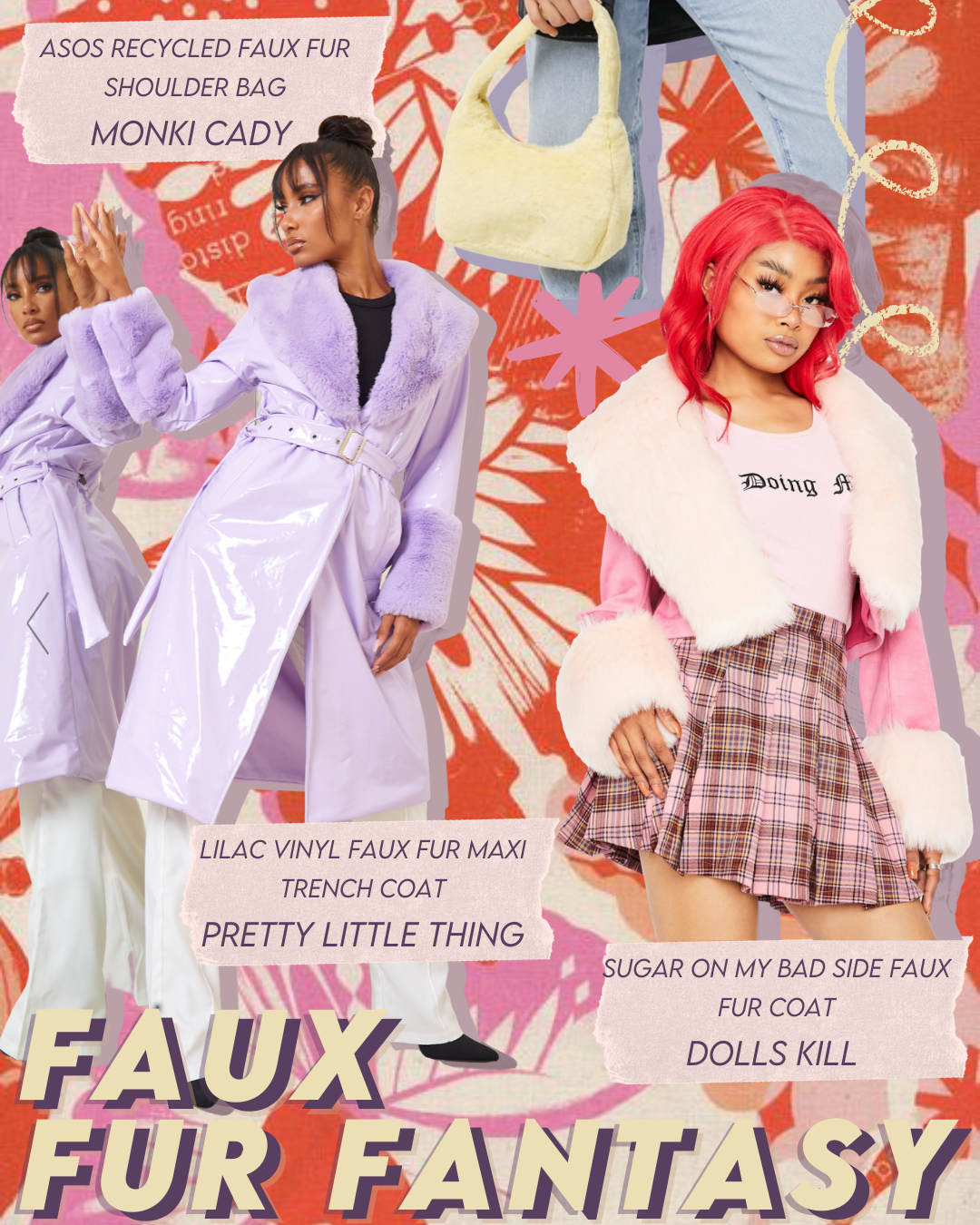 From fuzzy bags to fur-trimmed jackets (faux, of course), these warm and cozy accents are staking their place in the spring/summer 2021 season. Fur in the spring, you may ask? Well, if you are Midwesterners like us, then yes… fur until March, most likely.
Bright and colorful hues mixed with the heavy contrast of fur makes for a fashion trend we adore. Maybe you're still loving the lavender phase we encountered this past summer and fall, making the Lilac Vinyl Faux Fur Maxi Trench Coat from Pretty Little Thing your item of choice. If you're looking for a cropped cousin of the trench, then the bubblegum pink Dolls Kill Sugar on My Bad Side Faux Fur Coat must be calling your name. And just when you thought you couldn't get enough, there comes the furry bag trend, which is just as cute as it sounds. We find that the popular styles are in furry animal prints, but for the spring and summer, we're loving this pale yellow Monki Cady Recycled Faux Fur Shoulder Bag from ASOS. While a daring choice, this trend will surely be one that makes a statement.
Groove is in the Heart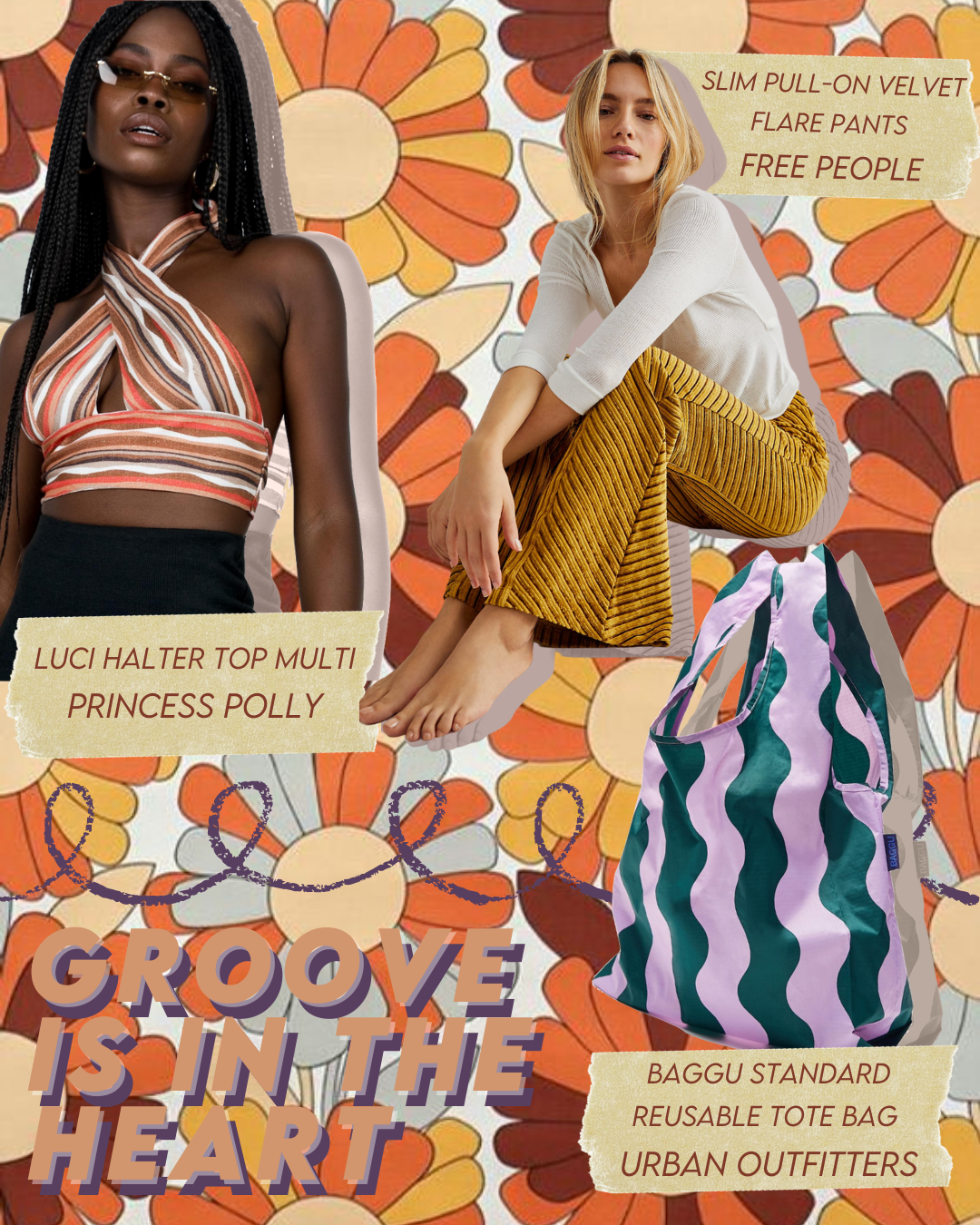 Calling all lovers of the 1970's! Blast your Fleetwood Mac and grab your aviators, because the '70's are back in style. From swinging bell bottoms to groovy prints, this season's style is vintage-oriented. Play with some retro prints when you style the Luci Halter Top from Princess Polly or accessorize with the BAGGU Standard Reusable Tote Bag from Urban Outfitters. Always wanted to rock a pair of Mamma Mia disco pants? We have a runway-ready version for you in the Slim Pull-On Velvet Flare Pants from Free People. The last thing necessary to complete this look? Just a free spirit.
Denim Dreams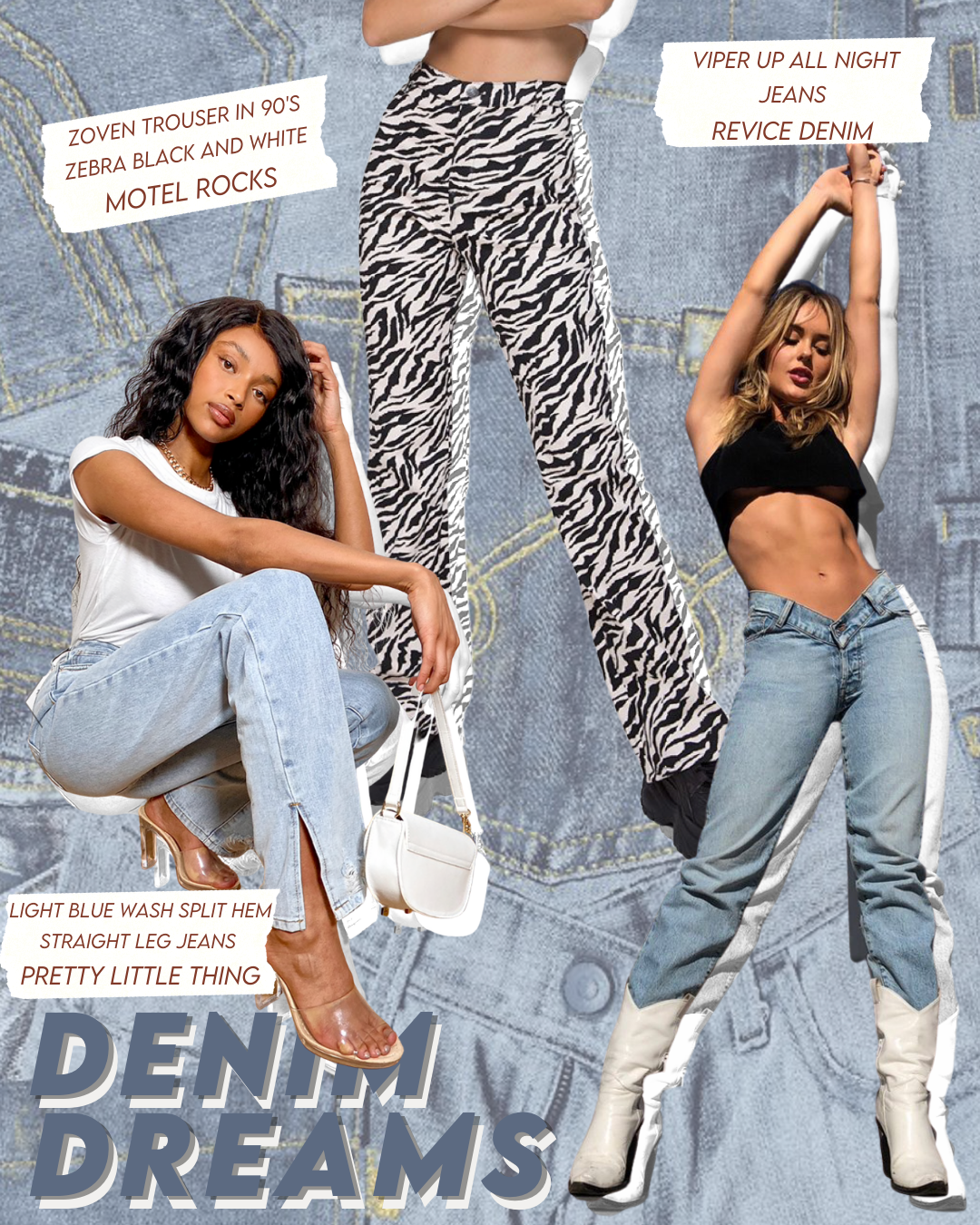 While jeans will never go out of style, the pairs stuffed in your drawer might. Update your wardrobe with these V-cut Up All Night Jeans from Viper to take a modern spin on the low-rise jean, or opt for a chic, detail-oriented pair with the Split Hem Straight Leg Jeans from Pretty Little Thing. If you're feeling really fancy, we're drooling over these funky Zoven Zebra Trousers from Motel Rocks. Fulfilling our Bratz Doll dreams! Pair any of these jeans with platform sneakers or heels to create a look that is oh-so 2021.
Schoolgirl Chic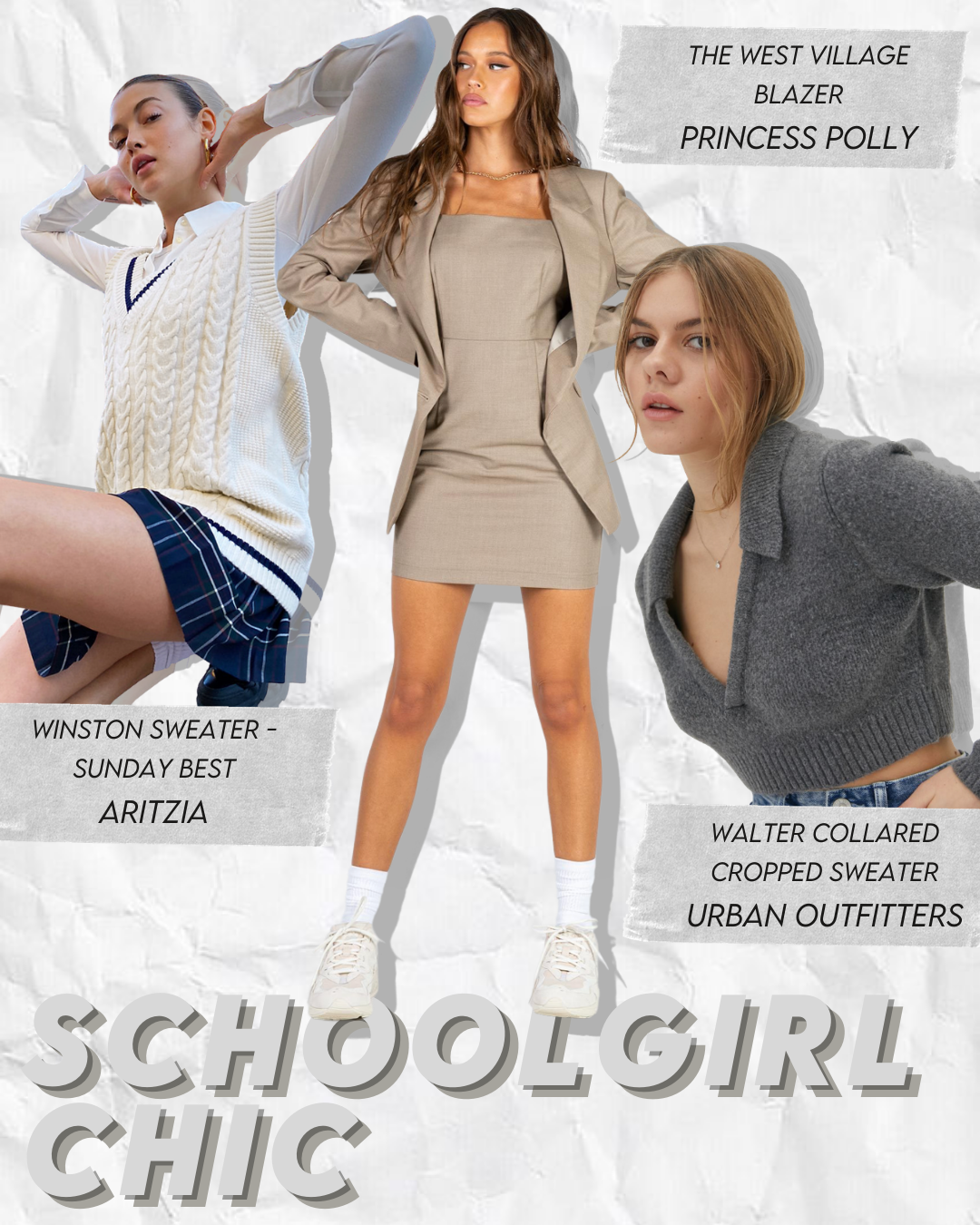 School may be online, but that doesn't mean we can't keep up with the uniform. Take a modern spin on preppy fashion with these Pinterest-worthy staples that you simply need for S/S 2021. The sweater vest has been ever the rage this season, and we don't see it dying in the spring. Opt for an ivory shade with Sunday Best's Winston Sweater from Aritzia to adjust this look for the warmer months. A blazer fit for summer? The Princess Polly beige West Village Blazer was made for this. We can't forget the collared look – a staple for the preppy dresser. But if you want to take this sweater from drab to fab, look no further than the Urban Outfitters Walter Collared Cropped Sweater. Is it just us, or did these looks just boost our IQ's?
No matter what the occasion, event or destination, D-RAVEL has you covered with the top 10 trends you must pack for spring/summer 2021 season. So, what are you waiting for? Get shopping!