While travel comes with stress and excitement, it's important to have the support from travel accessories to help you feel organized and prepared. Thanks to Cyber Monday being yesterday, there are still some awesome deals going on. If you're looking for travel deals, you've come to the right place. I have scoured the internet far and wide to find you the best of the best deals, exactly what we need for our 2021 travel plans. Here the travel accessories you need for this upcoming year:
2021 will be the year of travel and this cute toiletry bag is just what you need for your next trip. With it's ability to fold and hang, this water-resistant makeup cosmetic bag is perfect for all your must-pack beauty essentials and bathroom supplies.
Add this matching jewelry organizer to your toiletry bag! This foldable jewelry case for rings, necklaces, bracelets, earrings, and more is ideal for all your favorite accessories.
Raise your hand if you need this portable razor for your next trip…me! Anyone else tired of leaving their favorite razor in the hotel from your last trip? With the mini handle and water-resistant case, this small razor is great for packing and okay if misplaced, thanks to the three refills.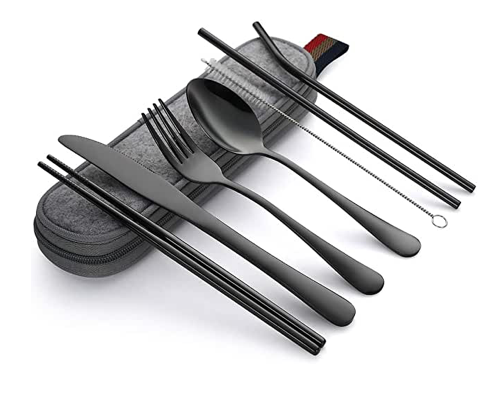 Great for helping the planet and eating your pre-packed snacks on the plane. This silverware set is ideal for hiking trips and outdoor adventures as well.
Tired of putting your muddy or dirty shoes back in your bag after a day full of walking? These zip-up bags are perfect for zipping up your shoes and guaranteeing no mess!
Anyone else absolutely hate being cold on a long flight? How about feeling that terrible neck cramp after waking up from a deep snooze? This soft, all-in-one pillow and blanket is just what you need.
Grab this New York Times bestseller and a personal favorite for your next flight or long car ride. This book brings light on white supremacy, giving readers the tools to change verbiage and actions. I learned so much from this book and I think you will too.
Your luggage will feel light while packing these mini hair tools, included with its adorable travel case. Offered in a rose gold and marble matching color set, these stylish tools are not only ideal for travel but oh-so-cute!
Thanks to Cyber Monday, a lot of these travel accessories still have awesome deals from earlier in the week. Grab them while they're hot.