If you are here, that means you are interested in one of Asia's hotspot destinations. Welcome to the land of cleanliness, stunning natural reserves, delicious foods, and of course, the glitz and glamour. Singapore is a culturally diverse country full of Chinese, Malay, and Indian influences. This modern country, although small, packs a punch on the global travel scale. This is a must-stop hot spot for anyone who is looking to dive into the Asian culture and a country reflecting Asia's modern business boom. Let's dive right into a 48-hour weekend getaway in Singapore itinerary with must-see sites and things to do during your visit.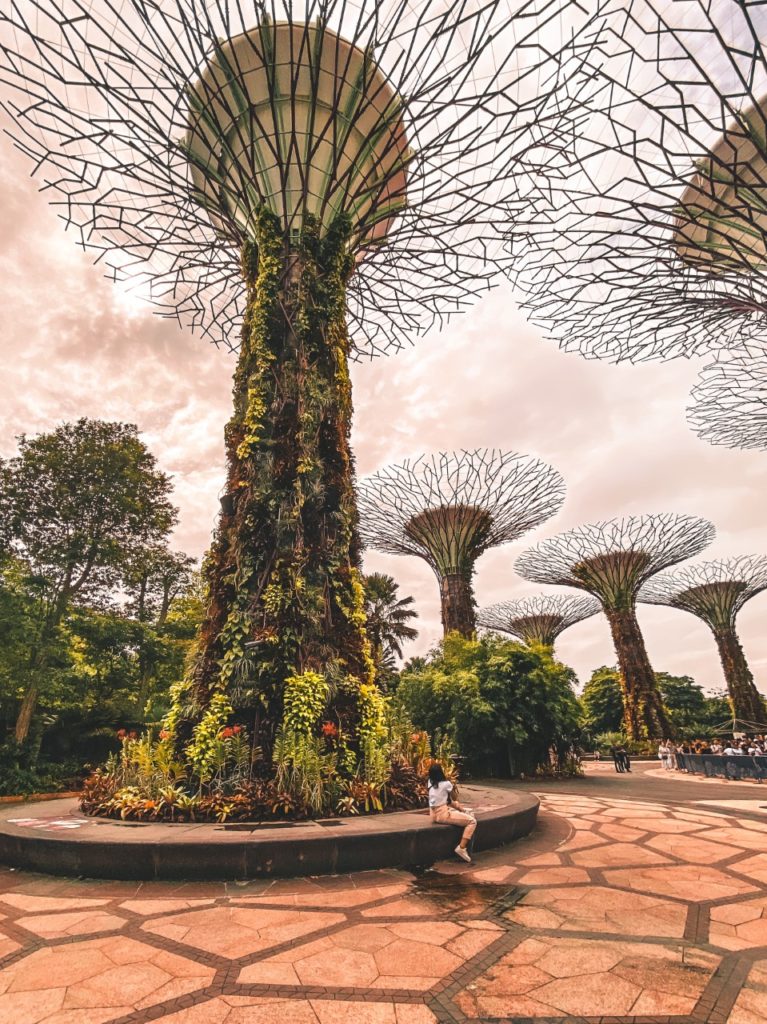 Dearest D-RAVEL Traveler,
Familiarize Yourself
Currency: Singapore Dollar (1SGD = 0.7 USD)
Language: Mandarin (most common), Malay, Tamil, and English. Because it is a modern country, you will get by just fine with English.
Weather: Like most South-east Asian countries, the weather is hot and humid year-round in Singapore.
How to dress: Light, comfortable and breathable clothing for your day tourist attractions and sightseeing. However, Singapore is all about the glitz and glam, so be sure to pack one or two higher-end outfits for nights out. Certain evening attractions and restaurants require guests to wear more formal clothes. You will not go wrong with packing an evening dress and a pair of heels.
Getting Around
I highly recommend buying the Singapore Tourist Pass. The pass has 1, 2, and 3-day options where you can have unlimited bus and MRT rides each day. You can buy the pass online or simply at the airport when you arrive.
Another great option is using Grab (the same concept as Uber). For your 48-hour weekend getaway in Singapore, I suggest downloading the app before you arrive.
Where to Stay
I stayed in a lovely, modern hotel that was central to all the main attractions, some were even in walking distance. Hotel Boss has amazing facilities like a roof top pool and gym.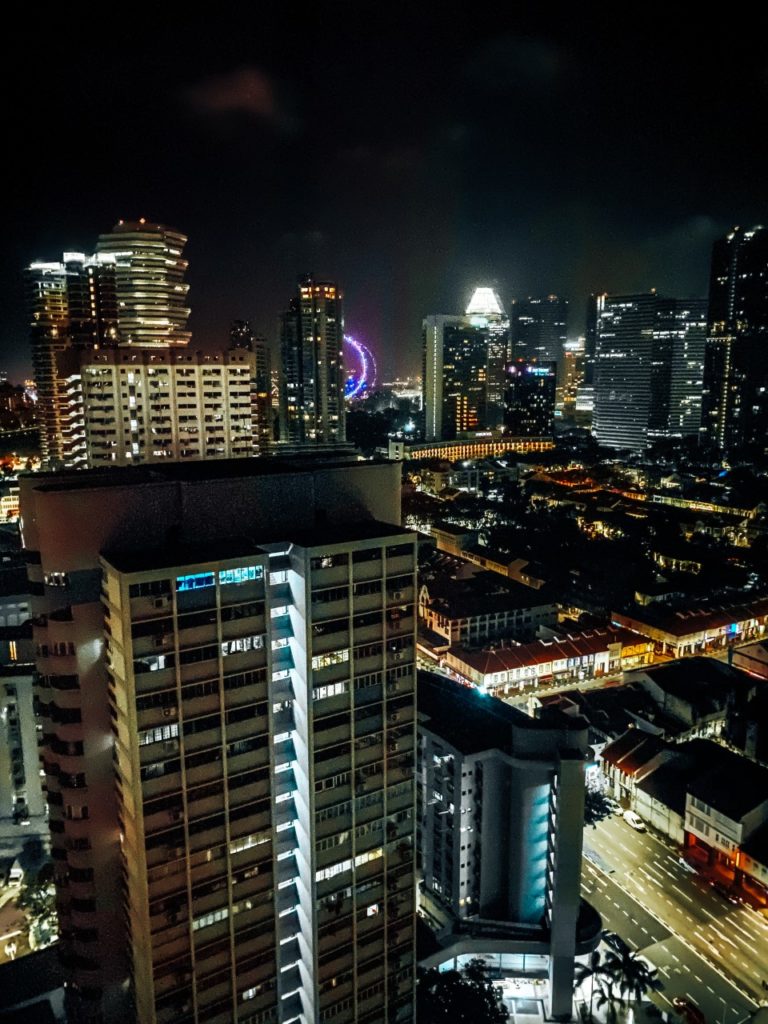 Want a little bit of the luxury taste Singapore has to offer?
Check out Marina Bay Sands Hotel
Solo Traveler? There are some great hostels in Singapore where you are bound to meet fellow travelers.
48 Hour Itinerary
DAY 1
Gardens by the Bay
The iconic Supertree Grove structures that you probably have seen all over brochures, websites, and of course, Instagram when you research Singapore, are yes, as incredible as they seem. Start your morning by heading to Gardens by the Bay (try to beat the crowds so you won't have to sit in too many queues) to see futuristic living at it's finest. The Supertree Grove are man-made tree structures that stand 50m high (164 feet) and have thousands of plant species growing along them. I think these are worth a visit as these vertical gardens are a way forward to a cleaner and greener earth; they generate solar power, act as air ducts to clean polluted air, as well as harvest rainwater. Get a ticket for the OCBC Skyway to walk along with the supertrees and get a panoramic view of Singapore's harbor.
Flower Dome and Cloud Forest
Add a visit to the Flower Dome and Cloud Forest. The flower dome is a conservation of flowers, plants, and trees from across the globe. I wish instead of a picture; I could link a smell scent; I will never forget the freshness of florals I took in as I walked into the flower dome. If anything, that alone is worth the visit. The Cloud forest recreates the ambiance of a rain forest, with an impressive waterfall to gawk at. Learn about why we need to conserve our rain forests worldwide and all the beautiful creatures that call rain forests home.
Admission Costs:
OCBC Skyway: 8 SGD ($6 USD)
Flower Dome & Cloud Forest (joint ticket): 28 SGD ($20 USD)
Chinatown
While exploring during your 48-hour weekend getaway in Singapore, during one afternoon, head over to Singapore's Chinatown. This is a splendid setup and representation of China. The charm of good food, the Chinese-inspired entrance gates, and of course, shopping. Grab some souvenirs while you wander all the streets. Be sure to get a bite to eat to immerse yourself in the street food way of life. A little tip, if you are worried about eating street food, Singapore has categorically gone to market stall owners and given them a cleanliness rating, which should be displayed at their entrances, A being the best. Another trick I've learned from my travels in Asia is that the best street food vendors will always have a queue of locals lined up by them, this is where the best food can be found and stomach bugs avoided.
Sunset at Marina Bay Sands Skypark
Dress up a little and head over to Marina Bay Sands Hotel to check out their impressive rooftop, where you will get the very best panoramic views of the city soaring above 200m (600 feet) high. You can also watch the light spectra and water show from the bay and promenade below.
Admission Cost: 25SGD ($18 USD)
Grab dinner at Ce La Vi Singapore right next to the observation deck for a sky-high dinner with the city's buzzing lights down below.
DAY 2
Visit the Arab Quarter / Kampong Gelam to start your day off. Arab Quarter / Kampong Gelam is one of the coolest areas in Singapore, and my personal favorite! The Kampong Gelam District is full of vibrancy, colors and a great history of the Arabian influence in Singapore.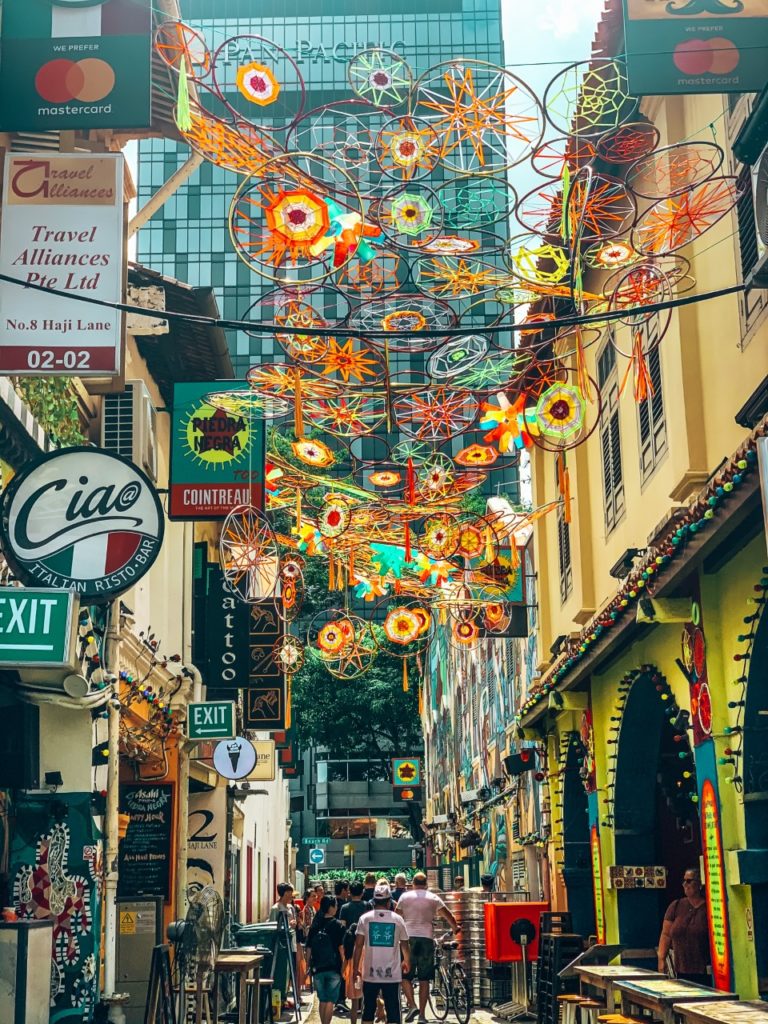 Shopping on Haji Lane
Haji Lane is a famous lane full of street art, quaint shops, and quirky café's. This is a hipster's paradise. Spend the morning wandering the streets, popping into stores for some shopping, and sitting at one of the cafés for a coffee or breakfast. You will want to have your camera out to snap some cool pics of the fantastic street murals.
Masjid Sultan (Sultans Mosque)
Two streets down from Haji Lane are one of Singapore's most impressive religious buildings. Head over to the Mosque to learn of the Muslim history of the area by taking a tour of the Mosque; tours will not operate from 12:30 pm-2:00 pm and 4:00 pm-5:00 pm; these are their worshipping times. Make sure you have a shawl or jacket to cover your shoulders before you enter the Mosque.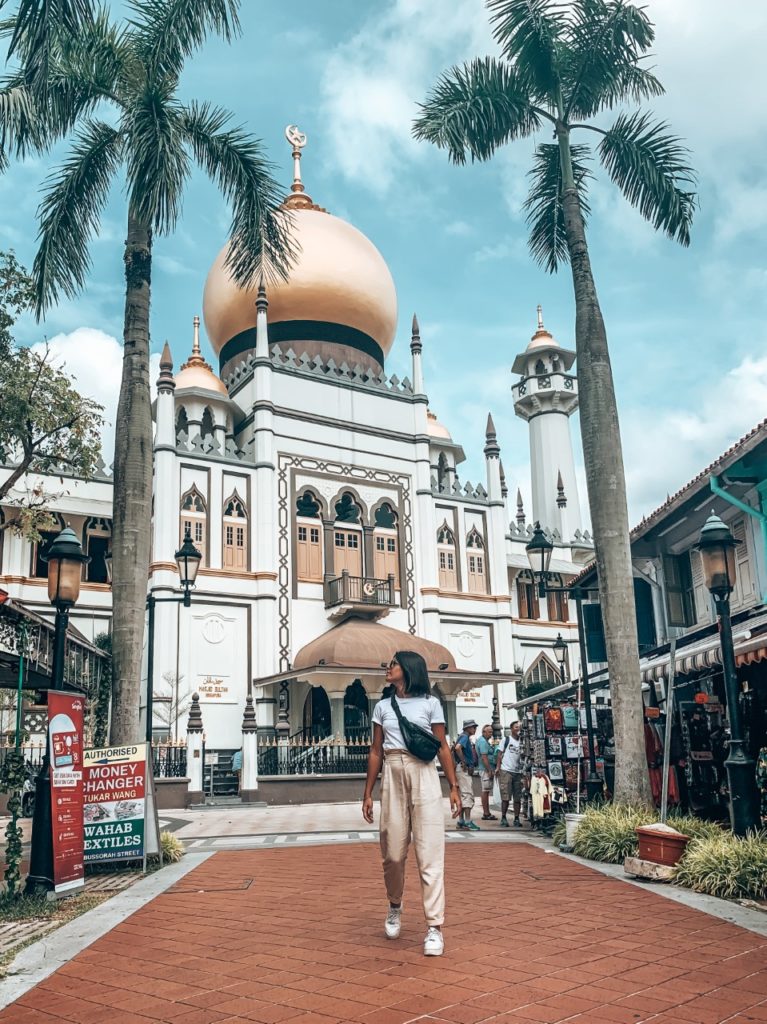 Little India
For an afternoon in Little India, hop back onto the MRT or catch a Grab to Little India Station. Little India is one of Singapore's most vibrant districts. As you walk down Serangoon Road and the neighboring streets, explore the Hindu and Chinese temples, mosques, and churches. Take a walk to The House of Tan Teng Niah and see the famous rainbow hue painted villa, one of the last Chinese villas in an Indian enclave. Make sure to visit the Banana Leaf Apolo restaurant famous for serving food the traditional Indian way on banana leaves. After lunch, immerse yourself in the colors of India at the Little India Arcade for some narrow alleyway shops selling all sorts of Indian novelties.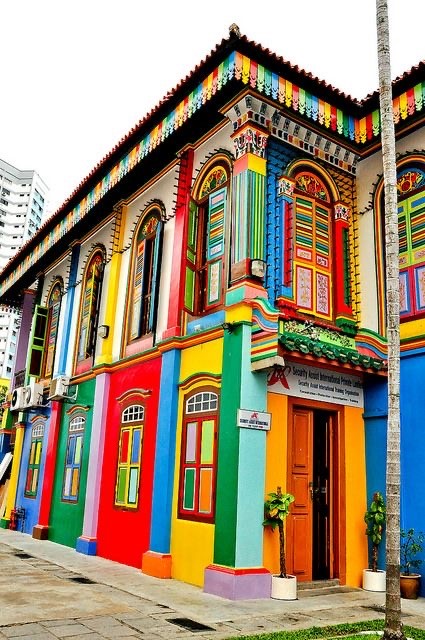 Light Show by Gardens by the Bay
Thought you saw enough of that famous Supergrove's? Well, think again because you cannot leave Singapore without visiting the man-made forest light up at night. The Tree's come alive with vibrant colors and music during the Garden Rhapsody Show from 7 pm- 2 am.
Food to Try While in Singapore
The thing we love most about Asia is their exquisite food. Can we really call ourselves travelers if we haven't dived into the culture of eating foreign dishes? These are some famous dishes to try out while in Singapore:
• Hokkien Char Me (Chinese Influence) – A dish made of white and yellow rice noodles, fried in a wok with various seafood, chicken or pork, and a famous soy sauce.
• Dim Sum (Chinese Influence) – I am sure you have heard of this! And there is no doubt that you have to try Dim Sum's from their origin in Asia.
• Popiah (Malaysian Influence) – A Malaysian take on the spring roll. This is a crepe or thin pancake that is filled with shredded vegetables and meats.
• Laksa (Indian Influence) – A spicy noodle soup made with coconut cream and spices.
• Hainanese Chicken Rice (Chinese) – A very popular lunch dish. This is rice cooked in a chicken broth served with a boiled egg.
I hope this blog excites you for your future travels to the land of high-rise buildings, clean streets, great food, and an exquisite diverse culture! Your 48-hour weekend getaway in Singapore will be a trip to remember.