I'll admit it; my life revolves around food. Good food, to be precise. I look forward to spending my weekends trying new meals, drinks, and desserts with both my friends and my family. Minneapolis has always been my home and I have spent my time here trying new places and revisiting favorites. I have the best food spots in Minneapolis you shouldn't miss out on during your next vacation. Ready to learn more about them?
Dearest D-RAVEL Traveler,
No matter the season, Minneapolis has endless dining possibilities for whatever food you're craving or vibe you're feeling. Whether you are in town for a quick dinner or looking to spend the weekend shopping and exploring the Twin Cities, there is no doubt that you will leave satisfied. Both from food and fun!
Happy Hour
Ah happy hour, music to my ears. There's nothing I love more than discounted drinks and apps on a sunny summer night.
If you're looking for a quick little happy hour with a few girlfriends, Wakame is your spot. Wakame is located in Uptown right next to Lake Calhoun and offers an extensive sushi list on their happy hour as well as very cheap glasses of wine. Really speaking my language. To top it off, they offer their happy hour deals on the patio, which is not common at many restaurants. Finished your sushi and sake? End your night by walking across the street and watching the sunset at Lake Calhoun. Sounds like the perfect weeknight happy hour to me!
My Wakame order: Spicy tuna roll, avocado roll and a glass of red wine.
My Wakame outfit: Boyfriend jeans, graphic tee and sneakers.
Feeling a bit more boujee? Head to Hewing Hotel located in North Loop. North Loop is one of the most up-and-coming locations in Minneapolis right now and it houses some of my favorite restaurants in the city. The bar inside Hewing Hotel offers a wide range of unique cocktails accompanied by a dark, cozy aesthetic. However, the rooftop is my favorite spot in the building. Well-made cocktails, a cheeseboard, and a full view of the city…this is your insta-worthy spot. Hewing Hotel is perfect for a date night where you can enjoy light fare and watch the sunset over Target Field. The best part is that you don't even have to be a guest at the hotel to go to the rooftop!
My Hewing Hotel order: Princess Peach cocktail (intriguing, I know) and the local cheese board.
My Hewing Hotel outfit: Maxi dress with platform sandals.
Gimme the carbs!
I am in a committed relationship with pasta. Minneapolis never fails to please my taste buds with some of my favorite pasta dishes ever.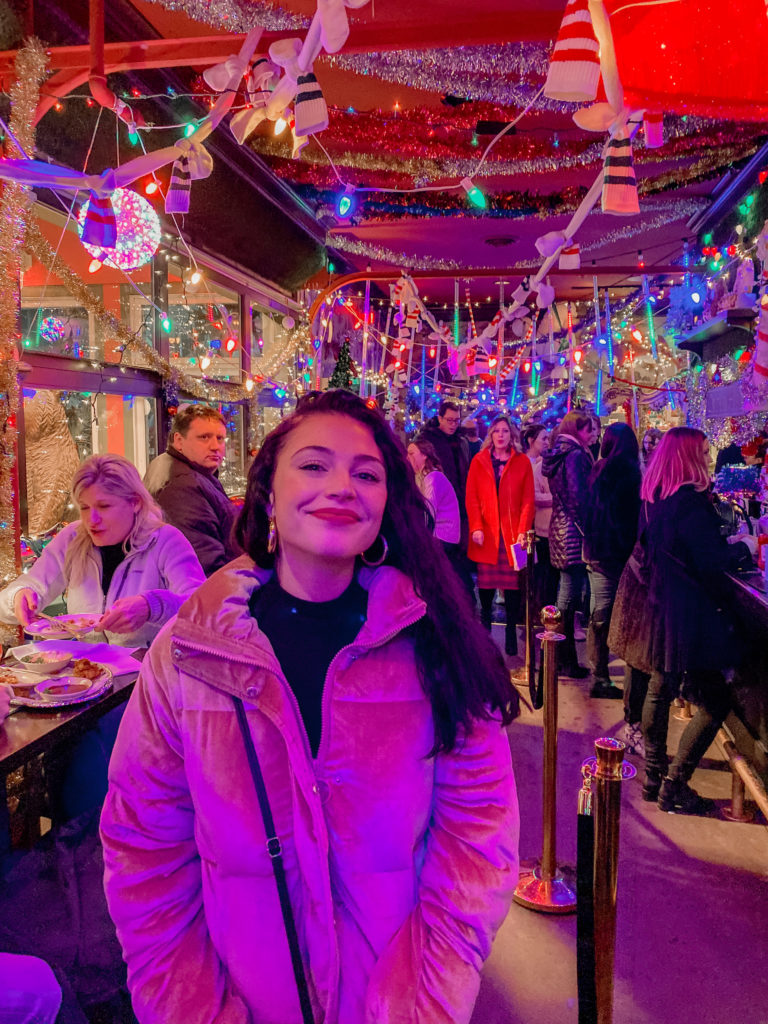 Red Rabbit, another North Loop gem. This is your go-to cozy Italian spot for your winter cravings. Minneapolis gets seriously cold in the winter and Red Rabbit will not only warm your insides, but your soul too. With rustic brick interior and dim lighting, the city vibes are raging in this place. I love to enjoy a nice meal with my family here, as the seating arrangements offer you the perfect amount of space to engage in conversation and enjoy the ambiance of the restaurant. A great date spot as well! I'm boring myself talking about the interior design…on to what I really care about. The food. Red Rabbit offers you true Italian eats ranging from salads to pastas, and yes, pizzas. Not only do they serve the classics, but they offer their own spin on your favorite dishes too. Chicken parmesan, bolognese, mostaccioli, mushroom pizza, burrata, I'm drooling. Each menu category also features a vegan entrée option, which is extremely impressive for Italian food. When I'm in the mood for Italian, Red Rabbit is always my first choice. Honestly, the most important part about this restaurant is that their bolognese is one of the best I've ever had. Bolognese is my favorite pasta, enough said.
My Red Rabbit order: Bolognese with a glass of cabernet.
My Red Rabbit outfit: Cozy sweater, my favorite Levi jeans and black booties.
Never underestimate pasta on a rooftop in the summer! Sounds kinda crazy, I know. But seriously, some late night pasta outside on a summer night, sign me up. Amore Uptown is located in the heart of Uptown which is where all the 20-somethings are living. The food here is divine and the perfect spot for seriously any occasion. No judgement here, it's what I love most about this place. I have never had a bad menu item from Amore and the staff here all awesome, big plus! The rooftop overlooks the streets of Calhoun Square and some billboards, definitely getting your city fix here. You absolutely cannot leave without ordering the tiramisu, you just can't. My favorite time to go? 8:00pm, weekday night, wine night with the girls. Get your carb fix and some drinks in you, then walk to the bars for a fun night with your gals. A BLAST!
My Amore Uptown order: Pasta Bella (basically fancy alfredo) with a glass of Rosé and of course ending with tiramisu. It's the best I've had.
My Amore Uptown outfit: Jean shorts with a girly crop top and platform sandals.
Dreaming of Tacos…Always
You know I didn't forget about tacos. Seriously my favorite food ever. Would die for them. Even Taco Bell.
Lago Tacos is a crowd favorite restaurant for Minneapolis residents. Also in Uptown, not too far from Amore. The best part about this place? You can create your own taco plate. I always want to try multiple tacos rather than three of the same so this is a favorite place for me. Lago Tacos has so many unique and classic Mexican options as well as outstanding margaritas. I wouldn't recommend if they didn't give you free chips and salsa either, I'm not crazy.
My Lago Tacos order: Southern fried chicken taco and chorizo and potato taco. With a jalapeno cucumber margarita of course!
My Lago Tacos outfit: Jean shorts, crop sweater and sneakers.
If you are looking for true authentic Mexican, Jefe Urban Hacienda is your place! The location speaks for itself, but the food is beyond delicious. Jefe is right on the Mississippi River in St. Anthony Main in Southeast Minneapolis. Their patio sits right in front of the cobblestone walkway in front of the river leading up to the Stone Arch Bridge. The view is unbeatable and you feel tucked away right next to the hustle and bustle of the river culture. After dinner, you can walk across the Stone Arch Bridge for a sunset stroll. Fresh is the keyword here. Jefe is dedicated to serving fresh and inspiring food, while providing an inviting atmosphere. While the food is seriously mouthwatering, the cocktails reel me in at this place. They have a simple margarita and you get to choose the combination of flavors for a cocktail catered for you. Cucumber, passionfruit and jalapeno margarita? YES PLEASE. Do not sleep on the appetizers at Jefe either, the corn elote is life-changing. 10/10 recommend.
My Jefe order: Cucumber, passionfruit and jalapeno margarita (duh), corn elote, and chicken tinga tacos.
My Jefe outfit: Bodysuit, wrap skirt and strappy sandals.
The Hot Spot of Minneapolis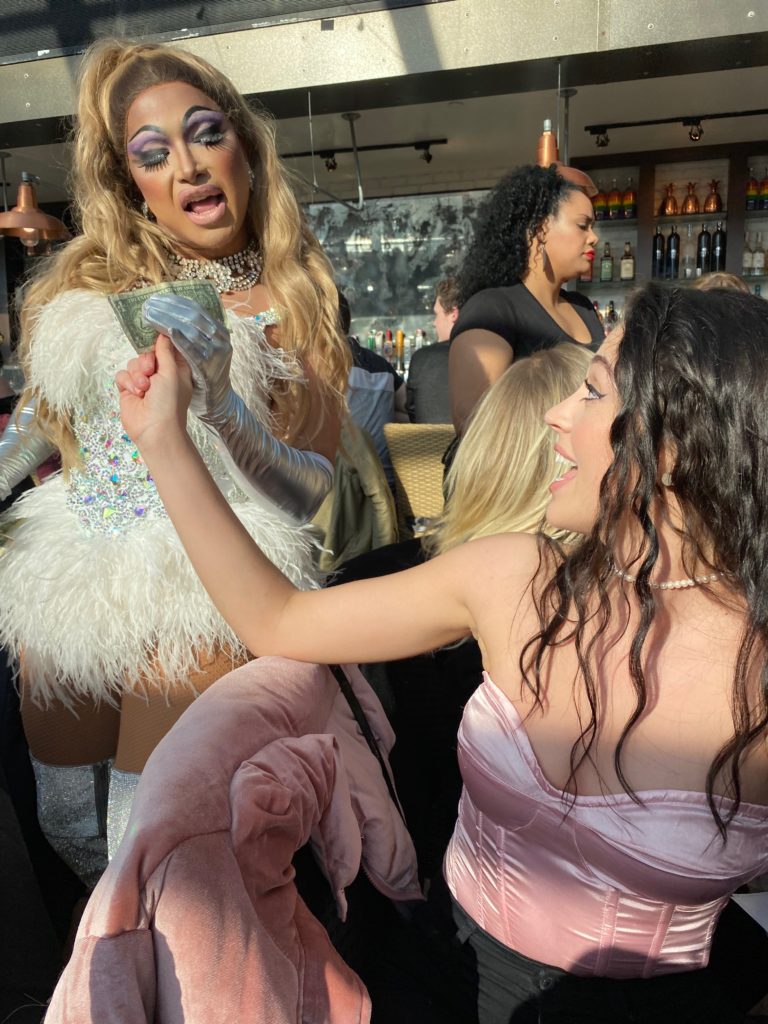 Union. This restaurant is in the center of Minneapolis that has three floors. A bar in the basement, restaurant on the main level, and stunning rooftop that gets covered in the winter. Union hosts all the best parties for the holidays in Minneapolis as well as themed drag brunches each weekend. I went to the Ariana Grande drag brunch and it was one of the most fun experiences I have ever had, highly recommend! This is a great place to splurge with your friends. You can't beat the view and the drinks and food are worth the price. Perfect for a birthday celebration or a fun brunch, Union has it all! Everyone in Minneapolis has been here at least once in their life, now it's your turn.
My Union order: Cajun Chicken Alfredo and a glass of chardonnay
My Union outfit: A nice dress with a pair of heels. This place is your excuse to get dressed up!
Did someone say brunch?
Coffee is an essential part of my daily routine. As is breakfast. I am an avid breakfast eater so I never turn down a good brunch outing.
I love a good insta-popular coffee shop, but nothing beats the hidden gems that aren't well known in Minneapolis. Northern Coffeeworks is my favorite coffee shop ever. Period. This is the perfect place to grab a quick bite and a coffee that you will be comparing to the next ones you have. This is my first recommendation to anyone who is in the city for a quick visit. Although it's tiny, it's taste is mighty. Everything is sustainably sourced and it resides in Mill City, right down the street from North Loop. You will find all the Minneapolis hipsters here enjoying coffee and a bite while getting some work done. I love to come here with my family to catch up because my brother lives right down the street. Offering unique drinks such as the North Woods (cold brew, oat milk and maple syrup), Chaider (apple cider mixed with chai tea) and an everchanging food menu with items such as a skillet hash or quinoa bowl, you are sure to leave in a better mood than before.
My Northern Coffeeworks order: Iced mocha with oat milk and the biscuit breakfast sandwich (the spicy maple mayo will win you over)
My Northern Coffeeworks outfit: Comfy shorts, crop sweatshirt, slide sandals (the ideal coffee shop outfit)
If you're looking for a sit down brunch, head to The Lowry in Uptown. I have never had a bad meal here and I always offer this up as a brunch suggestion when meeting friends. The Lowry gives you a true Minnesotan touch to their menu. Their special once was wild rice pancakes, I know that sounds crazy but they were honestly delicious. You are guaranteed to find something you like on the menu here and it is a great place to meet a friend you haven't seen in a while. Get a classic brunch meal here or try something new. The staff will definitely deliver the Minnesota Nice to you!
My Lowry order: Breakfast burrito and black coffee.
My Lowry outfit: Biker shorts, oversized tee, and converse (I'm getting a breakfast burrito, I need to be comfy)
Saturday, my favorite day of the week!
My ideal summer Saturday in Minneapolis consists of spending the day with my friends at my favorite places in the city.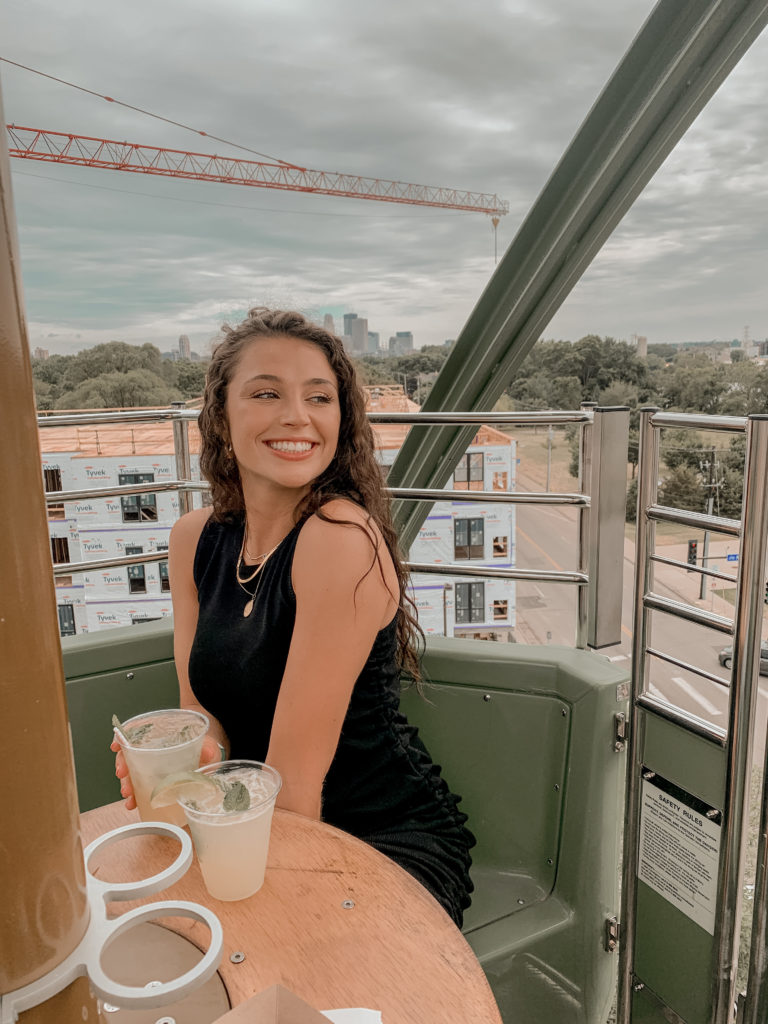 First stop: Betty Danger's. This place is interesting. You'll know what I mean once you go. Covered in kooky decorations, the country-club themed restaurant is bound to keep you entertained for hours. First of all, there is mini golf. That in and of itself is a good time. My favorite part is the Ferris wheel. You can eat and drink on the Ferris wheel while taking in a stunning view of the city and the Mississippi river from Northeast Minneapolis. I recommend the experience over the food at Betty Danger's, but the drinks are delightful. They have margaritas named after colleges, Jell-O shots, and my favorite part; pink ranch! During Christmastime, Betty's is the most decked out place in Minneapolis. The decorations are blinding and they serve their holiday-themed drinks in ornaments. However, be prepared for an extremely long wait during the holiday season, but trust me it is worth it to experience it once. This place is always a hit and will bring you into a fantasy world during your time there.
My Betty Danger's order: Pink ranch sliders and a Georgetown margarita.
My Betty Danger's outfit: Little black dress and platform sandals.
A day well spent at Betty's and now it's time to head to her sister restaurant. Psycho Suzi's is a tiki bar right down the street in Northeast Minneapolis with a cozy tiki-themed patio right on the river. Seriously, read the story about these restaurants on their website, it is very entertaining. My friends and I love Psycho Suzi's and always keep it as an option when wanting to meet up for a night. The burgers and tots here are the perfect Saturday night feast. Pair it with an outrageous cocktail served in a giant tiki mug and have yourself a night. You can also upgrade your drinks to jumbo size to share with friends! The patio is perfect when weather permitting, but the inside feels like you are in the rainforest. You can't beat the ambience of this place. Grown-up Rainforest Café? Maybe. After dinner, head upstairs to end your night at their bar. This quirky restaurant will keep you entertained all night with the witty descriptions on the menu and the funky cocktails that will make you want to try more than one.
My Psycho Suzi's order: Suzi Burger (the best part: rosemary butter) and a Siren's Call cocktail (Here's the description from the website: Suzi threw herself on the rocky shore after heading this Siren's call… and the rest is a blur) If that description doesn't entice you, I don't know what will.
My Psycho Suzi's outfit: Cute romper with platforms, or you know, my outfit from Betty's.
The part you have been waiting for is here. Dessert.
I am a sucker for dessert, especially chocolate. If there aren't any good dessert choices at the restaurant I'm dining, here's where I'm headed.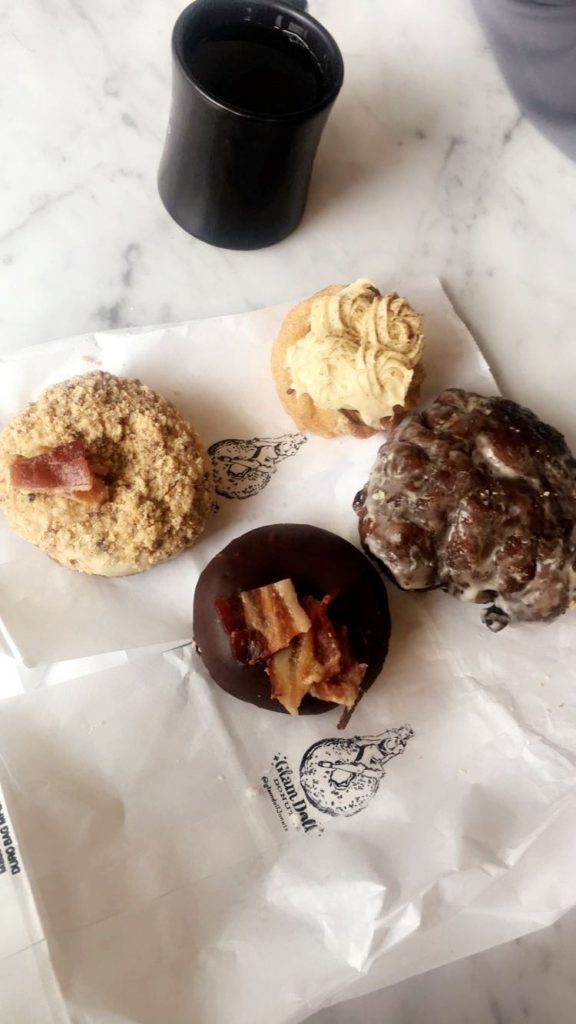 Edward's Dessert Kitchen, right across the street from Red Rabbit in North Loop. Convenient, huh? This place serves up the most delectable treats and post-dinner coffee and cocktails. Dessert drinks are a thing and they are delicious! Bars, cookies, breads, cake, mousse, ice cream. You name it, Edward's has it. It's like the Magnolia Bakery of Minneapolis. This may be the most aesthetically pleasing place I have ever been. Three words to describe Edward's are indulgent, trendy, and decadent. I literally beg my friend's and family to go here after a meal in the city.
My Edward's order: Caramel and Chinese 5 Spice Snickerdoodle and a Bourbon Buzz (the ultimate winter drink, trust me)
My Edward's outfit: Sweater, jeans, and booties. Exactly what I was wearing at Red Rabbit because I'm running across the street right after my last bite of bolognese.
Ice cream is a summer essential and this donut ice cream sandwich has been all over Instagram. I tried it and it is most definitely worth the hype. Milkjam Creamery created the iconic donut ice cream sandwich. Pairing a classic glazed donut from Glam Doll Donuts with a giant scoop of ice cream in between is the ultimate ice cream sandwich. PAUSE. Glam Doll Donuts has outstanding local donuts, also a must-try. Back to the sandwich, it's worth the mess you'll make eating it. You can choose any of their ice cream flavors which are quite unique. Here are a few to get you out the door and on your way to order one for yourself. Cereal killer: orange and coriander milk with candied fruity pebbles. Saigon nights: Vietnamese coffee with a hint of Hennessey. Hard Knock Life 2.0: dark chocolate with salted chocolate fudge, whoppers and brownies. YUM.
My Milkjam order: Donut sandwich with Hard Knock Life 2.0 ice cream.
My Milkjam outfit: Anything I don't mind spilling on because it's guaranteed to happen.
Bonus! Speakeasy
My parents have me obsessed with speakeasies and the old-time drinks they serve. I love the dark atmosphere and privacy of each one I go to.
My favorite in Minneapolis is on the top floor of the Foshay Tower in Downtown. Prohibition Bar resembles the atmosphere of a fancy home. There are multiple areas reminiscent of living rooms with tables and couches, a window nook, and even a loft. The dark lighting brings it all together with unbeatable views of the city at night through the windows. Prohibition offers spunky apps and an array of must-try cocktails. Get in the elevator, press the button for the top floor, and it opens right up to the speakeasy like something out of a movie. The best part? There are no signs or advertisement for Prohibition, you just have to know about it from a friend or someone you know. An authentic speakeasy at it's finest.
My prohibition order: Brown Derby (Jim bean, grapefruit, maple syrup and sage. I know, crazy. But, crazy delicious)
My Prohibition outfit: Sundress and sneakers.
These are all of my favorite places to go in Minneapolis all year long for any occasion! If none of these are your jam, reach out to me for more recommendations because I have an endless list of places I love in this city. Need recommendations for the suburbs too? I got you. Never underestimate the taste of Minneapolis next time you are here to visit, or to stay.