If you're looking for a COVID-19-friendly travel destination, look no further than Canon City, Colorado! Just over two hours outside of Denver, this quaint town offers some of the most up-close and breathtaking views, all for under $100. If you want to be captivated in Colorado, read on to discover Canon City and Royal Gorge.
Due to COVID-19, please make sure that you're aware of any local and/or state restrictions regarding travel and quarantine.
Dearest D-RAVEL Traveler,
My name is Brooke (@brookeraelene), and my trip started on an early morning flight from Chicago to Denver on Southwest Airlines. Flights are fairly inexpensive right now and accommodations are the cleanest they've ever been. Southwest boarded in groups of 10 to ensure that social distance guidelines were enforced and once onboard, the middle seats were kept open to allow additional spacing between passengers.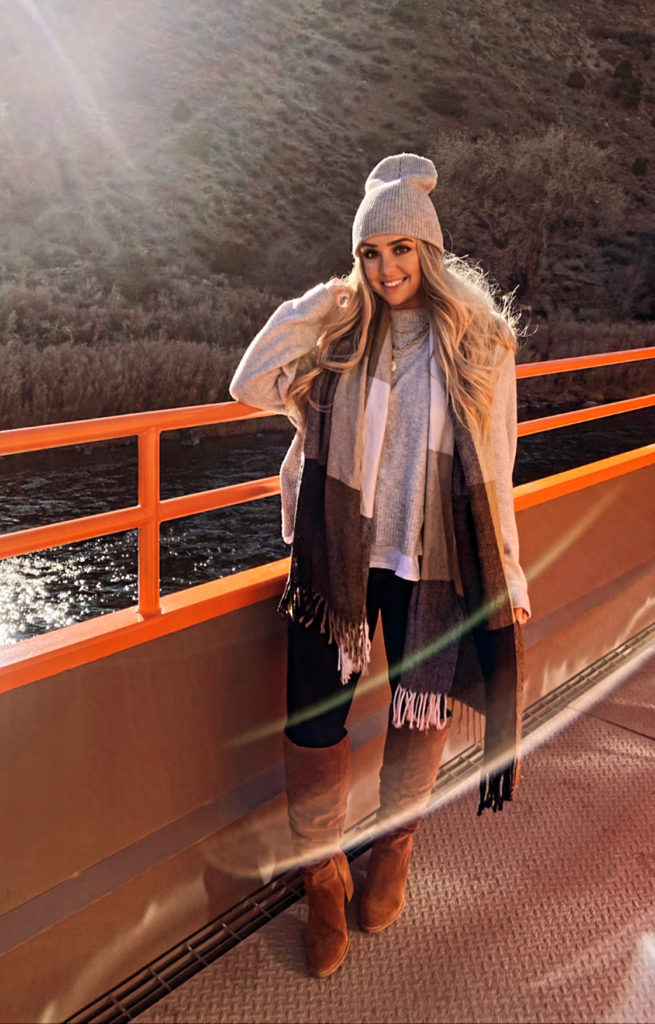 Keep in mind, it's required to wear a mask throughout the airport(s) and onboard during the duration of the flight unless you're actively eating or drinking.
On our way!
Once I landed in Denver, the flight deplaned row by row to ensure social distancing. Everything was so safe! There's a ton of different food options in Denver Airport that range from GF/vegan-friendly to fast food. After stopping at Starbucks, I made my way over to the rental car center to pick up a daily rental. Since I traveled during the week, the rental was under $50 for the day with unlimited mileage! Each car had a sticker seal on the door to ensure that it had been properly sanitized and no one had touched it in between.
The route to Canon City, CO leads you right by Colorado Springs. If you're there for more than the day, I highly recommend spending at least a night in the Springs to experience some of the magic it has to offer. Canon City is famous for two different attractions — the Royal Gorge Bridge and the Royal Gorge Route Railroad. The bridge is located at the very top of the gorge as America's highest suspension bridge.
If you're spending the day there, I recommend seeing the bridge first and then heading down to a 12:30 p.m. ride on the train (there are a couple different departure times depending on the day of the week). The bridge attractions & the train are completely separate, so you can do both or stick to one. I didn't have time to make it up to the bridge this trip, but I have been before and you get the most incredible views of the gorge below. The drive up to the bridge itself is absolutely mesmerizing!
To Do: Royal Gorge Bridge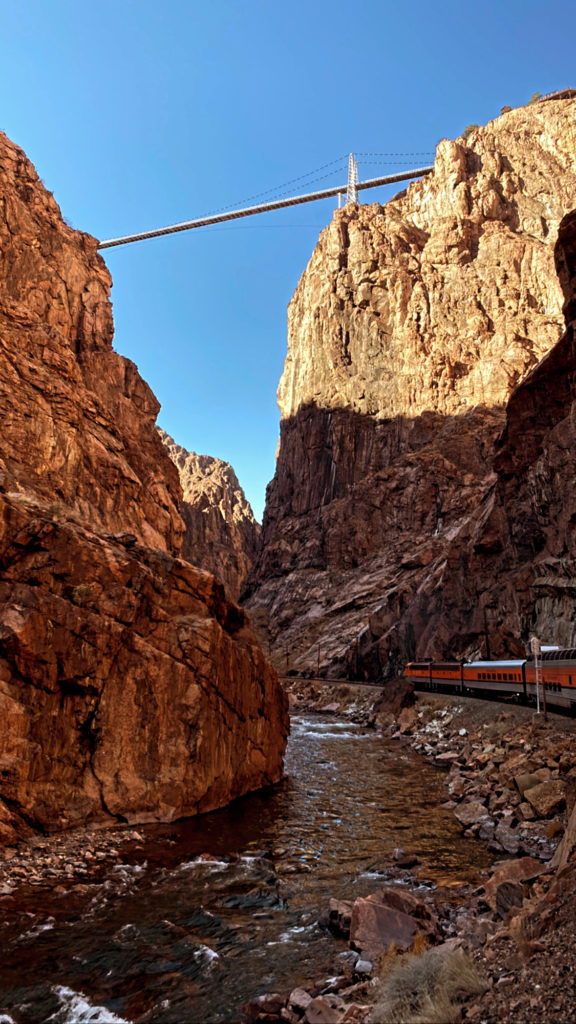 – aerial gondola across the gorge
– zip-lining
– sky-coaster
– theater
– lookout areas for the most Instagrammable spots
– children's play area if you have littles
– walk across the bridge at your leisure
The bridge has a little bit of something for everyone! Keep in mind that if you or anyone in your party is scared of heights, the bridge is suspended over 1,500 feet in the air and can be a little dizzying!
To Do: Royal Gorge Route Railroad
– different viewing cars/classes
– afternoon tea
– murder mystery tours
– holiday "Polar Express" inspired train
– endless food/drink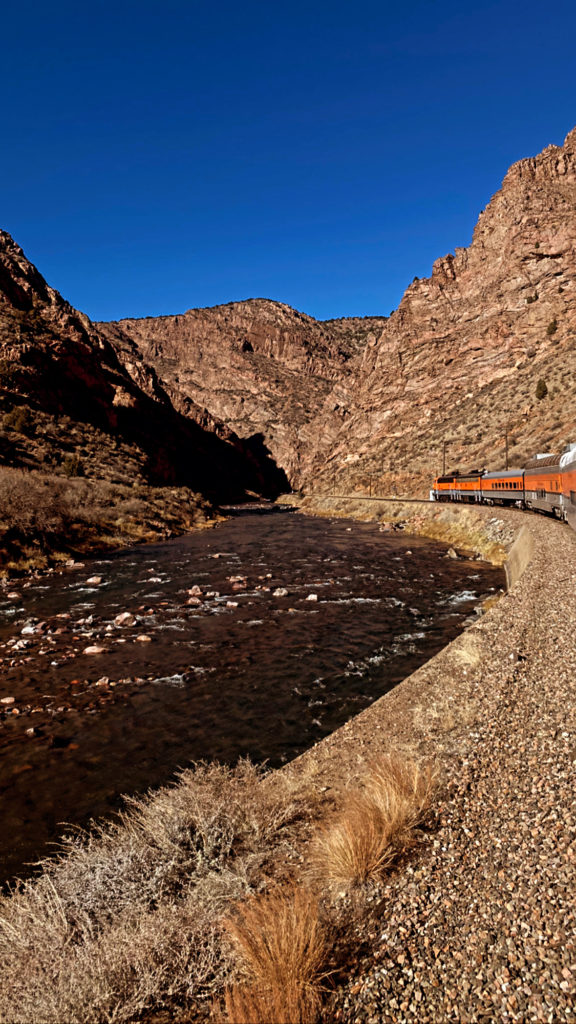 The Royal Gorge Route Railroad offers a two hour ride through the gorgeous gorge. The train is capped to ensure social distance protocols are met & you're boarded per party & car. These trains offer different cars/classes, but unless you want to experience a certain car, get the cheapest ticket! No matter what car/class your ticket is in, everyone is able to walk through the entire train anytime during the ride. Throughout the ride, they play oldies music and offer snippets of history and fun facts about the gorge, which makes you feel like you're being transported back in time!
Train Ride Treats
Masks are required unless you're eating or drinking and the staff wear them the entire time as well. The menu is pretty extensive to accommodate even the pickiest of eaters and there's a full bar and dessert menu. The price of food and drink is not included in the ticket, but it isn't overpriced. If you're trying to save money or would just rather have your own food/snack options, feel free to bring them along in your bag!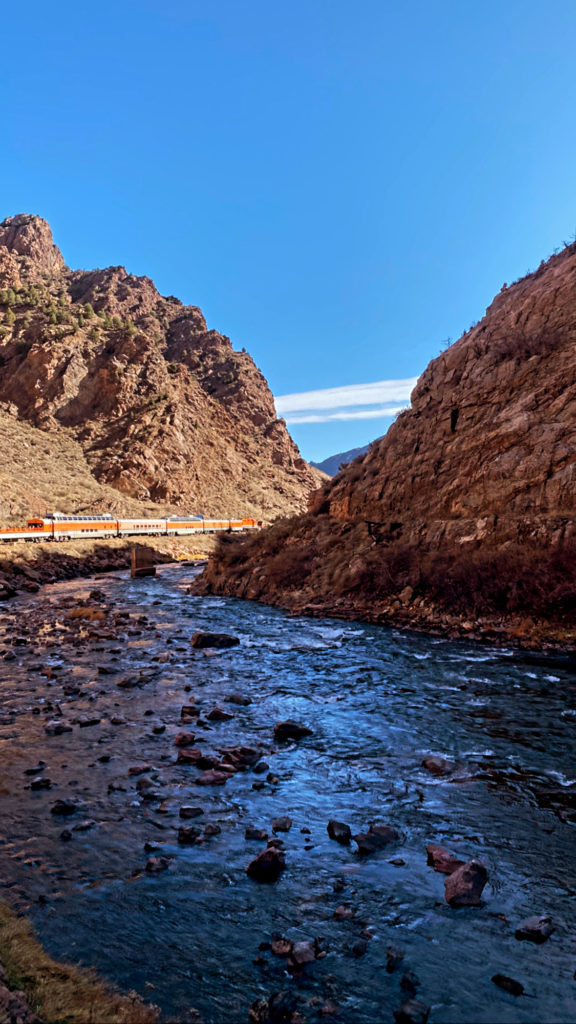 The train is open through the entire year and they put on events like murder mystery rides, sunset rides, afternoon tea, Oktoberfest and more. For the holidays, a "Polar Express" inspired train that is great for all ages! The holiday train starts November 19th and extends through December 31st. By the time the train was back at the station, there was enough time to check out the gift shop and take the scenic route back to Denver. I returned my rental car, grabbed a few snacks, caught a 7:30 p.m. flight back to Chicago and was in bed by midnight.
What to Wear:
Check the weather everyday leading up to your visit — Colorado weather can change in an instant!
Pack for the cold unless you're visiting during the summer months.
Layers are your best friend!
Being in a very low or high area to see the attractions means the temperature can fluctuate hourly, and if there's additional wind, brace yourself for cooler temps!
My motto for any travel: always pack a sweater/light jacket.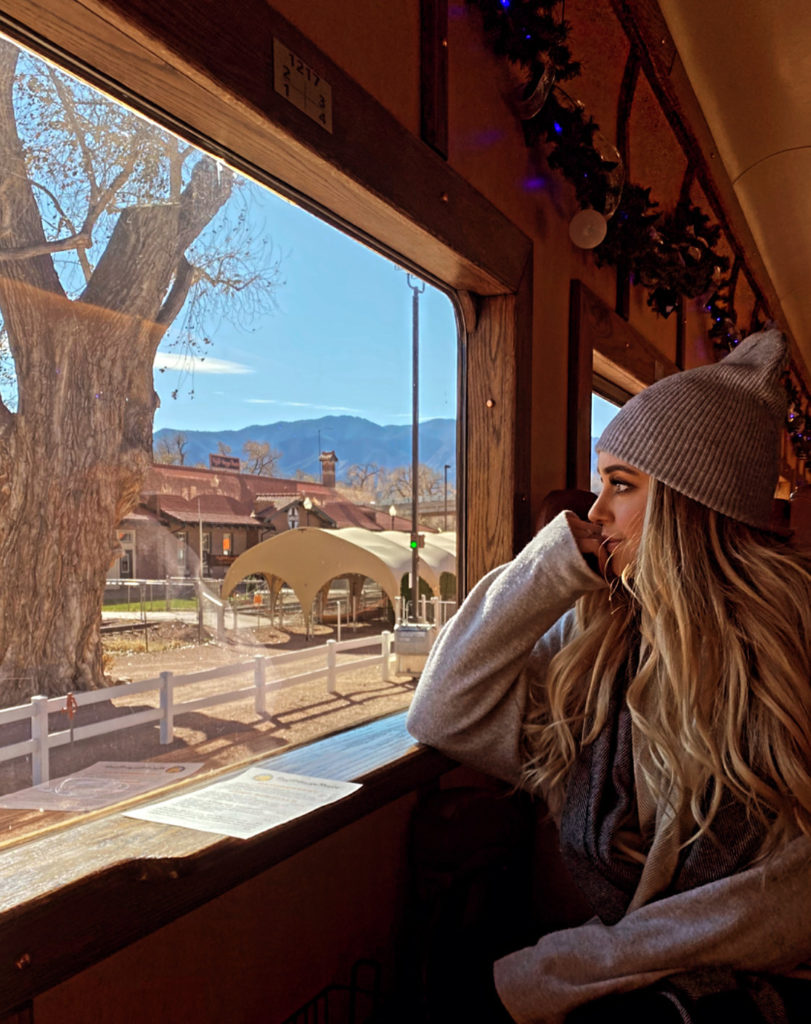 My experience in Canon City at the Royal Gorge was the perfect day trip and would be even more perfect with some extra time. This spot is a must-see as a destination itself or as a stop on your itinerary!
For more detailed information, head over to the Gorge's website at www.royalgorgebridge.com or www.royalgorgeroute.com. Check out my instagram (@brookeraelene) for more travel, fashion & lifestyle content!
xo, B