Frothy beer served in frosty-cold glass beer steins. Frocks reminiscent of a Brothers Grimm storybook. Pretzels as large as your head dusted in hail-sized salt. A brisk chill in the air that is no match for the heady warmth rising from the alcohol in your core. It's the season of Oktoberfest, and if you're anything like me (@lifeofbusynothings), you're deeply in your element in this autumnal celebration. I will also cover how to dress for Oktoberfest!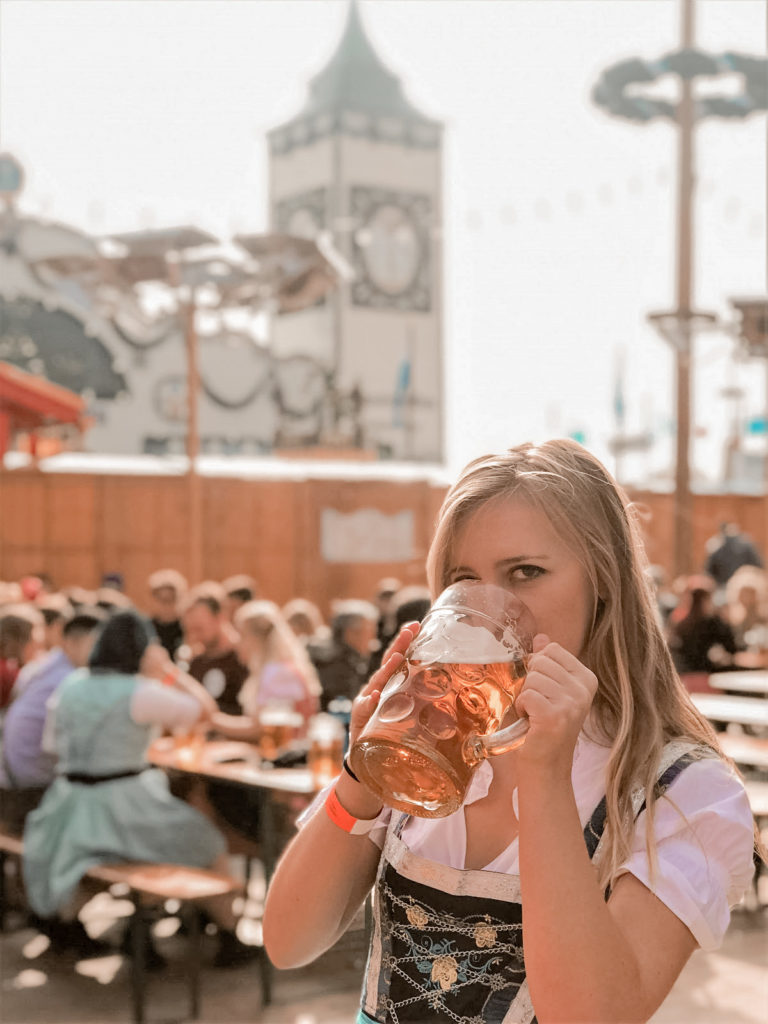 If you've never joined in the Bavarian celebration before, then you've come to the right place: I've attended both the large, riotous celebration in Munich, as well as a small, more traditional celebration in the town of Riol, and have come equipped with plenty of tips to help you plan your getaway to the most renowned folk festival in all of Germany!
There are several things you need to consider when planning your trip to Bavaria to indulge in this proud and long-running tradition:
1. Which Oktoberfest Experience Do You Want?
The first decision you need to make: how deeply do you want to go into the Oktoberfest culture?
When people think of Oktoberfest, the first thing that comes to mind is the grand, highly-commercialized festival held in the heart of Munich, Bavaria, Germany. The first Oktoberfest was held in this city in 1810, and has been held annually ever since, developing into a carnival-like festival with attractions for adults and children alike. As the site of the largest Oktoberfest gathering in Germany – and the largest folk festival in the world – the grounds get absolutely packed with festival-goers. If you don't get to one of the beer halls by 11:00am, you may find yourself waiting for hours to drink from one of those famous gigantic beer steins.
Smaller Celebration
You may opt for the more intimate local Oktoberfest celebrations held in small towns throughout Bavaria. As opposed to the grand, gigantic beer halls that line the promenade in the Munich Oktoberfest festival, these towns often opt for circus-like tents decorated with lights and traditional swinging chandeliers made of local greenery and colorful ribbons. These smaller Oktoberfest gatherings are less rowdy and more traditional.
A Big Celebration
If you enjoy the thrill of big cities, crowds, and grandeur, then I suggest going to Munich! But if you like experiencing traditional culture without any of the pomp and circumstance that has made Oktoberfest the grand, must-see experience that has gained celebrity around the globe, I highly recommend researching local celebrations to attend. Or, you may attend both and get the full Oktoberfest experience, as I did!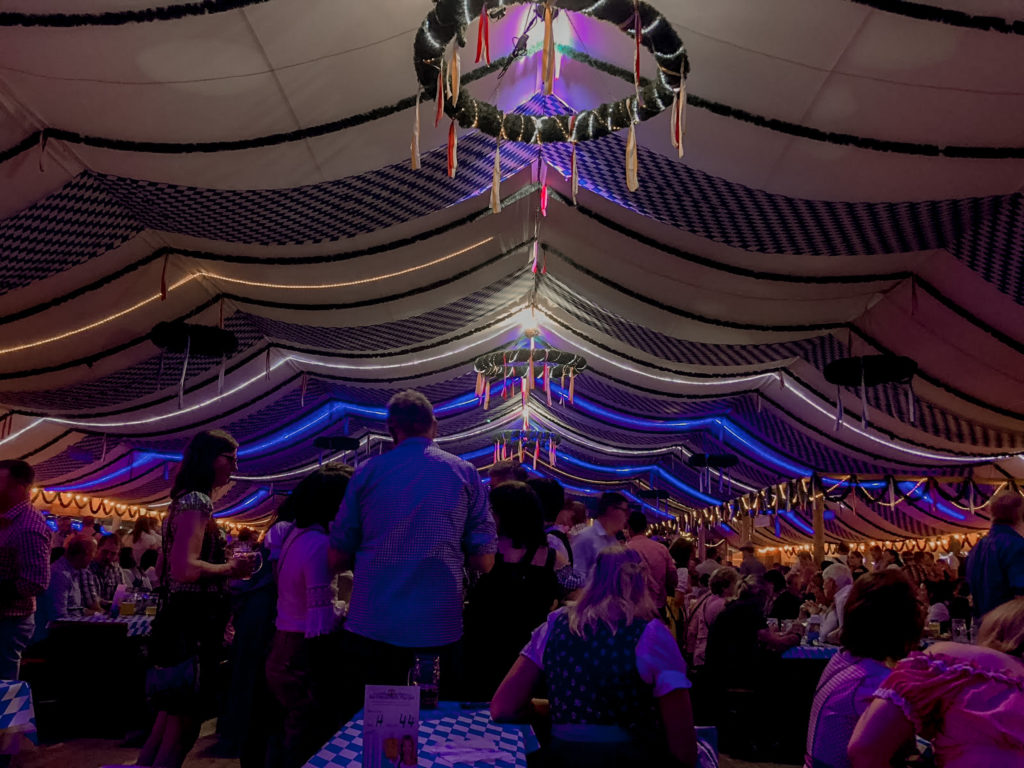 2. How to dress for Oktoberfest: Choosing your Dirndl (Dress)
Are you wondering how to dress for Oktoberfest? Trust me, I have the answers for you. If you purchase your dress from any ordinary American party store, more than likely you'll stand out from the crowds, as Americans have over-sexualized the dirndl (pronounced: DEERN-dul) and made them much shorter and tighter than the ones Germans will wear to celebrations in Munich or their local towns.
The most traditional dirndl hangs below the knees, about mid-calf. However, you'll see women wearing dirndls that rise just above their knees as frequently as longer, more traditional dirndls. This is all a matter of preference to you! Just remember: Oktoberfest is held in late September/early October in Germany, and it can get very cold, so plan accordingly. If you opt for a shorter dirndl, bring some tights to help ward off the chill.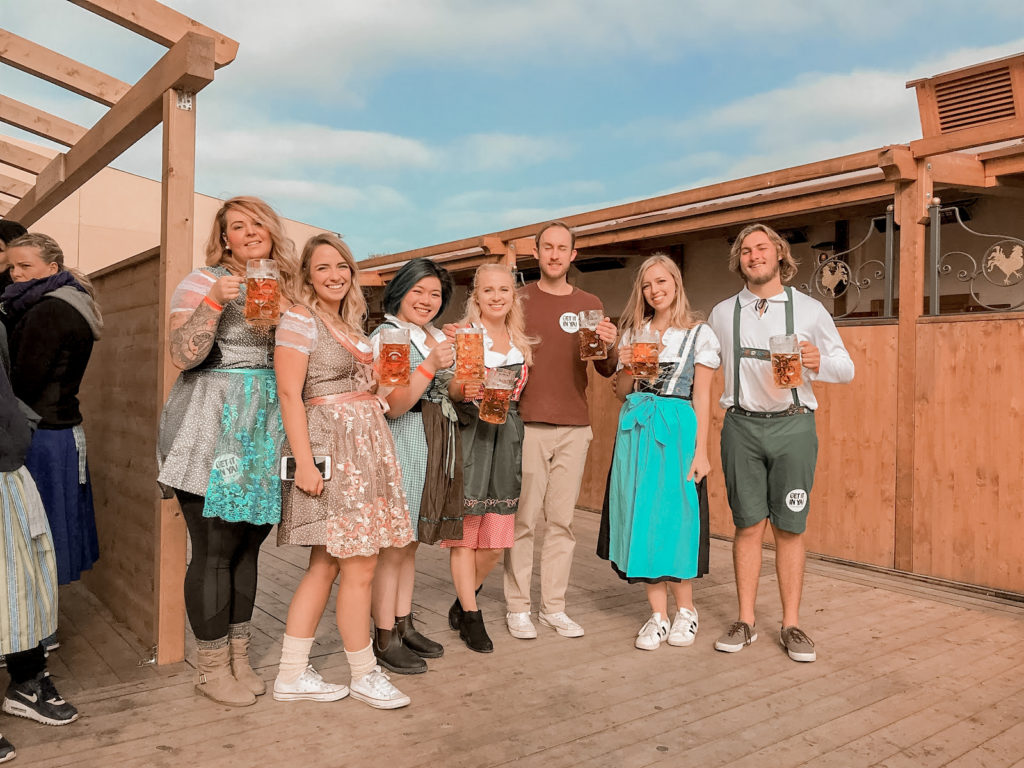 For the most authentic dirndl, we recommend going right to the source! Otherwise, you can either purchase a dirndl from Amazon (I've picked out a few of my favorites here, here, and here), or wait until you get to Munich and purchase a dirndl in one of the local shops at a higher markup. I waited to purchase mine until I arrived at our Oktoberfest campground (an incredible experience), and I was able to buy an authentic dirndl for €60 at a shop right on-site. For a dirndl of decent quality, you can expect to spend anywhere from $40 – $80.
3. Aprons & Ribbon Placement on your Dirndl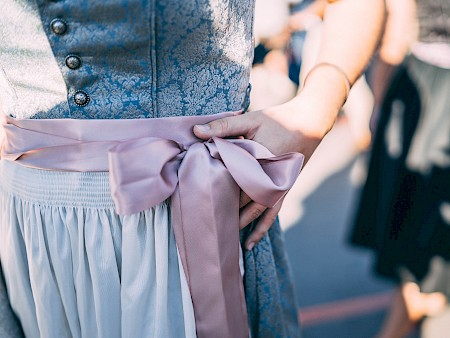 Your dirndl says a lot more than you think: when tying on your apron (schürze), the placement of your bow (schleifen) communicates your relationship status to everyone around you. Thus, be very conscious of where your bow rests, or you may find yourself fending off many unwanted advances from keen German men!
If you are single, tie your bow on the left side. Are you in a relationship or married? Lay the bow on your right side. If you're a child, a virgin, or to communicate that "it's none of your business!", let the bow rest in the middle. Tie the bow behind you if you are widowed or a waitress.
Be careful, though! The bow may slip and end up laying on the wrong side (this kept happening to me!), so always be aware of where your bow lies.
4. Shoes & Stockings
The best options for a traveler with limited luggage space are ballet slippers, flats, or Mary Janes – plus, Mary Janes are the most traditional, as they make the most sound when dancing, and Oktoberfest is nothing without a rowdy crowd and lots of noise! Another popular option (although perhaps impractical to pack) are leather ankle boots, either with a heel or without. These go great with dirndls, and still align with the Bavarian theme of Oktoberfest!
When in doubt, always opt for close-toed shoes: between the broken glass, spilled drinks, and drunken stumbles of other festival-goers, it's unwise to wear even peep-toes.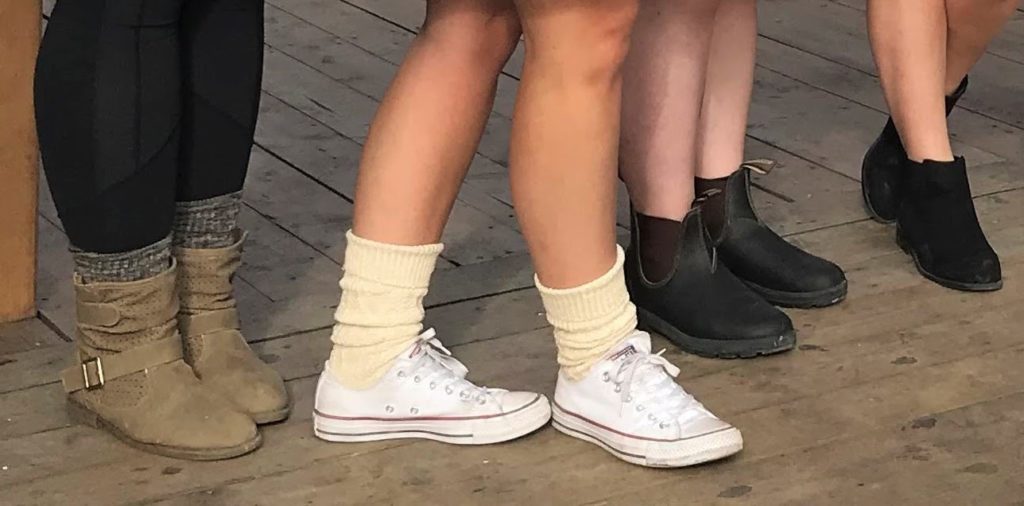 Even if you can't bring any other shoes than your trusty Adidas or Converse, few people pay attention to the shoes you're wearing, and many travelers opt for such comfortable shoes anyway to save on luggage space!
Finally, don't forget to pair your fancy shoes with stockings, pantyhose, or decorative knit socks!
5. If in Munich, Get to the Festival Grounds Early
Like I mentioned briefly earlier, if you decide to go for the full Oktoberfest experience, be sure to arrive at the festival early in the day, and plan on spending the whole day there. We arrived at 10:00am, and by 11:00am, even the decks outside of the "tents" (beer halls) were closed off to newcomers, with lines forming outside of the entrances.
Even arriving at 10:00am, we were too late to gain entry into the beer hall, and settled at a long table on the deck outside the beer hall. Eat a hearty breakfast before you arrive, because a liter of beer goes down surprisingly quick, and if you're not careful, you'll end up as die Bierleichen, or a "beer corpses" (snoozing drunks)!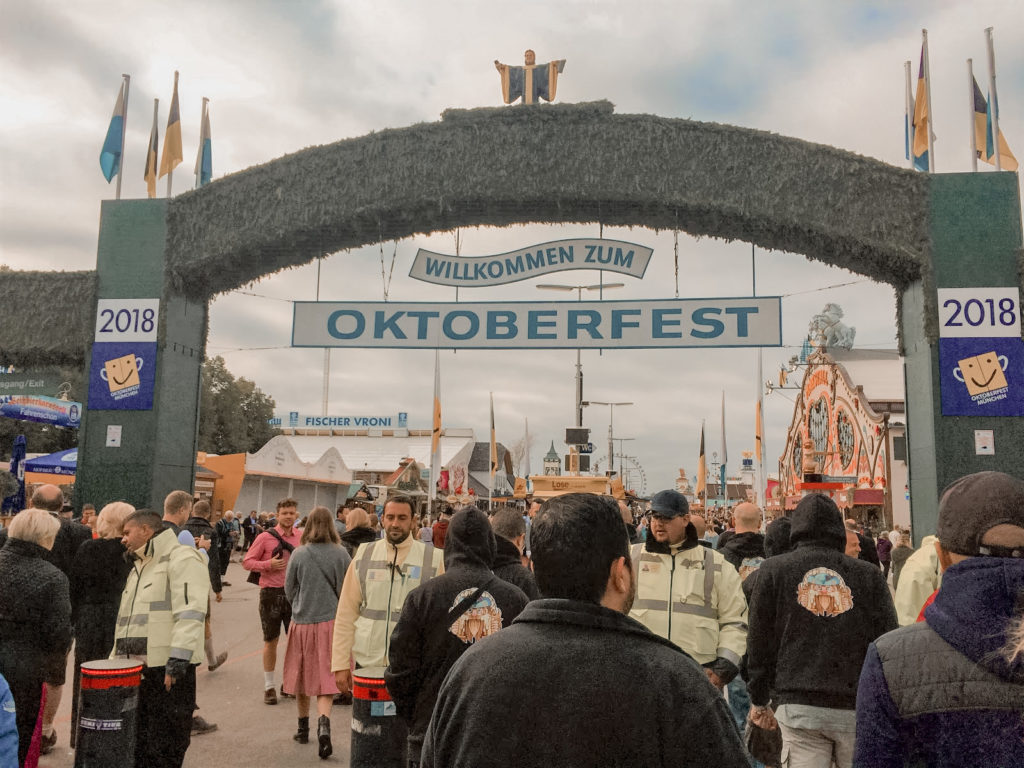 I hope you feel you have a better understanding of the celebration and know how to dress for Oktoberfest!