The most comfortable, stylish, and trendiest looks to pack while traveling during COVID-19 are now at your fingertips! We all know how trendy the current quarantine style is, so we are packing everything from hand sanitizer to trendy tie-dye must-haves.
Dearest D-RAVEL Traveler,
My name is Alyssa (@alyssabrascia), and ever-controversial has been my decision to travel from Chicago to Tampa to visit my boyfriend during the COVID-19 pandemic.
Traveling During the COVID-19 Pandemic
Once states started to release their reopening plans, I knew I had to book a trip to Florida. Being the easily excitable person I am, I decided to compile a packing list three weeks in advance to make sure I didn't forget anything (hand sanitizer being at the top of the list).

However, this trip was going to be different. We weren't going to do the usual nightly dinners out, theme park days, or visit congested areas. Even though Florida has reopened, we were going to take precautions still. However, I'm going to share my Florida packing strategy with you, bringing my quarantine style—looks that can go from beach to couch. I wanted to make sure I had the most comfortable, stylish, and trendiest looks to pack while traveling during COVID-19.

While I'm used to the scorchers the Midwest generally supplies us with every summer; I can't say I'm prepared for the sweltering heat that mid-June Florida has to offer. However, my clothing options are ones that will hopefully keep me Tampa-trendy, light, and airy. Let's get into it.
DAYTIME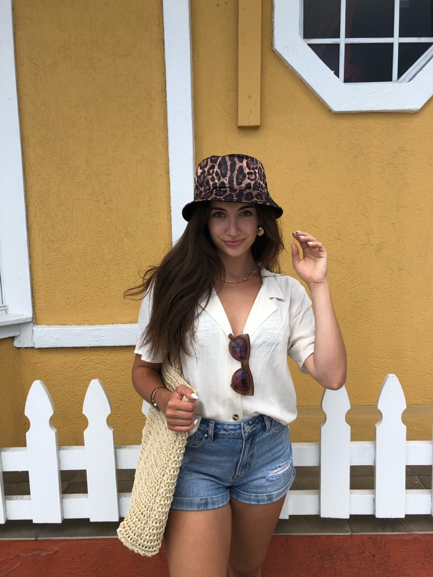 I've elected to pack on the simpler side of things. I am looking for each piece to be re-worn—you know, change it up day to day. I'm trying to air on the side of minimalist-chic (our way of saying, "I traveled with a carry-on and couldn't pack much more").
A theme with these pieces were neutral tones, specifically white (gotta show off that Tampa tan!) so that they can all work seamlessly with other pieces. A few of these garments include a simple white, ribbed crop top from Brandy Melville, a breezy ivory button-up long sleeve crop top from Urban Outfitters, and a cream-colored ribbed bodysuit (also from UO). These tops are versatile enough to be worn with some light joggers to spend a day relaxing or dressed up with some vintage jeans and platform sandals to head out for a dinner date.
SWIM
While we don't have a set plan for our everyday activities, what we do know is that we will be spending many days cruising around on the boat with his family. Because of this, I've decided to pack family-friendly suits in an array of animal prints, one-shoulder styles, bold colors, and my signature black bathing suits. I've even purchased this glorious convertible bathing suit top from Garage that can be worn six, yes SIX, different ways. How? It depends on how you tie it. It may be the only bikini top I'll ever need—but let's be real, who's going to stop at one new swimsuit purchase for the summer?
LOUNGEWEAR
As aforementioned, this trip will entail mostly hanging out around the house. Because of this, I've decided to pack mostly comfortable (but cute!) loungewear—gotta make a fashion statement, even if it's from the couch!
I decided to stay trendy with my casual clothes by stowing two pairs of biker shorts in my suitcase, one being ribbed, from Forever 21, and another being a neutral-toned cheetah pair from a campus-grown boutique in Ames, Iowa called Portobello Road. Since my wardrobe consists of mostly black and white, the few big band t-shirts I've chosen to bring along will complement these stylish shorts nicely.
TIE-DYE
Another fad I knew I had to jump on for the summer was pastel tie-dye, and this trip is the perfect time for me to try out this modern 60's style.
Ever the rage has been tie-dyed, matching sets of oversized sweatshirts, joggers (or shorts), and crop tops, and I have to make room in my luggage for the whole cohort. How could I leave a single piece behind?
Crammed in my tiny suitcase is a pair of sky-blue tie-dyed sweatpants and a matching crop top from the Instagram boutique MadLove, accompanied by a lilac crop top and a couple of boxer shorts tie-dyed by yours truly. I, of course, have to bring the matching pastel purple sweatshirt, but it seems I'll be rocking it at the airport to suffice my luggage limits. Blog post on how to craft your own tie-dye sets to come!
If you're like me and aren't one to let a summer trend pass you without trying it at least once, I highly suggest you try this little hippie-revival moment in fashion history. It can also double as a fun DIY experience, so what more could you ask for?
NIGHTTIME
When the night falls in Florida, the temperature doesn't exactly follow suit. Goodbye, my favorite leather pants…onto linens!
One day while sifting through the clothing racks of Nordstrom, Billabong blessed me with a pair of khaki, wide-legged, adventure spirit pants made of the perfect summertime linen that walked me straight to the cash register. These pants have been my go-to for chic summer style, and it's no surprise that they've accompanied me on beachy trips such as the one I'm embarking upon now. Because these pants are just the right amount of classic and trendy, they can be easily paired with any top (packing mostly neutrals for this exact reason).
A summer's night outfit is best completed with a pair of vintage, light-wash jeans, which perfectly describes a pair of Lee jeans that I picked up from that same Ames boutique, Portobello Road. The lovely owner of the store, Talia Jensen, helped me personalize them by adding in rips and distressing across the knees, in the thighs and one small tear right below my bottom…mom didn't like that detail too much.
Building off of my breezy bottoms are a few fun tops that were super easy to pack due to their lightweight nature. Slipped into my suitcase is a slinky snakeskin bandana from Urban Outfitters, a halter piece from, yet again, Urban, and a puff-sleeved corset top from I.AM.GIA. Since nights out aren't set in stone on the list, I wanted to pack only a few options. These can easily mix and match to create a myriad of stylish looks if the occasions were to arise!
Get Traveling…But Take Precautions During This Pandemic
Dressing for Floridian weather most definitely means attempting to beat the heat. I sadly can kiss goodbye the summer styles that keep us both looking and feeling fresh. Now onto tackling humidity vs. hair…
I hope you're confident for your next travel adventure; you feel you have the most comfortable, stylish, and trendiest looks to pack while traveling during COVID-19—our quarantine style can go anywhere.