My name is Julia Stege (@juliastege_), and I can't wait to provide you with all the information you'll need when spending three days in London. I studied abroad in Italy during the spring semester of my junior year of college and was fortunate enough to take a weekend trip to London. Assuming you've never been to this amazing city yet, I will give you the tools you need to have an incredible trip. I hope if you get to spend three days in London, you're able to check some of these must-see sights off your list.
Dearest D-RAVEL Traveler,
I ended up going to London over Valentine's day weekend, and it was also London Fashion Week, so it was a super exciting time to go. I flew from Bologna, Italy, to the Stansted airport in London. It was a super quick flight, and I couldn't have been more excited to land in London, England, for the first time. A group of 7 of my friends and I stayed in two separate rooms in an Airbnb. I recommend staying at an Airbnb if you're on a budget because it was way cheaper than a hotel.
What to Wear
Since it was the middle of February when I went, London was pretty chilly, and it was also during the rainy season. I knew that everyone would be dressed to the nines, so I packed accordingly. I brought a skirt, a few tops, two pairs of jeans, two casual dress options, two coats, a comfy outfit, and two pairs of boots. I was overall happy with what I had packed because everyone really dressed up in this city, as I thought.
Tip #1: Bring clothes that you can layer to London—you'll need it. Also, bring comfortable walking shoes. You're going to be doing A LOT of walking in London, and the last thing you want to deal with is uncomfortable shoes. I recommend bringing layers because the temperature during the day was somewhat warmer than at night, so having a coat or jacket to throw over your outfit is ideal.
Tip #2: If you're visiting during the rainy season as I did, definitely bring an umbrella!
Places to Eat
I recommend Duck & Waffle for breakfast because it has an array of delicious brunch items, but it also has a fantastic London view!
Tip: Reservations do book up fast, so make sure to make one ahead of time! If you don't make it to Duck & Waffle, there are plenty of cute cafes to stop for a coffee and a pastry.
For lunch and dinner, I recommend going to Nags Head and The White Lion. They are both located at the Covent Gardens, and you can go to either place for either meal. Nags Head is an iconic London pub with a bar on the first floor and a dining area on the second floor. Here you can order burgers, fish and chips, salads, and more! The White Lion is also a traditional pub, and here you can order things like salmon, steak, smoked applewood mac and cheese, different kinds of pot pies, and much more.
If you are craving some familiar foods from the United States, don't worry, you can find Chipotle and Papa John's pizza here. It's nice to break from the traditional London cuisine and indulge in some American fast food; we won't judge!
Must Do's
There is an endless number of things to see and do in London, and I will share a few of the things that you just can't miss.
First and foremost, you have to see the famous Buckingham Palace. You can get amazing photos in front of the beautiful gate and even peek your head in to see if you can spot any of the royal family members. I recommend taking a double-decker bus tour because you get to see the entire city, and who wouldn't want to ride at the top of a double-decker bus when in London?!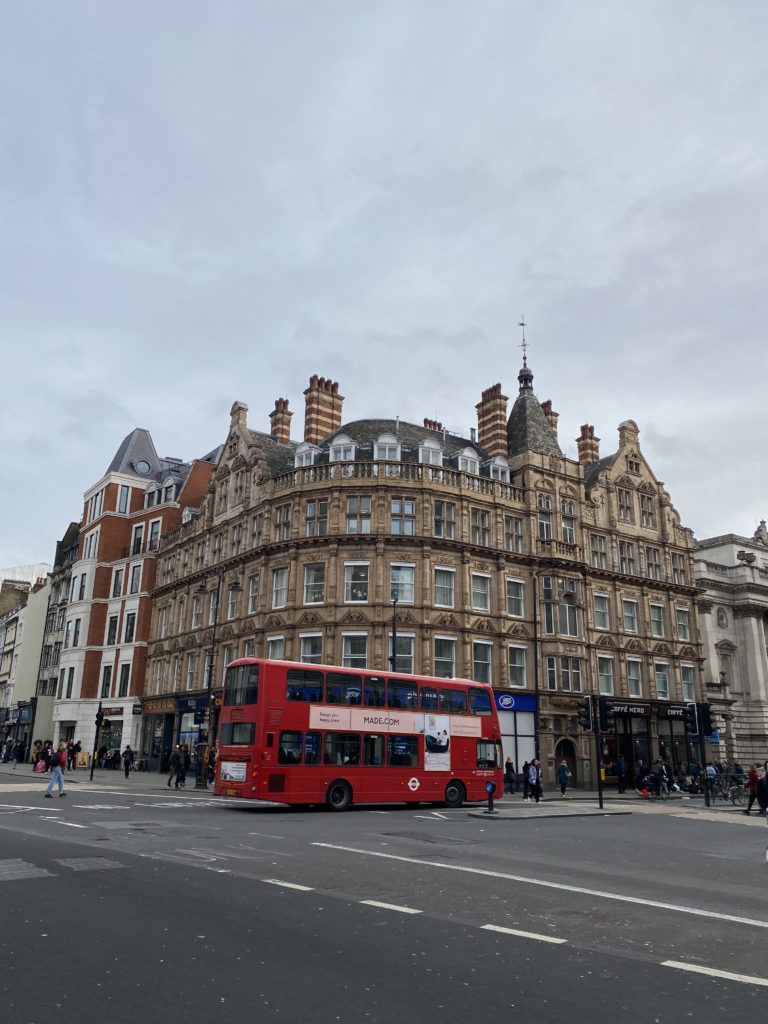 My absolute favorite thing that I did was ride on the London Eye, and you must do it at night. It was the most amazing Ferris wheel I have ever been on, and London's nighttime views were too good to be true.
Are you interested in shopping? Make your way to the Covent Gardens, as I mentioned before. It is a super cute market with lots of restaurants, shops, and live music.
If you have figured out how to use the underground train system, you should take a short ride to Notting Hill. It is a cute neighborhood where you can find the famous colorful houses and vintage stores, and street vendors.
Nightlife
Hopefully, by the end of the day, you will still have some energy left in you to go and experience some of the crazy nightlife that London has to offer.
If you are more of a bar person, then you must go to Ballie Ballerson bar! It has the coolest cocktails, and it has a ball pit that you can pay a little extra to play in after a couple of drinks.
If you are more of a club person, I recommend going to Scandal London, a popular nightclub. I also recommend getting in contact with a promoter because they will help get you into clubs, and they might even get you free bottle service.
Tip: It is also smart to have some cash to pay for any cover fees you might run into; they usually only accept cash.
Are you looking to spend three days in London for a fun weekend getaway? I hope this article helps! Feel free to reach out to me on Instagram if you have any more questions. Safe travels!