Dearest D-RAVEL Traveler,
Hey y'all! My name is Morgan (@morgogoes), aka Morgo Goes! I have been a local Nashvillian for over three years now and love it here so much! I planted roots in this city after meeting my partner, Chuck, a local musician. (Who moves to town and meets the man of their 90's girl dreams in a honky-tonk?! This girl.) I love the fact that there is always something happening, somewhere to go, or nowhere to go at all.
TN is a perfect blend of city living mixed with backcountry America vibes. And also you never know who you are going to see on the street… Brett Eldredge? Chris Young? Taylor Swift? Steven Tyler?!? Yup…it's a vibe.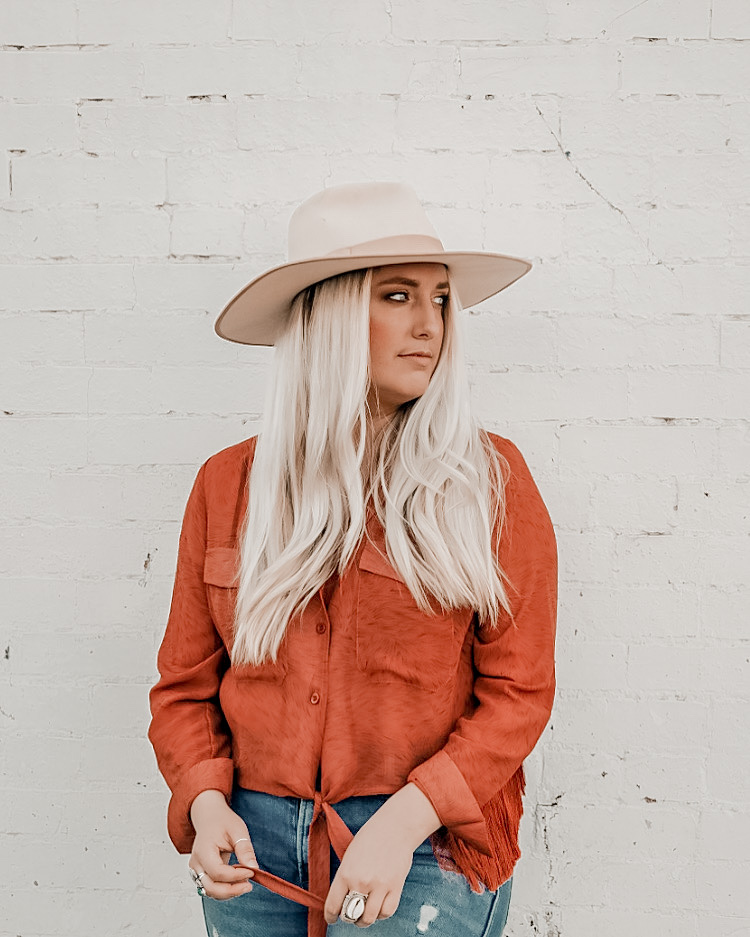 So I have you interested in a trip, huh?
I bet you're wondering what to pack when visiting Nashville? Do I have the answers for you.
Here's what I think…Nashville draws inspiration for style and trends based on the events in town and who is pumping out the most creativity at the time. For example, locals do not wear cowboy boots; it's super easy to spot the tourists/visitors. But there are exceptions to every rule, right? Be it that Maren Morris is having a concert at Ascend or a stage in the middle of Broadway during CMA, there are excuses to be a tourist in your own city. However, most people opt to make it their own. I see more cowboy-grunge, western bootie, bandana-wearing, and twisting the country stereotype type of fashion.
Like cowboy boots being an occasion only piece, just think of Nashville as your live music, free concert Southern Hollywood. They don't call it NashVegas for nothin'—it's a damn good time!
What to Pack When Visiting Nashville
So pack the things that scream, "THIS IS ME"! Sparkles, and denim, lace and leather, fringe and studs. It's all apples and oranges, but pair them with the neon lights and competing band music blasting from the open windows…MAGIC.
That Nashville magic makes you swell up with inspiration, drawing out your confidence and personal style! So when thinking about packing for your Nash trip, begin thinking about confidence. What do you want to be dancing the night away in?
And if you're just stuck, here are 10 pointers to get you inspired!
The "Nashville Uniform"—there are so many different kinds of people in this town, but it seems like we all have one uniform that always gets the looks. Black jeans, blacktop, statement boots, and some unique personal accessory (rings, layered necklaces, handkerchiefs, turquoise)
Vintage Tees—No secret these are a hit, esp band tees. Pair it with a pair of denim, dope kimono or jacket, and booties!
Denim—Speaking of denim, it's king. With shops in town that restore vintage denim that's 100s of years old (Imogene and Willie) and value the true American style, you can't help but wanna throw on a full denim jumpsuit, oversized overalls, or that Canadian tuxedo!
Hats—One extremely popular trend has been flat brim hats, but they are on super trend in Nashville. I always get so many compliments on my Lack of Color hats! They are also perfect in the summers when sweaty, humidity railed hair doesn't want to stay cute!
Jumpsuits—I love my vintage-inspired jumpsuits. They are flowy and make the sweat not so crazy. But, maybe don't plan on wearing a fit that makes you completely strip down to pee if you're planning on bar hopping (the floors are always super wet and just coated in bar tar).
Fringe—No Honky Tonk Hippie is complete without a touch of fringe. I love fringe on my bags and tops/jackets! But there are so many other ways to include some fringe. Examples could be earrings, booties, bracelets, etc!
A statement piece—I know you have that big showy necklace you never wear because its "too much" or "extra"? Or think, "I would so be judged if I wore this?" BRING THAT THING TO NASHVILLE. My favorites are my turquoise and hats!
Prints—Animal print, Leather, Lace, Floral, Corduroy…the list goes on. Unisex, unique print button-downs are the hot things for both women and men. East Nashville is our more "hipster" area of town and has some of my favorite vibes in town. The prints that I have seen that really stand out are celestial prints, skeletons, motorcycle themed shirts, tropical, and animal print. We all just a bunch of animals down here.
Booties—These are actually a must-pack item. DO NOT TORTURE YOURSELF IN OPEN TOES ON BROADWAY! Your toes need protection from all the floor climbing, slippery steps, and boot-scootin'.
Layer for the weather—Tennessee is wild and can be any given season in the same week. Especially in the spring and fall! So look up the weather, bring an umbrella, a jacket, and go from there!
BONUS TIP
If you plan on attending a show at Titans Stadium or Bridgestone Arena, bring a see-through bag for your wallet/phone/going out materials. It must be clear plastic, vinyl, or PVC and must be no bigger than 12″ x 6″ x 12″. If you require a bigger bag for medical necessity, bring a clear 1-gallon freezer bag (I know they're weird lol).
Enjoy your trip to Music City and follow me on @morgogoes for all the Nashville go-to recommendations! You should have a better grasp on what to pack when visiting Nashville now. Can't wait to see you honky tonkin' with me soon! Safe travels.
Mad love,
Morgan