Allow us to introduce ourselves. Our names are Kelly and Emily, and together we are @fashionablyplanning_blog! We've lived in Hoboken, NJ for several months now, and have eaten our way through some fabulous restaurants. If you're thinking about planning a trip to the big city but don't want to spend an arm and a leg paying for meals, look no further, because Hoboken is just across the Hudson! Keep reading for all things food in Hoboken: best spots for brunch, dinner and takeout.
Dearest D-RAVEL Traveler,
Hoboken, New Jersey is a one square mile city with countless bars and restaurants. Everything is within walking distance and the options are endless. We cannot get enough of what this small city has to offer. We've rounded up some of our favorite spots to go for weekend brunch, dinner, and takeout!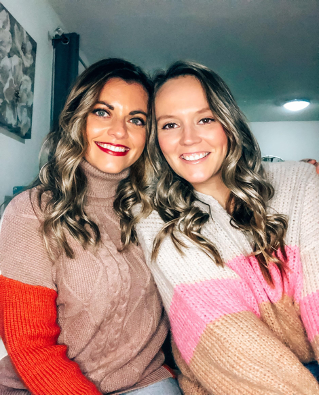 Fave Brunch Spots
The food at each restaurant is delicious and has their own unique twist on brunch staples.
Anthony David's – This restaurant is an absolute goldmine. Located uptown, this chic and classy restaurant has brunch everyday from 8 a.m. to 3 p.m.! Dine on a number of different eggs benedict plates at this spot. Anthony David's is a BYOB, so you definitely save money by bringing your champagne. We highly recommend starting brunch with the Nutella donuts. You won't be disappointed!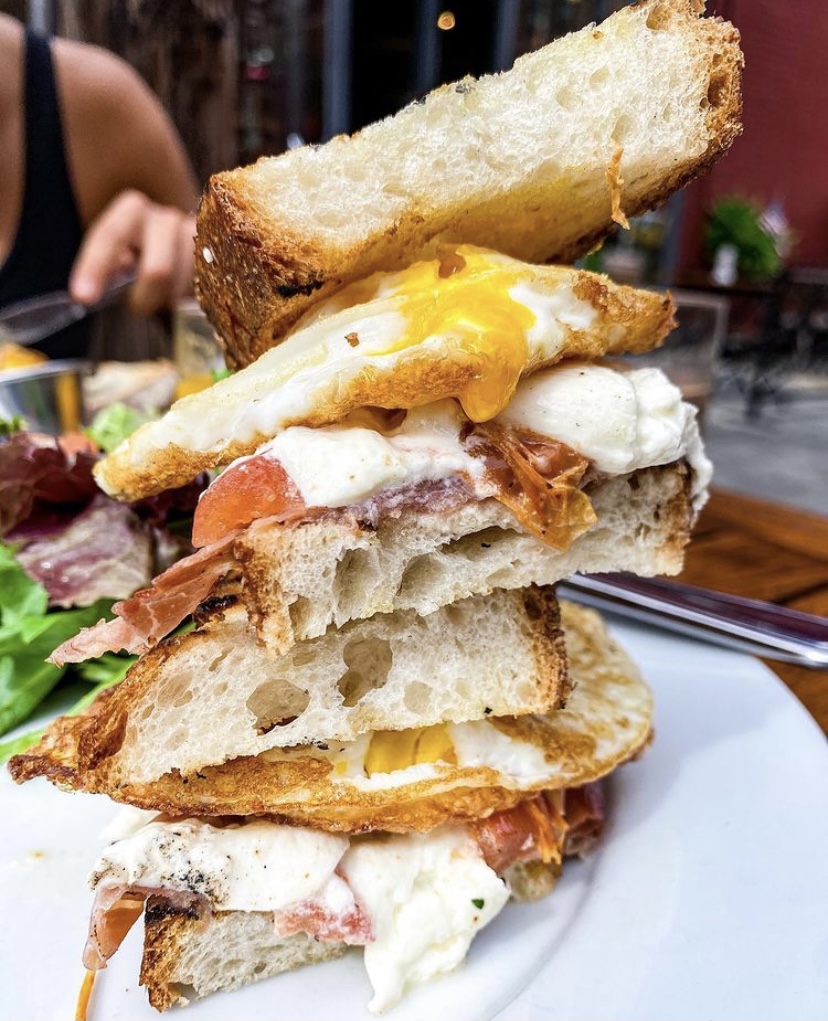 Zack's Oak Bar and Restaurant – Zack's is an absolute classic! The warm ambiance of this downtown spot cannot be beat. This cozy spot is open for weekend brunch and weekly lunch and dinner. The Hoboken with truffle fries is absolutely delicious. It is a hot, crispy chicken sandwich with apple slaw. The sandwich is super flavorful and the truffle fries come blanketed in parmesan cheese. Does it get any better?! There are a number of other options on this menu, making it difficult to decide your order. Long story short, you will not be disappointed by anything you choose to try.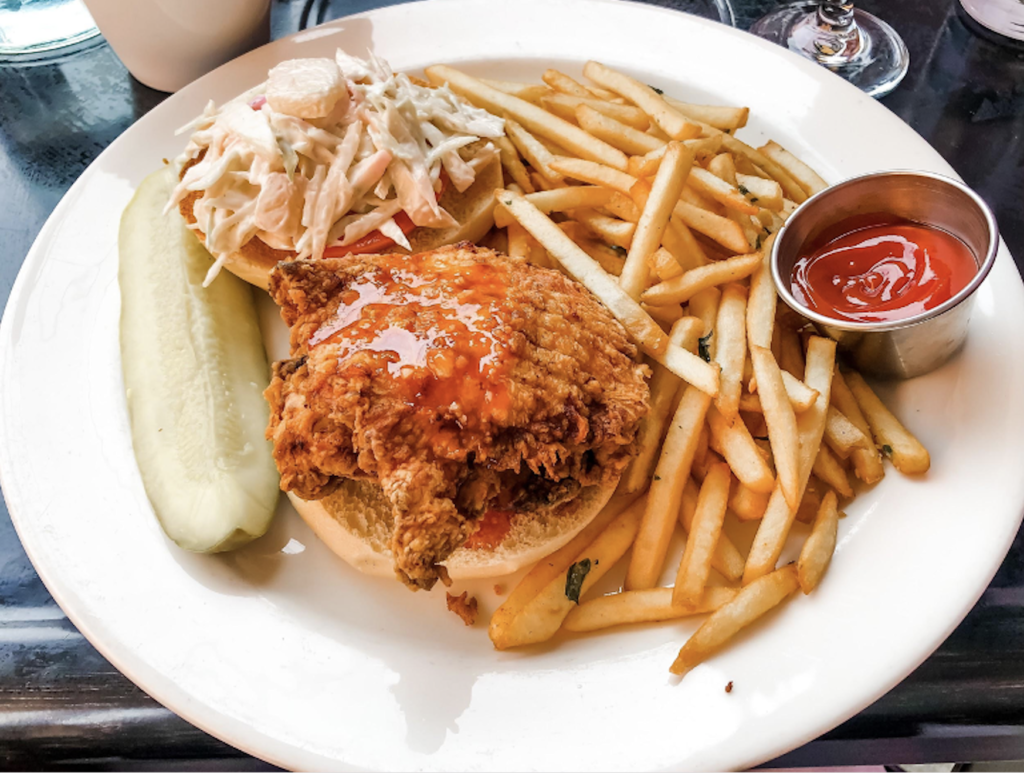 Halifax – If you are looking for the biggest bang for your buck, then Halifax is it. Their bubbles brunch menu consists of a mixture of breakfast and lunch goodies. Some of our favorites are the Challah french toast, potato poutine, and the beef sliders. Luckily, you don't have to pick just one item when you go, because they bring out every item on the menu. Did we mention that the brunch includes bottomless mimosas? Bottomless in the sense that they literally refill your glass with champagne before you even finish your first drink. Their brunch special runs every Saturday and Sunday from 11 a.m. – 3 p.m. and is only $40. Yes, you read that correctly, $40!
Grand Vin – One of our go-to places for brunch is the Grand Vin. This small, rustic corner restaurant feels like home. The food is delicious and they currently have some holiday cocktails on the menu! Enjoy a variety of savory eggs benedicts, or go for the mouthwatering croissant french toast. Covered in berries, powdered sugar, and maple syrup, it's like having dessert for a meal. We highly recommend visiting the Grand Vin and ordering a bunch of plates to share!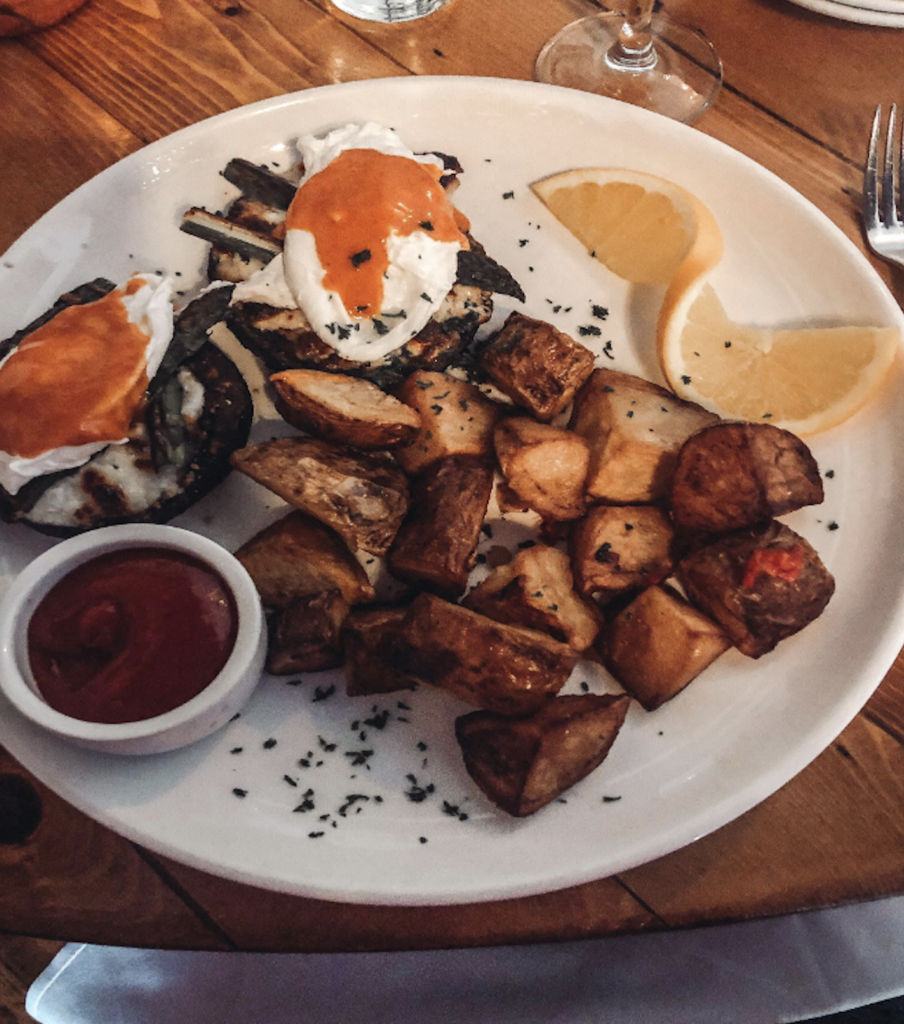 'Too Good' Take Out
Café Michelina – If you are in the mood for some good Italian cuisine, but don't feel like going out, Café Michelina is your spot. Two menu highlights are their burrata appetizer, which is served with crispy crostinis, balsamic glaze with a tomato mixture and their chicken parmigiana. So far, this is the best chicken parm that Emily has had in Hoboken. Emily's secret to ordering chicken parm is to always order it with vodka sauce instead of marinara. G.A.M.E. C.H.A.N.G.E.R. Café Michelina's vodka sauce is to die for.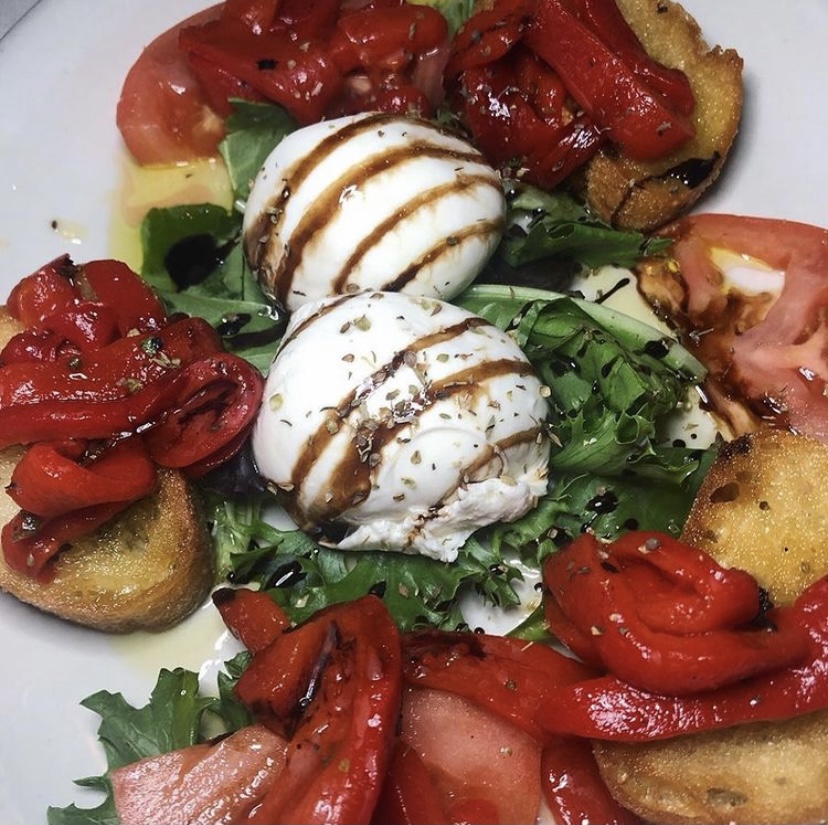 Okinawa – This small sushi restaurant is heaven. Their apps and entrees are fantastic. They have an endless menu of specialty sushi rolls, including the Oki roll, which is absolutely delicious. The Tango roll is super unique and totally awesome. You will want to order everything on the menu here!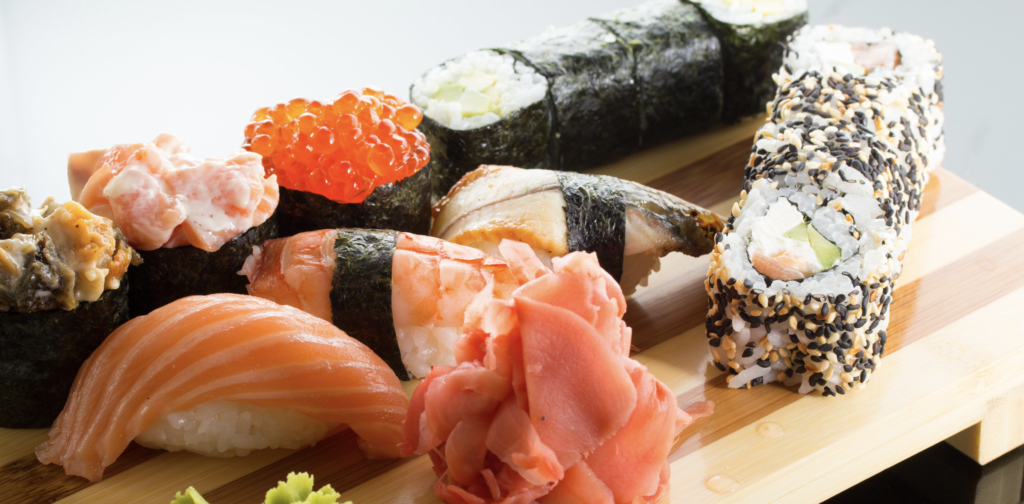 Tony Boloney's – If you're looking for treat yo'self, calories-don't-count takeout meals, Tony Boloney's is calling your name! This is one of the most satisfying cheat meals. Their menu is enormous, so there is something for everyone. The food ranges from specialty pies and hot and cold subs to all the apps in between. You don't want to miss out on their mac-n-cheese slice or the Olé steak sub. Those are two of Emily's favorites!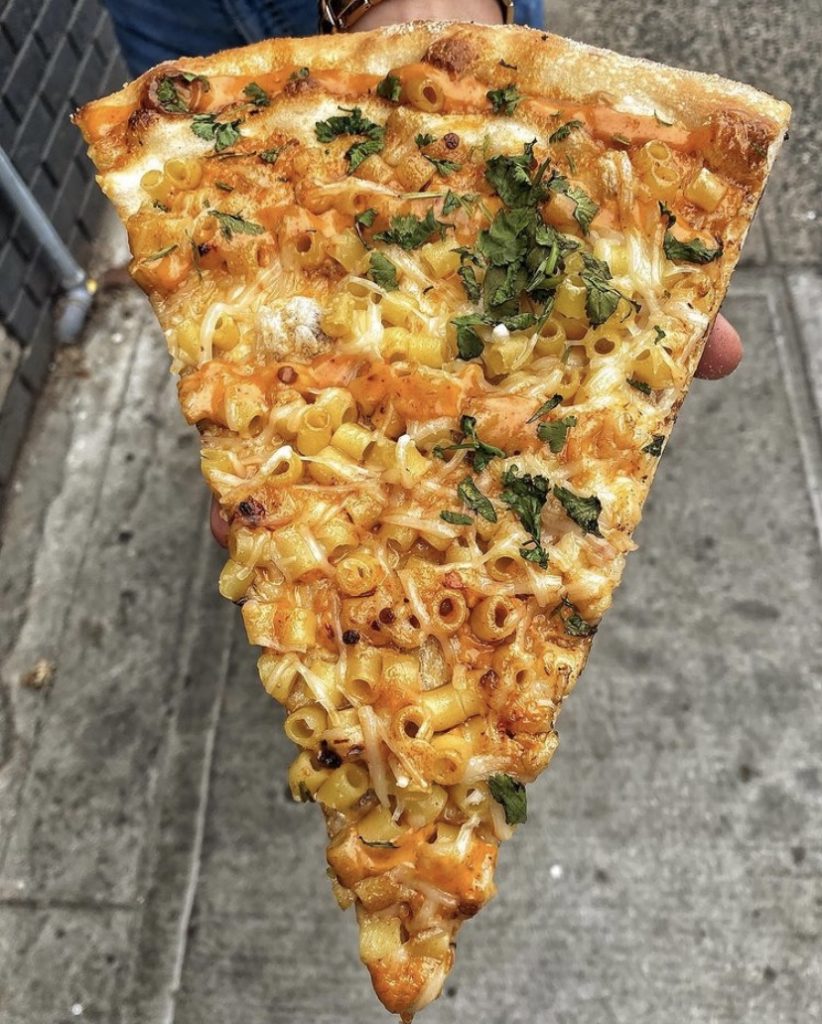 Delicious Dinner
Otto Strada – This is Kelly's favorite restaurant in Hoboken. Their menu has a plethora of options for everyone. This small Italian restaurant is a home away from home. The staff is super friendly and their pasta dishes are to die for. Otto Strada's apps are so unique and the flavors are too delicious. We highly recommend the stuffed peppers and smashed burrata with prosciutto. As for entrees, if you're trying to be semi-healthy, the chicken breast on a bed of arugula bursts with amazing flavors. If you're craving carbs, we suggest the adult mac and cheese, the flat ribbon pasta in black and white truffle cream or the angel hair pasta with bacon and brussel sprouts. The portion size, as well as the prices, are too good to be true. Oh, and did we mention it's BYOB?!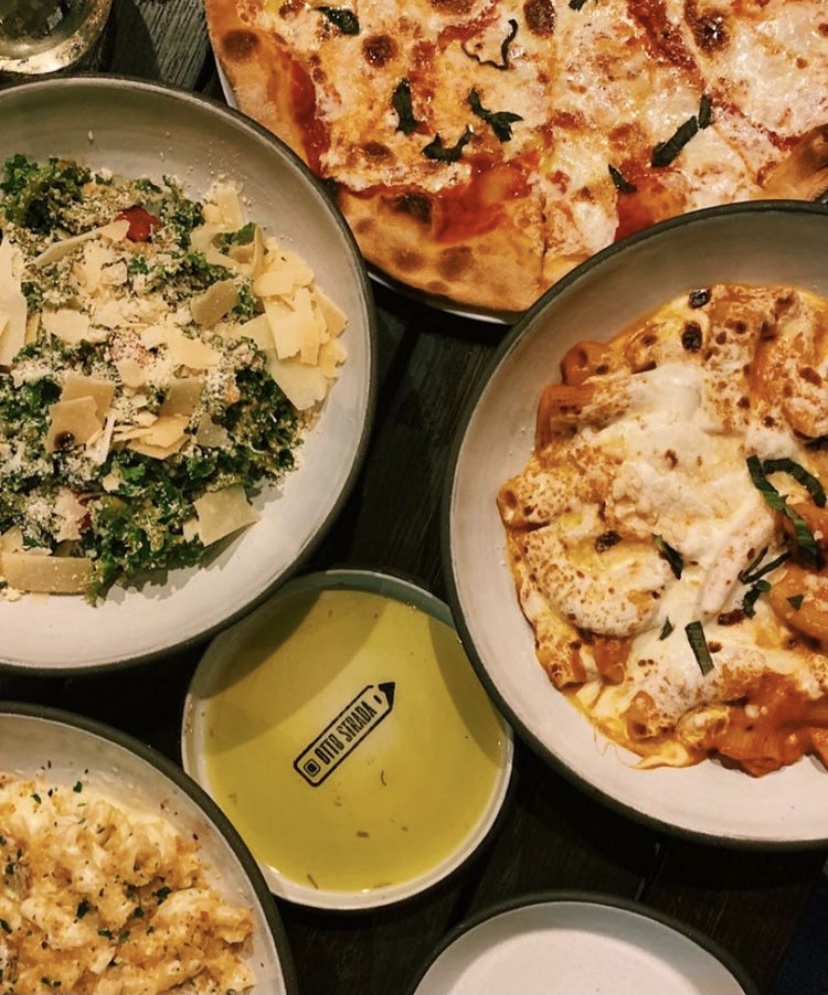 Los Charrito's – If you're craving Mexican food and margs, head to Los Charrito's. The massive bowl of guacamole is a must. This place has the best and brightest outdoor decor. The chicken quesadillas, enchiladas and flautas and our go-to picks here. The portion size is great and the restaurant has a really fun vibe! Don't hesitate to check it out.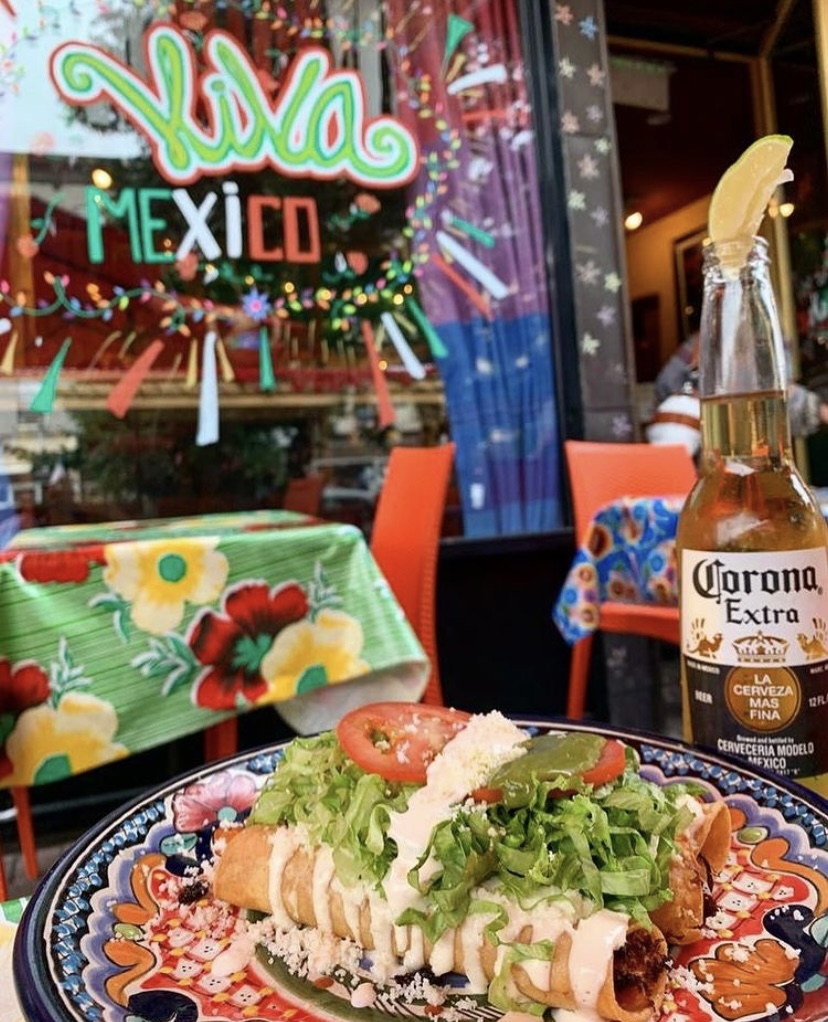 The Cuban – In the running for best Hoboken restaurant! Their menu speaks for itself. Enough said!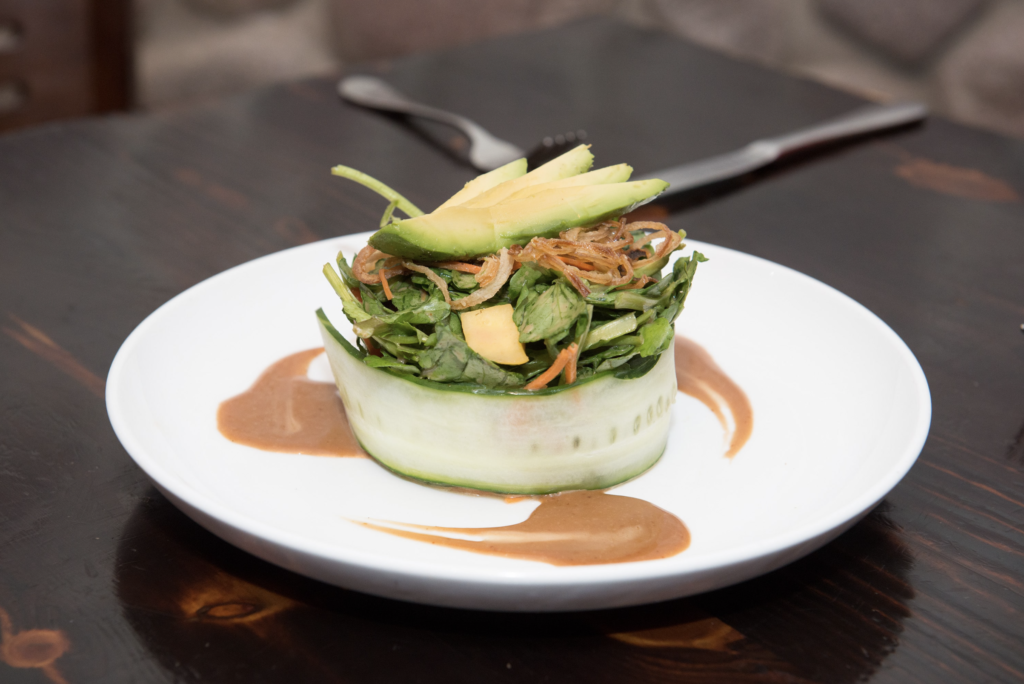 Feel free to dine at Cafe Michelina, Grand Vin, Anthony David's or Zack's for dinner, too! We hope you enjoy your travels to the Garden State and indulge in some of these Hoboken staples.
xo, Kelly & Emily