You know summer is in full swing when rooftops are packed with brunchers, day-drinkers, and happy hour goers. Chicago has some of the trendiest rooftop bars and restaurants for those craving to sip on a martini or two over some Instagram-worthy views. We all know the stress that comes with deciding on where to grab a cocktail and bite, so Chicago resident and lifestyle blogger Emma (@emmahassemer) has saved you the trouble and rounded up her five favorite rooftops and restaurants in Chicago you should try next time you visit.
Dearest D-RAVEL Traveler,
There's nothing better than enjoying a delicious meal and a few cocktails with friends 20 floors up. Rooftop season is finally upon us, and I'm stoked to soak in some rays while sipping on a minty mojito surrounded by skyscrapers galore. Chicago is rich in swanky rooftop lounges and chic patios that will make your summer dining experience one for the books.
While most Chicago restaurants and bars have yet to seat customers in-doors due to COVID-19, many places are now offering outdoor seating. Below I share my five favorite rooftops and restaurants in Chicago you must try (in my opinion) currently open in downtown.
Clueless on what to wear? Keep scrolling to see three outfits that I'd wear to each one of the below places!
Barrio
Confession: I hate tequila. I'm the only one in my friend group who doesn't order a margarita when out for drinks. But when it comes to Barrio's margaritas, I can't get enough of them. My favorite is their Mango Hibiscus margarita—it's both fruity and tangy. I recommend ordering a pitcher and splitting it among three people to get the most out of your money.
Barrio may not be a rooftop, but the food, drinks, and inviting and upbeat atmosphere make up for it. Not to mention, this modern Mexican restaurant has the best chicken tacos I've ever had in my entire life.
Utopian Tailgate
If you go to Utopian Tailgate, you'll catch nothing but good vibes. This rooftop bar is tailgate-themed—from the food and drink menu to the games (that means bags). If the faux turf and colorful decor don't catch your eye, the breathtaking view of the skyline certainly will. Needless to say, this rooftop is the perfect location for your next Instagram photo.
When it comes to food, the menu is exceptionally casual—but that doesn't mean it won't be a memorable meal. I ordered a cheeseburger and fries and was nothing short of content when I finished.
Aba
If you're going just to choose one of the five mentioned, Aba should be it. This posh Mediterranean rooftop patio is as aesthetically pleasing as it gets. Whoever designed this restaurant needs to come to my apartment ASAP—as well as the head chef.
Aba is one of those meals that I will remember for the rest of my life. I ordered the marinated olives and feta, grilled chicken kebabs, whipped feta spread, and ended the mouthwatering meal with a double chocolate tart. Are you drooling? Because, me too.
Make sure you book your reservation soon because this place fills up fast!
LondonHouse Chicago
Get a bird's-eye view of downtown Chicago while dining and drinking on the 22nd floor of LondonHouse Chicago. The American cuisine and hand-crafted cocktails are the bee's knees, but the views this rooftop offers is out of this world. American food is my personal favorite, so if you love the classics like juicy burgers, crispy chicken wings, or tender steaks, you will fall in love with the LondonHouse Chicago Menu. Favor sea over land? Dive into a plate of scallops, shrimp, and rainbow trout if you prefer.
I recommend going during golden hour, not just for the fantastic photo opportunities, but to see the city in all its glory.
Beatnik On The River
If heights aren't your jam, here's another restaurant that doesn't require you to take an elevator 22 floors up. Catch a bite at Beatnik On The River for an escape to a tropical paradise. The exotic atmosphere and impressive views of the Chicago River make this restaurant a fan-favorite.
Before you cancel your reservation at Beatnik On The River because the forecast shows rain, DON'T! The tables are covered, and you will be protected. How romantic would it be to watch the rainfall over a cocktail or two? Sounds like the perfect ambiance to me.
Now, onto the outfits! While exploring Chicago's top 5 rooftops and restaurants, it's important to look the part.
Outfit Idea No. 1: Romper
Catch me in a dress or romper every day this summer. Not only are rompers a comfy choice, but they also make you look put-together and like you actually tried to style an entire outfit—even though it didn't.
This romper is a show-stopper, and I can't wait to wear it to my next brunch outing. Snag this piece now from For Love and Lemons.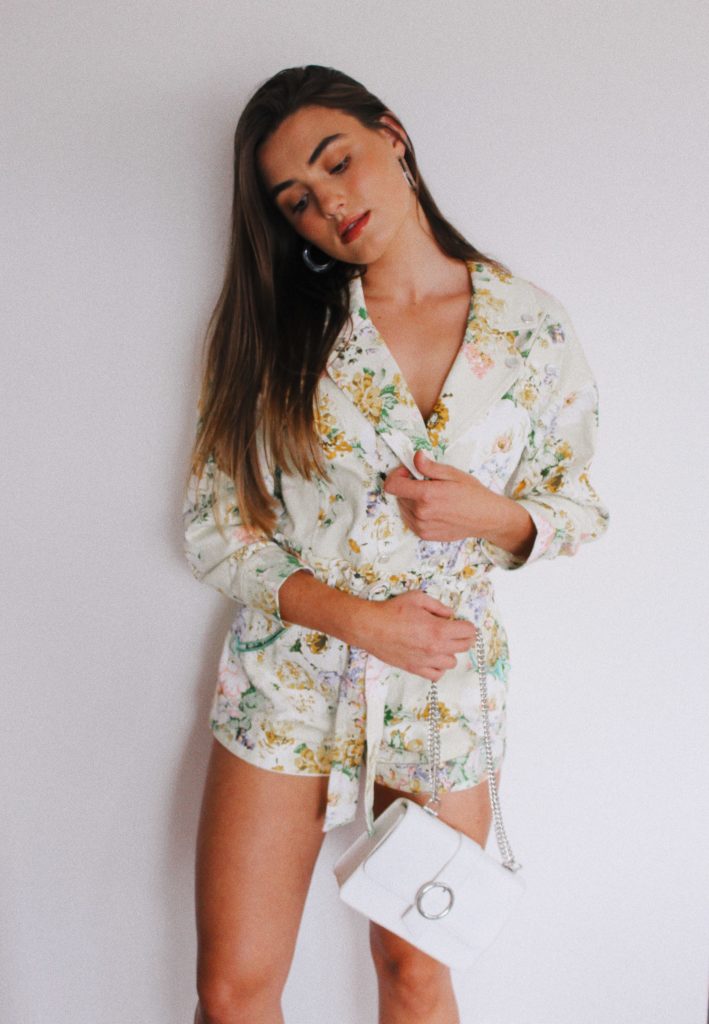 Outfit Idea No. 2: Dress
Throwing on a lightweight sundress is the best idea when it's 90 degrees and sunny. There's nothing more uncomfortable than your food and drink baby making an appearance in your crop top or having your thighs squeezed by denim shorts.
This simple but chic dress is from Urban Outfitters. The warm tones and unique watercolor pattern on this dress sold me. Accessorize with dainty jewelry and some sneakers—bam; you're done.
Unfortunately, this exact dress is no longer available but shop a similar option here.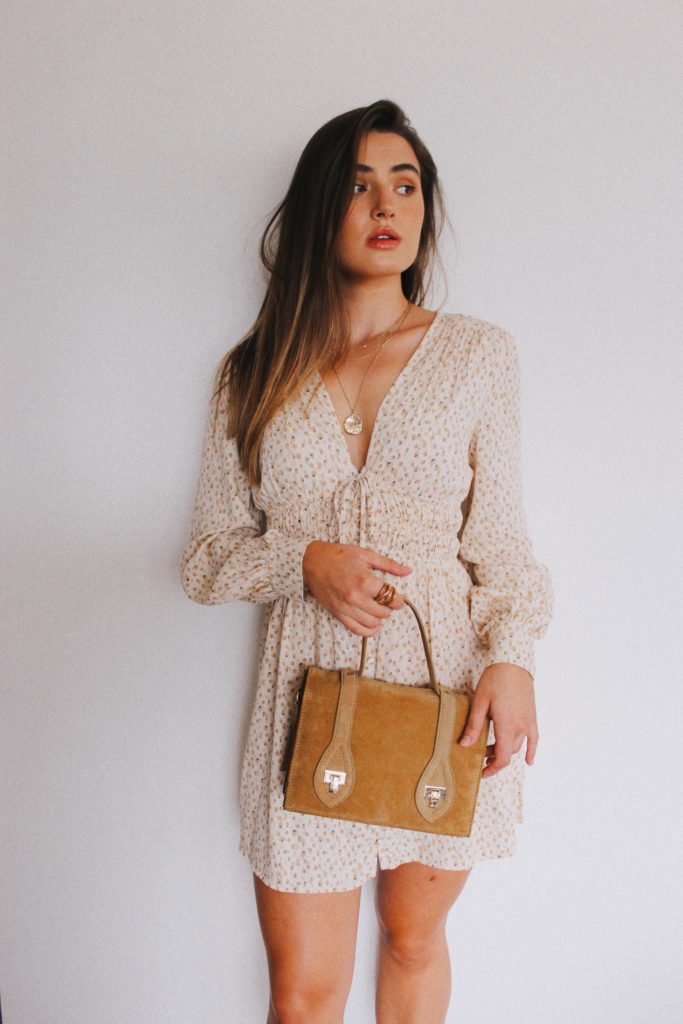 Outfit Idea No. 3: Cropped Pants and Tee
For those cooler summer nights, throw on a pair of your favorite cropped wide-leg pants and a basic t-shirt. I have so many fun pairs of trousers and dress pants that I love to style outside of the office. I'm obsessed with pairing vintage graphic tees with my dress pants—the contrast between the two pieces make this a stand-out ensemble.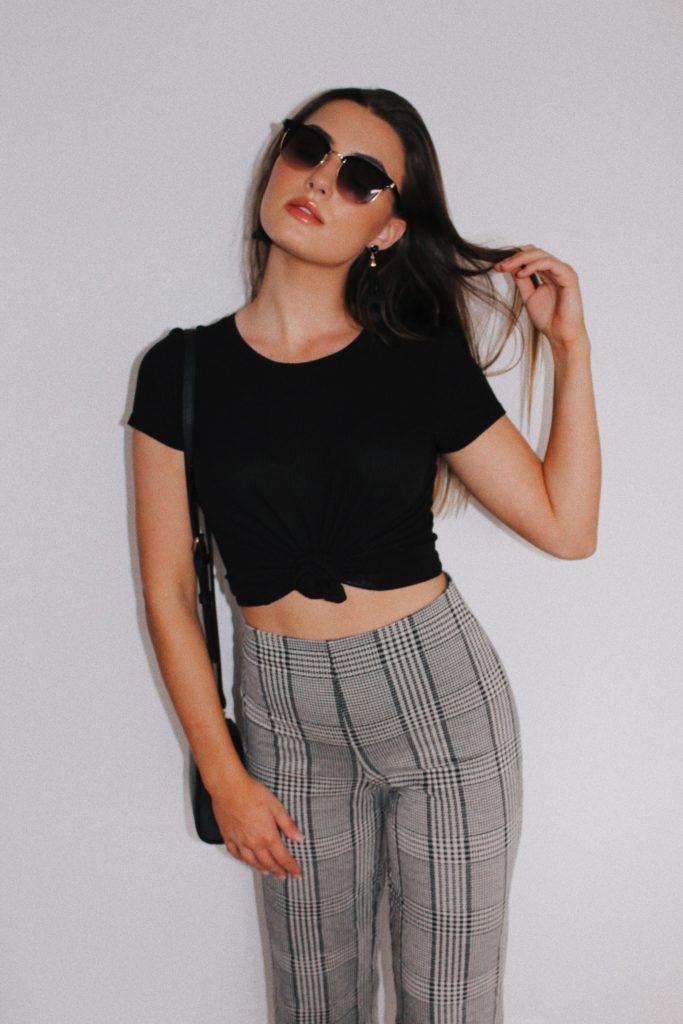 The most important accessory that I paired with each outfit is a face mask. If you are in need of a stylish mask, hit up @kamberelyse_thestitch on Instagram to place an order. Her masks are washable, comfy, and fashionable.
Next time you're in the area, make sure to try my five favorite rooftops and restaurants in Chicago. As always, happy traveling!