If you're a foodie like me (@TheBrownEyedGirlsBlog) and planning your next trip to Magic Kingdom, then you've come to the right place! Magic Kingdom has some of the most Instagramable, delicious snacks! Looking for the must try snacks in Magic Kingdom? You've come to the right place.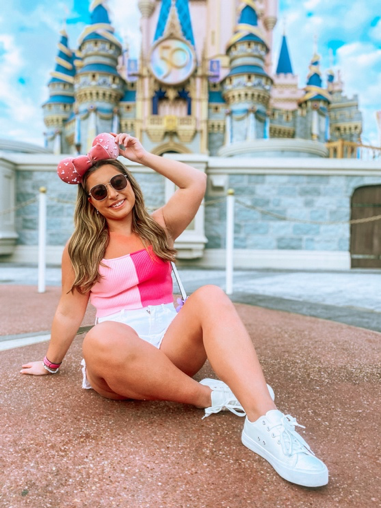 Must Try Snacks in Magic Kingdom
Mickey Ice Cream Bar – This simple snack is perfect to cool you off and satisfy your sweet tooth. Enjoy this vanilla ice cream sweet treat covered in hardened chocolate! The Mickey Ice Cream Bar is probably most of all the Mickey shaped snacks. Luckily for you, there are ice cream carts scattered across the park where you can ask for Mickey, it will be easy to run into one.
Joffrey's Coffee and Tea – Joffrey's offers roasted coffees, teas, and signature specialty beverages. This is my favorite coffee in the whole world, so much so, that I literally get it every day when I'm in Disney. I highly recommend trying their seasonal flavors! My personal favorite is a frozen mocha cappuccino. (Use this link here to locate where it's at in the park!)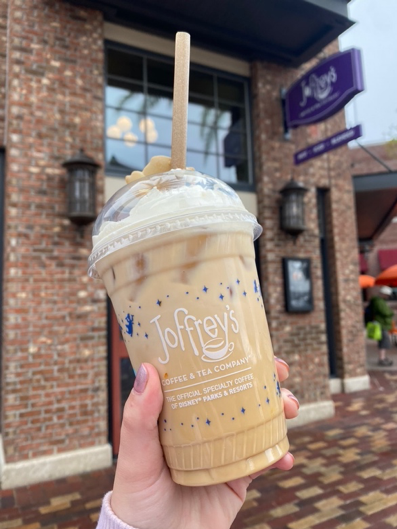 Fruit Nutella Waffle – I always get this for breakfast in the Magic Kingdom. This delicious waffle is filled with strawberries, blueberries, and bananas! You can find the Nutella fruit waffles located at the cart in Sleepy Hallow. There's a bunch of tables so you can enjoy with a view of the castle while you eat! (I also love coming back here to grab funnel cake and watching the fireworks at night.)
Quick Tip!
Sleep Hallow is on the way to the Haunted Mansion so grab your waffle and head over in the morning before the line gets too crazy.
Mickey Pretzel — Ugh who doesn't love a soft pretzel dipped in cheese! These soft pretzels can be located not only in Magic Kingdom, but all of the four parks plus some of the resorts! Take the free Disney buses over to the Boardwalk hotel to grab a pretzel and see the beautiful grounds.
Dole Whip — This soft serve pineapple treat is so light and refreshing. You can find it over at Story Book treats in the park, Disney Springs, or The Polynesian Resort. If you wanna feel like you've been transported to French Polynesia itself, I HIGHLY recommend visiting The Poly, grabbing Dole Whip at the Pineapple Lanai, and setting up a spot in the sand to watch the fireworks.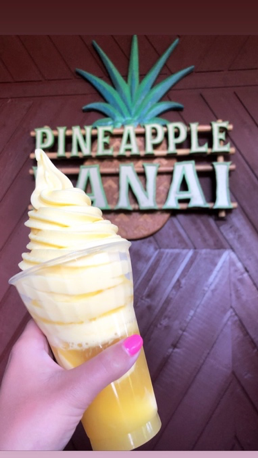 Quick Tip!
Most people don't know this, but you don't have to be staying on Disney property to visit the resorts. You can watch the fireworks from beach at the Polynesian, the balcony at the Contemporary, or the terrace at the Riviera Resort.
Starbucks – Ok, ok, I know you can get Starbucks anywhere, but there's just something about getting a venti pink drink and take adorable pictures of in in front of the castle. Such a cute insta story! If you'd like, check out my Pinterest board for inspo!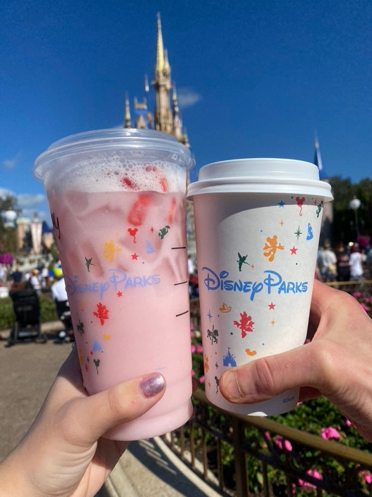 Ghirardelli's – This one isn't located in Magic Kingdom, it's actually located in Disney Springs but you can take the bus from the park for a late-night snack because they are open until 11pm. If you haven't tried Ghirardelli's milkshakes, let me tell you that you're missing out. They are to DIE for!! It's the best shake I have ever had. Make sure you stop here for dessert after enjoying all the fun restaurants, shopping, and live entertainment!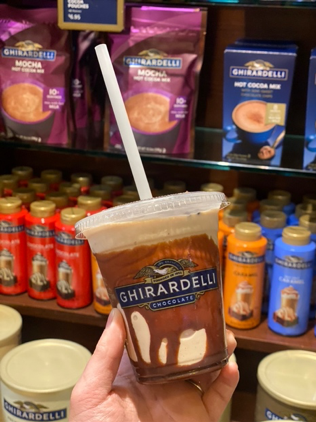 I hope you guys loved and my recommendations and tips! I've always loved Disney for the creativity and experiences provided…and amazing aesthetics for my content. So, what could be better for a foodie than combining delicious snacks and the most Instagramable snacks?!? Be sure to check out my blog for more tips on the Parks like my Favorite Photo spots, Disney Instagram captions, and more!
Julianna Rolaf, The Brown Eyed Girls Blog