If you're anything like me, you probably spend a decent amount of time sifting through the vast world of Amazon products for cheap and useful products. It's intern Alyssa (@alyssabrascia) here, and if there's anything that Amazon most certainly has you covered for, it's travel gadgets. Whether they're here to make packing a little easier or just great products to bring on the go, I've assembled my top 5 Amazon buys under $50 for your next trip.
Dearest D-RAVEL Traveler,
Are you a notorious over-packer like me, who needs anything and everything to minimize space for more clothes? Have you been searching for that perfect toiletry bag to compact your beauty stash? Look no farther, because I did the digging for you.
1. MONSTINA Toiletry Bag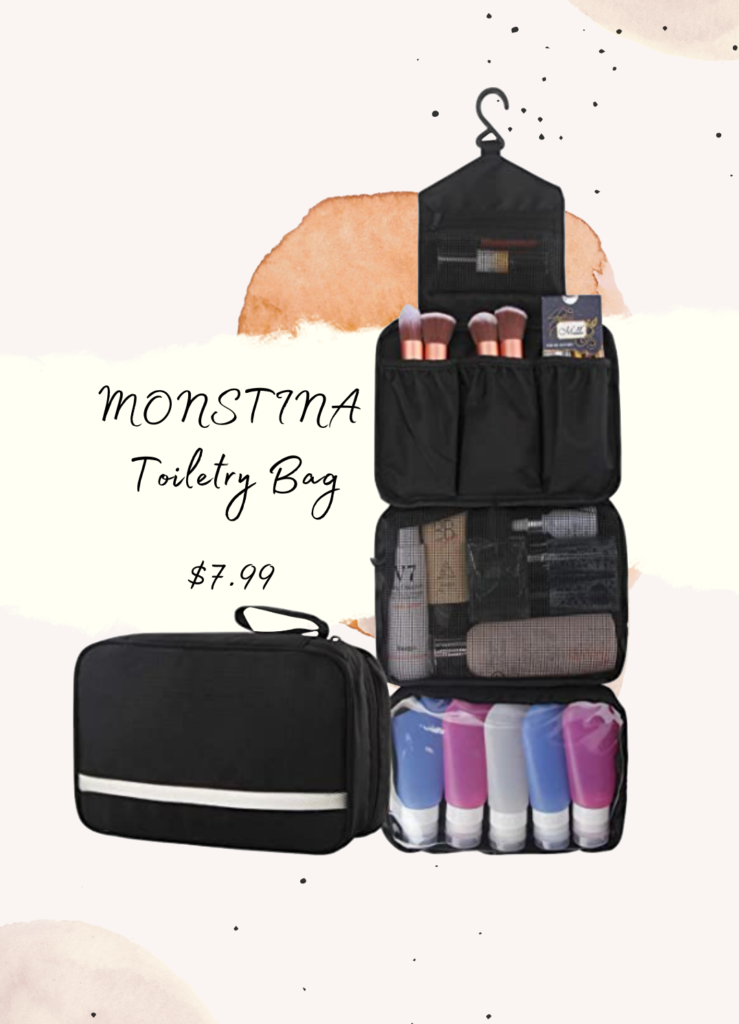 Toiletry packing just became ten times easier with this nifty bag. Comprised of six zip-able and stackable compartments, the MONSTINA Toiletry Bag ($7.99) neatly organizes all of your essentials. You can hang this bag from a towel bar easily with its built-in hanger. This nifty bag is available in a variety of colors to match your individual style. Never spend another minute rummaging through cluttered toiletry bags again!
2. Himawari Travel Backpack
Also, Pair it With the Zoppen Multi-Purpose RFID-Blocking Travel Passport Wallet
The bag you travel with can make or break your commute experience. Trust me, you don't want a bag breaking while you squeeze your way through the crowded airport. Well, for a reasonable price and a variety of stylish colors, we have the Himawari Travel Backpack ($35.99). This bag is made of eco-friendly, waterproof canvas to keep it sturdy and structured, yet good for the environment. You can store up to a 15″ laptop in this backpack, which accounts for most personal computers, and opens wide due to its rectangular frame to hold all of your essentials. Attach a charger to the bag's built-in USB cable and you can charge on-the-go!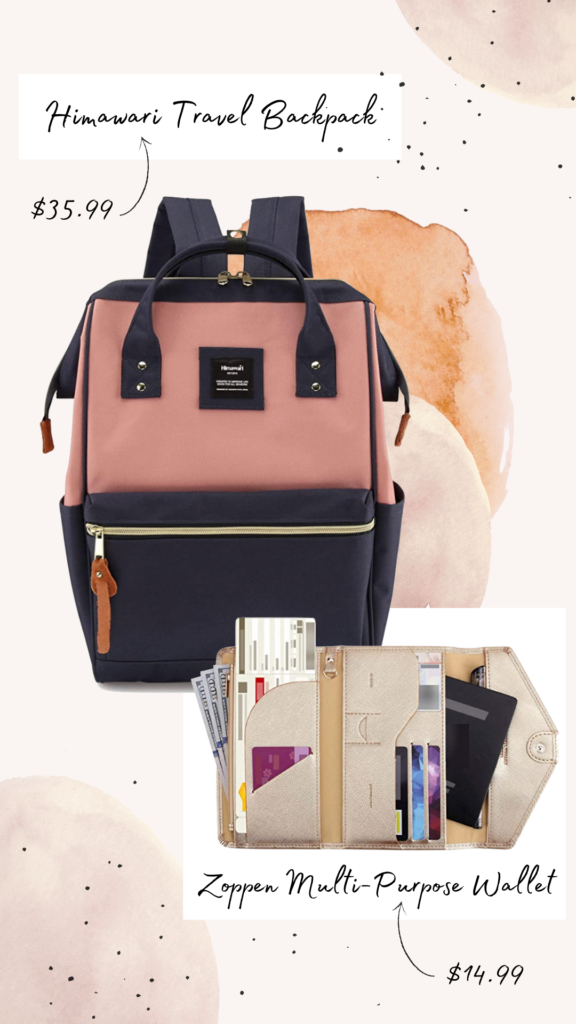 The perfect and practical item for this bag? The Zoppen Multi-Purpose Wallet ($14.99). This wallet is a passport holder and document organizer all wrapped up in one. Complete with a passport pocket, boarding pass compartment, 3 credit card slots, an ID slot, coin pouch, cash pockets and more, this wallet makes it easy to zip every important document up in one safe place. You can also breathe knowing that that your privacy is protected with RFID-blocking material that is sewn into the organizer to prevent tracking technology. Not only does this wallet have endless uses, but it is complete with an exterior of sleek, eco-friendly PU-leather and a soft interior lining for card protection. Never dig for your passport again!
3. Travigo 4-in-1 Travel Bottle Dispenser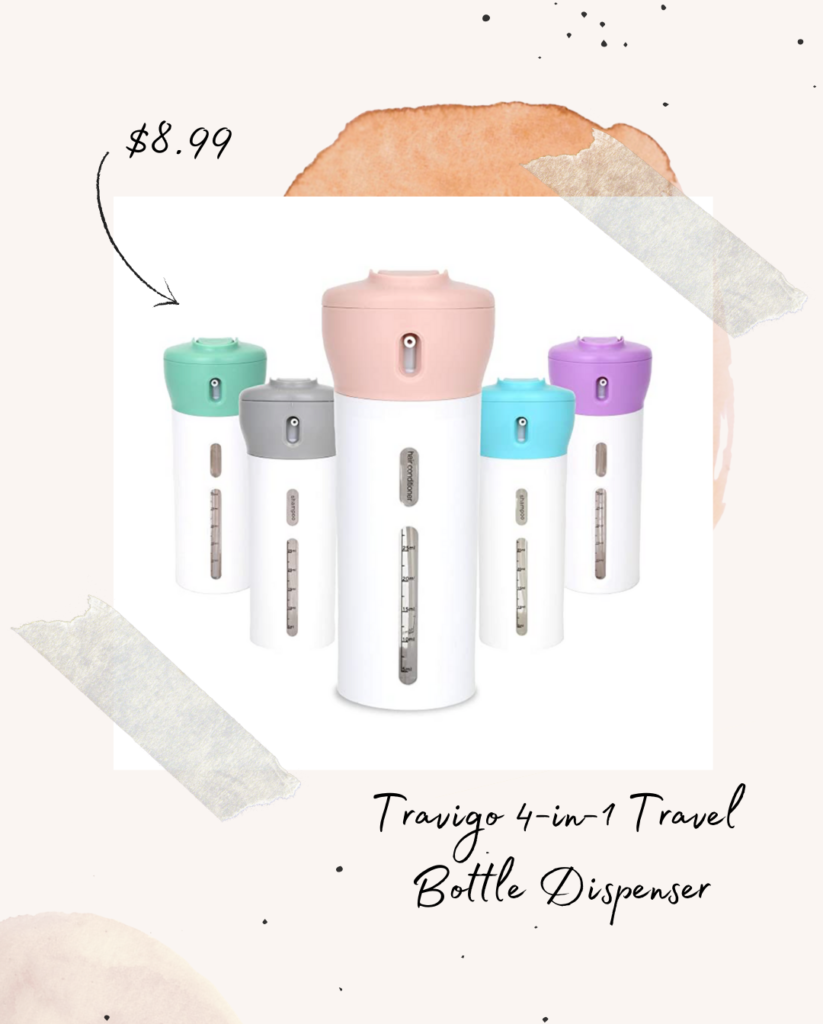 Traveling with your skin, hair and face-care products can be daunting. What if they spill? Break? Ruin my toiletry bag? Well, never fear, because the Travigo 4-in-1 Travel Bottle Dispenser ($8.99) is here. This cute contraption is a portable pump container that holds 4 reusable 1.4 ounce squirt bottles seamlessly. Fit with a rotating lid, you can easily switch from conditioner to shampoo in just a twist! This bottle holds everything you need and maximizes space inside of your toiletry bag, which is music to my makeup over-packing ears. Each inside bottle can be labeled with useful, pre-made labels to stick on the outside so you don't mistake conditioner for lotion. Another idea for this bottle: one container for hand sanitizer. Make it COVID-friendly!
4. ZAXOP Resistant Silicone Mat Pouch for Flat Iron
We've all been there: you need to stash the curling wand, but you just used it. This is where our friend, the ZAXOP Resistant Silicone Mat Pouch ($6.99) comes into play. If you're in a pinch and need to throw that hot flat iron into the suitcase before dashing to the airport, then this silicone pouch is your best bet. Not only does it lay flat to protect the surface where you lay the heat tool, but it also can pop open to reveal a pouch for thermal storage. Made of food-grade silicone that can withstand heat up to 460°F, you can rest assured knowing that your belongings are protected.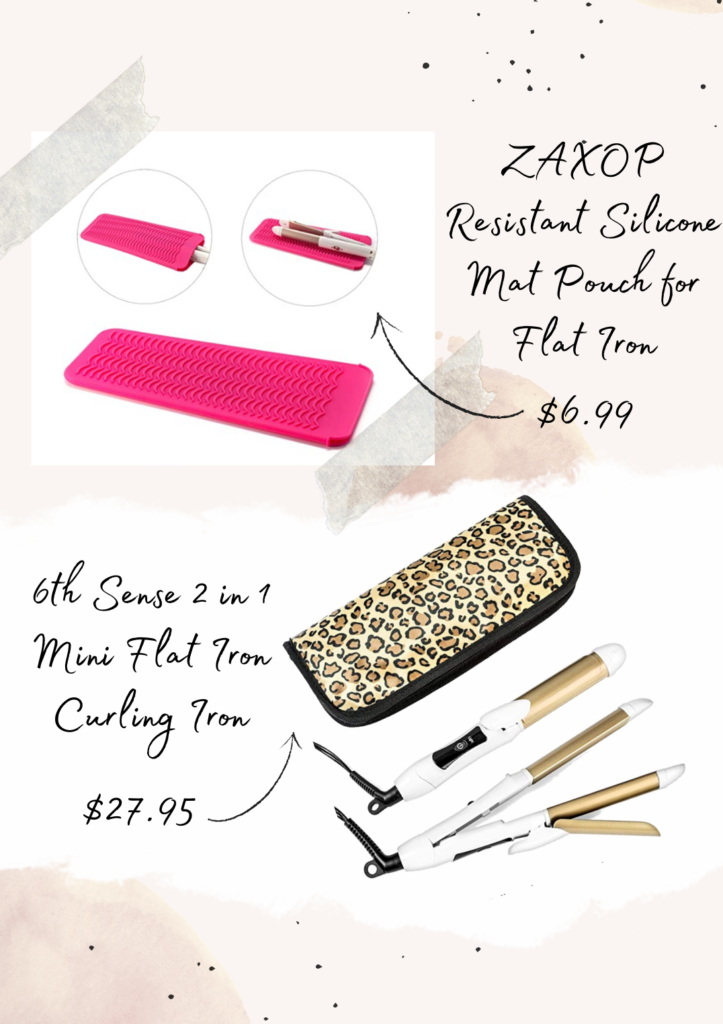 Pair it With: 6th Sense 2 in 1 Mini Flat Iron Curling Iron
In need of a travel heat tool set to compliment your thermal pouch? The 6th Sense 2 in 1 Mini Flat/Curling Iron ($27.95) set will fit perfectly in your bag. Maximize your packing space with this wand that can do it all… featuring a handle that serve as the base of a curling wand and clamp, or split down the middle to create a full flat iron. It even comes with its own thermal protector bag in case you want to switch up your options.
BAGSMART Travel Jewelry Organizer Case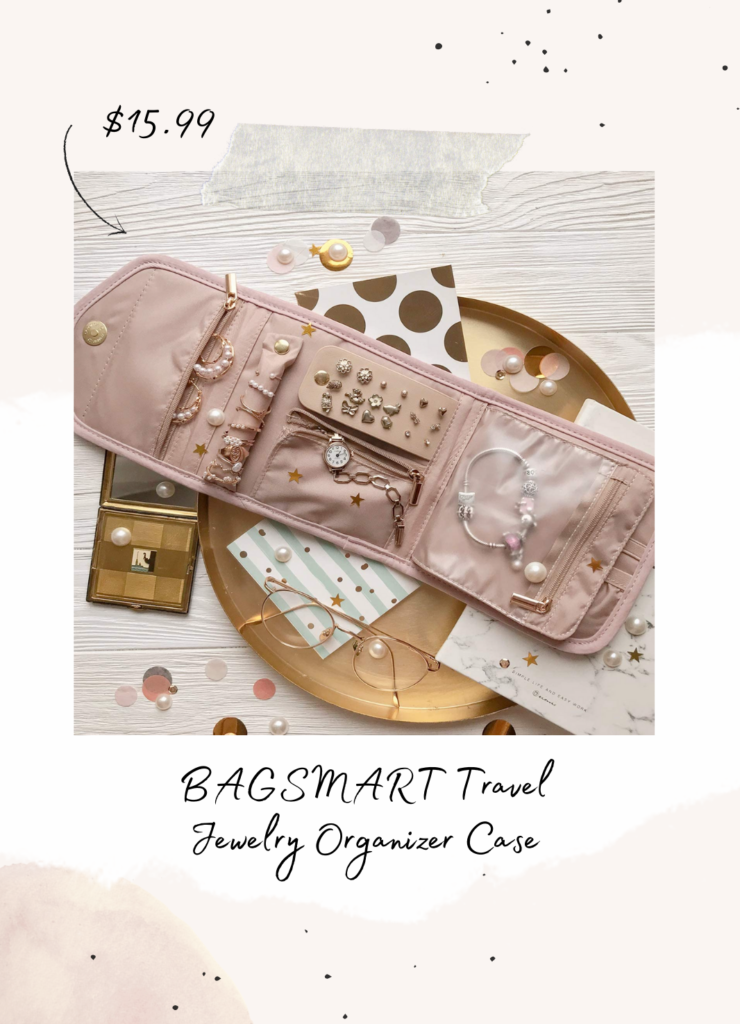 We all know the struggles of picking out cohesive jewelry for each outfit of your trip, let alone trying to pack them in a way that your tiny necklace chains won't get tangled. Well, the BAGSMART Travel Jewelry Organizer ($15.99) is here to put that problem to rest. Available in mini, small and large options (at different prices) and an array of pastels and patterns, this organizer is optimal for the accessory lover. A buckle band is featured for sliding rings on and off, an earring panel can hold all of your delicate dangles, and we would be remiss to not mention the buckle straps to neatly house your necklaces. Two more zipper layers can be found in this case to neatly tuck away bracelets and more. If you want fashion and function, this organizer is perfect for you.
Let's Get Shopping!
Minimizing space can be a pain and finding the products to assist in that isn't much easier, but with my top 5 Amazon buys under $50, you'll be set for your next trip. I hope you found your next travel essentials and can now squeeze that extra pair of shoes in your suitcase!
Happy travels from us at D-RAVEL!