Dearest D-Ravel Traveler,
Hi friends! My name is Shelby (@shelbysmallworld), and I am so excited to tell you all about my visit to Nassau Paradise Island and how you can make the most out of your trip. I have all the travel tips for the Bahamas that you'll need and then some!
Must-Do:
The Exuma Pigs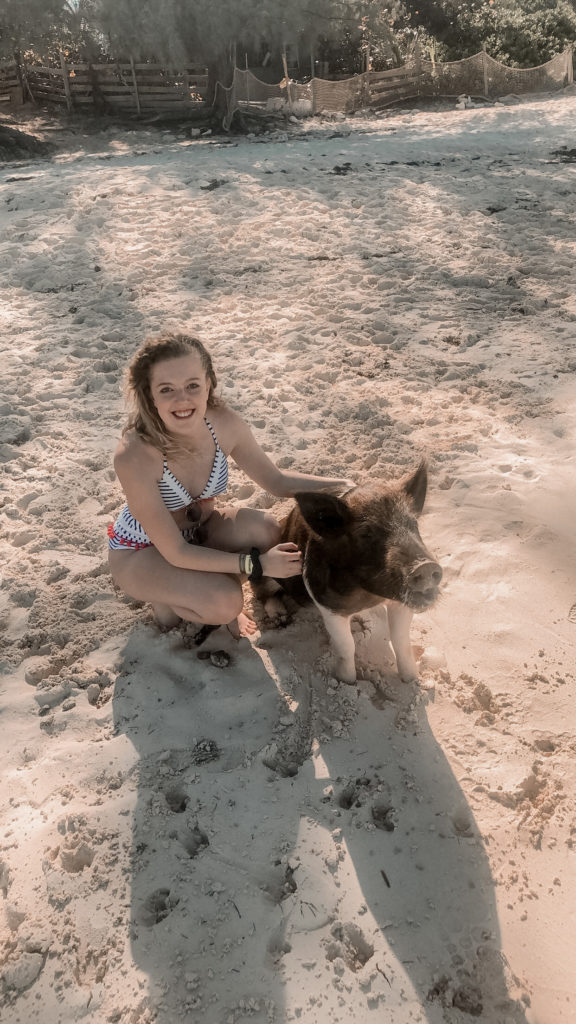 Swimming with the pigs is an activity that will pop up just about every time you start to plan your trip to the Bahamas and, although it may seem too touristy, I have to say it's totally worth it. These pigs actually live on the island and have handlers that bring them down to swim and be fed by the tourists. This is the ultimate picture taking opportunity as the handlers will direct the pigs to sit with you as well!
For under $200 you'll take part in a boat ride to Exuma, a free meal and drinks, snorkeling, and stunning views. The experience wasn't a part of my stay at the all-inclusive Riu Palace, but the opportunity to feed the island pigs was one I'll never forget.
Atlantis
I'm sure you've all seen the commercials about visiting Atlantis on TV, and it really does live up to all of the hype. I got the opportunity to tour Atlantis with a day pass that included water park access and a meal. Aside from the water park, I recommend taking the time to walk around the hotel and visit their indoor marketplace.
The stores range anywhere from the Atlantis gift shop to Mac Cosmetics and Chanel, and not to mention that the inside of the hotel is gorgeous. Thankfully, if you plan to stay on Nassau Paradise Island, you are no more than a short taxi ride or even a walk away from Atlantis.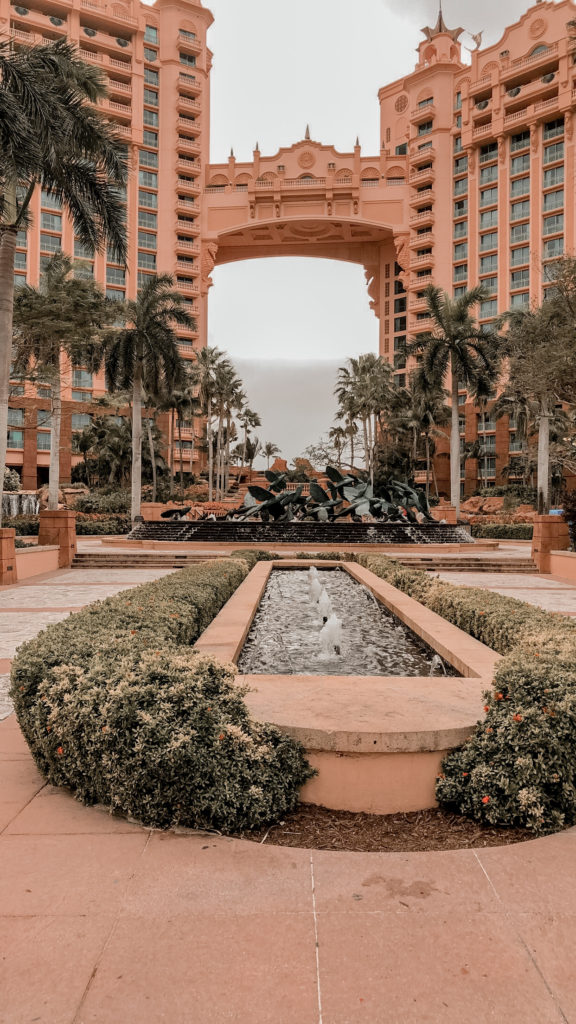 Touring the Island
Although touring the island might seem like a no-brainer, some people don't make it a priority to leave the resort when it should really be on the top of everyone's to-do list. For me personally, it was one of the more culturally rewarding experiences that I had while visiting. Even just taking a day trip to wander around the street markets was well worth the cab fare. The architecture and painted buildings make Nassau an absolute dream for photo ops as well!
Travel Tips For The Bahamas
#1 Swimsuits
This may sound ridiculous, but pack at the very least three swimsuits. I know it might be a little cumbersome and may seem unnecessary, but I wore one every single day of my trip and having options was a must. Whether I was going to the beach or wearing it underneath clothing for an excursion – it was a staple in my Bahamas attire.
#2 Vendors
Beach vendors and salesmen were something that my shy soul wasn't prepared for, so remember it's always okay to say no. On the beach, you may be bombarded by locals attempting to sell you anything from sarongs to flutes, and even jet ski rides. This is a tip that I wish someone would have told me before my trip and could have saved me from leaving with a bunch of knick-knacks I didn't need.
So there you have it: a few of the things I enjoyed and what I learned while traveling to Nassau Paradise Island, Bahamas. There's a reason they call it paradise and I hope you keep it in mind for your next vacation. Safe travels!
PS: If you'd like to follow me on more of my adventures, you can follow me on Instagram contributing to my lifestyle blog (@abrunette.andablonde), and my personal account (@callmesmalls).