Fashion blogger, Amy Anderson knows exactly what to wear this summer in Chicago…and she's ready to give us the inside scoop.
Dearest D-RAVEL Traveler,
Summer is officially underway in Chicago! The Zoom call, top half only, dress code we've been adhering to is out, and putting together full ensembles we actually want to be seen in is (finally!) in. This summer's fashion trends favor low-maintenance, effortless styles that are a bit more relaxed than usual. Nothing that tries too hard! I've rounded up a few of my favorite looks that you'll see on the streets of Chicago all summer:
The Flowy, Midi-length Dress
You do a lot of walking in Chicago, so comfort is always a priority. A billowy, midi-length dress or skirt is low-maintenance, yet chic, and an easy look to take from day to night. For a day of shopping on Michigan Avenue, I'd pair it with cute sneakers and then switch into strappy heels for dinner right around the corner in Gold Coast or a rooftop bar in River North.
Tip: The London House Hotel rooftop bar has amazing views of the city!
Bermuda Shorts
High-waisted Bermuda shorts add just a bit of sophistication to any look. I'd pair them with a simple, spaghetti-strap tank or white-tee. Elevate the look by pairing them with a matching top or bralette—hello, shorts-suit! This would be a good look for exploring the museums, (when they open!) or walking through the multi-floor Restoration Hardware destination store in Gold Coast that has a beautiful dining room in the courtyard.
Tip: There's always a wait for the restaurant, so I suggest putting your name on the waitlist, getting a drink from the in-store café, and walking the store while you wait.
Little White Dress
The LWD is a staple during summer and no exception here in Chicago. It's chic and classic. It's the perfect, effortless look for an afternoon at City Winery on Chicago's winding Riverwalk when it reopens.
Biker Shorts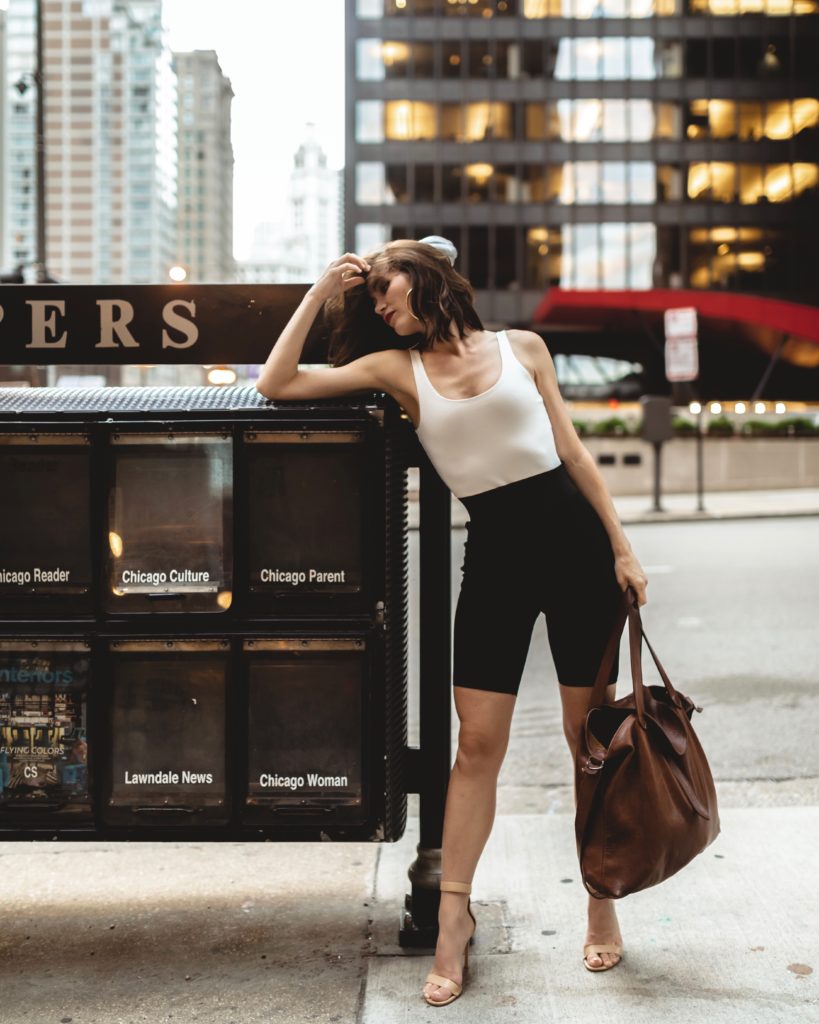 Biker shorts were a major trend last summer in Chicago, and they're back again this year. Paired with a matching crop-top or an oversized tee, you'll be set for a day of shopping and brunching in the cool West Loop/Fulton Market area or Wicker Park neighborhood. Brunching is a sport in Chicago and an absolute must!
Tip: Big Star in Wicker Park has an amazing outdoor patio and is my favorite place for tacos and margaritas on a hot day.
A Vintage Dress
Chicago has AMAZING vintage and antique stores. Andersonville and Pilson are my go-to neighborhoods for cool boutiques, antique furniture stores, and browsing through packed racks of vintage finds. Because of this, you'll see a lot of one-of-a-kind, cool street style in these areas. I'm really into short 1960s-style shift dresses paired with cute sneakers or chunky sandals right now. Tip: Outskirts Vintage in Andersonville and Knee Deep Vintage in Pilson are two of my faves for vintage dresses.
Tip: Outskirts Vintage in Andersonville and Knee Deep Vintage in Pilson are two of my faves for vintage dresses.
Statement Accessories
A good statement accessory can transform an entire look. It's also a way to get several looks from one outfit, which is perfect for traveling! Some of my favorite statement pieces this summer include cat-eye sunglasses, oversized belts, and scarves that can be tied into your hair, draped over your shoulders, or even worn as a tube top on a hot day. The sky's the limit here.
An Oversized Blazer
Although summertime in Chicago is typically hot, the weather can change fast! It can get cold and rainy in a matter of minutes and, don't forget, the closer you are to the lake, the cooler it can be! I suggest always having an extra light layer with you. Throwing on an oversized blazer will keep you warm and on-trend at the same time. This menswear silhouette can be worn over literally anything—jeans and a tee, a silky dress, or even biker shorts. And the bigger, the better, you can't go wrong!
All these trends have started to invade Chicago's street style and will be here all summer long. So put away those WFH sweats and use these tips to help you pack for your next stylish trip to the Windy City!
Amy Anderson (@stylecadenza)