Hopefully, if you're reading this article, you will soon be heading to one of the best countries in Europe…Greece! If you are reading this article and don't have plans to visit Greece, you should make some! Luckily for you, while I was studying abroad, I learned a ton about how to pack while traveling to Athens, Greece, and do I have the tips for you.
Dearest D-RAVEL Travelers,
My name is Malia (@littlemissfinance), and I had the great fortune to spend a semester living in Athens, Greece. Of course, as we are all planning our great European vacation, the number one question is WHAT TO PACK. Thank goodness D-RAVEL has come to our rescue!
I will walk you through the seasons in Athens & share my recommendations on how to pack according to the season.
Summer: June-August
Greece sits at the southern tip of Europe, and Athens sits at the southern tip of Greece (are you still following me?), so the city does get warm in the summer. The average temperature in the summer ranges from 80-90 degrees Fahrenheit. Fortunately, Greece does not tend to get a lot of humidity, so you can rule out that muggy feeling. Summers in Athens is also the driest time of the year, so it is unlikely you'll need to plan for a raincoat or umbrella. Lightweight clothes are my go-to for summertime in Athens. At night, it will cool off to around 60-70 degrees Fahrenheit.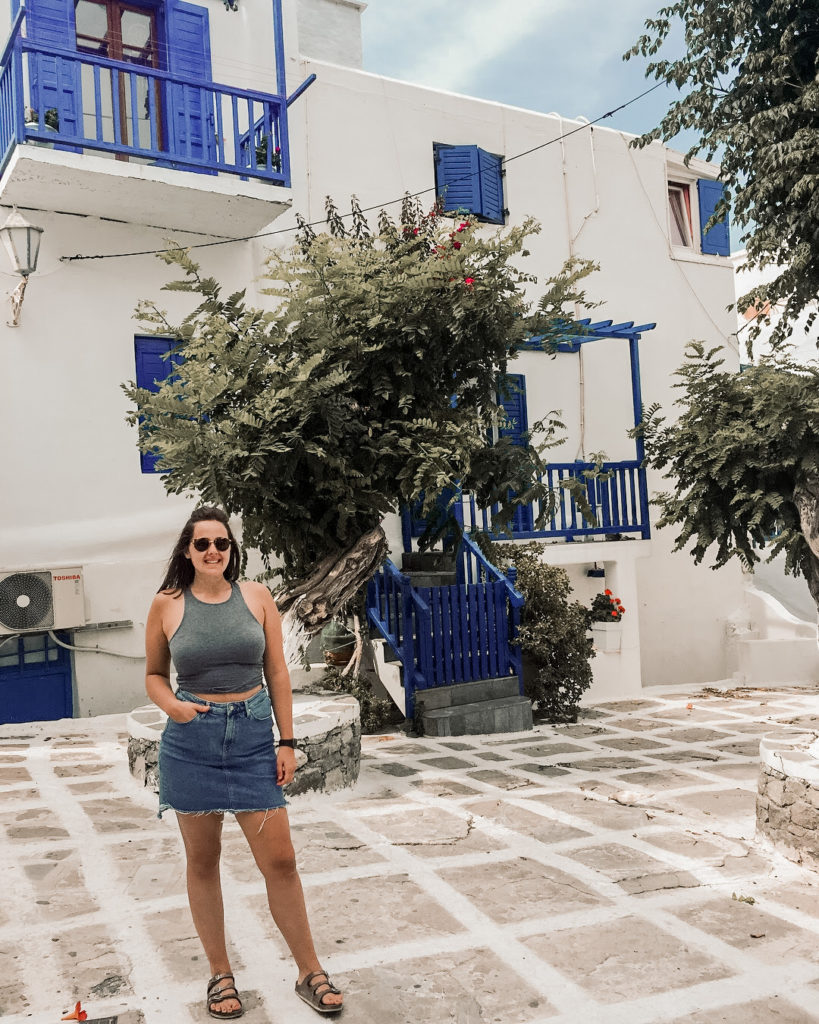 Packing Suggestions while traveling June-August:
Sundresses
Short romper
Jean skirt/shorts & tank
Cute tennis shoes
Lightweight jacket for nighttime
Crossbody purse
swimsuit
Europeans are always ahead of Americans with the latest fashion trends, so it is hard to predict the newest and cutest vibe. Still, I do have some trends that I have learned Europeans do not typically particularly participate in!
Flip flops

Most women are always wearing some sort of tennis shoe. Sandals are not as common, especially a pair of shoes like Chacos. That is not to say you cannot wear them-dress as you are comfortable! This is simply a note to let you know that you may stand out a little more.

Bright colors

I LOVE colors, especially a good pop of color. When I was living in Greece, I quickly learned that most young women like myself wore mostly black, and a lot of neutrals.
Spring: March-May
Springtime is a great time to visit the city, as it is a bit cooler and mild weather compared to the summer. Average highs in the spring range from 60-78 degrees (it does start to get warm in late Spring, I was going to the beach at the end of April/ early May when I lived there!). The nighttime lows will cool to 45-60 degrees Fahrenheit. I recommend packing a jacket because it will get chilly in the evening.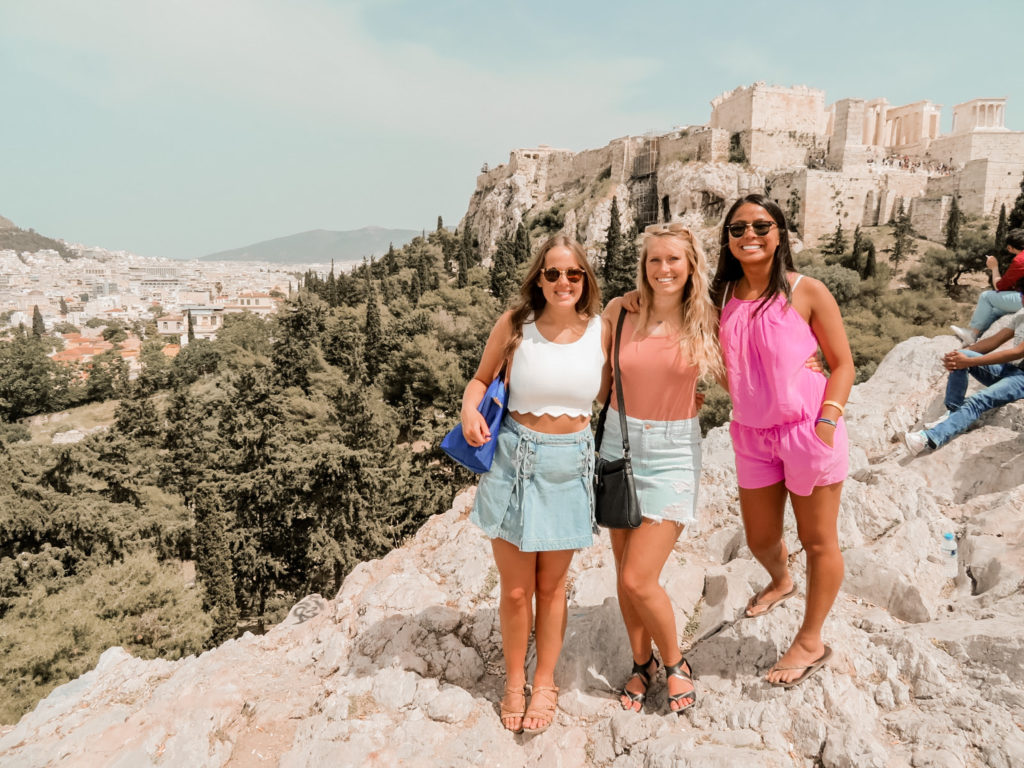 Packing Suggestions:
Joggers
Jean capris & shorts
Tank top/crop top
Jean jacket
Maxi Dress
Tennis shoes
Fall: September-November
Fall is another great time to visit the city of Athens. Temperatures in the Fall are very similar to Spring. Daytime temperatures range from 65-85 degrees Fahrenheit. Nighttime temperatures range from 52-65 degrees Fahrenheit. The fall and into the winter are the wettest times of the year. Although it does not rain every day in Athens, this season has more of a chance. It would not be a bad idea to pack a light rain jacket or umbrella.
Packing Suggestions:
Jeans
Sweaters
Light t-shirt/ tank
Light jacket
Rain jacket
An overall note about Spring & Fall in Athens
The Greeks will dress the part for the season. Coming from Iowa, if it is 60 degrees in early Spring, you bet I am in shorts and a t-shirt! However, in Greece, they will make their fall/winter clothes last, so do not be surprised to see people in jeans & sweaters even when it is 60s or higher! You can wear shorts and a t-shirt, again you may just stand out a little more:)
Pack layers- the sun does become very warm midday, however, the morning and evenings could be cool. It is wise to pack layers- for example, a tank top with a cardigan over top, that will keep you warm in the morning but allow you to be cool when the sun is hot mid-day
Winter: December-February
The Winter months in Greece are also the rainiest. Highs will hover around the 50s-60s in the winter. Although this could initially sound warm (depending on where you are coming from), Greeks will be in their parka winter coats and boots! It is rare for it to snow in Athens, but it could happen on an off chance!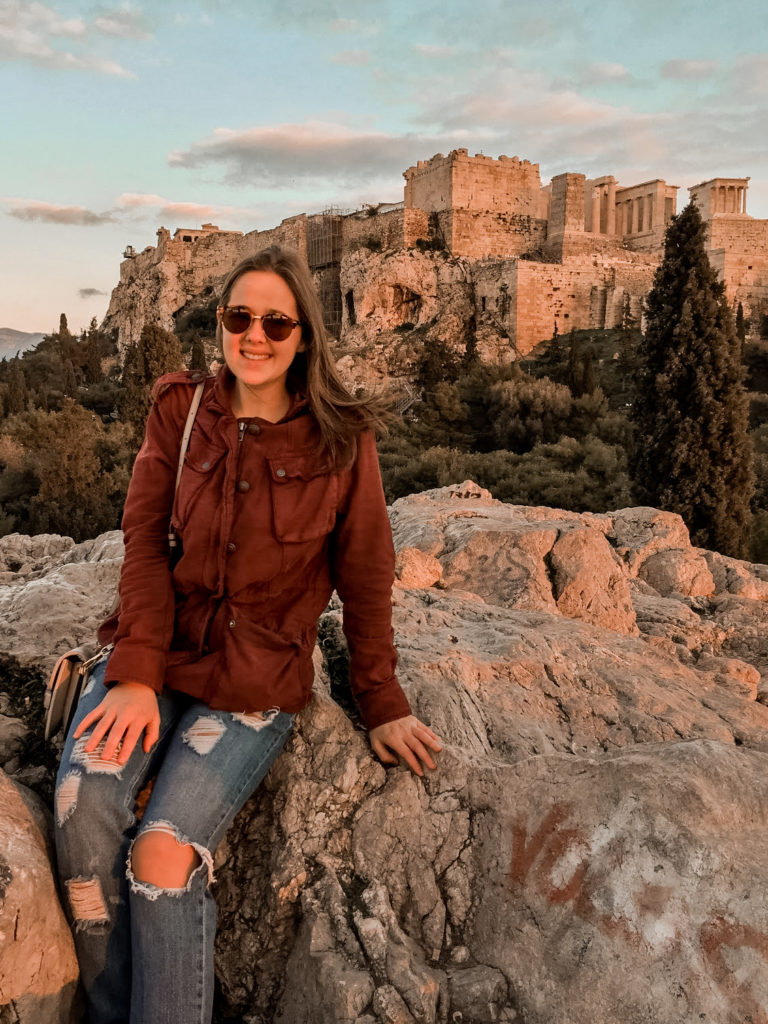 Packing Suggestions:
Jeans 
Joggers 
Sweaters/cardigans
Leather jackets
Tennis shoes/ booties 
Moderate coat & raincoat 
There you have my best suggestions based on my time in the city! On an overall note, I have a couple of final suggestions, regardless of what time of year you are traveling.
Misc Tips:
Pack comfortable walking shoes

You will most likely be walking A LOT. Having good shoes is more important than looking cute (you'll thank yourself at the end of the day). As I mentioned, Europeans wear tennis shoes much more often than sandals, so you won't be out of place throwing on a cute AND comfortable pair of sneakers!

Crossbody purse for safety

Athens is a large city, and like many large cities, there are inevitably individuals who pickpocket. To keep your personal belongings the safest, bring a crossbody bag that you can wear in front of you and keep a hand on when in highly populated areas. I would not recommend carrying around a backpack in touristy areas, if you do choose to do that, wear it on one shoulder with the bag swung around towards your belly and keep a hand on it when in highly populated areas.
I hope these tips help! While traveling to new places is exciting, it can also be stressful while trying to puzzle pieces together the climate and current fashion trends. These are my tips on how to pack while traveling to Athens, Greece.