Hello fellow travelers, foodies, and fashionistas! My name is Fiza (@travelwithfiza), and I'm here to help you. No matter what time of the year you visit Toronto, I hope you'll be prepared with this article. Here is my seasonal guide to visiting Toronto:
SUMMER
Let's start with my favorite time of year here in the city — summer — or better known as Patio Season.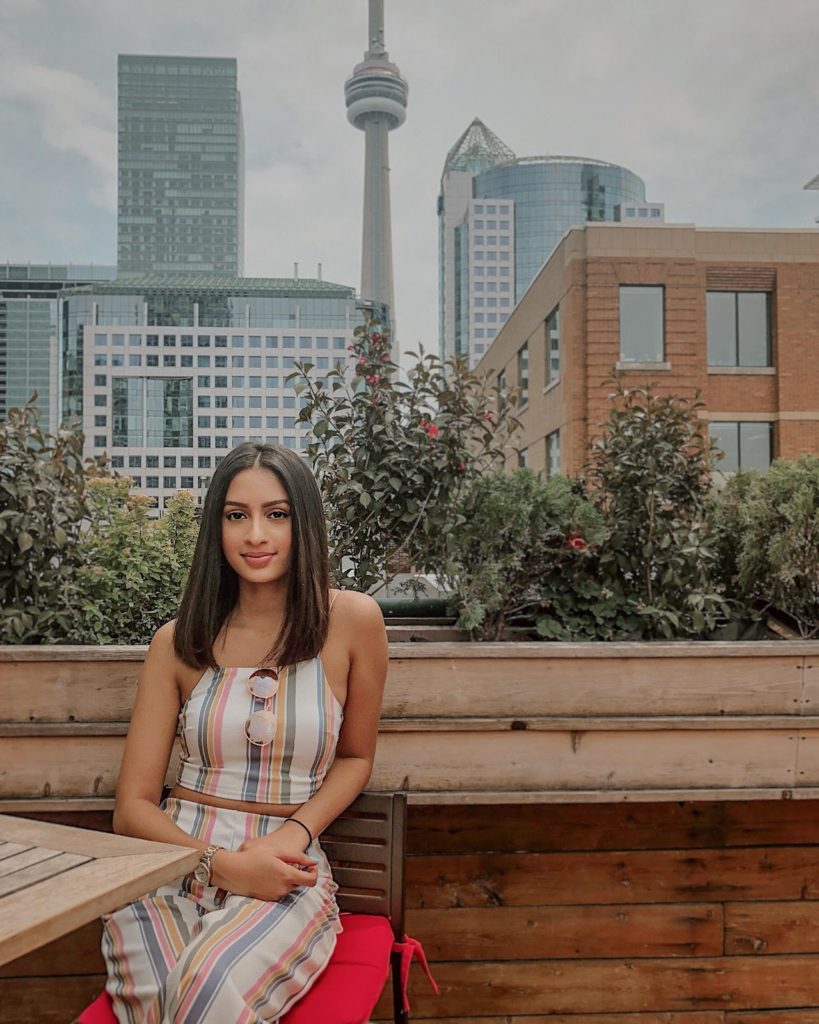 Fortunately, our hot summer days make up for the freezing winter season we endure. If you can only choose one season to visit my lovely city, I would recommend the summer. There's nothing better than putting on a cute sundress and enjoying a meal on a patio overlooking the city. The best food and views can all be found at some of the coolest patios: Lavelle, Kost, and The Porch (pictured above).
What to Pack
Since our summer days stay above 20C degrees and the beaming sun adds to the warmth, you can never go wrong with lightweight fabrics. Toronto is one of the most diverse cities you'll ever visit, and there's no pressure to follow any fashion trends. Dress as you please. I personally love wearing dresses and two-piece outfits. If you're going to be out all night, you may want to bring a hoodie or light sweater along.
What to Do
There are plenty of things to do during this season; everything from our popular Canada's Wonderland to our many beaches and parks is what summer in Canada is all about. One summer, I was feeling extra touristy, and so I purchased a City Pass. The pass covers all of our most popular sites, including the CN Tower, Toronto Zoo, and Casa Loma, to name a few. Once activated, you have a full 30 days to visit the attractions. If you're a tourist in the city and want to take advantage of all it has to offer, I'd recommend the City PASS. It's worth the buck. It's great for locals as well!
The Lights Fest – 10,000 flying lanterns
Summer in the Toronto area is also known for its countless festivals. Is seeing ten thousand flying lanterns in the beautiful night sky your thing? There's an event for that: The Lights Fest. One of my favorite summer events last year was Jaws on Water. Everyone brought their floaties to the beach, and after sunset, a big screen went up where we watched Jaws—literally—in the water. As someone afraid of the Jaws movies when I was a kid, this experience was chilling yet so much fun.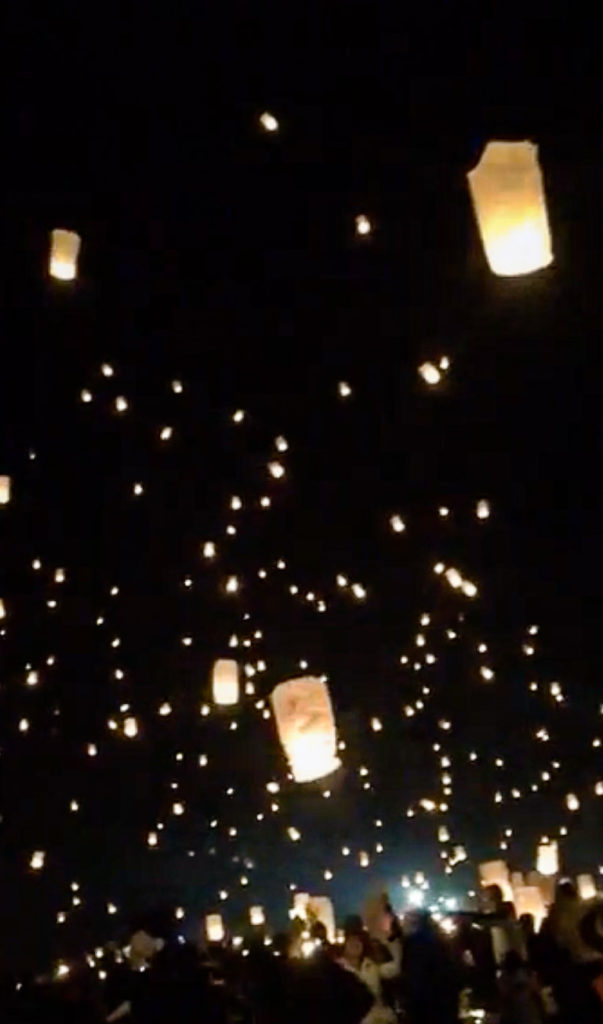 Food Truck Time
Another fantastic thing about our festivals is all the food trucks! One of our specialties is BeaverTails (not actually beaver tails — they're a dessert), and you have to try them if you're in the city! Speaking of food trucks, our traditional end to summer arrives during the last two weeks of August, the CNE. This is a wonderful event full of rides, games, shows, and unique foods — my favorite was the rainbow grilled cheese!
AUTUMN
Autumn in Canada is also a favorite of many in Toronto. The leaves start changing colors, which makes this the best season to go on nature hikes! High Park and Evergreen Brick Works have some excellent, centrally located walking and biking trails.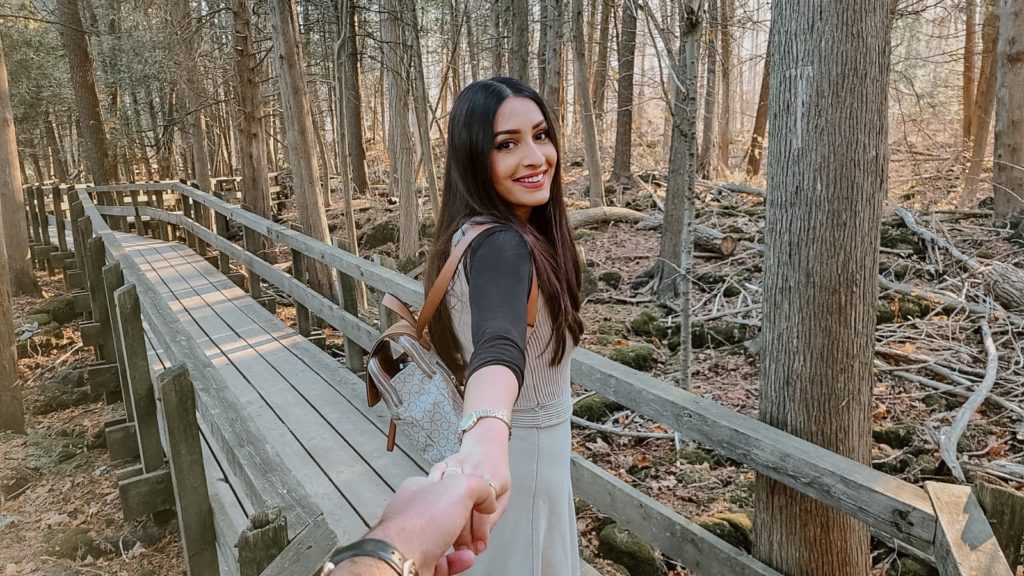 My favorite nature reserve is located slightly outside the city, Crawford Lake. I like to grab a warm spiced latte and go on a nice walking trail. Or, if I'm feeling more adventurous, I go on a hiking trail and stop for a picnic at the top of the mountain. Scarborough Bluffs and Dundas Peak are great places in the Toronto area for this.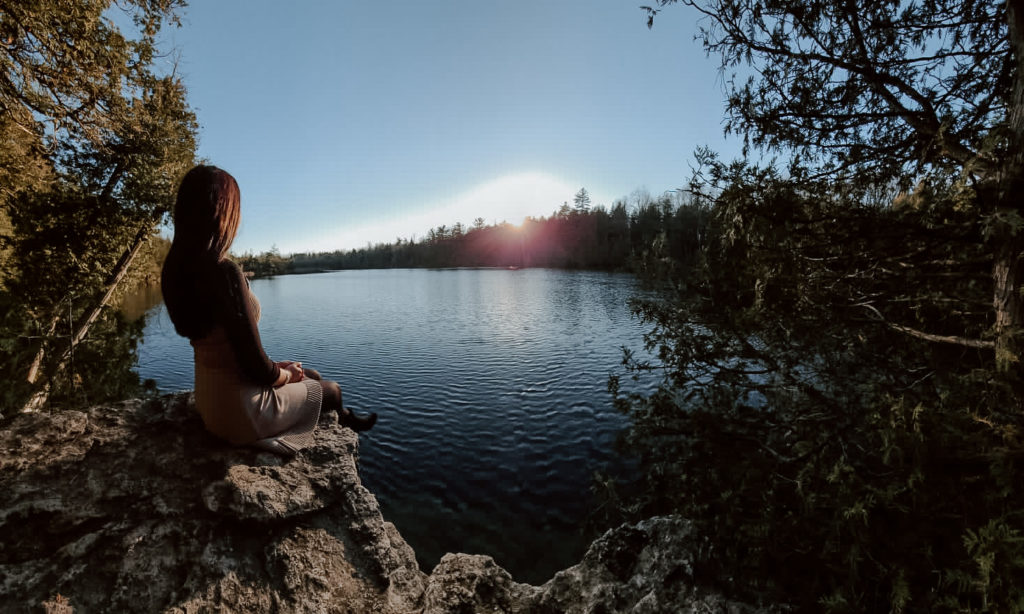 Fall Fashion
I love dressing up in autumn! It's the season of ankle boots and long coats. Layering has never been so fun.
Although many of us follow many current fashion trends (6 month late European trends), don't be afraid to experiment and have your own style! When teddy jackets were in, I saw every second girl wearing them, but I was still proudly pulling off my own look. The weather in Toronto gets pretty cold in late-autumn, but you can usually make do with a sweater and coat.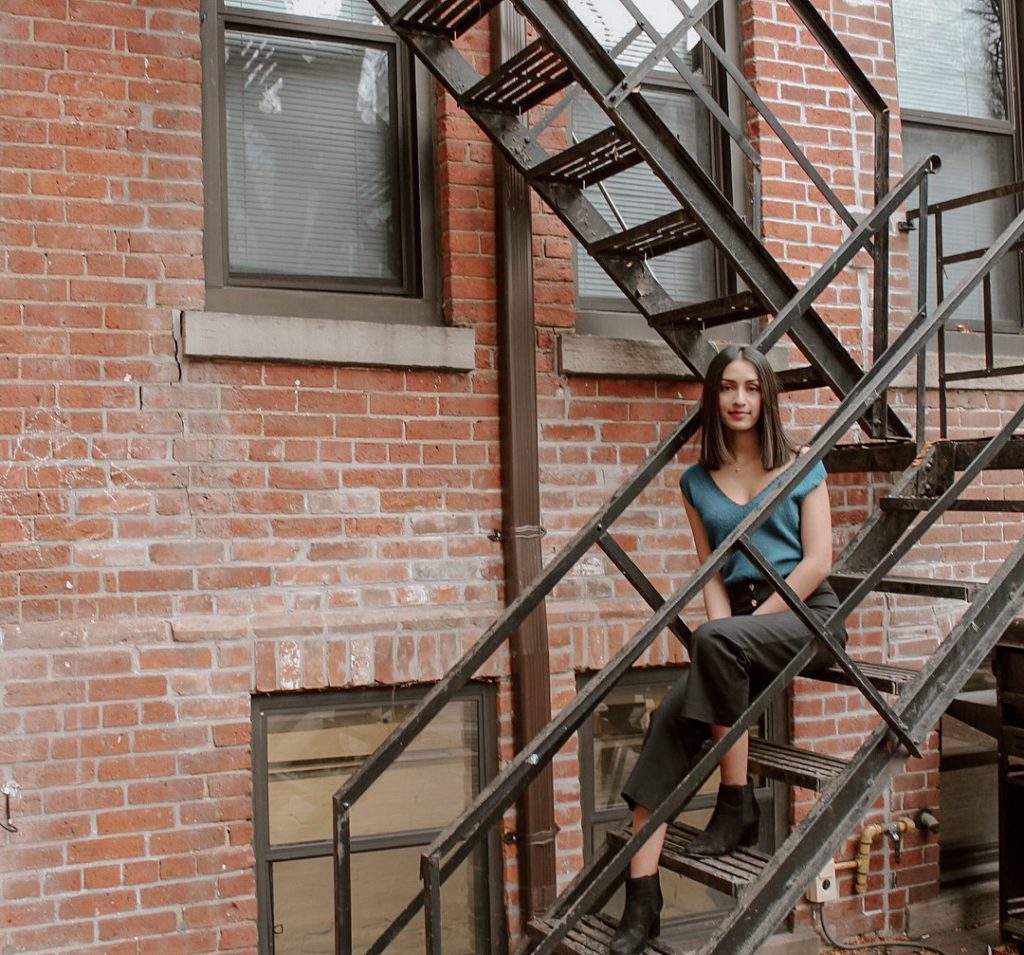 If you're feeling ambitious like me, take off your coat and pose for some clicks in cool places like these stairs on my Ryerson University's campus. Speaking of campus shots, the University of Toronto (U of T) is another great place for photoshoots!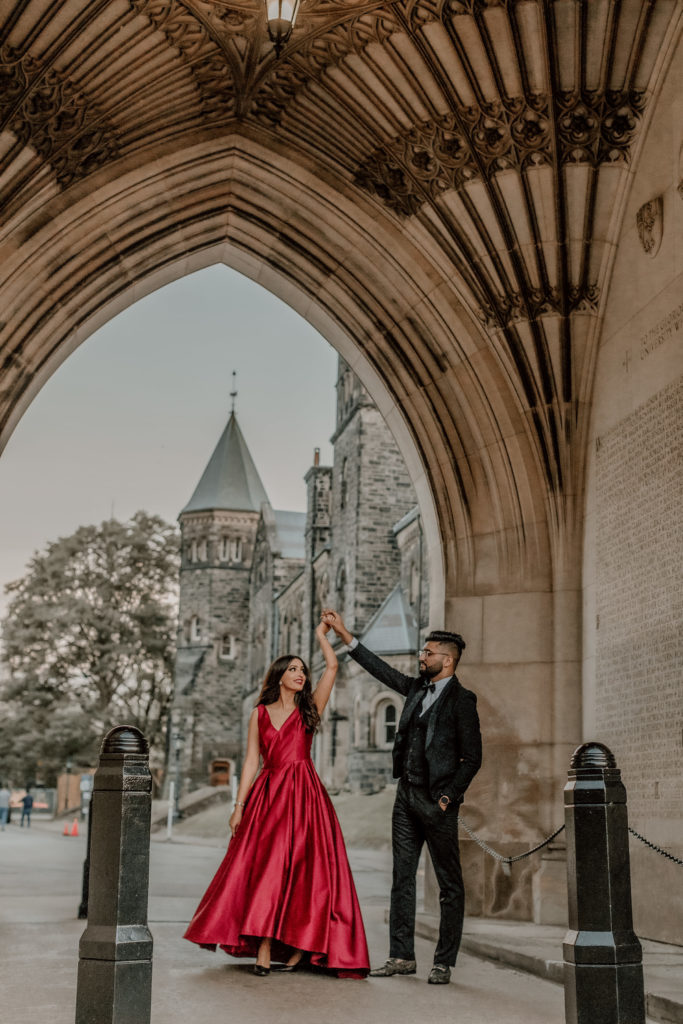 WINTER
Winter in Toronto is sensational because everything is so festive. My favorite thing about winter here is the Toronto Christmas Market in Downtown. This Market starts in November and goes on until Christmas Eve. It is such a joyful place. My first stop is Balzac's, where I get a cup of hot cocoa and then go to explore all the handcrafted gift stalls. There are some really cute photo ops and rides for you and your significant other or friends to check out as well.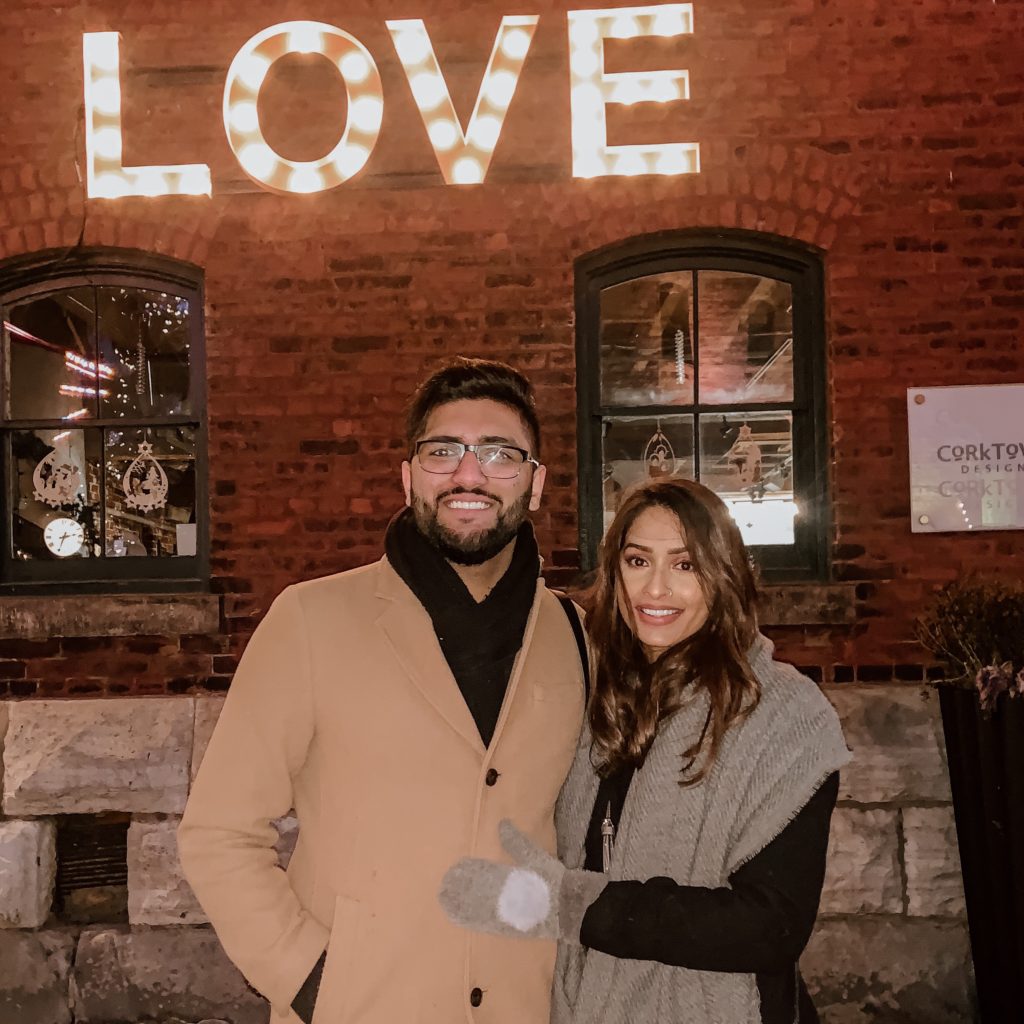 Skiing & Skating
If you like skiing or snowboarding, Toronto is the place for you. We have many ski hills nearby, Blue Mountain Resort being my favorite. If you're like me and you prefer skating, then Nathan Phillips Square in the heart of Downtown Toronto is for you. Don't worry about buying skates; you can rent them from here.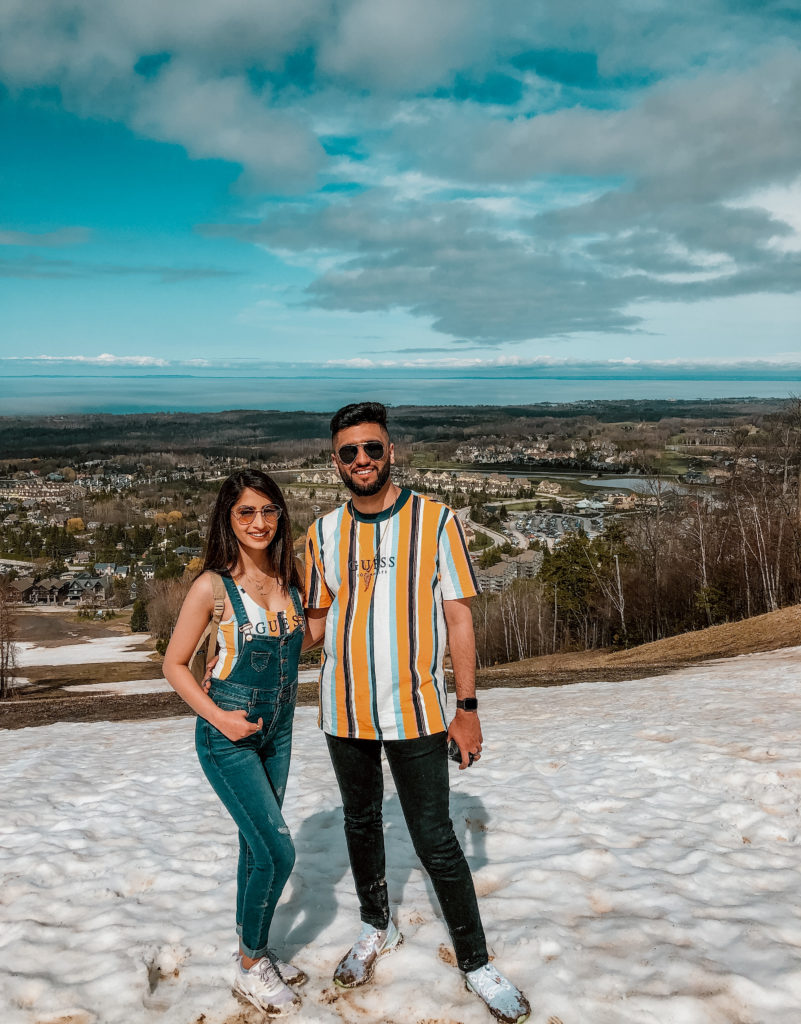 Beware when traveling to my city in the winter months, it gets icy and very frigid! Whether you're a faux fur coat girl or an oversized parka chick, you'll need lots of warm layers. Be prepared for at least a few heavy snowfalls in the winter. I layer up to stay warm, but I still like looking chic. Chunky snow boots just aren't my thing, so what I do is order some non-slip soles from Amazon and super glue them to the bottom of all my cute boots and booties — it works like a charm. Keep your suede/faux suede shoes at home if you don't want them getting stained with road salt.
Time to Shop!
Is shopping your thing? What about shopping sales? The Eaton Centre is your go-to for all the best Christmas and Boxing Week finds. This massive mall is in the city's core, where you can enjoy the light-up of the largest Christmas tree in Canada, standing tall at 100+ feet.
SPRING
As days get longer, the people of Toronto get happier. Spring is a wonderful time to come to the city. If you visit in early spring, it's a great time to visit museums and art galleries because winter activities are coming to an end, but it still may not be warm enough to stay outside for long periods of time.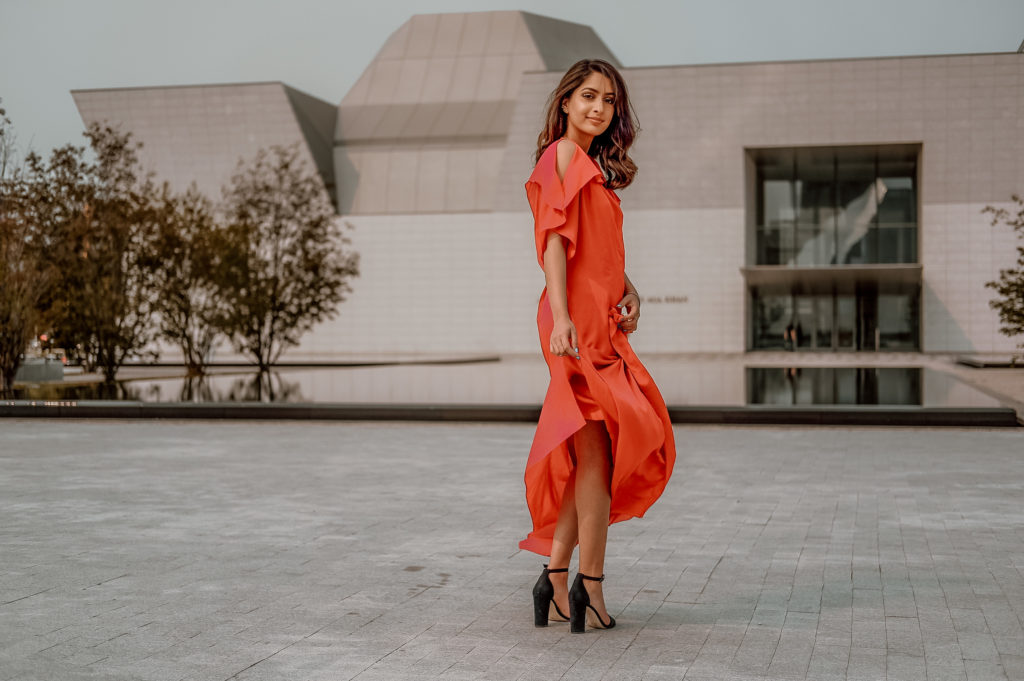 My favorite is the Agha Khan Museum. It's both beautiful from the outside and inside. In fact, many people come here for photoshoots, so don't be afraid to throw on a flowy red dress and start posing as I did. As for the inside of the museum, the unique Islamic history displayed is outstanding. Ripley's Aquarium is another great indoor attraction for the chillier spring days; you can spend your day with sharks swimming above you.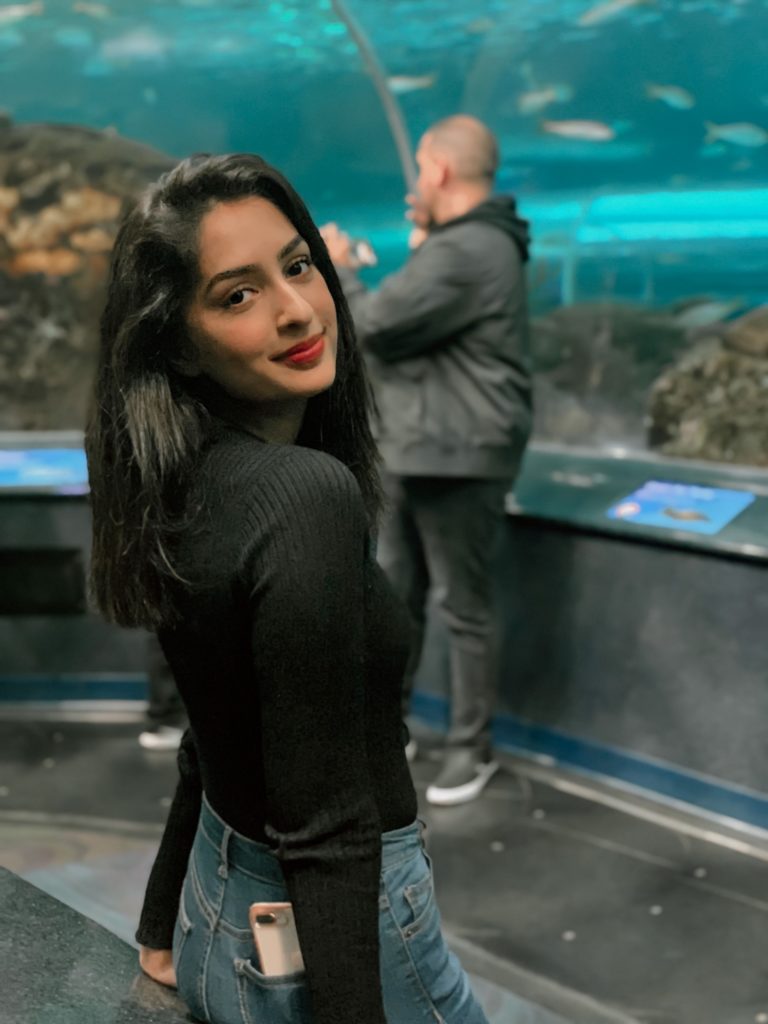 Visiting High Park
Spring is one of my favorite seasons over here because that's when dress weather arrives. The snows' melting, the grass is getting greener, but the best part is the flowers and trees blooming! Visiting High Park is a spring treat. This park contains many Cherry Blossom trees that were gifted to us by Japan in 1959. For about two weeks in late April/early May, these gorgeous trees bloom to show off their pretty pink blossoms. Locals and tourists both gather here to admire nature's beauty and snap really cute photos.
Spring is also a great time to shop and eat locally. Kensington Market is my favorite area in Downtown Toronto to do just that. If you like vintage stores, novelty item shops, cafes, and diverse restaurants, this place is for you. My trip to Kensington starts with brunch on the adorable patio at Kos. The grilled veggies & pesto sandwich and veggie lasagna are to die for! My next stop is a store called Blue Banana, where you can get all sorts of things like jewelry, greeting cards, home decor, and other novelty items. After shopping around, I like to get some coffee from Found Coffee or make my way to Greg's Ice Cream for the best-roasted marshmallow ice cream you'll ever have.
You've Completed Your Seasonal Guide to Visiting Toronto
In the end, I know you'll have an outstanding trip no matter which season you visit because Toronto has so much to offer year-round. I hope you enjoyed my seasonal guide to visiting Toronto and don't hesitate to reach out to me on @travelwithfiza when you visit and I can show you around!