If you're anything like me, you're a sucker for fall. Not only does the fashion get better (we know it's the chicest time of the year) but just about everything seems to become a little cozier. Pumpkin-spiced things and cute sweaters aside, fall truly is one of the best times to go on some new adventures and make some memories. Some of my favorite childhood trips and experiences have taken place in the fall… this is one time of the year that you simply don't seem to grow out of.
Dearest D-RAVEL Traveler,
It's Alyssa (@alyssabrascia) here to fill you in on some of my personal bucket list adventures for fall. Whether it's a beautiful place to watch the leaves turn, a fun pumpkin patch or a famous haunted house, these are my top 5 fall attractions that I need to experience.
1. Knott's Scary Farm
What better way to ring in spooky season than with a haunted house adventure? One of my favorite things to do around Halloween is gather up a big group of friends (you need 'em for courage) and go visit a local haunted house or two. However, the frights around me pale in comparison to Knott's Scary Farm, a celebrity favorite in Buena Park, California. Bulked up with nearly ten haunted attractions, there is a scare for everyone at Knott's.
Unfortunately Knott's made the difficult decision to discontinue their spooky experience this year due to COVID – but we can stay hopeful for the years to come! Instead, they are supplementing the haunt with the Knott's Taste of Calico, the Berry Farm Hotel, and more. Read all about it in their official statement, released here.
2. Oktoberfest
If you are of age, Oktoberfest is a boozy event that has just the right amount of fun and an autumnal touch. This experience is a German festival that is usually held in Munich, but is taking a year off due to COVID. However, we can expect this beer and travel fair to be back in the coming years, as places all over the world have adapted the German festival into local celebrations of their own.
If you really want to get into the Oktoberfest spirit, the über-dedicated will dress up in costumes such as dirndls, a traditional form of women's dress in Bavaria, Germany. Early Halloween costume? Why not!
3. Amy's Gourmet Apples
Dubbed as making the "best caramel apple" by the Wall Street Journal, Amy's Gourmet Apples in Cedarburg, Wisconsin is a must on the fall bucket list. Amy's festive apples come in a variety of seasonal options. Garnished in dripping chocolate, crushed nuts and various candies, these apples are perfect for a spooky treat. If you ever find yourself in the area, make sure to find Amy's in this corner of Wisconsin.
4. NOLA Ghost Riders – New Orlean Ghost Tour
Nothing says spooky season like a ghost tour! The NOLA Ghost Riders tour in New Orleans is the number one place to head for a frightful experience. Take a guided walk through the cemeteries of New Orleans, aka the "Cities of the Dead," in the darkness of the night. Take some pictures in these spooky scenes to see if you can capture any orbs!
This tour is still in operation during COVID, and to ensure your safety, the guidelines require masks and social distancing. So if you're in the mood for a good fright this season, head to Louisiana for a socially-distant spook!
5. Haunted Happenings Marketplace – Salem, MA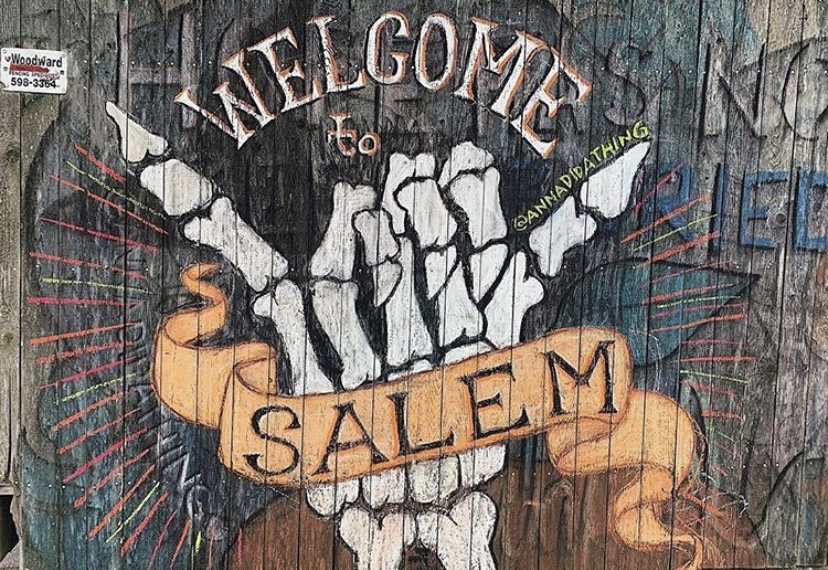 As lovers of marketplaces and fairs, we at D-RAVEL had to showcase this program that houses a collection of local and festive creations. The Haunted Happenings Marketplace in Salem, Massachusetts is an accessory to the Haunted Happenings festival that includes an extensive list of attractions in this spooky town. Finding a fright is easier than ever in a town with a past like theirs, whose legacy lives on today.
Explore this dark town to find some beautiful and locally-made merchandise from the vendors who stock up this glorious marketplace. You may just find your next favorite fall decor from Salem itself!
Whether you're a fall fanatic simply wanting some new adventures, these attractions provide unforgettable experiences and some tasty treats to tote. Check these boxes off of your bucket list with me, and have some fall fun!