Bettina (@thenexttrip) is a travel and fashion influencer who explores the world up close and personal in her van! When she's not traveling via #vanlife, you can usually find this traveler wearing a stunning dress jumping country to country, indulging in new cultures. Are you interested in learning more about this travel & fashion-guru? We have a travel Q&A you won't want to miss out on!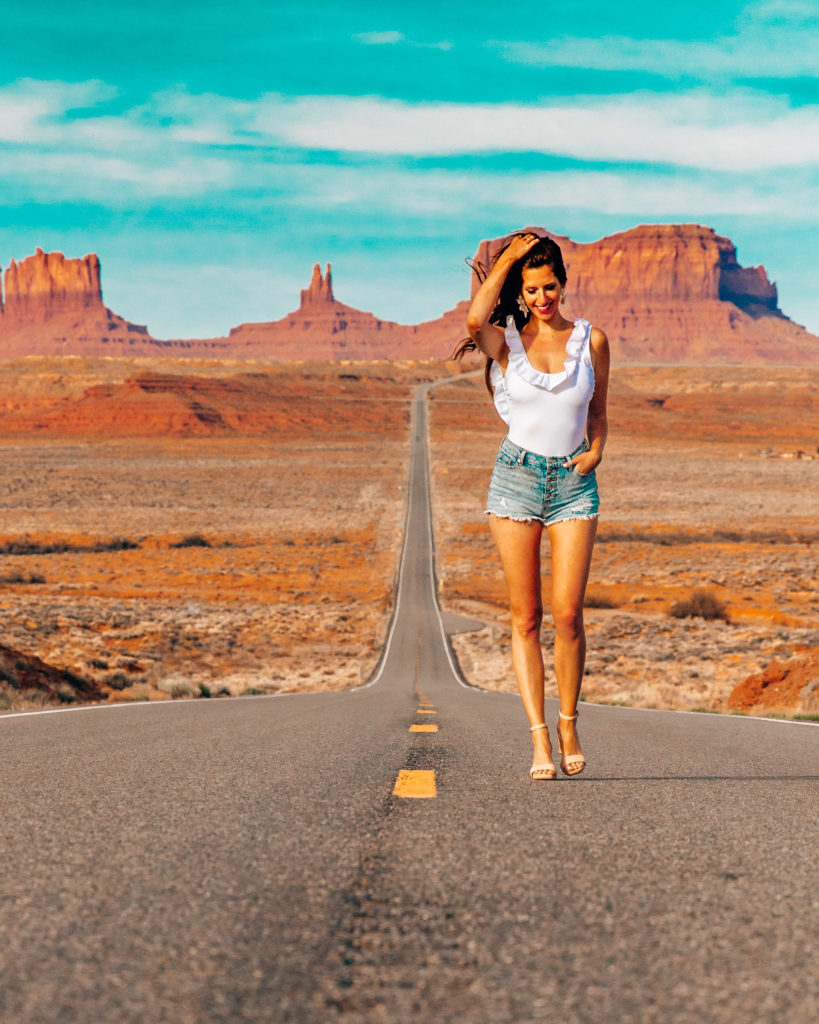 Here's our Travel Q&A with Bettina
Q: Where are you from?
A: I'm originally from Switzerland.
Q: Where have you lived?
A: I studied abroad in Helsinki, Finland, when I was 21 and spent half a year living there. When I was 24, I moved to Vancouver, Canada, and lived there for two years—exploring much of beautiful British Columbia. After my stay in Canada, I moved to Chicago, which was my home for the last five years. During my time in Chicago, I also had the opportunity to work and live in Madrid, Spain, for three months, and of course, I could not pass it up.
Q: Has a specific city been your favorite to live in?
A: I really enjoyed my short time living in Madrid as the city is so vibrant, full of incredible people, amazing food, and rich history. I also truly enjoyed living in Chicago. Chicago is incredibly beautiful, with its setting right on Lake Michigan and a gorgeous skyline. The city has everything you could possibly ask for, and being in the Midwest, the people are so friendly (it almost makes you forget about the cold winters).
Q: What inspired you to create your social media platform, and what keeps you going?
A: I have always traveled a lot and given that I have lived in so many different places, I wanted to create a platform to share my travels with my friends and family back home in Switzerland. Over time, I was asked a ton of questions about traveling to different locations, what my "travel secrets" are, and was asked to share all my tips. This was when I decided to turn my social media and my blog into a travel blog and aim at sharing tips and guides with my audience.
Q: How did you decide to venture into #vanlife?
A: It was always my boyfriend's dream to start #vanlife and explore North and South America. I really had to come around to the idea as I am very much a girly girl with an extensive shoe collection. The thought of living in a van for 1 year wasn't that appealing to me at first. However, once I started my travel blog and was able to travel more around the world, I found a new appreciation for different cultures and exploring nature and wanted to see more of North and South America as well. Since traveling can be quite expensive, living in a van and driving to places is the perfect solution to still travel while keeping costs relatively low. Knowing that I would be able to explore incredible new places in South America made me change my mind and I ended up getting really excited about leaving my conventional life behind to start #vanlife.
Q: How has your life changed since sharing your adventures with the world?
A: Starting a blog and being active on social media has completely changed the way I look at life and how I see the places I travel to. I always loved to travel and experience new places. Since I started the blog, I not only travel for myself but also constantly think about what others would enjoy and what they would like to see in a city. I walk around with a new appreciation for things I wouldn't usually appreciate, such as stopping at a unique looking building, checking out cafes and restaurants, looking at the best walking tours, etc. I try to really take in all sides of a destination as I now see the places through my audience's lens. It's a beautiful way of traveling and I believe it allows me to experience the places even more.
Q: What is/was your dream destination, and what was your experience like there?
A: My dream was always to travel to Bali. I had heard so much about this beautiful island and couldn't wait to discover the lush forests, beautiful beaches, and amazing culture for myself. I planned to stay in Bali for 6 days and see a good part of the island which is every bit as beautiful as I had imagined. It was truly a dream come true to visit. The only thing I wish would have been different is that I had more time there.
Q: Once COVID ends, where is your next big trip to?
A: Since COVID started, I had to put #vanlife on hold as the situation in many South American countries is not looking great, unfortunately. Once COVID ends, I hope to be able to resume my plan to travel through South America in my van.
Q: When traveling to a new place, what are the essential items in your bag?
A: Growing up, my mom always used to say to bring your passport, wallet, and phone —everything else you can buy. I would certainly add a few things to this list and always have my camera with me, a pair of sunglasses, sunscreen because I have fair skin, a water bottle, comfortable walking shoes, and a scarf as I get cold very easily.
Q: What piece of advice would you give a person deciding to take their first ever big adventure?
A: Do it! A lot of people try to wait for the "perfect" moment to go on a big adventure but there really is no such thing. You just have to take the plunge and go for it. Once you're there, you won't look back. While traveling is amazing, make sure you are being safe and do your research. Don't venture out alone a night in a big city, make sure you have someone at home who knows where you are and what your plans are, and be smart and don't travel with your most expensive jewelry/bags/shoes.
We hope you enjoyed this Travel Q&A with @thenexttrip! Make sure to follow Bettina on her travel journey! We can't wait to see where #vanlife takes you.