For this Boutique of the Week we're taking it down South to the lovely state of Texas. It's Alyssa (@alyssabrascia) here to fill you in on where to shop in Texas, specifically five of our favorite shops that you must visit in the Lone Star state.
Dearest D-RAVEL Traveler,
Autumn is finally here, and we are much too excited to start dressing the part. Every fall consists of a new wardrobe haul (or at least a few new pieces), so why not look at some new stores as well? These boutiques carry styles that are reminiscent of a modern Southern belle and have all of your fall necessities awaiting.
Adeline Boutique
4424 Lovers Ln, Dallas, TX 75225
You can find this southern-grown shop in Dallas, Texas for your new favorites. Upon browsing their virtual racks, we fell in love with the romantic Forever and Always Top ($48.00), perfect for date nights or dinners out. We paired this silken top with the High Rise 31"Basic Flare ($24.50) in that signature rusty orange for fall. Finishing the look off, we added the Dolce Vita Bel Booties ($145.00), a staple year-round boot, for a chic touch.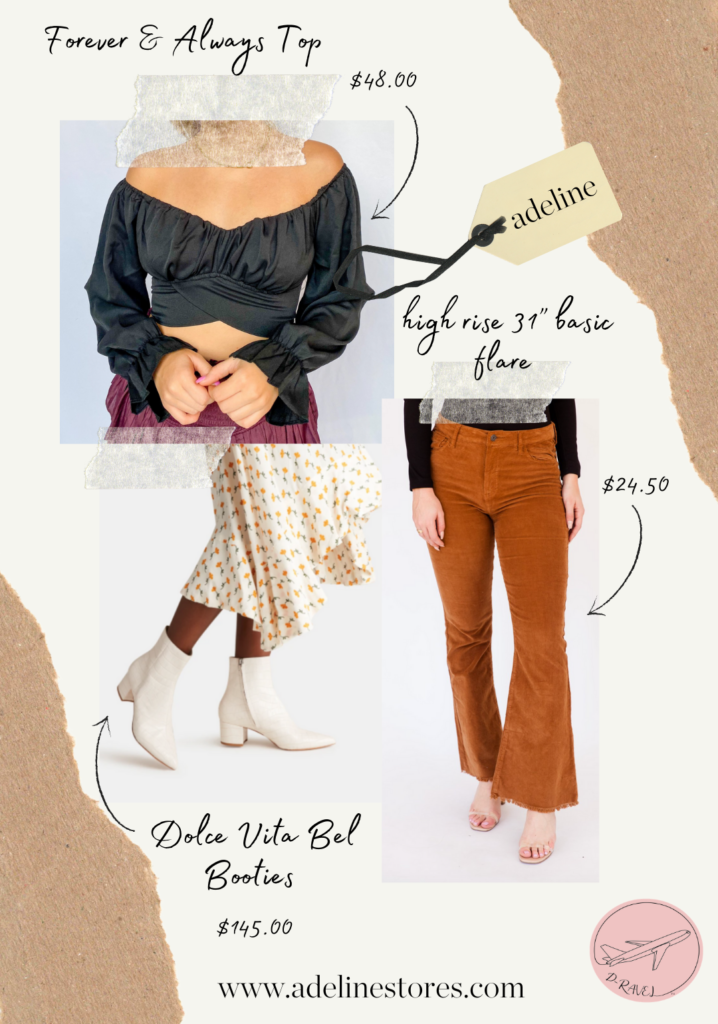 Check out Adeline Boutique on Instagram @adelineshops for more style inspo and new arrivals!
The Punchy Pony
This gloriously Western-themed boutique is located in Athens, Texas and is well worth the visit. The Punchy Pony is chock-full of your new favorite pieces, all complete with a vintage feel. We spotted The George Booties ($190.00) first and immediately knew we had to center the outfit around these bad boys. I mean, look at them. How could you not? The Frost Top ($34.00) was our next selection, staying with the glam-cowgirl theme while dreaming about twirling around in this fringy top. Completing the look was The Tobi Pants ($58.00), a gray, wide-legged pair of jeans that are to-die-for.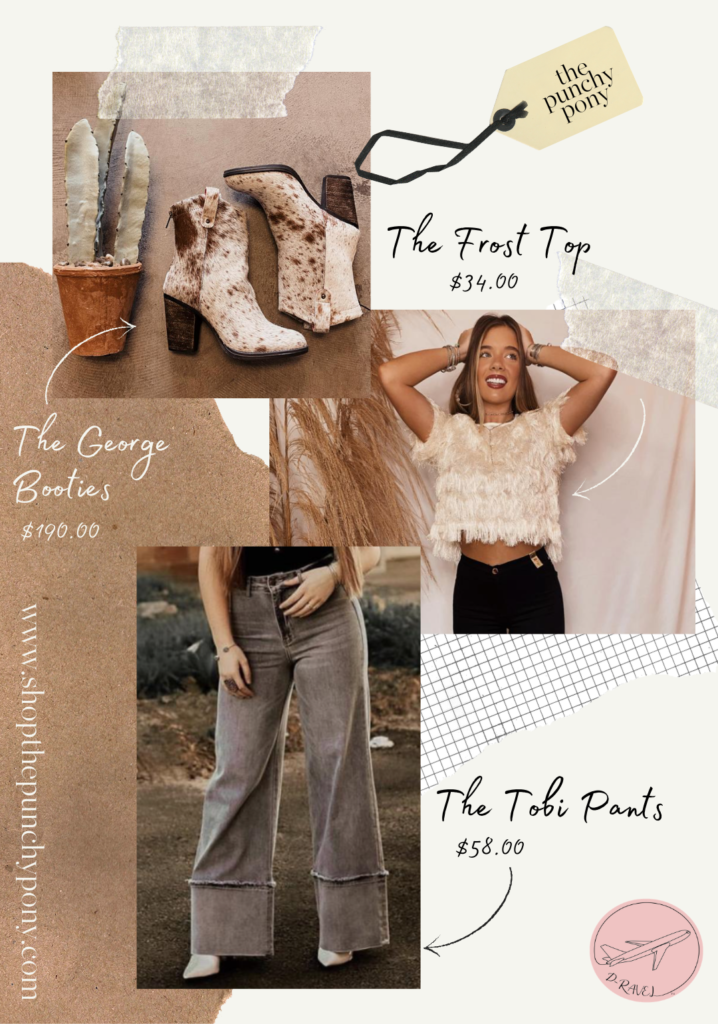 Make sure to find The Punchy Pony on Instagram at @thepunchypony and give them a follow to stay updated on all of the cool pieces they sell!
Famous Elle
You'll find our next Southern-chic shop in Big Spring, Texas. Famous Elle has a variety of cute and casual styles that can take you from day to night with ease. For example, we paired the Leopard Babydoll Dress ($51.00) with the adorable Valentino Dupe Slides ($29.00) to create an effortless Texan-fall outfit. To quickly take this from day to night, we'd swap the slides for some booties, grab our masks and hit the town!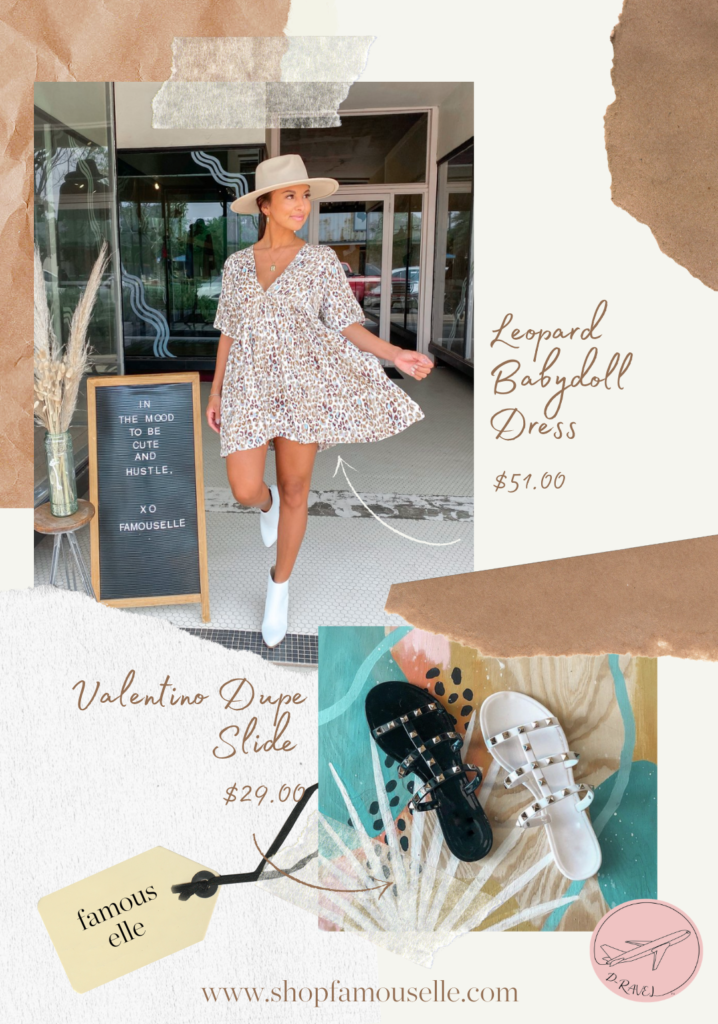 Search Famous Elle on Instagram @shop_famouselle to see all of the cute items in stock and all of the amazing ways that they can be styled! The inspiration is endless with their cute IG feed.
Boutique Chloe Rose
One of our absolute favorites is Boutique Chloe Rose, which you can find in New Braunfels, Alamo Heights, or Boerne, Texas. This boutique chain has everything you could need to look effortlessly chic year-round, and for a reasonable price. We fell in love with the slouchy Milo Sweater ($38.00) and knew we had to pair it with the Reagan Pant ($42.00). Accentuating our warm-palette look is the Milkyway Bootie in Nude ($42.00) and the Sky Bow Handbag ($55.00) to compliment our earthy tones. Turn heads in this comfortable yet classic look from Boutique Chloe Rose.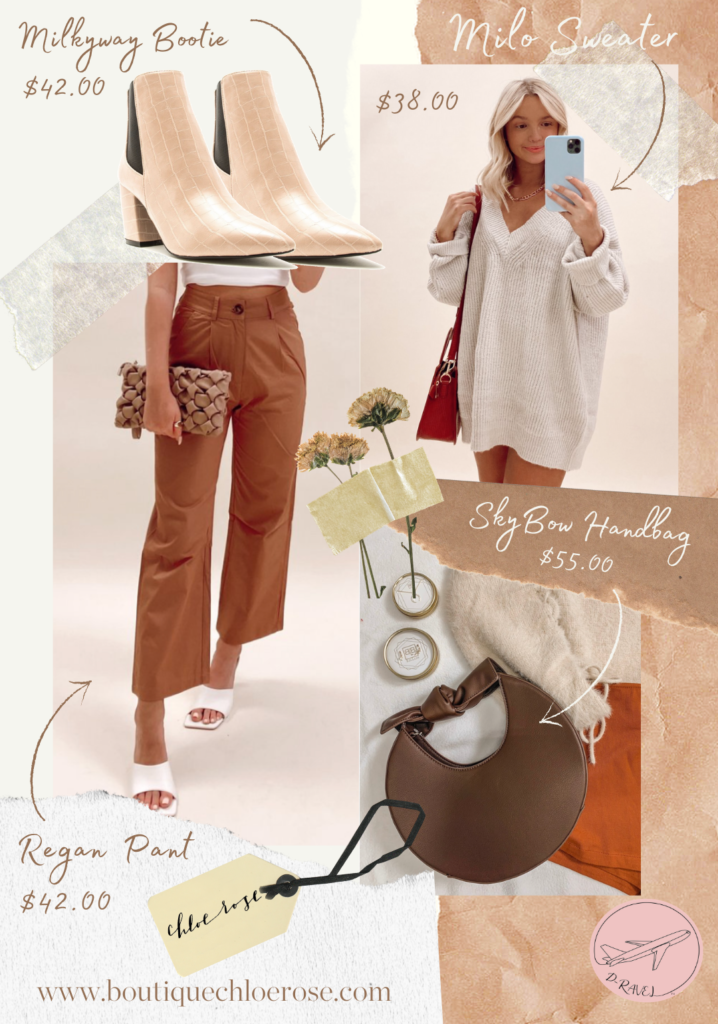 You won't want to miss out on this boutique's Instagram, so make sure you click the follow button at @boutiquechloerose. Keep an eye out for their new fall arrivals and how their stylish shoppers wear them!
Cactus Rose Denim Co.
Last but not least is Cactus Rose Denim Co., an online-only store that is home to hundreds of reworked vintage denim in a variety of styles. The best part? Their array of size diversity.
"I started Cactus Rose Denim Co. because I knew the fashion community needed a place for EVERYONE. No limits or exclusions. No stigmas or stereotypes. A place for women of all races, shapes/sizes, and backgrounds to call home," writes designer and owner, Mo.
It was hard to pick our favorite pairs, but we eventually whittled it down to three unique pairs of shorts. The Vintage Gitano Rizzo ($58.00) shorts are striking in a fiery red and most definitely make a statement with any outfit. We fell in love with the loose-fitting Vintage Lawman Ice Cap ($33.75) shorts, your everyday staple upgraded with an acid-wash finish. The Vintage Gap Spice Girl ($33.75) shorts also caught our eye with a speckled bleach-dye finish that is sure to "spice" up any look.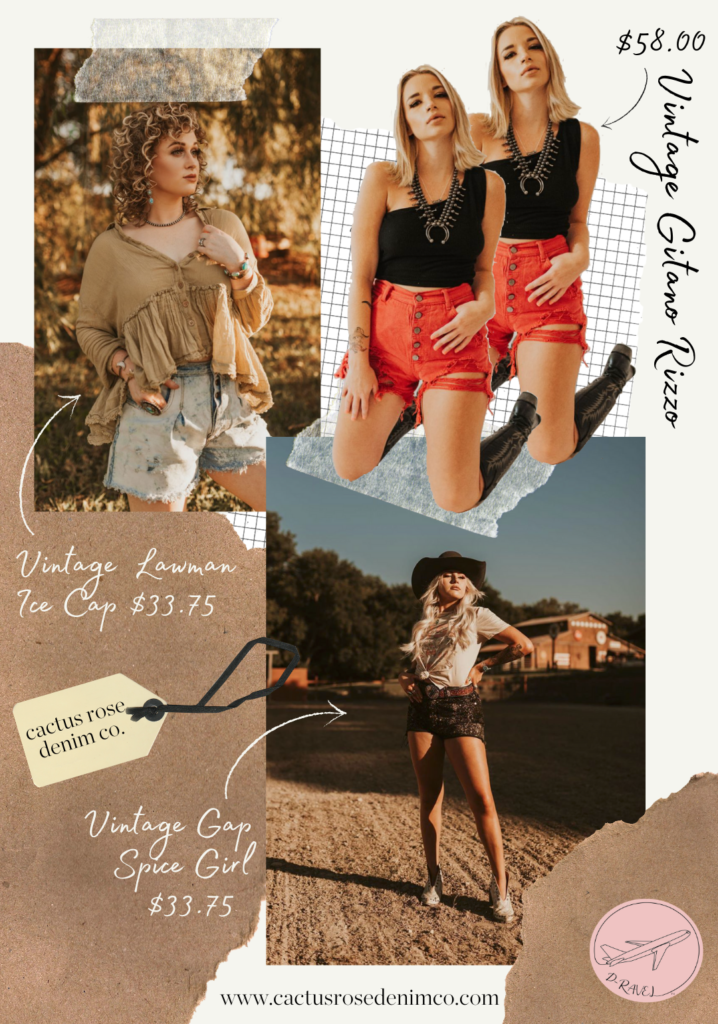 Find Cactus Rose Denim Co. on Instagram at @cactusrosedenimco to stay in the know about their latest and hottest denim creations.
We have absolutely fallen in love with these Texas born and bred boutiques. Summon your inner cowgirl and sprinkle a little Southern sweetness on your fall wardrobe – these may be the looks you never knew you needed!