If you've ever wanted to dine in an old mansion with glittering chandeliers, live flamenco performances and celebrity history, then this restaurant is the place for you. Introducing your new favorite Tampa eatery: Columbia Restaurant.
In all of my visits to Tampa, I've never come across such a beautiful restaurant. Built three stories high with several decadent rooms per level (and even a private room where Marilyn Monroe used to dine), this place is something out of a movie. Between the delicious Spanish food and gorgeous interior, Columbia Restaurant is simply a must-do on your visit.
First thing's first… the outfit.
Depending which part of the restaurant you're dining in, you'll have a slightly different code of dress. Not that there's any sort of black-tie rule, but us fashionistas always know there's a "code."
When you enter in the front of the Columbia, you'll be greeted with a smaller dining and bar area, where casual dress is more acceptable and probably encouraged. A cute top, some jeans or shorts and cute shoes would do well in this area.
However, as you start to head into the seemingly endless slew of elaborate rooms, you'll notice the atmosphere changes abruptly. From dining rooms with towering Spanish-style ceilings and private rooms with suave red velvet walls, the outfits are kicked up a notch.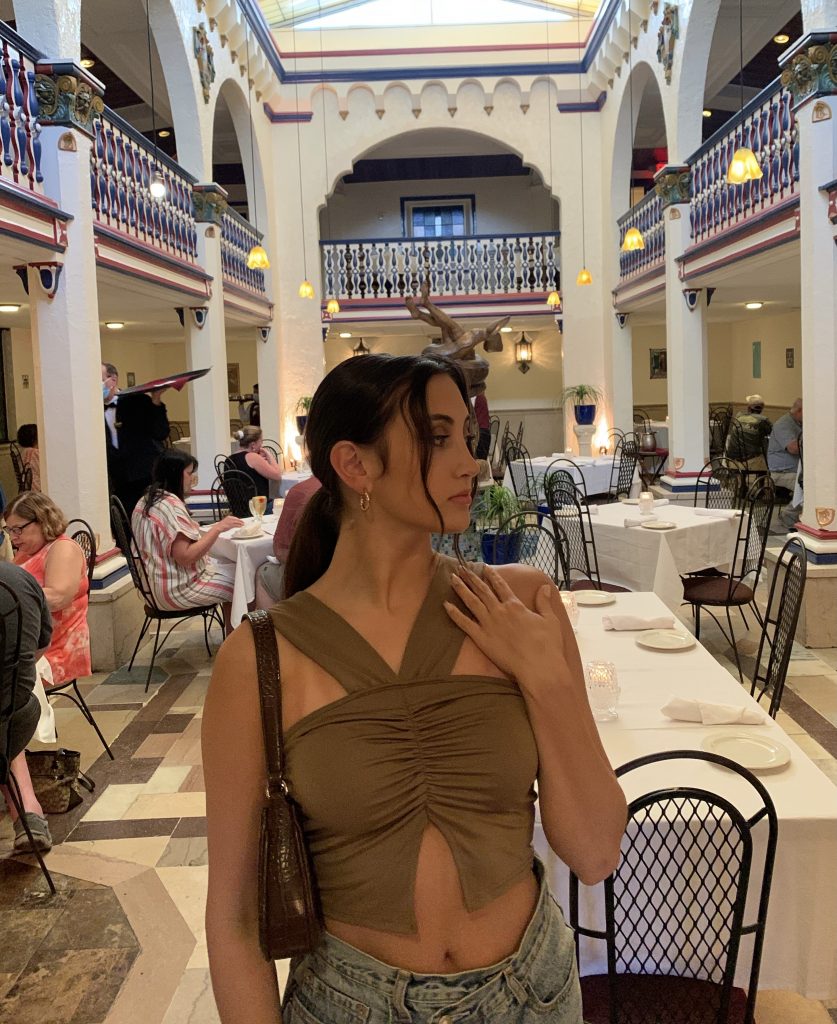 I opted for this ruched, neutral number with a pair of straight-leg jeans and my favorite leopard mules. This look was just dressy enough to stand out and be stylish but not look out of place. In the banquet hall where we sat, the outfits ranged from dresses and heels to looks like mine, so truly, whatever degree of dressing up you feel comfortable with will work for this restaurant.
The Ambiance
You'll never find a place as wildly different yet equally as gorgeous from one room to the next as this restaurant. The main dining area varies from decadent, white pillared rooms to red private dining rooms (Marilyn Monroe's once upon a time) and banquet halls. We sat in the low-lit banquet hall for our dinner and a show: a flamenco performance.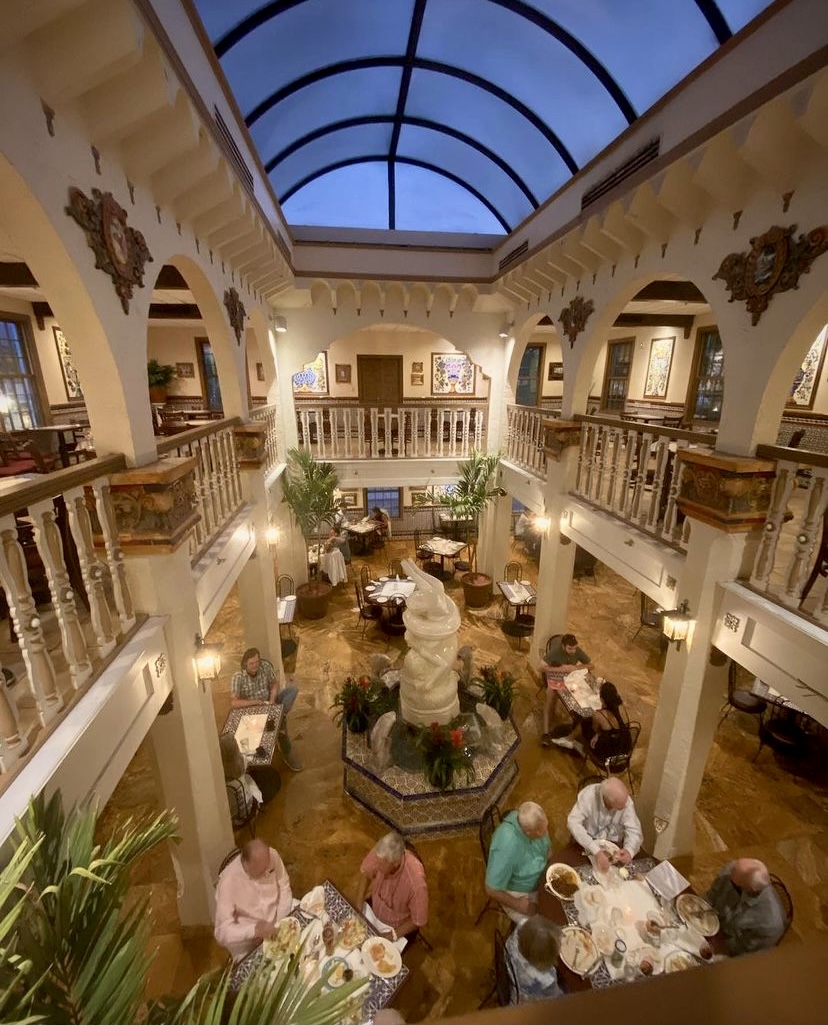 Your Order
When you come to Columbia Restaurant, prepare to have the best authentic Spanish food. We started the night with fresh red sangria made table-side (how cool?) and their famous Cuban bread. The champiñones rellenos, which are delicious stuffed mushrooms, were the perfect appetizer to get our Spanish-style night started.
Since I always have to try the fresh fish while in Florida, I opted for the Mahi Mahi "Cayo Hueso," which came with perfectly roasted plantains, yuca and yellow rice. If you want to try Ms. Monroe's signature dish, then order the Boliche "Criollo," a gravy-roasted beef and chorizo dish that is sure to be a crowd favorite. If you want a lighter dish, then you must try the 1905 salad!
If these options are sounding as mouthwatering as they are and you want to learn more, check out their menu here.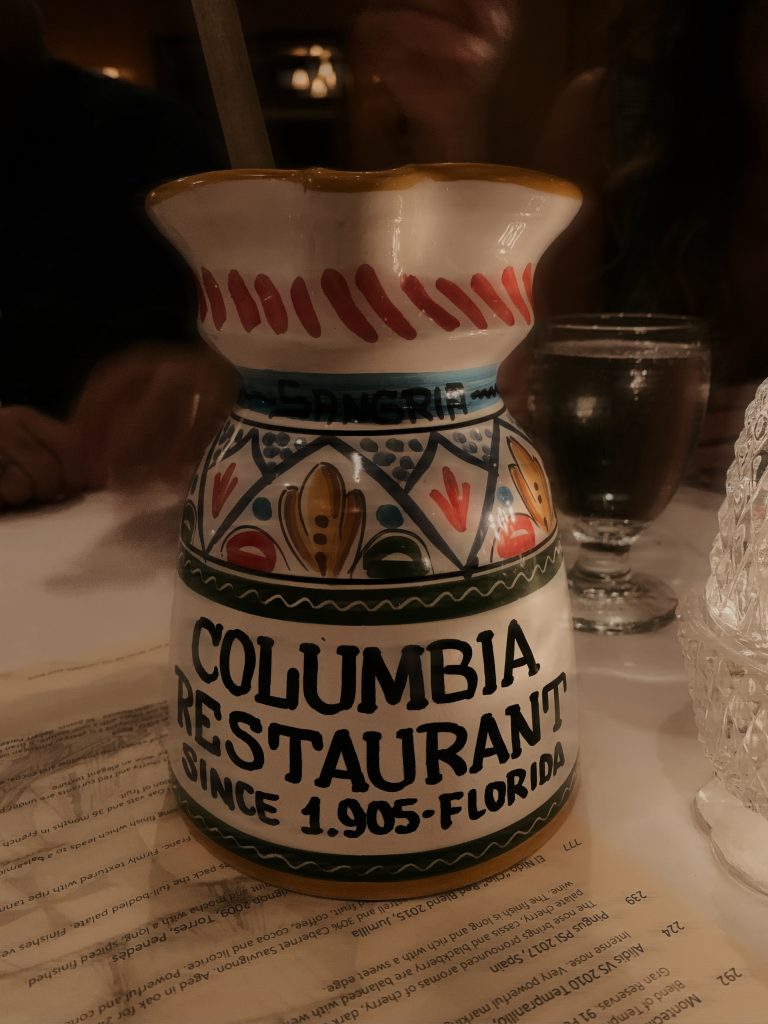 Dinner & a Show
We then got the experience of an authentic flamenco performance while we ate dinner. A small group of dancers and guitarists took turns performing throughout our meal for a 45-minute show. It truly set the mood for this unique dining experience and made the night that much more memorable.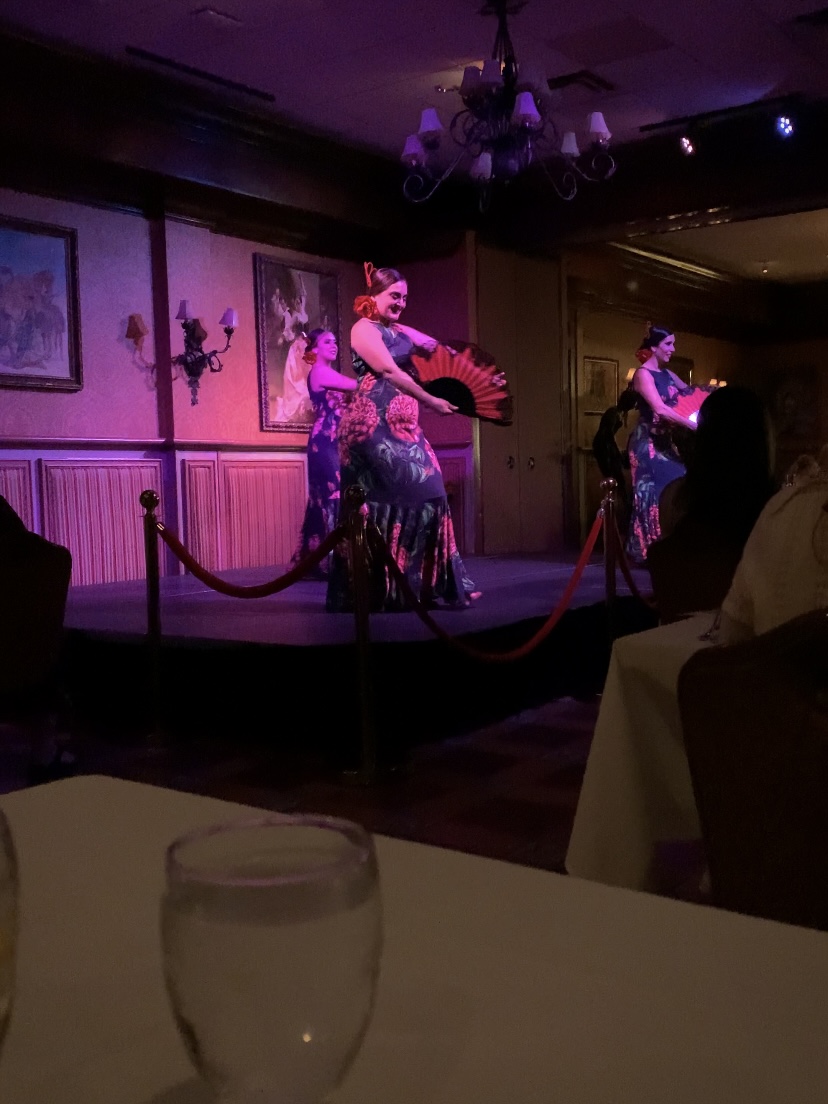 Though we only covered Columbia Restaurant in the Ybor City/Tampa location, there are locations across Florida such as Sarasota, St. Augustine Historic District, Clearwater Beach and Orlando. Each has its own unique menu and ambiance according to the location, so be sure to give one (or more) a visit if you're ever in the area.