Are you planning a trip to the Big Apple? Lifestyle and travel blogger Emma (@emmahassemer) takes us through her suitcase and spills everything she packed to survive an entire summer in New York City. She has the 10 fashion essentials that every traveler should pack.
Dearest D-RAVEL Traveler,
Who else agrees that packing for a trip is one of the most chaotic and stressful activities? Because, same. I remember frantically stuffing three suitcases with just clothes as I prepared to leave my home in Chicago and spend an entire summer in New York City for an internship. Looking back, I can confidently say that I over-packed and didn't touch half of the clothes that I ended up bringing—talk about a waste of a checked bag!
For all my fellow travelers who tend to over-pack, this post is dedicated to you. Here are my 10 fashion essentials that every traveler should pack to New York City for a summer getaway.
White sneakers
If this is your first time visiting New York, you're going to want to make sure you have a comfy but cute pair of sneakers to stroll around in at Central Park and Times Square. My go-to shoe for all tourist activities and walking to and from the subway stations were a pair of white platform sneakers. Whether you're dressing up or dressing down, you simply can't go wrong with completing an outfit with a chic pair of sneaks.
My current favorite pair are these crisp Reebok platform sneakers. Whether you're vacationing in NYC or not, I believe everyone needs a fresh white pair of kicks in their closets.
Black heels
After spending the day exploring New York's parks and museums, you're going to want to slip into a sleek pair of strappy heels for the city's nightlife scene. New York isn't called the"city that never sleeps"for no reason—from classy clubs to ravishing rooftops; you'll be out till sunrise.
Packing a pair of simple black heels for your trip to New York is a must. Whether you're rocking business attire or a silk slip dress, a pair of strappy black pumps are the cherry-on-top to any outfit.
How chic are these black suede slip-on heels from Lulus? If you fancy a block heel with an ankle strap, check out this pair by Steve Madden.
Casual sandals
For brunch or the beach, you'll want to make sure you have a pair of casual sandals. If your suitcase allows the room, I recommend packing a brown pair and a black pair to match whatever outfit you're wearing. These women's platform espadrille wedge's are not only extremely affordable, but a cute sandal option.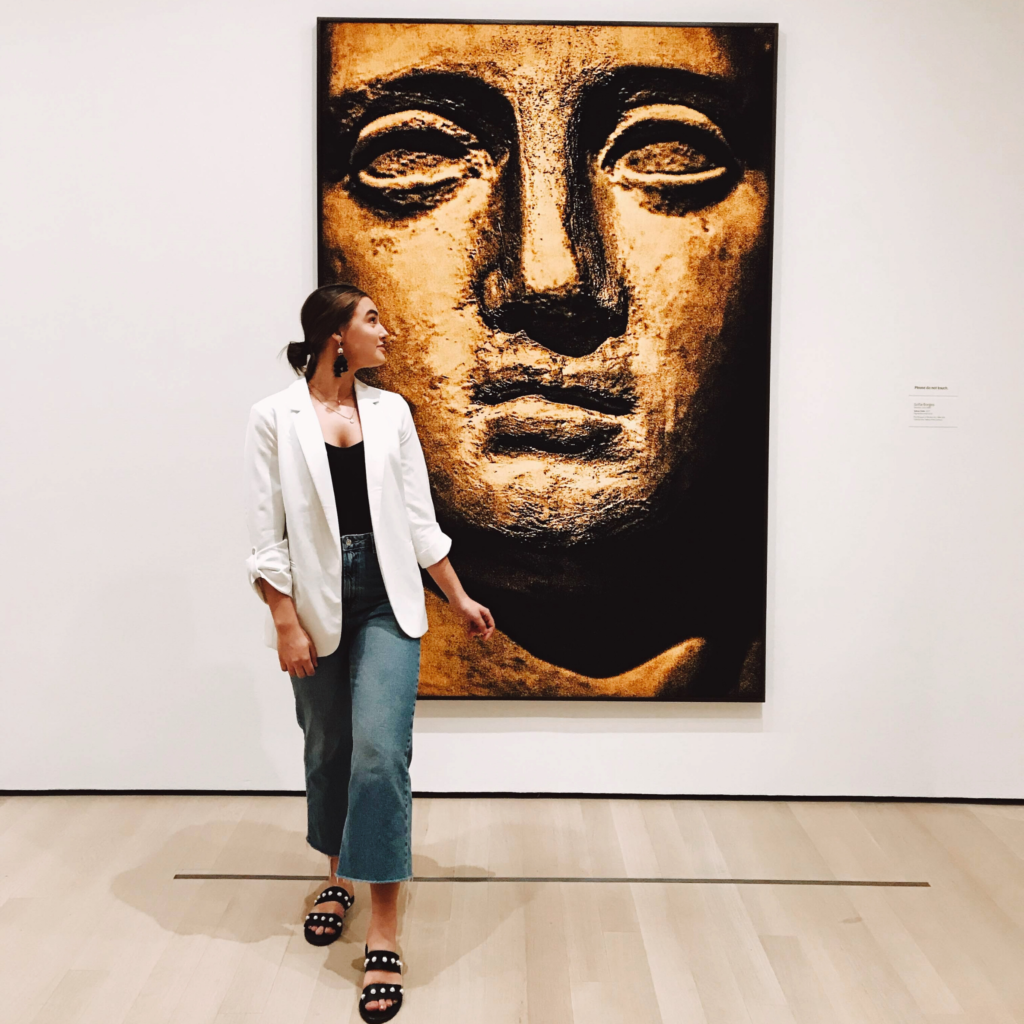 Little black dress
You wouldn't believe how many ways there are to style a classic black dress. A little black dress will be your best friend in New York. During the day, pair your black dress with an oversized button-up (borrow your boyfriend's or dad's if you don't own one), a beach hat and strappy sandals for a casual vibe. Transition into the evening by replacing the button-up with your favorite blazer, slipping into black heels, and loading on the dainty gold jewelry.
A little black dress doesn't have to be one that's tight and short. I prefer one that's midi-length with spaghetti straps, such as this one from Zara.
Cropped high-waisted jeans
Summers in New York are extremely hot, but you'll be happy you packed a pair of jeans for those cooler summer nights. My favorite jean style is a high-waisted, light-washed cropped pair. I love wearing cropped jeans in the summer because you can show off cute strappy sandals or heels. They also create the illusion of longer legs.
The Gap is my favorite place to shop for denim. Here's a pair of Gap jeans that I've been wearing all spring-long and plan to wear into the summer months.
Black jeans
Mix up your denim game by stepping into an edgy pair of black jeans. Black jeans instantly spice up any outfit and make it look like you put effort into creating your look—whether you did or not.
Accessories galore
This is how you save room in your suitcase! Rather than packing five identical black tops, choose one and pack extra accessories. Take that essential blacktop and accessorize it multiple ways through different jewelry pieces, hats, belts, and hair accessories.
Organize your earrings, bangles, and necklaces in travel-friendly jewelry boxes to prevent them from getting tangled, or use plastic Ziploc bags.
Simple staple shirts
I recommend sticking to the basics when it comes to choosing which tops to pack. I recommend packing more neutral-colored shirts such as black, brown, tan, and white than tops with crazy patterns or bright colors. Pack shirts you know that are comfortable fitting, flattering on your figure, and made of high-quality material. The last thing you want to be stressing about on your night out is if your shirt is too low-cut or see-through.
Don't forget; you're bound to buy a few new shirts during your visit—giving you even more options on what to wear!
Oversized jean jacket or blazer
Pack one or both! During my summer in New York, I discovered my love for blazers. On top of wearing one to work, I loved throwing it over dresses when I'd go out to a bar or restaurant. If blazers aren't your style, pack your favorite jean jacket to throw over your shoulders on those cooler summer nights.
Style tip: If you're struggling to find the perfect oversized denim jacket, shop in the men's section.
Linen shorts
Say hello to your new go-to summer shorts! Linen shorts are both stylish and comfy. Unlike tight denim shorts, your legs will be able to breathe in a lightweight linen pair. Because linen is a lightweight and thinner material than denim, you'll be able to pack more in your suitcase.
How adorable are these linen shorts from Target? Also, can we take a second to appreciate that elastic waistband?
Last but not least, you may want to bring an empty carry-on suitcase, so you have room for the new clothes that you purchase. Let's be honest; you can't go to New York and not dedicate a day to shopping. These 10 fashion essentials that every traveler should pack while planning a summer trip to New York City are advised. The NYC heat is not a joke.
Happy packing!