Dearest D-RAVEL Travelers,
My name is Alyssa (alyssabrascia) and after months of quarantine, I was ready to hop on a plane and travel to Florida—this was my experience.
THE BACKSTORY
I was a sophomore in college when I was dropped off at home for spring break. I had no idea that I wouldn't be going back. Never did I think that I would hop on a plane during a pandemic, but after quarantining separately from my boyfriend in Florida, I decided to make the journey as safely as possible. I have the tips and tricks you're looking for on how to travel safely during the Coronavirus outbreak.
MY EXPERIENCE
When the reality of the situation set in, I realized how unlikely it was that we'd be able to visit each other soon, if at all. After about a month and a half of being in self-isolation, I decided it was time to try to persuade my parents, whom I was quarantining with, to allow me to fly to Tampa. I did this in a very methodical way, inspired by Emma Stone's strategy of getting her parents to allow her to move to Los Angeles to begin her acting career… a PowerPoint. 
Armed with quotes from the CDC, WHO, Midway Airport and more about how long the virus can live on clothing, how to stay safe and sanitary, and more, I compiled a 16-slide presentation. Yes, 16-slide presentation on how I'd be safe and protected during my trip. The morning after my well-delivered speech, and impeccable PowerPoint, we booked the ticket. I was about to travel (safely!) during COVID.
THE AIRPORT
I'd heard the airports were ghost towns. The once bustling, busy gates of Chicago airports now reduced to quiet terminals with the only sounds being the pre-recorded voices to fill the vast voids. This wasn't really my case.
Granted, I decided to travel when Illinois had started to lift certain restrictions on lockdown, such as being able to gather in groups of 10 and restaurants re-opening, so traveling wasn't as shocking as it was before. In fact, most people I knew had already traveled or had plans to. However, the airport still managed to surprise me.
Curbside check-in was the first new experience to greet me with COVID traveling, but this was easy. Honestly, more airlines need this in general. I flashed my boarding pass & walked right in, backpack and carry-on in tote.
SECURITY
Security had never been so easy – the process took maybe 10 minutes from pulling my mask down and matching my license to my face to getting my bags through TSA. This greatly put me at ease, because I was so worried about the congestion of the airports. Though it was a bit busier than I'd expected, there was an awareness of how close people stood to one another. I was in the line with only a few others and we kept our social distance by standing on 6-foot spread markings on the floor. Although it felt a bit sterile and eerie, all was well.
KEEPING CLEAN
As according to my PowerPoint plan, I was gloved, masked and armed with Wet Ones to keep myself COVID-free. Are you looking for natural products that are good also for your skin? These Busy Beauty Aloe Hand Cleansing Wipes are also made with Vitamin E—this is an all natural, vegan-free, paraben-free, and cruelty-free product. Rolling behind me was only one carry-on suitcase, as I didn't want to run the risk of having my luggage passed around by too many people. I'd even enclosed my phone in a Ziploc bag to avoid having direct contact. Truly I was doing too much, but you can never be safe enough!
Though my gate at Midway Airport was nearly full, I was lucky enough to secure a solitary seat in my own row on both of my flights. Southwest, the airline I chose, was ensuring some form of social distancing by making sure every middle seat was clear and wiping down each occupied seat after the previous flight. 
FLORIDA'S THOUGHTS ON COVID-19
Once I finally walked through the arrivals door in Tampa and hopped in the car, it was like I had entered a different world. While COVID is still very real in all areas of world, it seemed to be a thought on the backburner in Florida.
The people in Tampa were a different mix of COVID-careful. Some wore masks, some social distanced, while others laughed jovially in the company of family and friends at restaurants. It was much different from the tense atmosphere I'd left in Illinois, but it was a freeing change. I realized we could have fun out on the town while still staying safe.
MY TRIP
While visiting this southern paradise, we laid relatively low in order to still ensure our safety. Our more"social"events were a few dinners out, where we would be served by waiters in masks and gloves, often with recyclable menus to toss after each use. This felt like it could be the new normal, at least for a while. The other parts of our days would be spent chilling on the beach (which were surprisingly uncrowded), laying by the pool or going on relaxing boat rides. Being able to ensure our distance from others was a relief, but it makes my heartache for the days that socialization was normal and encouraged.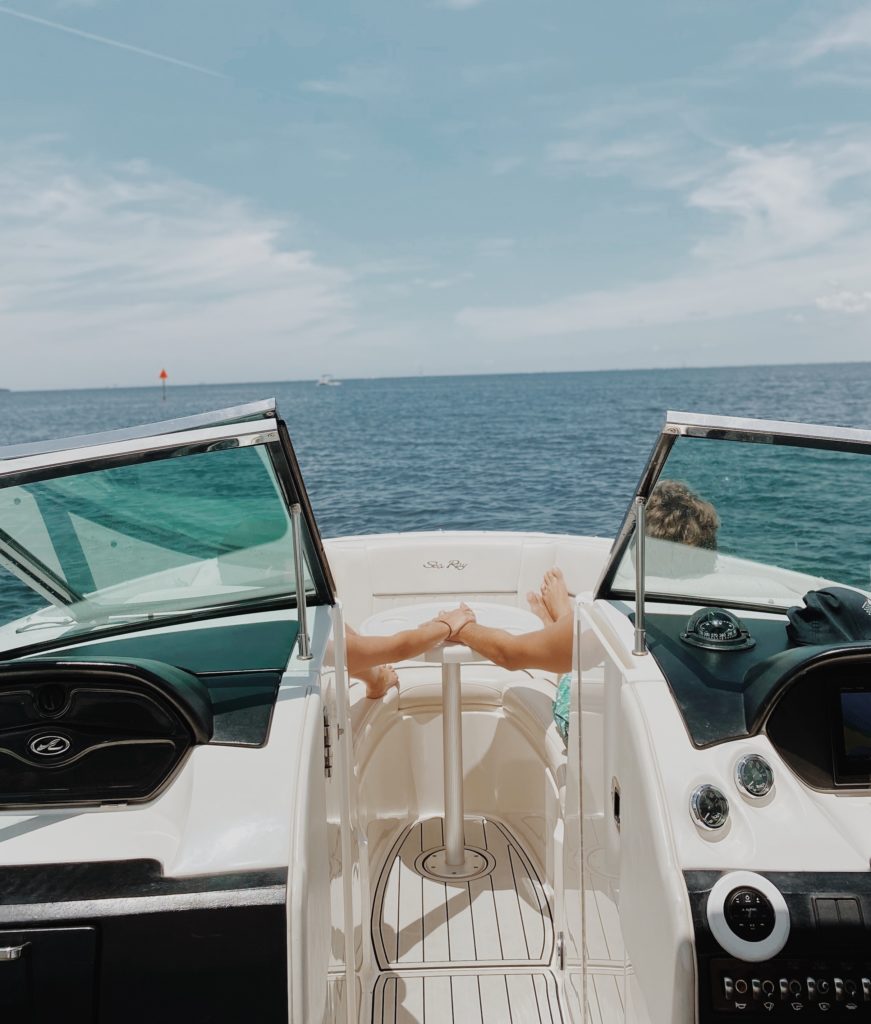 BACK TO CHICAGO
When the trip came to a tearful close, it was time for me to head back to Chicago. This airport experience was the more concerning of the two, as my flight home was full according to Southwest's updated guidelines. Though every middle seat was open (and I did get my own row again), it was much more crowded than the first flight. While I kept my mask tight to my face, people would pull theirs down often to breathe or snack. This was a definite worry but knowing that airlines have been implementing new filters into their planes for better sanitation eased my mind a tad.
Traveling during COVID hadn't felt like as unsafe as I thought when I was at the Tampa airport, but Chicago's Midway was a different story. It seemed as though much of the airport was closed to arrivals, and everyone from my flight was funneled into a single hallway and escalator, which definitely did not keep everyone 6 feet apart. I got out of the hallway the second I could to escape the masses of people clambering onto the escalator and go down when it was clearer. This was a worrisome moment that has stuck with me from this travel experience, and of course it was the very last thing to happen before going home.
TAKE PRECAUTIONS
While this is a time of dire need to be safe and protecting oneself and each other from this chaotic disease, I believe that traveling during COVID can be done somewhat safely if the right precautions are taken. First of all, trust your gut. If you feel that flying is too risky then driving might be a better option, or simply making a staycation at your home may be what feels right to you. If you choose to travel, be aware of your surroundings, please wear a mask, wash your hands consistently, use hand sanitizer, and do not touch your face. Don't forget to wipe down that phone case too! And please, if you feel under the weather, please stay home for the time being. There will be more opportunities to travel, I promise!
HOW TO TAKE PRECAUTIONS
Carry sanitizer + baby wipes at all times
Wipe down the areas around you
Check the flight numbers—are they at capasity?
Can you drive to your destination?
Wash your hands
Bring several face masks
Keep 6 ft apart from other travelers at all times
Avoid touching your face
At the end of the day, COVID is still here, and every day brings a new risk of contracting it. However, if the right precautions are taken and you go about your days mindfully, then traveling safely does not seem too out of reach. My experience traveling during COVID was thought-out to protect myself and those around me, and it turned out to be a wonderful trip. I hope all of you travelers stay safe, healthy, and excited to explore the world again. I hope you all feel more comfortable about how to travel safely during the Coronavirus outbreak.