Welcome back D-RAVEL readers and boy, do I have a trip for you. For anyone living in the Midwest, or heading to the Midwest in the near future, Lake Geneva is calling your name. No matter what the season, this gorgeous laketown has fabulous boutiques, amazing eateries and even better places to stay. I can't wait to share with you all the ways to make a perfect weekend getaway in Lake Geneva, Wisconsin. Let's get started!
The Perfect Weekend Getaway in Lake Geneva, Wisconsin:
1. Stay at the Lazy Cloud Lodge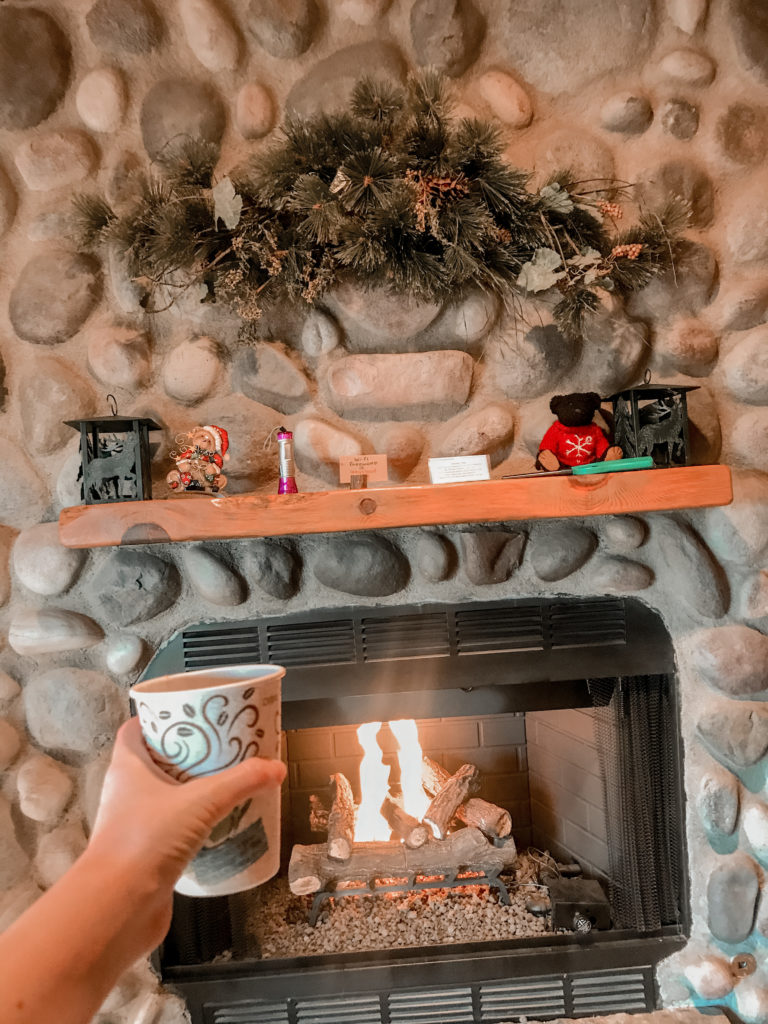 This lodge was such a great surprise. It was beyond cozy and brought the holiday spirit to life. Between the warm fire and large jacuzzi the Lazy Cloud Lodge is a perfect spot for a couples getaway. The lodge had set up a beautiful Christmas tree and also supplied complimentary champagne and breakfast.
I felt so at home at the Lazy Cloud Lodge. This suite was all about the details. I was able to snuggle up by the fire, drink my complimentary coffee out on the porch and enjoy the sunrise, plus, take a very deserved bubble bath. With the craziness of COVID-19, I felt comfortable and at home…truly a home away from home feeling in this welcoming cabin.
2. Eat at Pier 290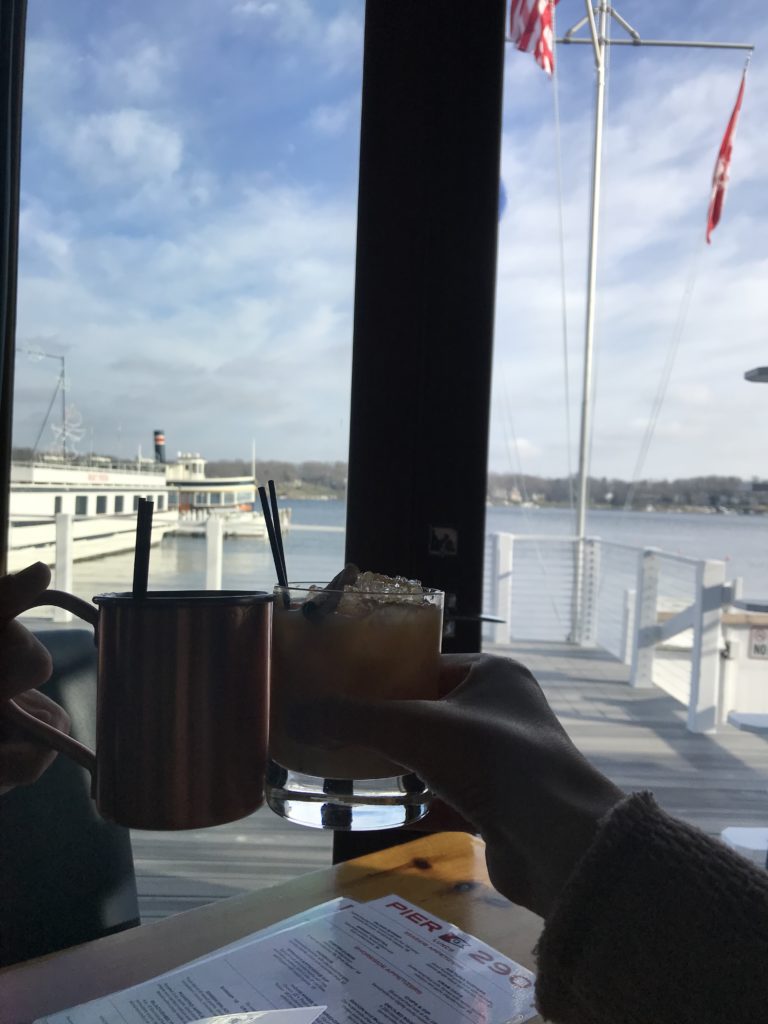 Now offering outdoor igloos and canopies, this sea-inspired restaurant offers fabulous view of the lake and outdoor seating to cozy up next to a big fire. Actually, Pier 290 is the only restaurant actually on the water! I ate the most delicious ahi ahi tuna with an apple cider cocktail.
3. Walk the Shore Path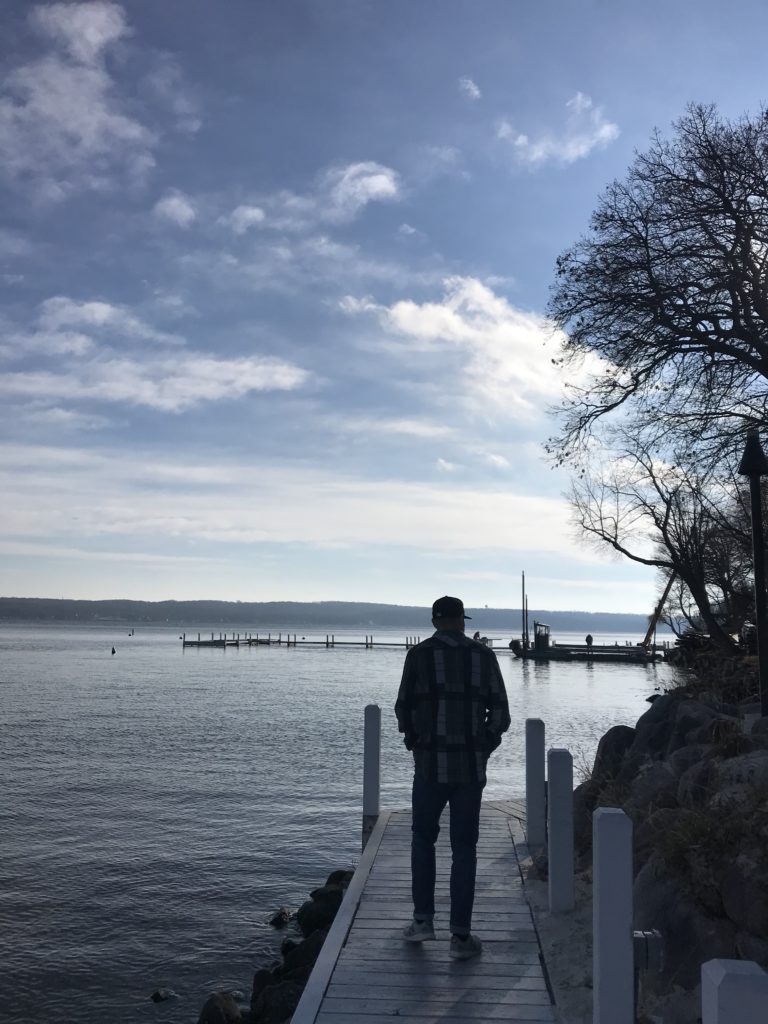 This 26-mile route will bring you around the entire lake and you can start right downtown! With our hats and mittens, we were able to see a ton of the lake and the unique homes that surround the lake.
4. Check Out Downtown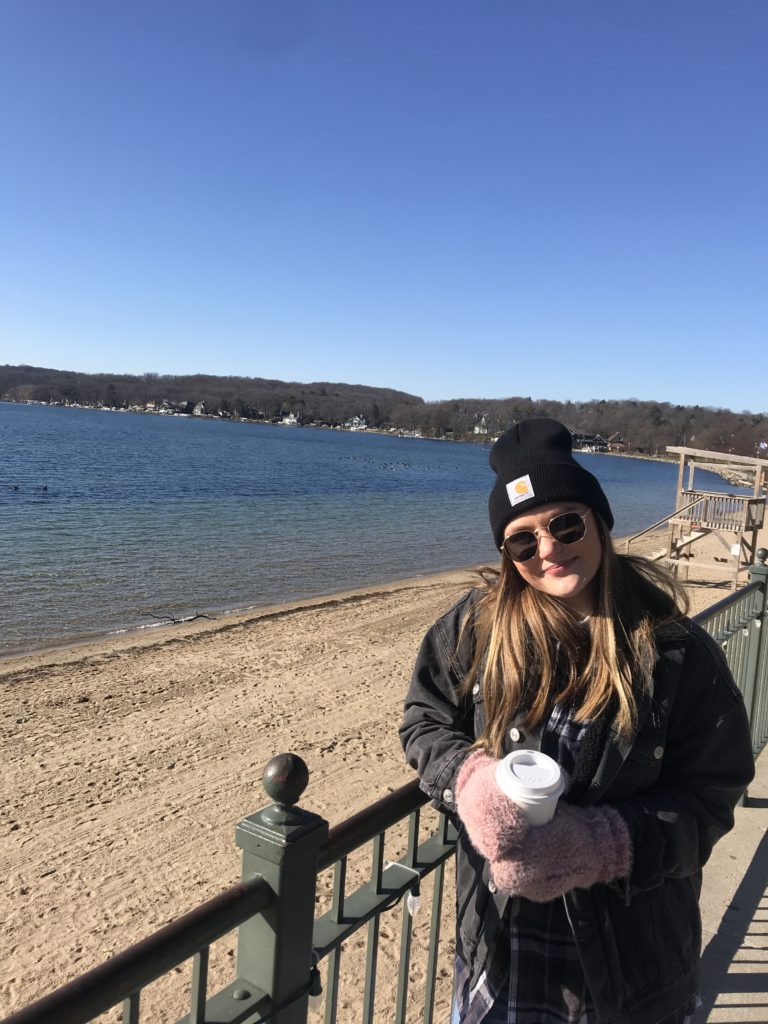 I was beyond surprised with everything this town has to offer. There are several streets of boutique shopping to experience. Ideal for a weekend getaway, between the awesome breakfast spots, breweries and shops, this town has about everything. Don't worry, I did tons of shopping for you so you know exactly where to go when you visit.
C.R. Goodfinds has tons of Christmas decor and giftable knick knacks.
Jayne offers some of my favorite brands like Free People and Anthropologie. This store had great giftables for the holiday season and such cozy apparel.
Kilwin's Chocolates is just the sweet spot you need! Hello, yum! Please, I am begging you, don't skip out on this delicious spot. With hundreds of different chocolate offerings, you'll find something you will love.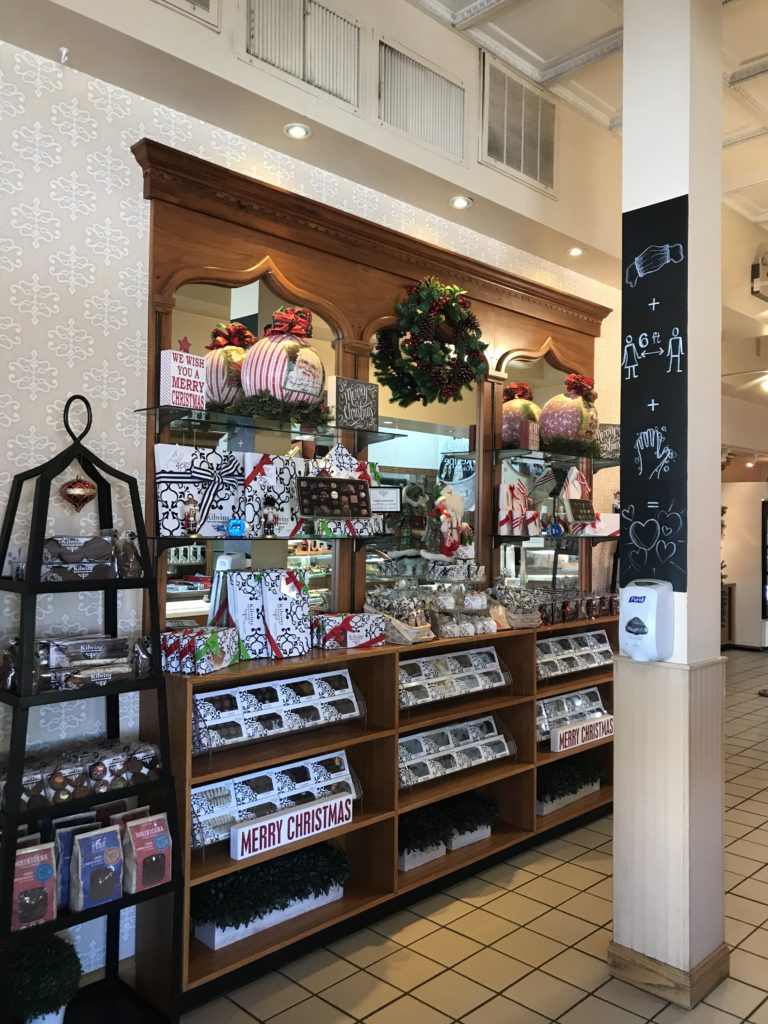 Tres Belle Boutique not only has a cute in-store boutique but they have an awesome selection online. Owned by the sweetest lady, her handcrafted apparel and lifestyle items are adorable.
Soho has designer-inspired clothes and offers such a trendy and unique offering in the cute town of Lake Geneva.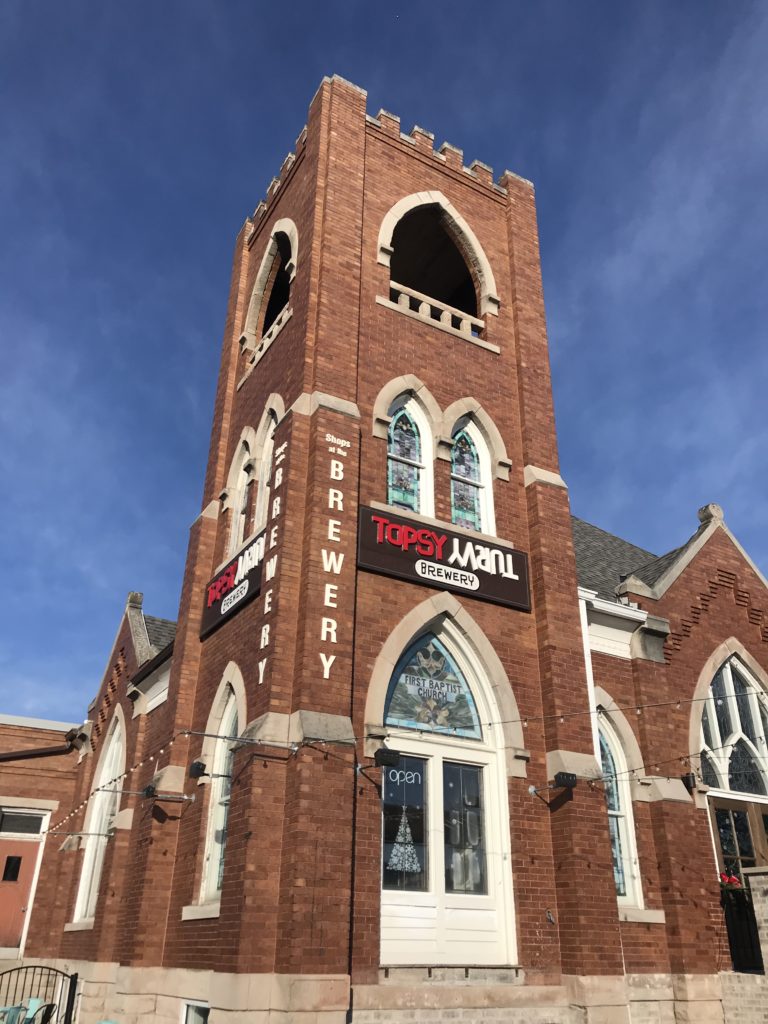 Say goodbye to traditional drinking establishments in this bar. Yes, you've heard it correctly, this bar is in an old and restored baptist church. The baptist church makes it an unforgettable spot and the beer is great as well.
7. Dine at Grandview Restaurant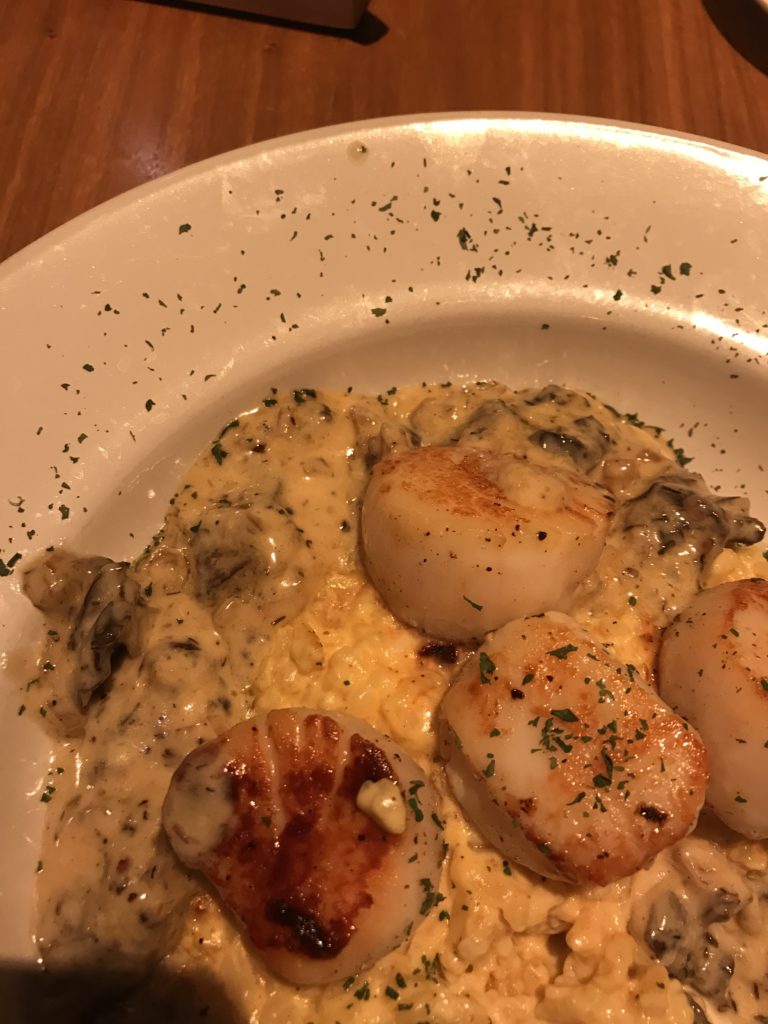 I would highly recommend you going for lunch. We chose to eat dinner there and were a little bummed we couldn't see the water. This gorgeous restaurant looks over Lake Geneva and has a sea-inspired menu. We had the most incredible meals. I had pumpkin risotto with scallops.
8. Grab a Drink at Revolve in Grand Geneva Resort
After dinner, we drove around 10 minutes to Grand Geneva Resort to cozy up next to a warm fire and have a cocktail. This bar lounge crafts amazing drinks and offers plush chairs and a real wood fire. Also, in the winter months, they have outdoor dining igloos to enjoy!
9. Eat Breakfast at Egg Harbor
This breakfast joint was recommended by several Lake Geneva-goers…and was it worth it! Between their fresh coffee and scrumptious food, we were nearly in heaven. We also took note at how fresh all their fruit and veggies were, such a unique menu as well!
10. Grab an Appetizer at Mars Restaurant
This place is actually the coolest. As it's a local super club, Mars has an old school vibe with the most insane view of Lake Como. Whether you sit at the bar, or a cute table window side, you'll be taking in the incredible lake views. It was fun to check out Lake Como as they're just a few minutes apart.
I loved my time in Lake Geneva. A big thanks to Lazy Cloud Lodge for having me and offering such an incredible and cozy place to stay. I would highly recommend this cabin to anyone looking for a quick weekend trip.