Hello! My name is @morgan_durick and this summer I had the opportunity to travel to Alaska with five of my best friends from high school. I'm so excited to share my Alaskan experience, as well as some packing tips I learned along the way.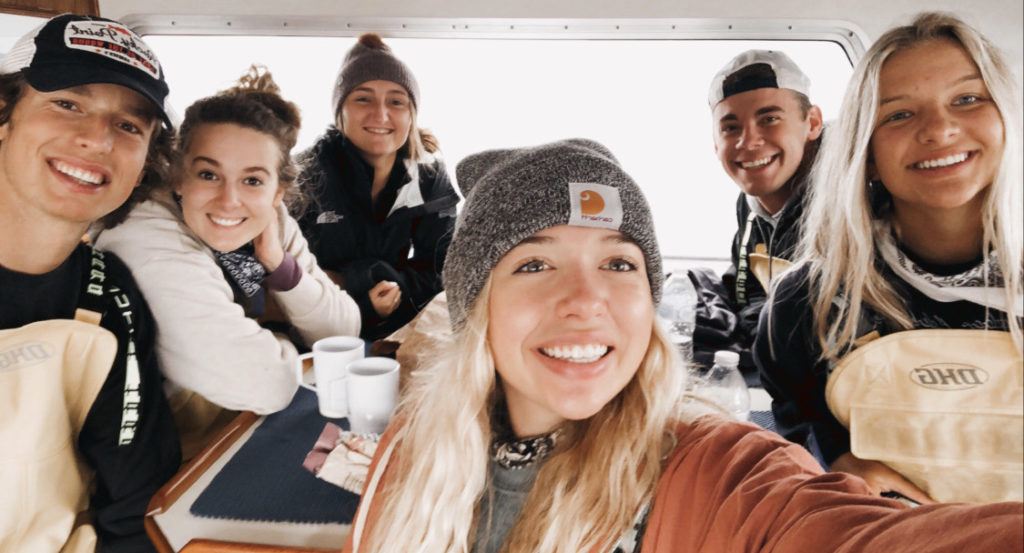 Dearest D-RAVEL Traveler,
On a Tuesday afternoon in the thick of the mid-July heat, I sat on my bedroom floor rolling up wool socks, hats, windbreakers, and the heaviest sweats I could find to pack in my suitcase. It felt a little funny to pull out my winter clothing bin when that given day the heat index was 101 degrees.
Preparation
I was packing for a much-anticipated trip to Ketchikan and Prince of Wales Island in Alaska. My friend, Antonia, has a cabin on Prince of Wales Island right next to Sportsman's Cove Lodge. I wouldn't consider myself the most "outdoorsy" type so packing for and attending a trip ridden with so many recreational activities seemed daunting. After much trial and error, I finally had my suitcase more than filled and barely zipped shut and I was off to catch my first flight. Today I am sharing my experiences in Alaska and the "must haves" for an adventure full of fishing, hiking, taking in the most beautiful sights, running from bears, and lots of incredible seafood eating.
Hello, Alaska!
When we stepped off the plane in Alaska, I immediately felt like I had stepped into a scene straight out of The Proposal, just waiting for Sandra Bullock to walk by. Allow me to paint the picture for you. It was 45 degrees and a light drizzle was falling from the foggy skies. The airport backed right up to a canal where cargo ships were not-so-graciously gliding by and seaplanes skimmed through water from every direction. Bearded men were unloading boxes as the vibrant evergreen trees towered in the background. It was a sight to behold and felt surreal to this city girl.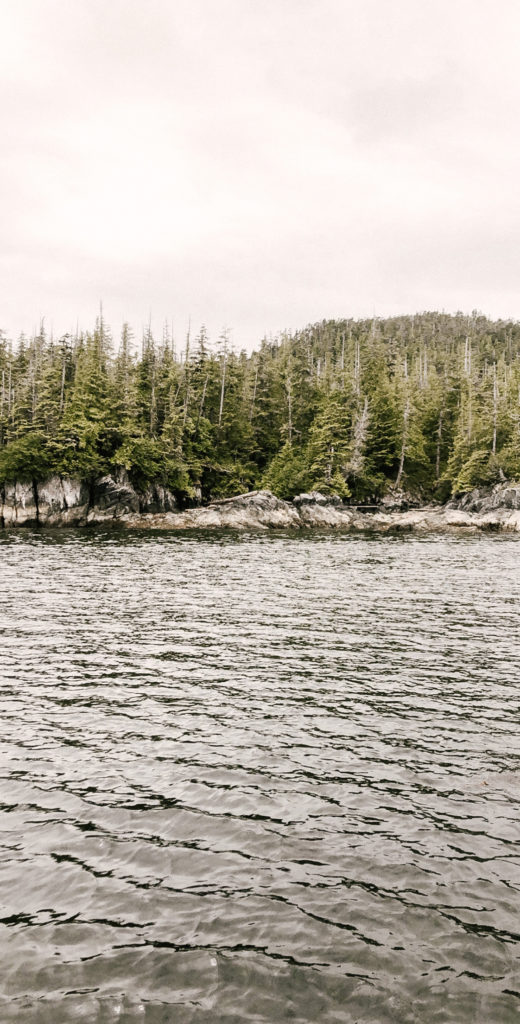 Weather Permitting
Due to bad weather, it wasn't safe to travel through the open ocean to our cabin on Prince of Wales Island. Instead, we explored some quaint shops in Ketchikan. We stayed the night at the local Inn, where I tried my hand at reindeer chili (yes it's a real thing).
The next morning we loaded up our luggage and boated across the channel. As we glided through the chilly waters, we admired the lush trees lining the coast. We also scouted for black bears on the shores. Once we arrived at our cabin, time was of the essence! We boarded Captain Mac's fishing boat and he, along with his assistant Craig, took us out to the open waters of the North Pacific. Mac is an 80-year-old full-time fisherman who left his suburban life in Washington and moved to Alaska. It was so fascinating getting to learn from him all week!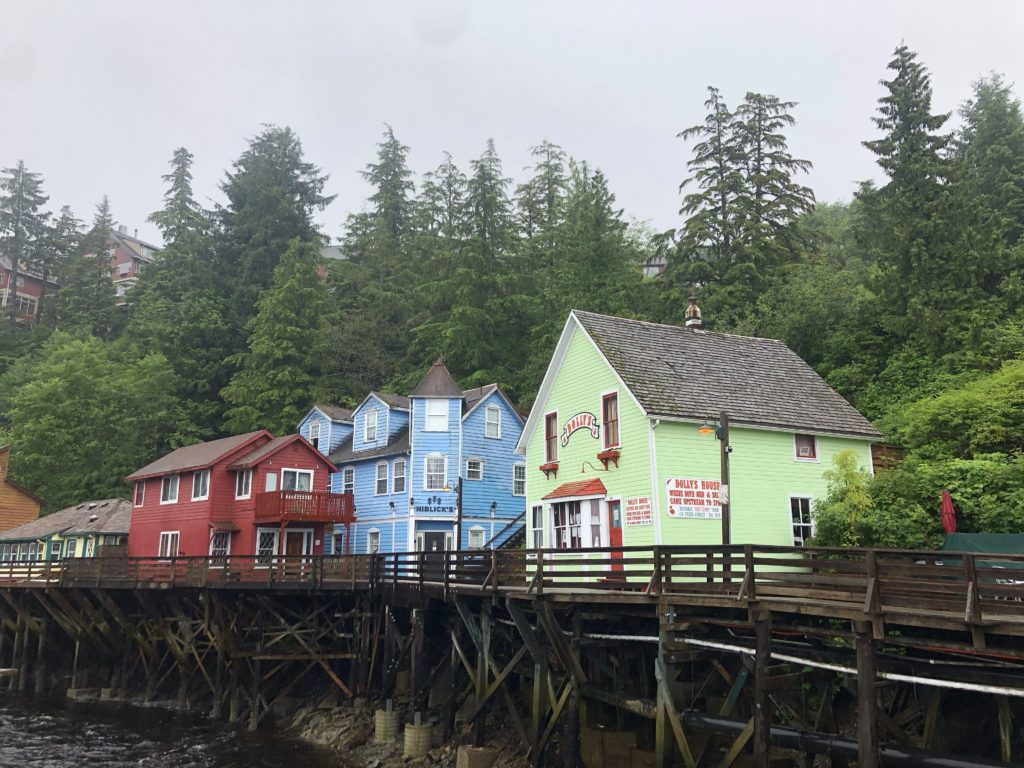 Fishing
Most of our days were spent fishing, sometimes for eight hours straight. We would have a break for a peanut butter and jelly sandwich or a quick hot chocolate to warm up. Captain Mac didn't want us wasting any time while there were fish to be caught! One day a friend of mine caught a massive stingray (on accident); it took her 30 minutes to reel that big guy in! I quickly learned fishing is not the most glamorous sport. We were covered in bait pieces and fish guts by the end of every day.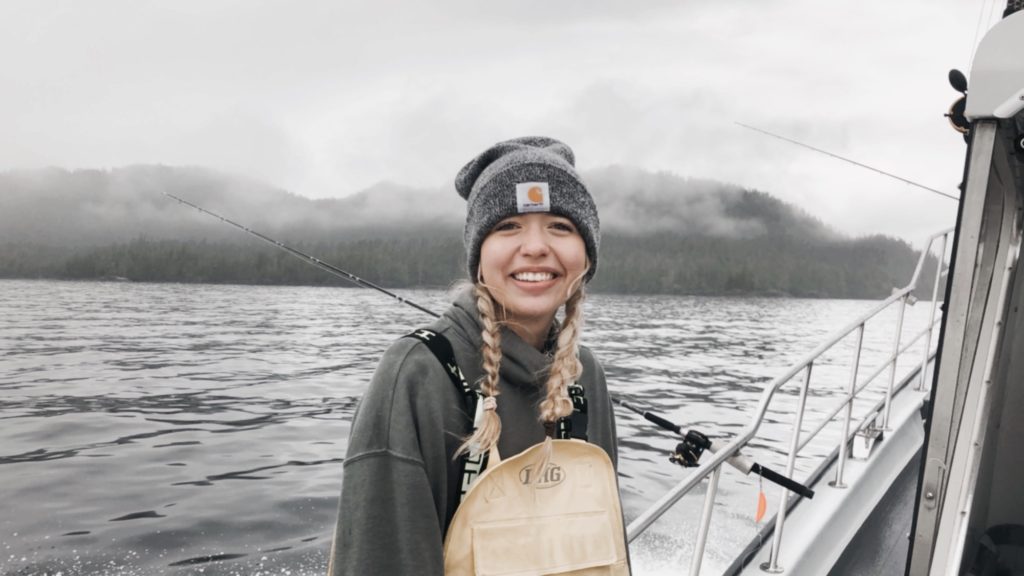 Time to Layer
With that being said, layering my clothing was my best friend. The mornings on the boat were very cold, dipping down in the 30s or low 40s. It would however, heat up in the afternoon. Our outfits were layered to accommodate for the varying temperatures. We topped off our look with the fishing gear we wore each day (which consisted of rubber overalls and rain gear). A side note: the yellow rubber overalls were a little hard to make cute! It's a good idea to wear clothes underneath your fishing gear that will keep you warm, but doesn't overheat you. My layering normally consisted of a pair of leggings under warm sweatpants and a turtle-neck layered under a crewneck, hoodie, or denim jacket. My favorite turtlenecks are the "tissue" turtlenecks from J-Crew. Depending on the condition of the outdoor elements for the day, I might even add one more layer of a wind breaker or light jacket. It gets chilly out there on the open ocean!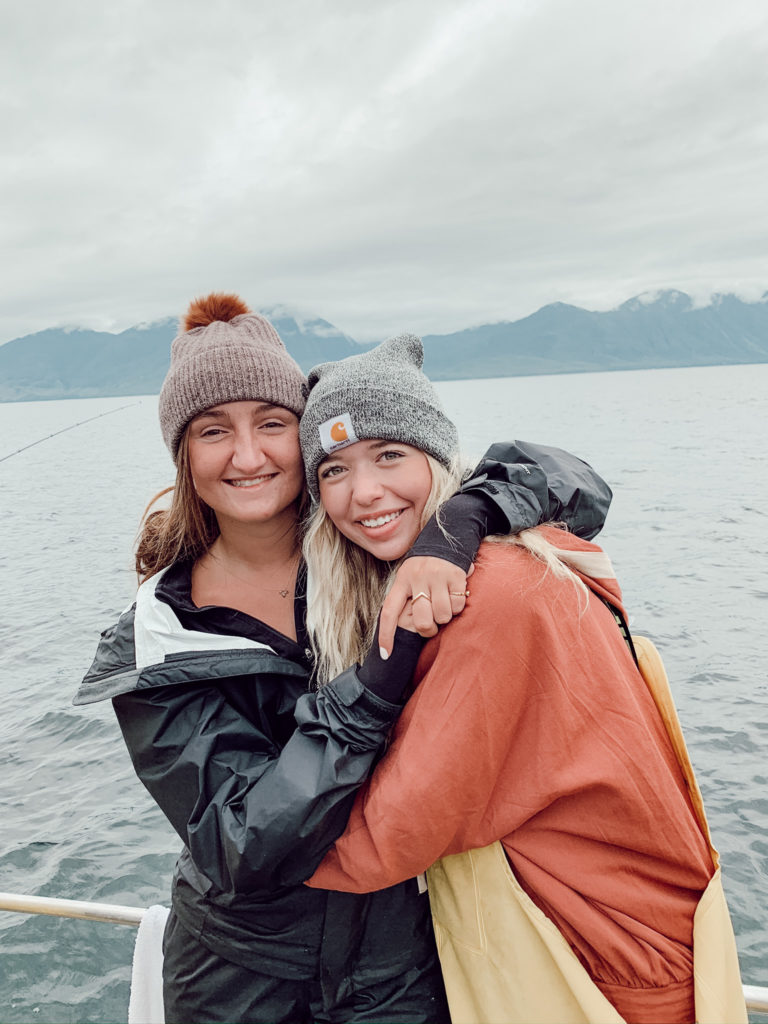 Hiking
Toward the end of the trip, we were all pretty sore and exhausted from the long fishing days. It's hard work reeling up bottom feeders! We took a break from fishing and went on a light hike instead. I wore a pair of leggings and a tight Lululemon athletic shirt topped with my Carhartt hat, a true staple of the trip. We visited Dog Salmon Creek, which included a "fish pass." A fish pass is a man-made ladder function that helps the migration patterns of fish and encourages upstream spawning. Due to the large quantity of salmon in this area, bears are often seen lingering.
As we hiked there, the closest thing to civilization were logger camps in the rolling hills, or the occasional pick-up truck whizzing by carrying a group of lumbermen. Once we got to the creek, we all climbed out to the middle of a fallen tree that was laying across the creek and sat over the rapids taking in the beauty. As we trekked back, we saw two black bears that, in my opinion, were uncomfortably close. None of my friends seemed nervous and were busy taking photos and videos while I was doing my best to get far far away! When you're the slowest runner in the group, a head start is a necessity.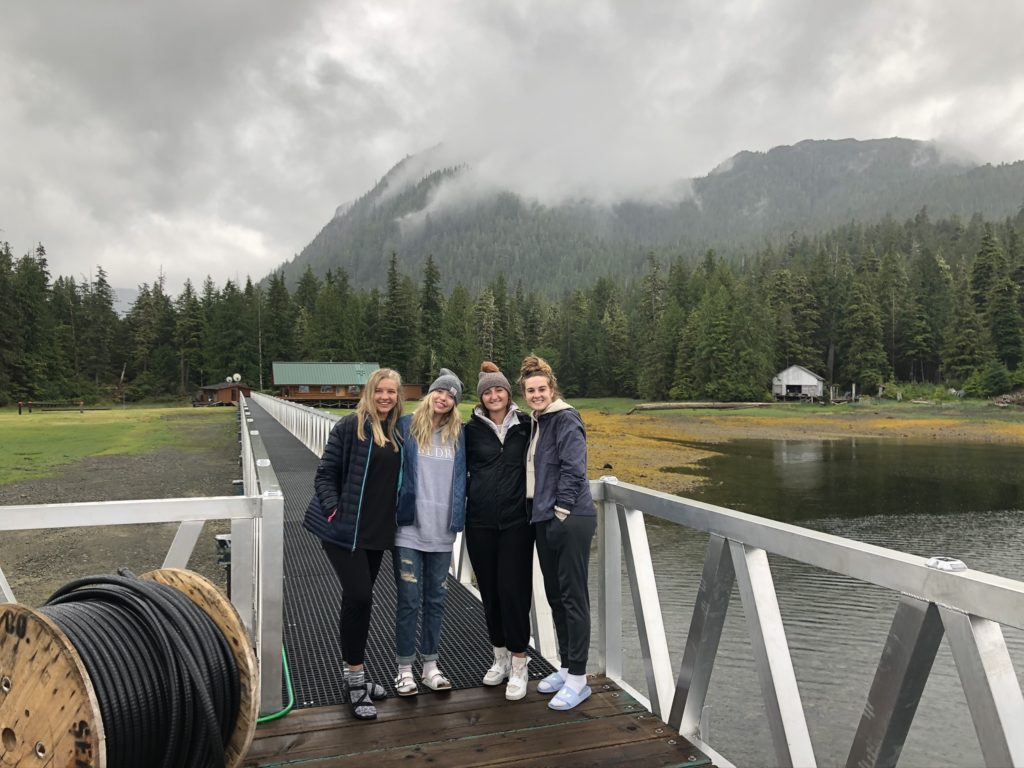 Lounging
After a long day of fishing or hiking, we would come back to the cabin, shower, turn on the fire and rehash the day over dinner. Dinner often consisted of what we caught that day or fresh crab legs and shrimp. After dinner, we played games and got to bed at a decent time so we would be ready for the next day. After I showered for the evening, I would normally braid my hair for the next day, then change into sweatpants, crew socks, and a cropped tank or hoodie to stay comfy for dinner and games.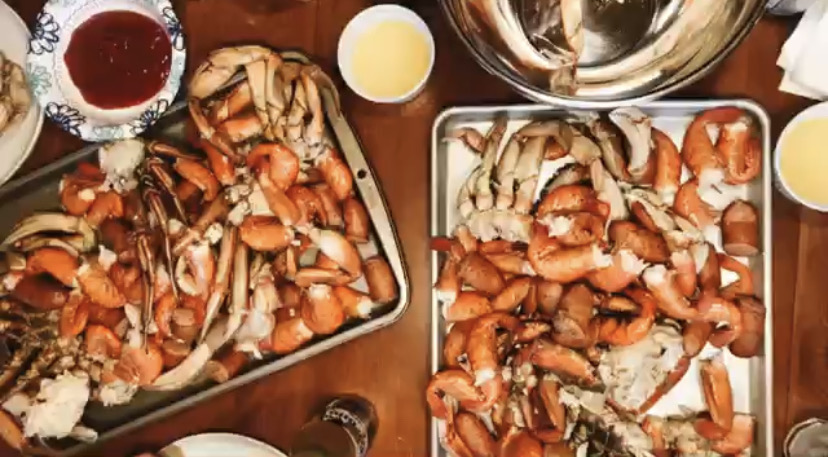 Thank You, Alaska!
I have never considered myself "outdoorsy," and certainly not the fishing type, but this trip opened my eyes to a whole new idea of vacation. I truly couldn't even comprehend the untouched beauty I saw every single day. I'll never forget those chilly mornings – fishing rod in one hand and hot chocolate in the other – as I watched steam roll off the water patiently waiting for a fish to bite. I hope you enjoyed learning about my Alaskan experience! Have you ever been?