Hello! My name is Sarah (@ssolnet22). I spent 5 months living in Paris during my study abroad experience. I'm sharing what to pack when traveling to Paris and some of my favorite things to do in the beautiful city.
What to Wear Parisian Style
Paris is a much more conservative and old fashioned city. Their way of dressing emulates this culture. In order to not stick out as a tourist I would advise wearing more conservative clothing. This just means avoiding extremely low necklines, very short hemlines and see-through garments. People definitely don't dress very casually in Paris either. I packed a pair of leggings and a couple t-shirts and hardly ever wore them outside my apartment. The Parisian style is very classic and chic. If you truly want to fit in as a Parisian when in doubt just wear black. Black jeans or a skirt and a black sweater was my staple during my time there.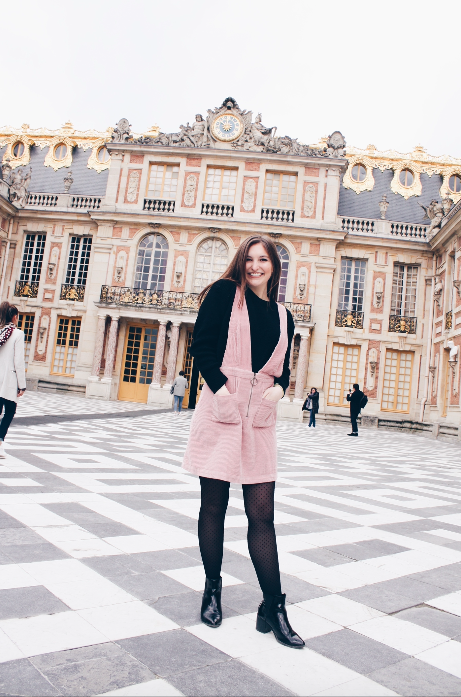 Dress for the Weather: Winter
Most of my time spent in Paris was during the winter months. It doesn't snow much in Paris but when it does the people there tend to shut down. It does however rain a lot. Don't let the rain stop you from exploring the city. I mainly packed jeans and some other fun pants, lots of sweaters, some skirts and dresses, and different weight jackets. To make the skirts/dresses perfect for winter I paired them with polk-a-dot tights and booties.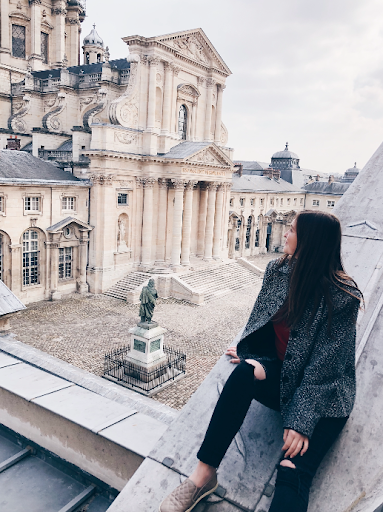 Dress for the Weather: Spring
It didn't warm up a ton in Paris by the time I left in May. Jeans and a short sleeve top and a light jacket were perfect for the Springtime. I also mixed in some dresses and jumpsuits. Layering is definitely key for the Spring months in Paris.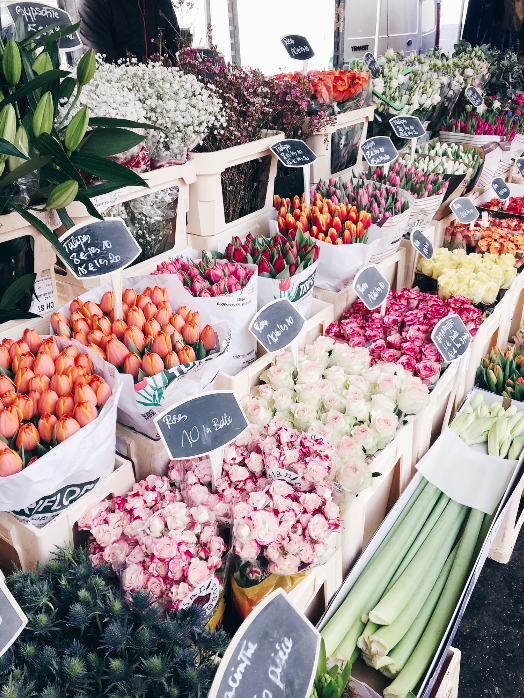 Essentials
#1 Umbrella- It rains a lot in Paris in the Winter and Spring so make sure to always have an umbrella with you.
#2 Comfortable walking shoes- I lived in my Steve Madden slip on sneakers and my black booties.
#3 Black Long Peacoat- I loved my Black Pea Coat in the winter months. It matched with everything and was perfect for the chilly temperatures.
Paris To-Do: My Favorite Things
Saint Chapelle
Located just a couple blocks away from Notre Dame is another stunning church called Saint Chapelle. It is very small and unlike many of the typical cathedrals in Europe. There is a fee to get in but it's worth it to see the wall to wall stained glass in this colorful church.
Catacombs
This was such a unique experience that I would definitely recommend. It's also perfect for a rainy day because you are underground the whole time. Tip: buy the skip the line pass. It's worth it to skip the 2+ hour lines.
Open Air Market
Paris is filled with open air markets around the city. Find one near you to explore. Even if you don't buy any food it's interesting to see all the delicious food and experience the local way of grocery shopping.
Sunset at Montemartre
At the top of the hill in front of Sacre Coeur there is a beautiful view of the sunset over the city. The whole city lights up orange and pink with the light from the sun. Afterwards head behind the church to look at local art and find cute a restaurant for dinner.
Medici Fountain in The Luxembourg Gardens
If you're looking for a quiet place to relax head to the Luxembourg Gardens. The gardens are filled with beauty but my favorite spot was the Medici fountain. It's the perfect place to spend the afternoon relaxing and reading a book.
Musee D'Orsay
Paris is filled with so many amazing museums. I tried to go to as many as I could in my time there. My favorite was Musee D'Orsay. The building itself is a work of art and has such a nice feel to it. It's filled with a wide variety of art and has a whole floor dedicated to impressionism which I loved.
Tip: The best food is outside the tourist areas
Food
France is known for its food. To experience the best of what Paris has to offer look outside of the tourist heavy areas. Some of my favorite restaurants were Pavillon des Canaux, Victor, Auberge Nicolas Flamel, and Port du Salut.
I hope that this year round guide helps you understand what to pack when traveling to Paris and you can check out some of these must-see sights!