When people ask me where I'm from and I tell them, New York, they usually assume I'm referring to the Big Apple. Many people don't realize that there's a lot more to New York State than just NYC (not to put NYC down because I think it's one of the coolest places in the world, but Buffalo isn't far behind!) Here's a Buffalo Travel Guide to set your first trip up for success.
Dearest D-RAVEL Traveler,
I (@carlymarie_travelwithme) was born & raised in Buffalo, New York, and hate to say it, but I grew up with very little appreciation for my hometown. It took me moving away to develop an admiration for this incredible city that I now happily call home.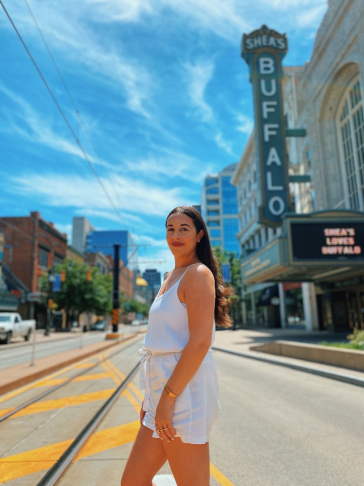 Buffalo Travel Guide:
The Best Time To Visit
I wish I could say the weather in Buffalo is perfect and beautiful all year round; however, that would be the farthest thing from the truth. A bit closer to the truth would be saying, "experience all four seasons in one day." Buffalo does thankfully have some beautiful seasons and prime times to visit, though!
Late Spring: May-June
I've personally experienced snow in Buffalo as late as April. However, May & June tend to be pretty reliable for beautiful, comfortable weather. Days are generally sunny and clear, with high temperatures ranging between 65-75 degrees. This is an excellent time of the year to visit our beautiful waterfront, take day trips and hikes to local surrounding areas, and enjoy the gorgeous, blooming spring flowers throughout many of the neighborhoods. I would consider packing a light jacket or sweater when visiting, as nights can still get chilly.
Summertime
Summer in Buffalo is my personal favorite! I do, however, favor the warmer temperatures. Highs can occasionally reach above 90 degrees but more normally average between 75-80. Summertime usually means a different event every weekend, ranging from food festivals to art fairs. Farmer's markets are scattered around the city, and free outdoor concerts can be easily found. Visiting Buffalo during the summer means never needing to worry about being bored! Be sure to pack light clothing, sundresses, shorts, and don't forget the sunscreen!
Early Fall: September- October
Buffalo is an undeniably great place to visit in the late summer – early fall as well. September highs average at 70 degrees meaning there are still numerous beach days to be had, and Buffalo has its fair share of fun beaches and lake views. If you prefer a bit of a cooler climate, October days usually range in the comfortable high 50s, perfect for sightseeing the architecture of different neighborhoods, hanging out in eclectic coffee shops, or sipping on a bold red in a wine bar. This time of the year can through you for a loop, however, so be sure to pack some warmer pieces, including sweaters, button-downs, and items that can layer.
Must-Do in Buffalo, New York: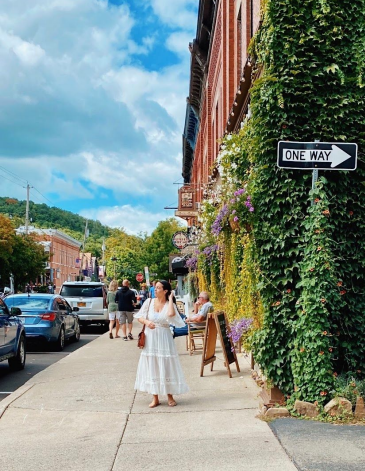 Tour Frank Lloyd Wright's Darwin House Complex
Frank Lloyd Wright was a famous architect, interior designer & educator who took a major interest in Buffalo. There's a total of seven Wright structures throughout the city! One of the most well-known in Buffalo and of his entire career is the Darwin House located in the historic Parkside neighborhood. Either a one-hour or two-hour tour is offered, and there's even a photography-specific tour! If architecture or design is an interest of yours, this will not disappoint.
Stroll Through Elmwood Village
Elmwood Village is an extremely special part of Buffalo. Here you will discover amazing restaurants, fun bars, beautiful homes, and funky local shops. Anyone who visits Buffalo should, at the very least, take a stroll down Elmwood Ave. and have lunch at one of the many amazing
restaurants.
Check Out One of The Great Lakes
As long as you're not picky about which one it is! Buffalo sits right on Lake Erie, the 4th largest of the Great Lakes, and it is a huge part of what makes our city so incredible. Whether you're into sailing, fishing, kayaking, or just lounging on the beach, I think it's safe to say most Buffalonians would consider themselves lucky to live near a Great Lake.
Visit The Naval & Military Park
Located in Canal Side is Buffalo's very own Naval & Military Park. Here you can view up-close decommissioned Navy ships and aircraft. Tours are offered for the USS Little Rock, USS The Sullivans, and the submarine USS Croaker. Right next door to the Naval Park is Liberty Hound, a great restaurant & bar with outdoor seating and awesome ships' views.
Walk the Bird Island Pier
The Bird Island Pier is a break wall path that separates the Black Rock Channel from the Niagara River. The path is 3.5 miles long and runs directly under the Peace Bridge, which leads to Ontario, Canada. My suggestion would be to time it so that you're finishing your walk around sunset. The views are absolutely beautiful!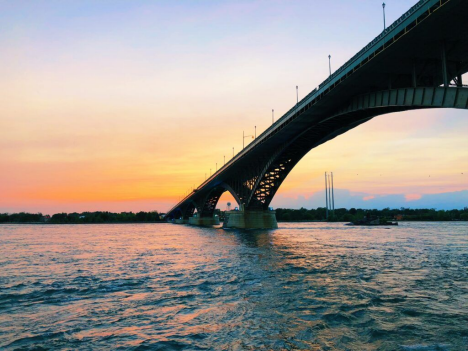 Local Shopping on Hertel Ave
Hertel Ave went through a makeover in recent years and has become one of Buffalo's most happening areas. Home to some incredible culturally diverse restaurants (you can find everything from Italian to Middle Eastern), a century-old movie house, and really unique local shops, Hertel Ave has a little something for everyone!
Great Day Trips from Buffalo
One of the best things about our city is its close proximity to so many incredible surrounding areas. Buffalo is located right on the border of Ontario, which makes neighboring cities in Canada very accessible. There's plenty of places to go for day hikes & day trips within just an hour's drive. If you visit during the winter months and you enjoy skiing, we have the perfect place for that too. Here are some of my absolute favorite day trips from Buffalo:
Ellicottville
Located just a little over an hour outside of Buffalo is Ellicottville, home to Holiday Valley Sky Resort. Although Holiday Valley may be the main thing attracting people to the small village, Ellicottville has so much charm and character to offer. If you're a skier visiting Buffalo during the winter months, this will be the day trip for you! If you're visiting during any of the other seasons, Holiday Valley offers other fun activities too.
Niagara Falls
A Buffalo trip isn't complete without visiting Niagara Falls. It's a natural wonder of the world and has an estimated 30 million visitors each year! I visit at least once a year, and it fascinates me every single time. I highly suggest visiting the Canadian side vs. the American side as the views are just outstanding! And be sure to give yourself at least a full day. There's so much ground to cover and even fun attractions to do, including Maid of the Mist & Cave of the Winds.
Letchworth State Park
Letchworth is a New York State Park located 60 miles east of Buffalo. The park spans over 14,000 acres and is home to some beautiful waterfalls, walking trails, stunning nature views, and even an awesome restaurant, just in case you work up an appetite. One of the best times to visit is in the fall, as you can't beat the beautiful foilage.
So there you have it, folks, my Buffalo travel guide! I am very proud to call this city home, and I have enjoyed my time re-exploring all of the wonderful things I love about living here. I hope this post has given you some ideas and inspiration if you're planning on visiting Buffalo, or maybe sparked some initial interest if it's a place you hadn't previously thought of visiting!