Wine country? Let's go! Say goodbye to Napa Valley and explore Fredericksburg, Texas with D-RAVEL. Fredericksburg, known as Hill Country or Wine Country is a fabulous option if you're looking to get out of the city and into the hills. With more than 50 local wineries, this destination is not only easy to get to, about 45 minutes from Austin, it's perfect for a weekend getaway, family outing, or bachelorette.
Let's Explore Fredericksburg, Texas Together
Before we get started, the best way to get around Fredericksburg is to hop on a shuttle. All of the wineries are very spread out, so if you want to get your proper drink on, be sure to book a shuttle through Viator and use the link provided to grab a deal on the shuttle as well.
The Best Wineries in Fredericksburg, Texas
Tip: if you want to do wine sampling at any of these vineyards/wineries, most require reservation, especially if it's a Friday or Saturday. Use these links above to make your reservation for your trip!
My experience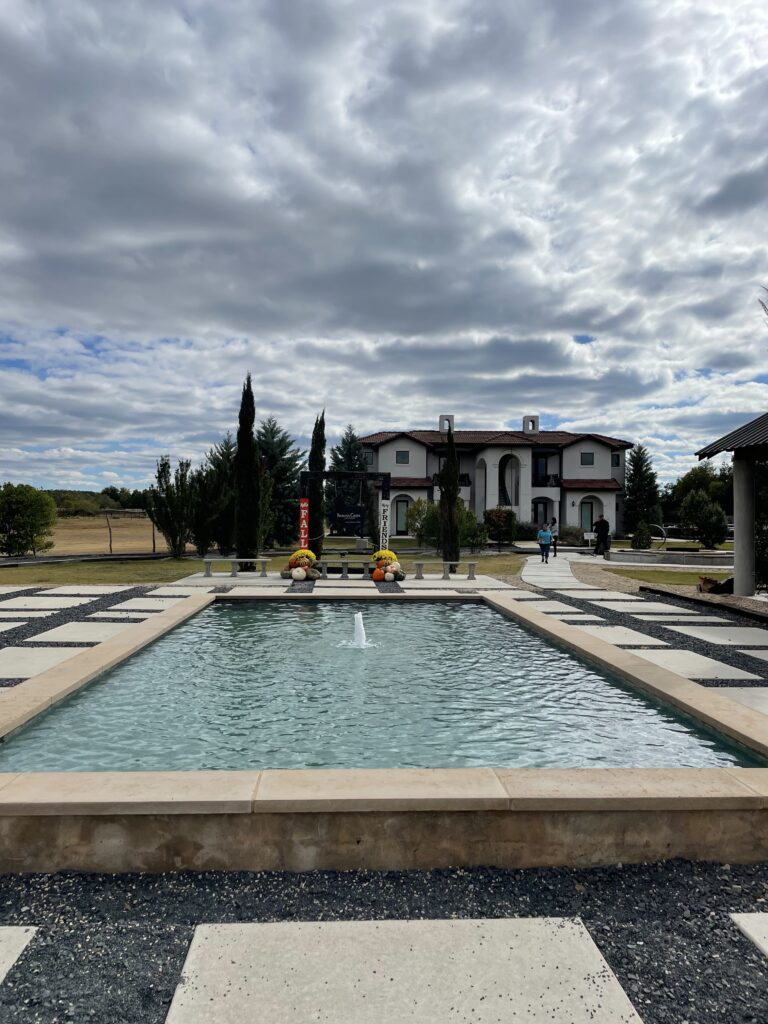 I had a lot of questions about where I got my hat and sadly, it's sold out, but I did find a similar one linked here.
We first stopped at Barons Creek Winery/ Vineyard and had a wonderful time playing games outside, snacking, and sampling wine. This vineyard is stunning, with several villas and yard space for games, listening to live music, and exploring.
Tip: I visited in October, and the weather was beautiful! I am also visiting in April and am hoping it will still be on the cooler side. If you are planning on heading to Fredericksburg in July or August, beware of the heat and that most of these wineries are outdoors.
We then headed to Slate Theory and did a private cave tour experience, which I highly recommend, but you must make a reservation, especially if you go on the weekend. The cave tour was pretty awesome, we had a private seating area where we walked through the story of how Slate Theory came to be and tried 6 wines and snacked. During our reservation we were able to walk through the cave as well.
Lastly we went to Signor Vineyards and it was my favorite. The aesthetic is 10/10. We sat on the large porch and watched the sunset. They have porch seating, indoor seating, and back patio seating with food. You can grab your wine from adorable little barns, the experience and vibe was *chefs kiss*!
It's time for you to explore Fredericksburg, Texas and all of the incredible wineries there are. Let us know below what your favorites are!