Sometimes a suitcase is just too much. Whether it's a crowded road trip car, expensive checking fees or simply just wanting to minimize your luggage, backpacks can be the perfect way to go. That's why I'm using my BÉIS backpack to neatly pack a weekend's worth of dinner, pool and lounge outfits for my Florida getaway. Not sure how I'm going to manage this? Follow along to learn how to pack your backpack for a weekend trip!
The Backpack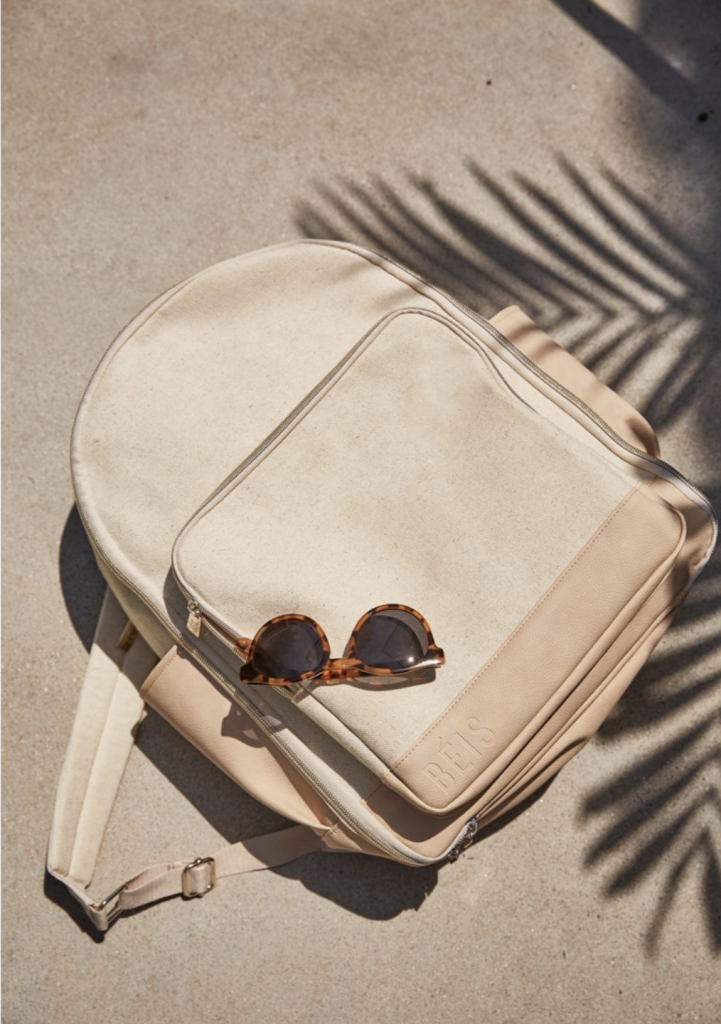 You didn't think we were using any old backpack, did you?
If you have ever binged Pretty Little Liars or were obsessed with Netflix's haunting stalker series You, then you're probably familiar with the goddess that is Shay Mitchell. Out of her love for travel, Mitchell created her own travel accessories line dubbed BÉIS.
After stumbling across a TikTok where creator @leahmariorganization showed off her insane amounts of clothes tucked into this nifty bag, plainly named "The Backpack" (because really, why would you need another one?), I knew I had to try it out for myself. I often travel to Florida to visit my boyfriend and his family, so this bag is perfect for my weekenders.
Outfits, Outfits, Outfits
The key to packing your clothes for the entire weekend is to bring lightweight pieces that you can mix and match. If you're heading to Florida like me, then this shouldn't be too daunting of a task due to the 80-plus degree weather. However, if you're heading to a cooler climate, I would recommend wearing one jacket on the ride to your destination to save space and still be able to bring the essentials.
Pro tip: If you have a certain outfit that you want to bring and simply do not have room in your backpack, wear it on the commute to your destination! Just make sure it's something travel-appropriate and not your favorite dress.
For my trip, I know that I need to work with my wardrobe and decide on the colors that will pair most easily together. Developing a color palette is crucial in a creating a mismatch of the same pieces all weekend. In my backpack, this looks like…
Casual/Daytime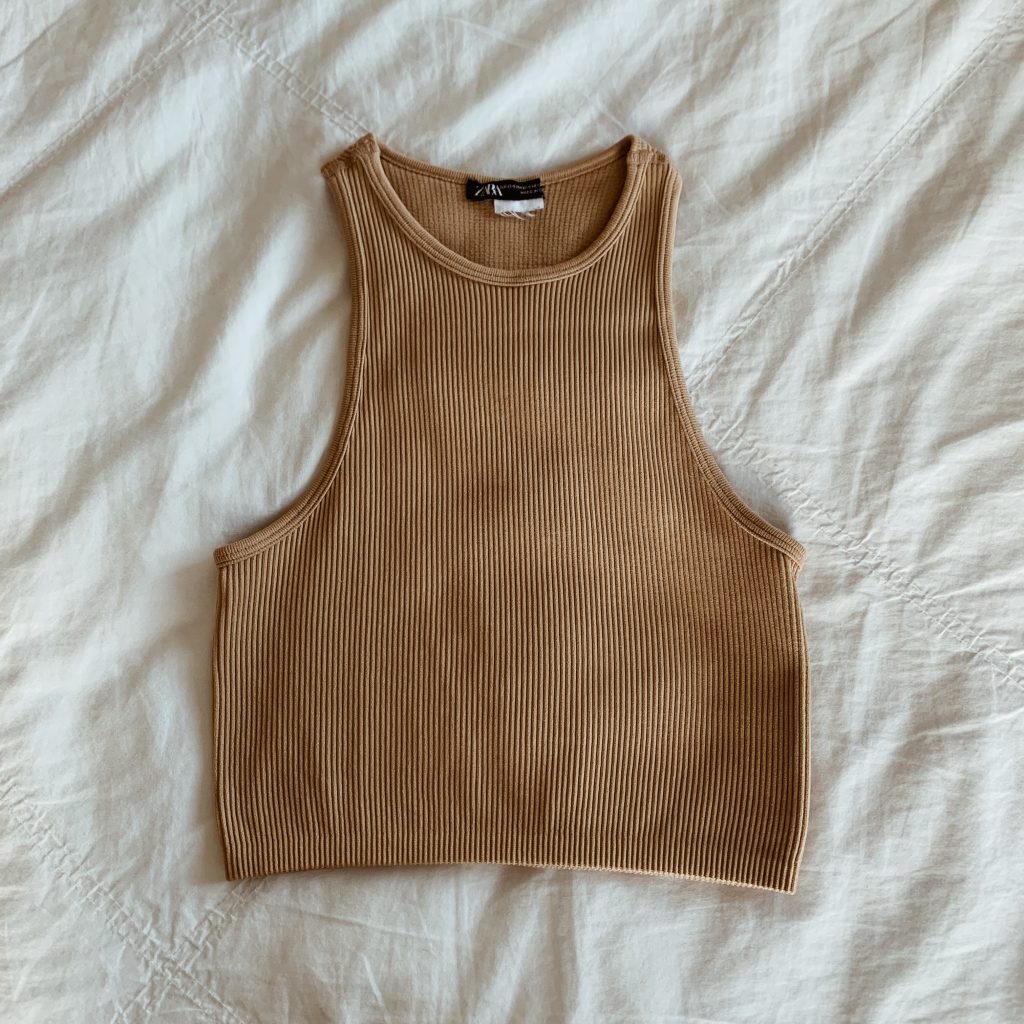 You'll need some comfy clothes to slip into at times, so bringing thin pieces that can mix and match easily is key. In my bag, I've packed this ribbed tank, some sweat shorts, a little black workout top (you never know!) and a pair of biker shorts. Each piece is neutral, which makes it simple to change around my pieces and create new looks.
Dinner/Nighttime
Sticking with our neutral color palette, I am bringing along my favorite pair of jeans and two tanks that compliment the climate. If you're someone who wears bras, make sure to bring one that works with every top option. Throw on some cute sandals, grab your purse (and a mask) and hit the town!
Swimwear + Coverups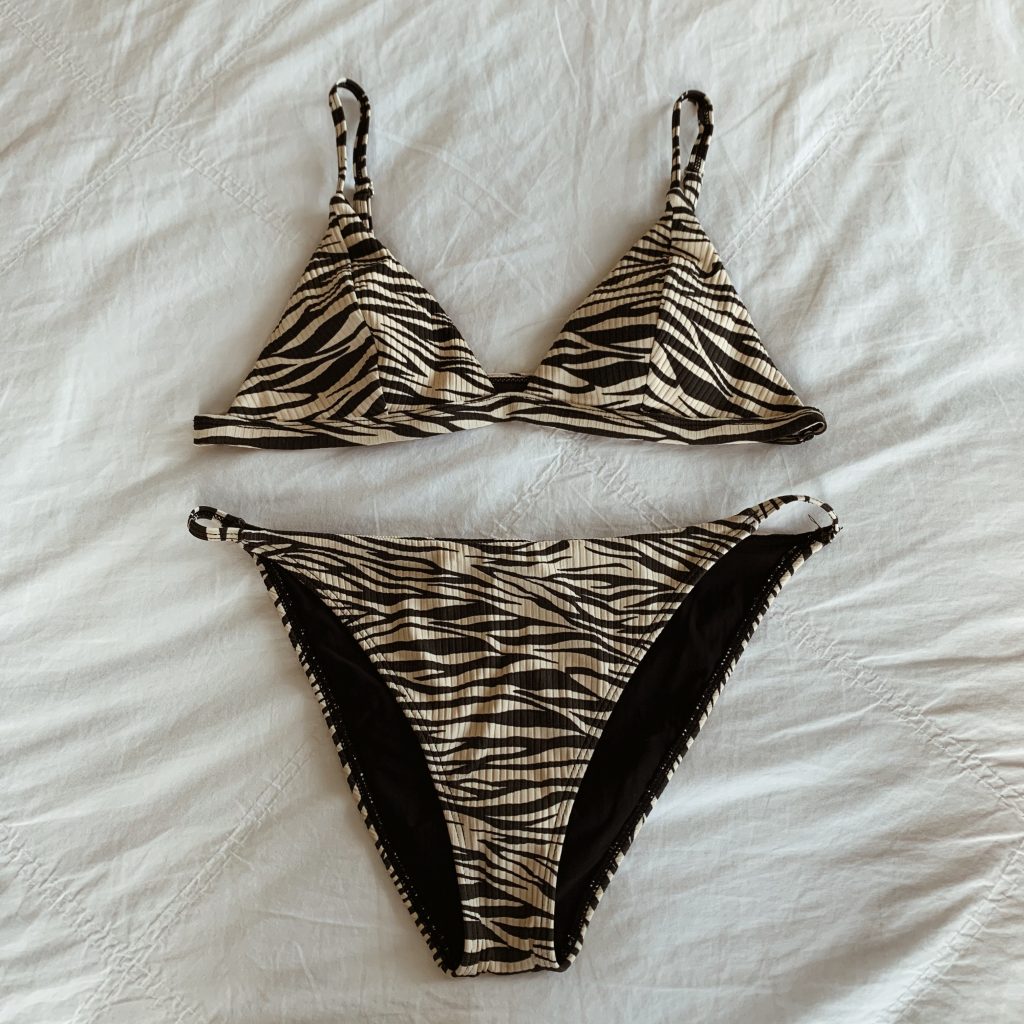 What's a Florida trip without a beach day or two? I packed two of my favorite swimsuit and wanted to have some fun with the coverup. Wearing a men's dress shirt as a coverup is a style trending in all of our favorite stores, so when I found this Yves Saint Laurent gem at the thrift store, I knew it had to come on this trip. Pairing my preppy look with these beauty shorts, I completed my seaside ensembles.
Shoe Situation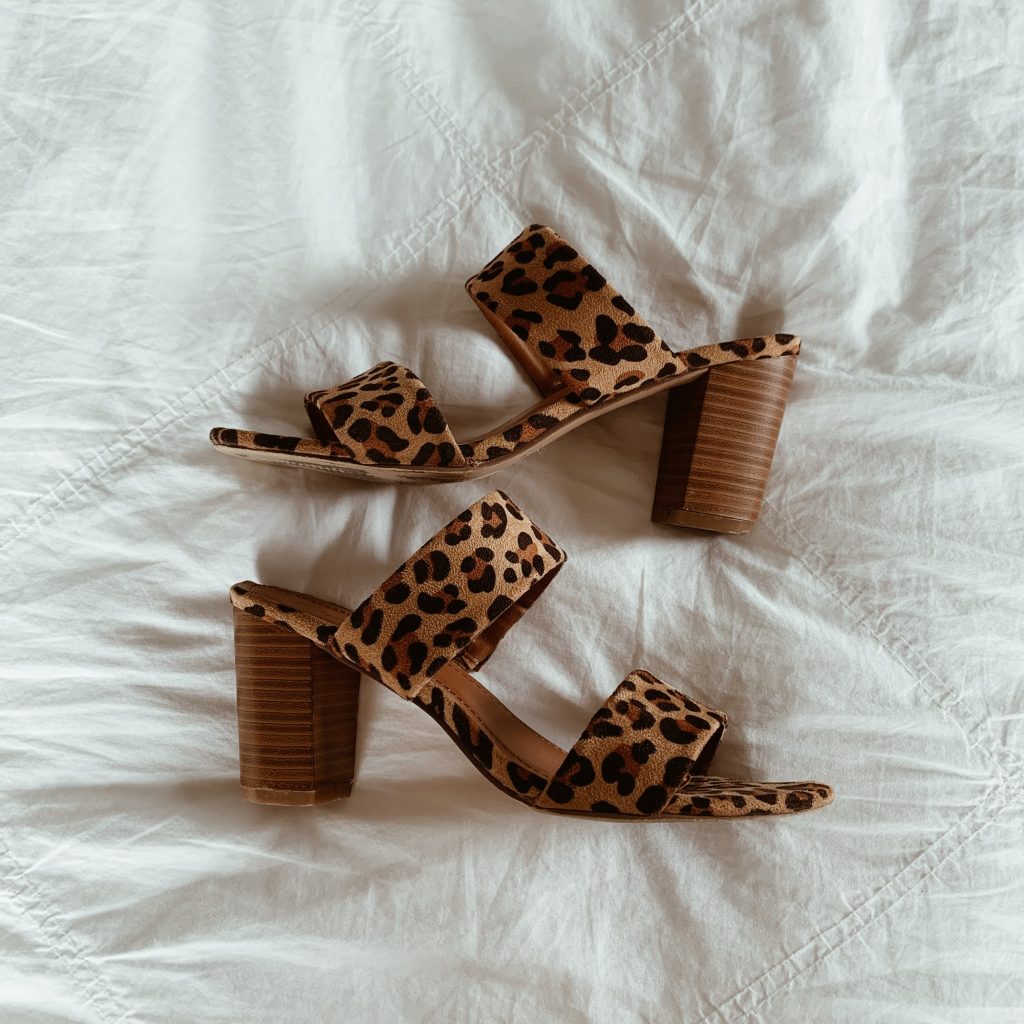 I don't know about you, but I simply cannot stick to one or two pairs of shoes for a weekend. While I'm wearing my trusty platform Air Force 1's to the airport, I couldn't rely on a sneaker to complete every one of my outfits. Luckily, I was able to comfortably fit these two pairs in.
For cute dinners, I grabbed this pair of leopard print mules that have never let me down (and never not received compliments with each wear). And for beach and boat, I packed these platform flip flops that simply scream early 2000's.
Makeup + Toiletries
If you're a beauty lover like me, you'll understand the struggle of condensing your makeup stash into a travel bag. The tough truth? You don't need all of it.
When packing light, my go-to skin products are a tinted moisturizer or just concealer (nix the foundation), SPF-loaded moisturizer, pressed powder and bronzer. For the eyes, many people would opt for just an eyeliner (which definitely saves space), but I love a good eyeshadow look. I bring a small palette, such as the Too Faced Neutral Eyes palette, along with a few brushes to make a smoked-out, natural eye and eyeshadow wing. Grab a tube of mascara, a primer to make that shadow stick, some setting spray and you're good to go!
Jewelry + Accessories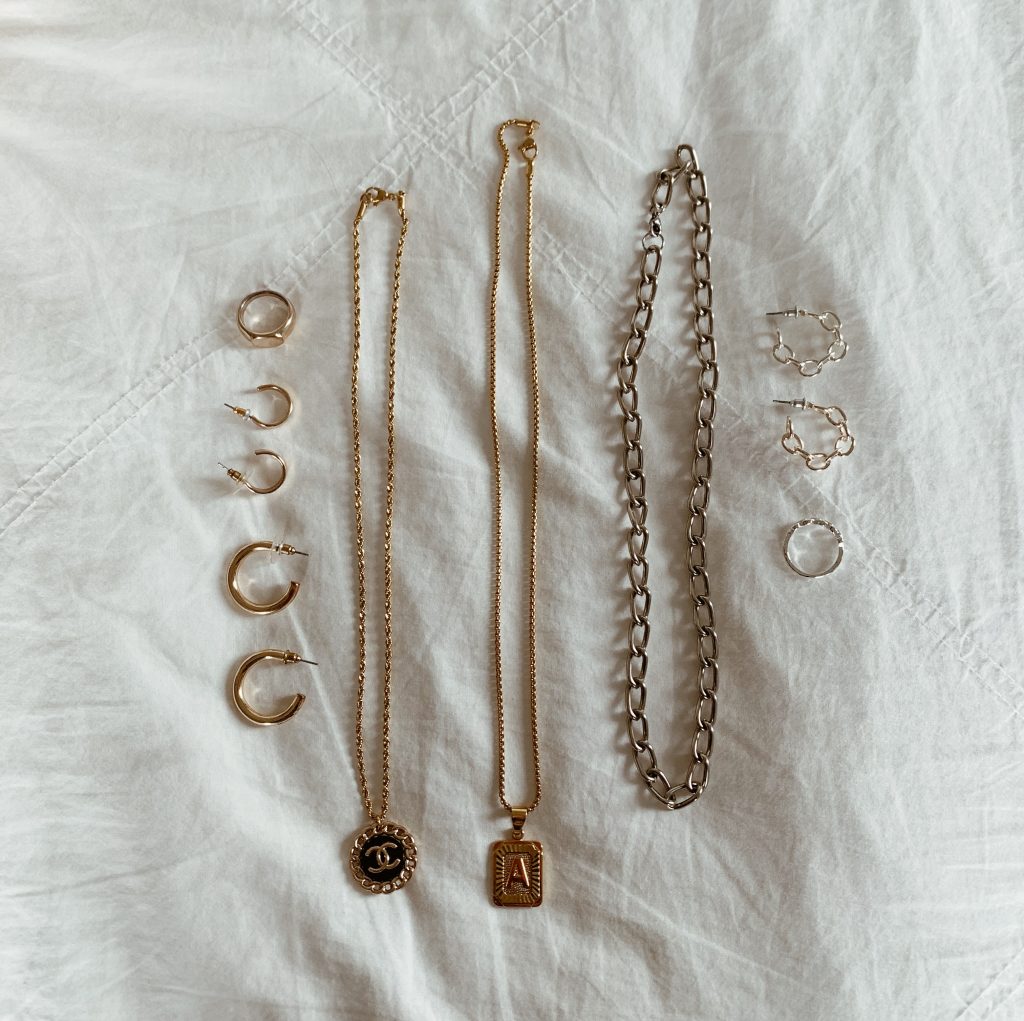 The easiest way to make sure you are grabbing the right accessories to finish off each look is by planning in advance. If you're a pack-anything-and-go type of vacationer, I'm going to advise you to go against the grain for your weekend trip. Because your space is limited and your clothes need to be interchangeable, it's hard to create different outfits for the whole weekend if you don't plan them out. However, this is where accessorizing comes into play!
If you are packing staple black and white outfits, it may be fun to change up your look with a printed purse or colorful jewelry. Since I am sticking to a palette of neutrals for this trip, I know my jewelry and purses are my best bet when changing up each look. This brown croc-printed purse is perfect to break up, yet still compliment all of my outfits.
The Essentials
Phone charger, passport, license, keys, COVID-19 vaccine card? Keep them all handy and easily accessible in the wide front panel of your backpack. Don't forget a few spare masks, hand sanitizer, some chapstick and lotion to rehydrate yourself after a dry airplane or car ride!
A few things that I always remind myself to bring:
Sunglasses
Portable charger
Water bottle
Cash (you never know)
Medications (if you have any)
For more carry-on essentials when traveling to Florida, check out this article.
Remember to pack smart, travel only if you're healthy and have safe activities planned. Well, what are you waiting for? Get packing!