Dearest D-RAVEL Traveler,
When I found out I would be traveling to Miami after my spring semester at college, I was ecstatic. A million questions buzzed through my head… where would we go? What will we do? How do I dress? How many times can I play Miami by Will Smith in a row before it gets old? Trick question, it never does.
So, after shopping frenzies, Miami-blogger searching and actually visiting the city, here is my list of Miami fashion do's and don'ts that I have observed so you can be more prepared than I when you visit.
Do's: Fabric Edition
Do: Lightweight Everything
One thing you should know about Miami – this city is scorching. Not only do you have the Florida heat to give you a nice little tan (or easily a burn, if you don't arm up with SPF), but the humidity is ever-present. You're going to want to opt for breathable material such as cotton or linen for dinners out and daytime adventures. For the nightlife, you can always opt for a mesh ensemble. Not to mention that this is perfect for the clubs!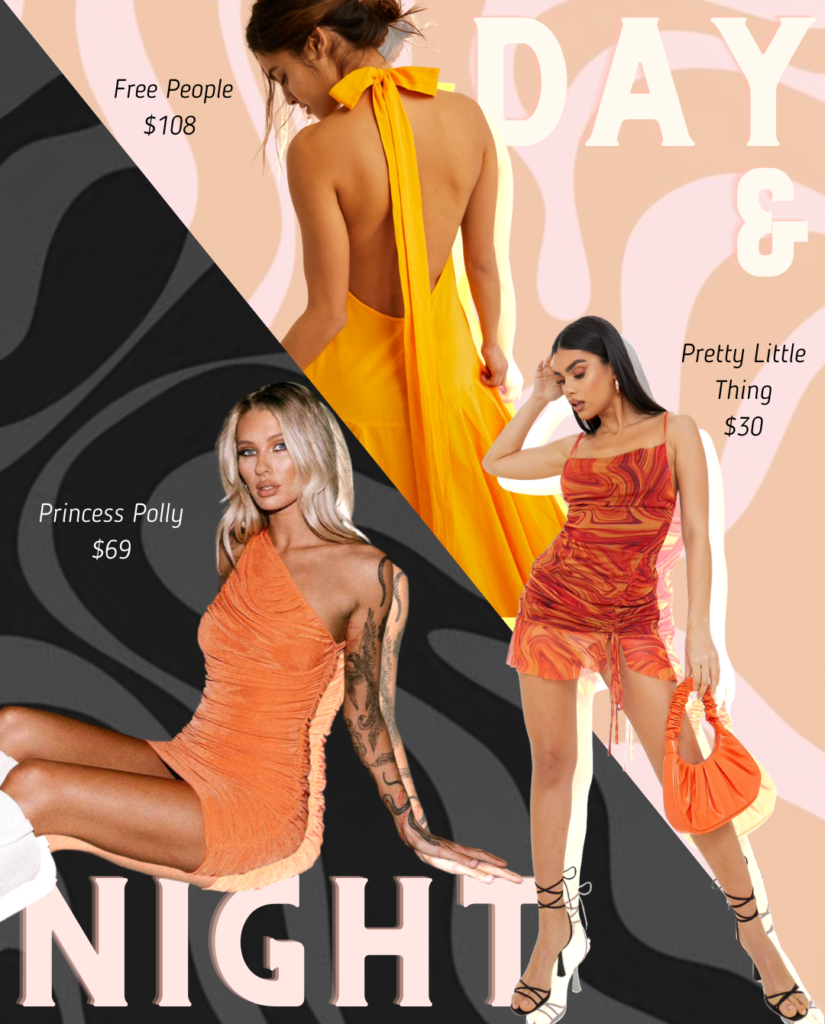 Free People Holding On Convertible Maxi Dress, $108
Pretty Little Thing Orange Mesh Marble Print Ruched Bodycon Dress, $30
Princess Polly The Goddess Mini Dress Orange, $69
Do: Bright and Bold
Absolutely no one is trying to blend into the background in Miami. You can safely bet that year-round you can sport bright hues, but this trend is especially hot in the summer. From breezy pastels to florescent neons, any and all color is welcome (and encouraged) in your Miami outfits. If you're not an overly-colorful dresser (such as myself), I would incorporate this trend with a colorful bag or shoe. Jewelry is also a fun way to add in a pop of color and make a statement!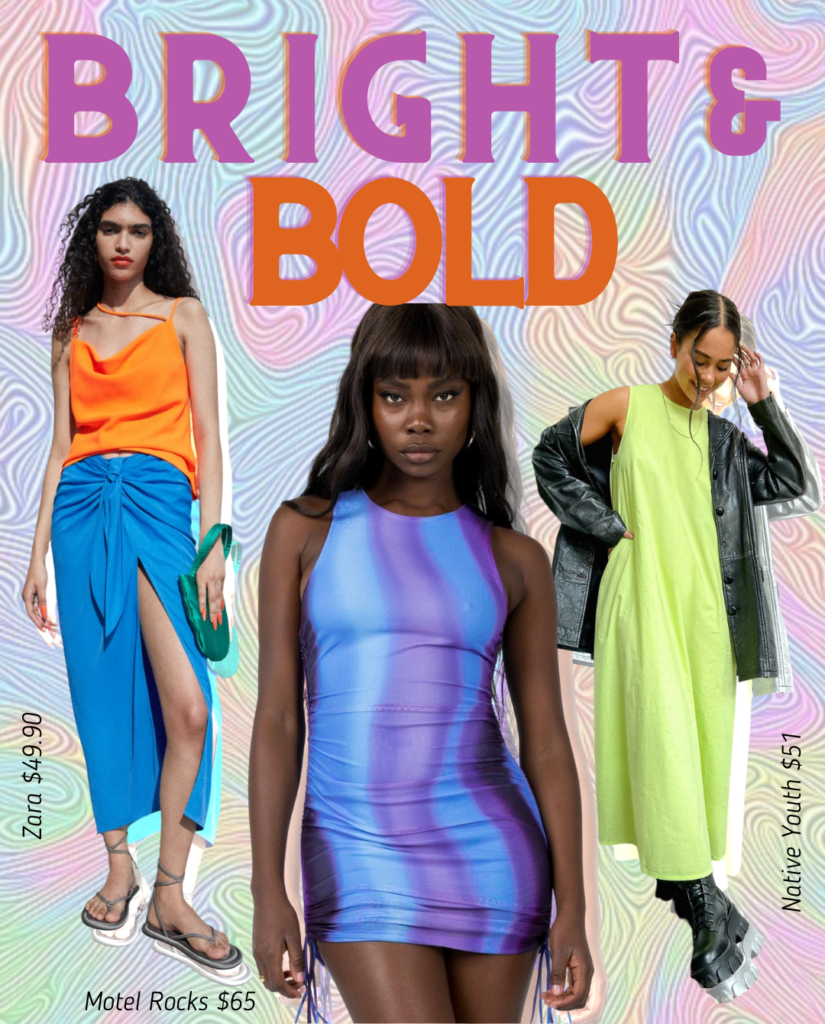 Zara Wrap Skirt, $49.90
Motel Rocks Ardilla Dress Solarized, $65
Native Youth Oversized Swing Dress in Lime Poplin, $51
Do: Texture, Texture, Texture
Aside from the lurid color palette, another fabric trend I observed in Miami was textured clothing. Whether that be a terrycloth bathing suit, mesh dresses, stringy, crochet coverups or ruched mini skirts, the style was not lacking in detail. When packing for this trip, try to create a harmony of staple and statements pieces for multiple Miami-ready looks.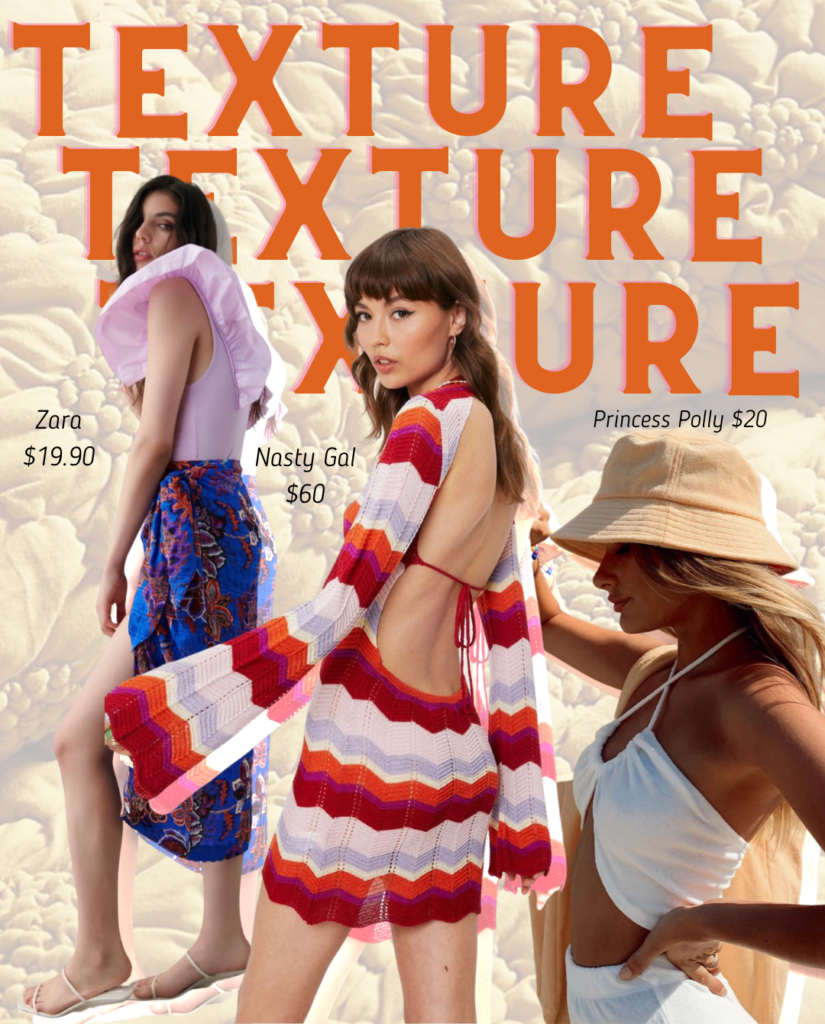 Zara Bodysuit with Poplin Detail, $19.90
Nasty Gal Crochet Stripe Tie Open Back Mini Dress, $60
Princess Polly Summer Salt Terry Bucket Hat (Peach), $20
Do: Party Patterns
Another fantastic way to fit the vibe of this city? Dressing in crazy patterns. From abstract to marbled, the patterns are anything but normal in Miami (and that's why we love it)! If this feels a little outside your comfort zone, start by pairing some of these designs with a simple jean short or classic accessories to experiment. As you start to find your style, you can cultivate your authentic Miami-an look.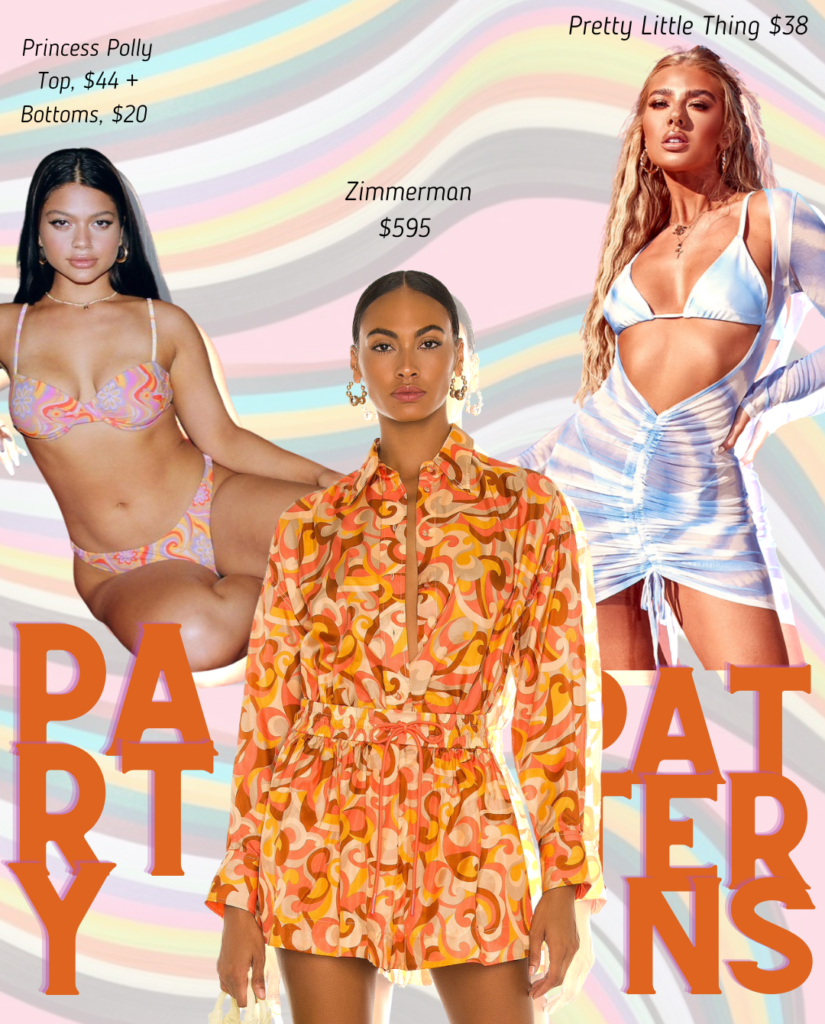 Princess Polly Recycled Nylon Ellie Bikini Top, $44 + Bottoms, $20
Zimmerman Mae Relaxed Shirt, $595
Pretty Little Thing Blue Tie Dye Mesh Ruched Dress, $38
Do's: Shoes
Do: Platforms
You are going to see this style of shoe in every form everywhere. From flip flops by the pool to heels out on the town, this style is hard to miss. So basically, you need them! Elevate your fit with this simple style change (pun absolutely intended).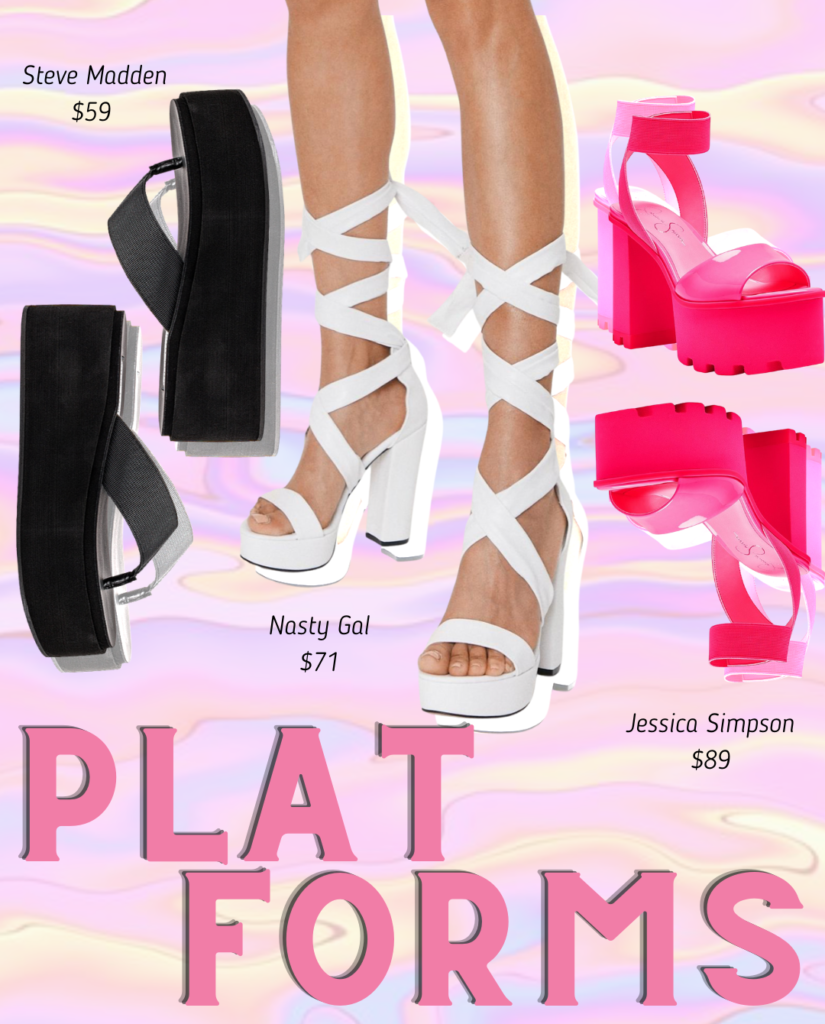 Steve Madden Better Sandal, $59
Nasty Gal Faux Leather Platform Wrap Heeled Sandals, $71
Jessica Simpson Skylir Elastic Ankle Wrap Platform Sandals, $89
Do: Mules
I think we can confidently declare mules the shoe of the year, especially in Miami! A closed-toed heel is simply not an option in the Florida heat, so this versatile style is the perfect candidate for your trip. I saw every variation of mules possible during my stay – from dainty to wide heeled, braided and smooth.
If you want to look like a true Miami babe, wear a pair of mules with your swimsuit to the pool. Is it extra… yes. But is it the coolest way to style your gorgeous cover up and suit at a ritzy hotel? Also yes!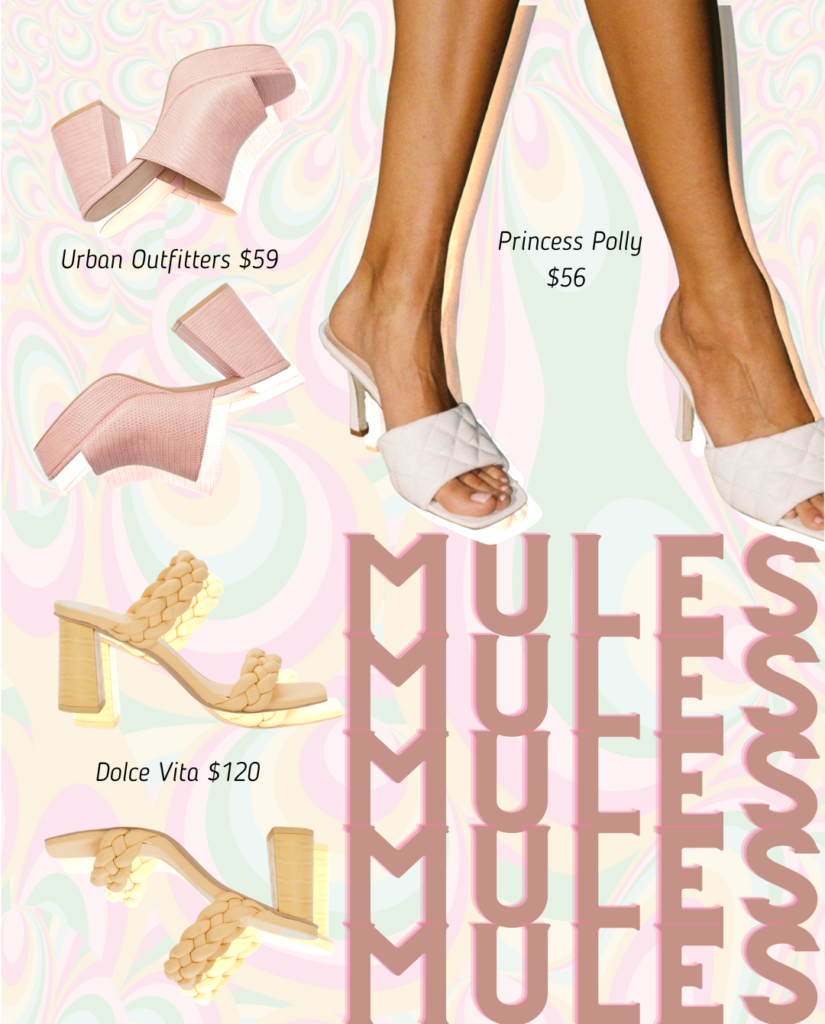 Bonus perk: you can easily transition this shoe from day to night to cut back on suitcase space. Try a more heeled option for the clubs/night scene!
Urban Outfitters Gigi Croc Platform Mule, $59
Dolce Vita Paily Heels In Buttercup Stella, $120
Princess Polly The Leigh Heels White, $56
One (1) Comfortable Pair
We fashionistas love to say that beauty is pain, but when you spend multiple nights afoot your sky-high heels walking down Ocean Drive and dancing the night away, that pain doesn't feel beautiful anymore. It feels like get me out of these heels, I'm going to die.
So, to avoid this, bring a pair of cute, light-colored sneakers to match any of your outfits or serve as a crutch during the day (to save your feet for nighttime). Chunky sneakers are perfect for a day spent exploring the city and popping in stores. Please, I beg, bring a comfortable shoe.
Do's: Clothing
Do: Skin Tight
Everything is sexy in Miami, and that trait does not fall short of the fashion. Expect to see bodycon everything: dresses, cover-ups, skirts, you name it. My go-to bodycon dress for Miami was this little number from Motel Rocks, worn to the Versace Mansion for an exquisite dinner and night out.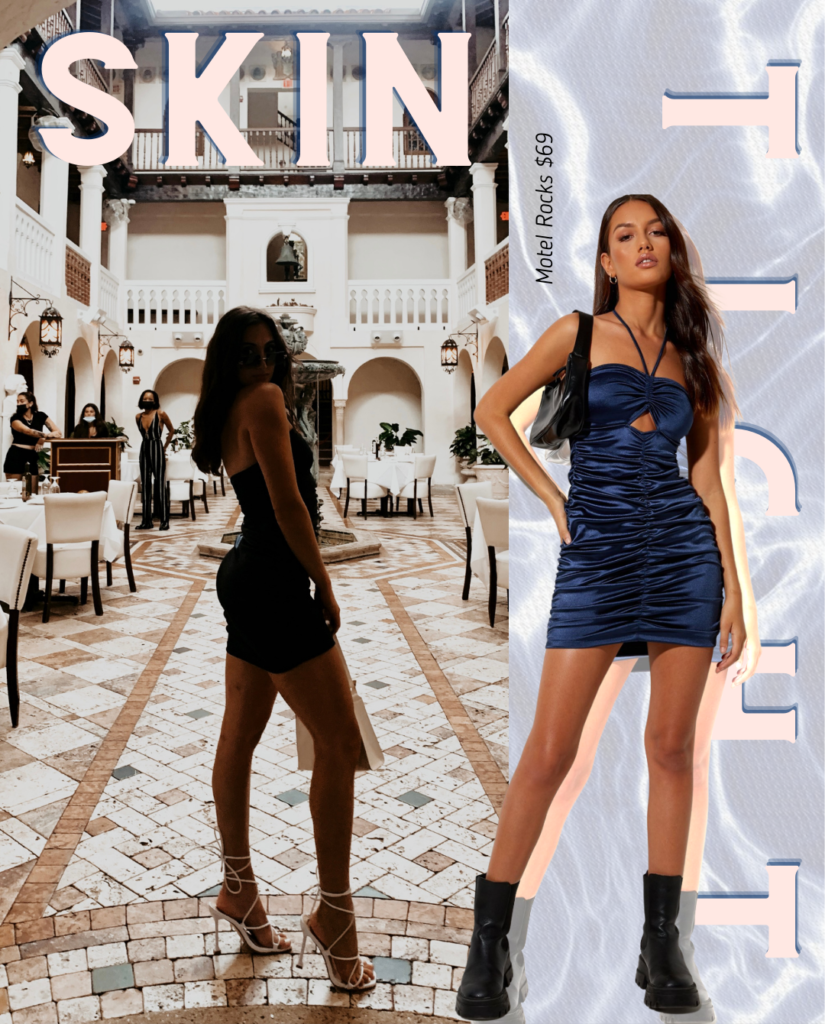 Motel Rocks Amilia Mini Dress in Satin Spandex Inky Blue, $69
Do: Matching Sets
Nothing says summer-chic like a matching set! These pieces make your packing and outfit-deciding process so much easier and creates a put-together look with no effort needed. Not to mention the multitudes of cute styles available to us at the moment – from Princess Polly to Revolve, basically every brand is here for your matching set needs.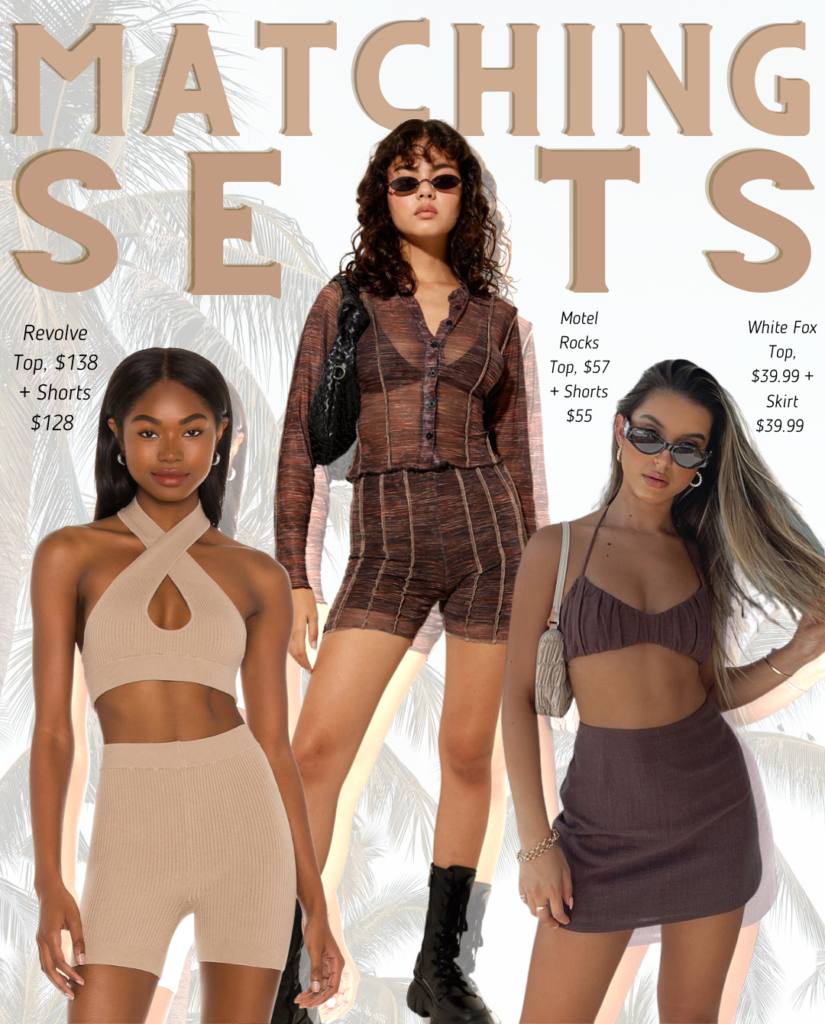 Camila Coelho Alessia Top, $138 + Short, $128
White Fox Beautiful People Crop, $39.99 + Boutique Return of the Sun Mini Skirt, $39.99
Motel Rocks Keera Shirt in Summer Rays Brown, $57 + Bisma Short, $55
Do: Strappy Swim
One of the most integral aspects of Miami fashion is the swimsuit that you flaunt. A style that I noticed was trending while lounging at the pool were insane cutouts and strappy details. Think Selena Quintanilla-style wrap halters, crazy cuts and adjustable, long ties to wrap around your torso. These are definitely the suits of the summer (and best of all, you don't have to break the bank to replicate). Take these examples from Amazon to Frankie's… the opportunities are endless!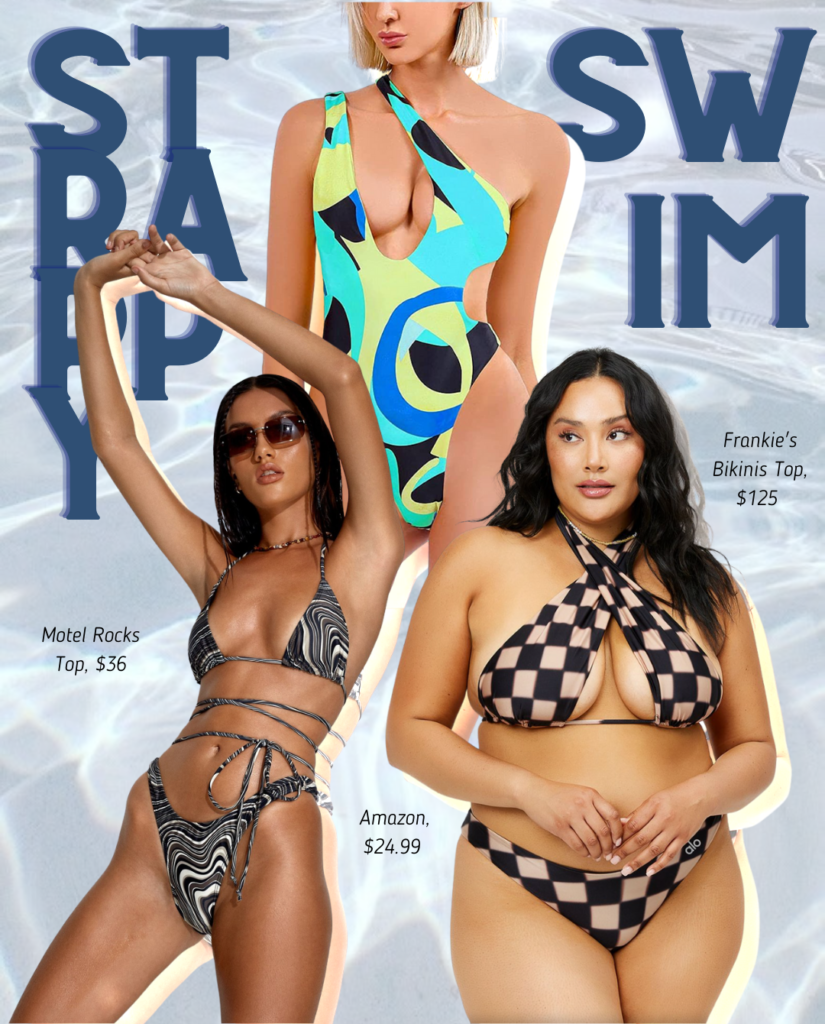 Motel Rocks Parmia Bikini Top in 70's Ripple Brown, $36 + Farida Bottom, $33
Amazon Monokini, $24.99
Frankies Bikinis Bash Satin Wrap Bikini Top, $125 + Haven Satin Cheeky Bikini Bottom, $85
My "don't" list is pretty short because truly, style is something to be celebrated and authenticated in Miami. Be yourself, wear what makes you feel like an icon and don't feel pressured to dress or not dress a certain way. However, if I do have to lay a few ground rules, these are what I would suggest not to do…
Don't: Play it safe
Miami is a place of creativity and celebration, two descriptions that don't really fit your "everyday." So wear what you want, especially if it means that cool dress in the back of your closet that you've been dying to wear.
Don't: Pack layers
Basically, don't dress for anything but scorching temperatures. Of course, it depends on the time of year that you visit, but you can almost always count on your trip to Miami to be spent in sweltering heat. Pack light pieces and crop tops, if you're into that!
Those are about all of the rules I have for your Miami adventures. Don't overthink your outfits (though I've given you much to think about. I'm sorry). This city is a place to enjoy life and your 'fit should only accentuate that. The best thing you can wear is your confidence!
So, go order a Miami Vice and strut around the pool in your cute suit and mules. Until next time!