Some of the most important items that you will bring on your trip are stowed in your carry-on backpack. Unzipping your backpack only to realize you forgot your passport or wallet is the last thing you want to happen while standing in the airport security line. To prevent any future packing mishaps, Emma (@emmhassemer) has rounded up the 15 travel essentials to pack in your carry-on backpack.
Dearest D-RAVEL Travelers,
My favorite way to stay organized is through the art of creating lists. I especially make lists when packing for an upcoming trip or vacation. While all of my trips are different, I find myself packing the same necessities over and over again in my carry-on backpack that help make my travel experience run smoothly. As long as you have these essentials packed and on-hand at the airport, you'll be sure to avoid any turbulence—pre-flight at least. Here are my 15 travel essentials to pack in your carry-on backpack: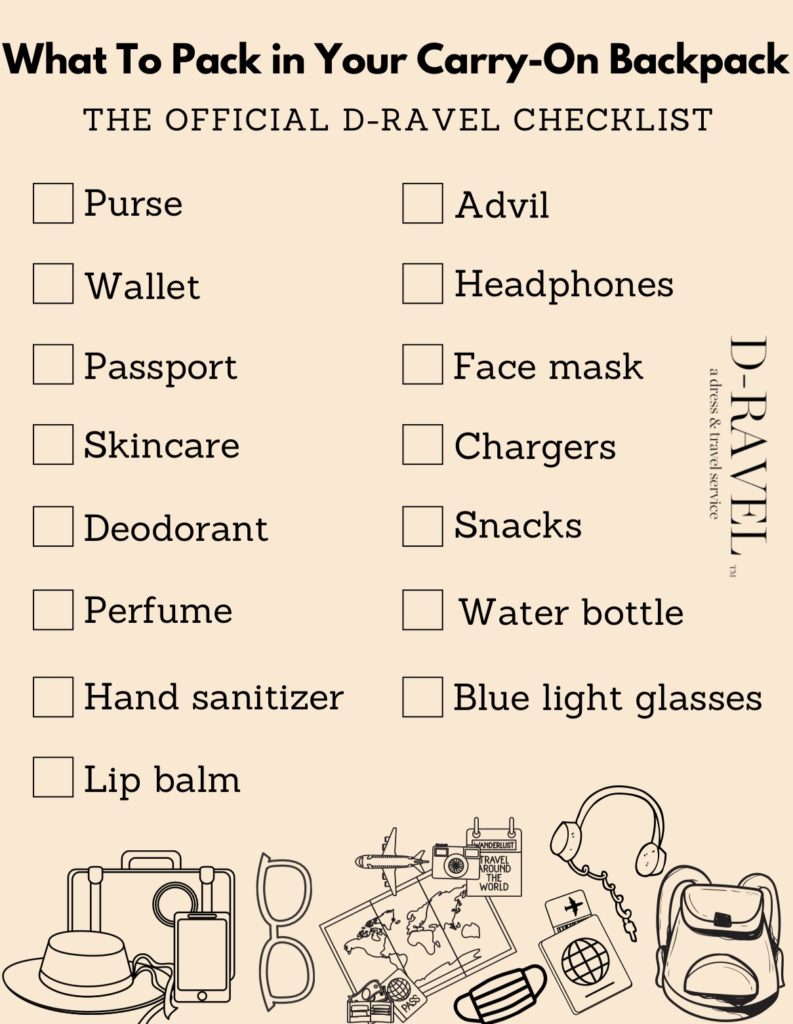 Purse
I prefer to keep my purse inside my backpack so it's one less thing I have to worry about keeping track of while walking through the airport.
Wallet
Don't forget to pack your driver's license or any other form of identification, credit cards, debit cards, insurance cards and cash.
Passport
I like to be extra prepared when it comes to forms of identification. Even if I'm traveling within the country, I still have my passport ready to show in my carry-on backpack.
Accessorize your passport with a precious passport holder. My favorite is this retro printed one from Anthropolgie.
Skincare
Give your skin lots of love during your flight to prevent irritation, dryness and breakouts. Don't know what all to pack in your cosmetic bag? Click here to read about the 10 skincare and cosmetic products that I recommend everyone pack in their carry-ons.
Deodorant
After running to catch your plane, you're going to want to re-apply.
Perfume
This is where magazine perfume samples come in handy. If you don't have any perfume samples, purchase a perfume roller in your favorite scent.
You can't go wrong with the Marc Jacobs Daisy scent—the person sitting next to you on your flight will thank you.
Hand sanitizer
For obvious reasons.
Lip balm
Achieve nourishing and glossy lips with the swipe of Rosebud Perfume Co. Smith's Rosebud Salve Tube.
Advil
Anyone else get the worst headaches when flying?
Headphones
Don't be that person who watches an entire movie without headphones.
COVID essentials
Be a responsible traveler by traveling with a couple face masks, gloves and sanitizing wipes. Be sure to disinfect your seat before settling in as well as wipe down your phone whenever you put it down on a surface.
Charger
You won't be happy when your phone dies minutes before boarding.
Snacks
Save money by packing a few of your favorite healthy snacks. My favorites are trail mix, protein bars and granola.
Reusable water bottle
Save plastic by refilling your reusable water bottle at the airport—after going through security of course.
Blue light glasses
Since I'm on my phone 90% of the time at the airport and on the plane, blue light glasses are a must-have. Click here to buy my favorite pairs from Amazon.
Print this official checklist below so you'll always be prepared when flying. If you want to see me talk more about the items listed above, click here to watch my IGTV on @the_d_ravel.
As always, safe travels!