Bonjour! Founder of D-RAVEL here, Grace (@gracerigdon_)! The question of how to visit Paris can't be addressed in an article like this. The rich history, exquisite architecture, and heavenly-sent bread deserves months of exploring and enjoying—longer than one trip. If this is your first trip, let's make it worth every penny. If you've been to Paris before or multiple times, make sure to comment on this article so we can get the inside scoop on your Parisian expertise!
Once upon a time, there was a girl, like myself, who studied abroad in Scotland. Oh, who am I kidding? I just like the drama. When I studied abroad, I prioritized visiting a couple of other destinations while I was over in Europe. Ever heard of Ryanair? While it's known as the cheap party plane, that airline took me to some pretty remarkable places.
Next Stop, Paris!
Tip #1: Paris is a confusing place, geographically. I asked the taxi driver to help me feel the lay of the land. I politely asked him to drive me around a couple "main-street" destinations to get the sense of where I was staying vs. the rest of the city.
Tip #2: Come prepared. Make sure to know a little bit of French before you visit. Even if it's minimal, as mine was, the French people will appreciate it.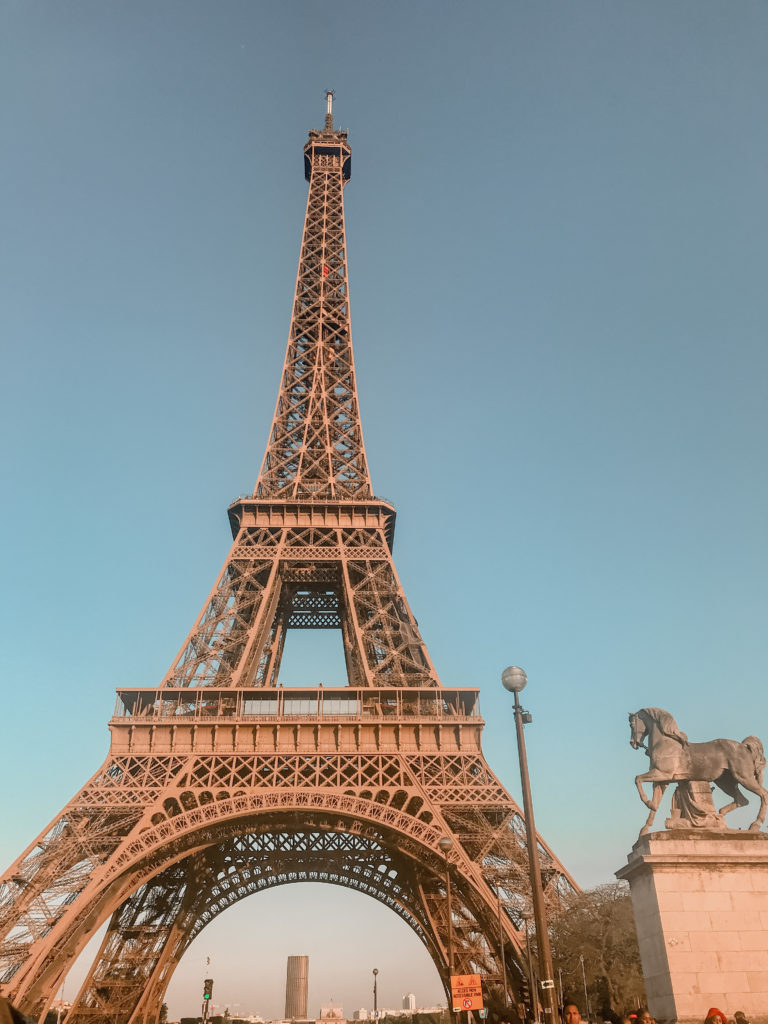 The Food
"This city has the best food in the world!"
Have you ever heard that line? Well, in my opinion, it's true. The pasta, wine, croissants…the list goes on and on and on. The wonderful upside to this city is that most restaurants are very similar to the next. They are small cafés with big plates to fill. While I was visiting, I had read that there wasn't a need to "Google" or "search" for amazing restaurants because they all are to-die-for.
For Food: IL TEATRO – 15th arr.
This was my first Parisian meal, and man, it was the best. They popped open a fresh bottle of red wine, and I licked my fingers as I ate bread, Caprese, pasta & pizza…don't judge, I did eat all those things!
For Coffee: Les Deux Magots – 6th arr.
This traditional café will give you all the Parisian vibes you've been looking for. At this café, we noticed several locals reading their daily newspaper and sipping on a café crème. And yes, Pablo Picasso had been to this very spot.
For Wine: Le Baron Rouge – 12th arr.
This is where younger Parisians come for a small glass of wine after work, you will feel really submerged into the culture. My mom and I truly enjoyed our time at this small establishment! Forget the tables, you will sit at old wine crates and sip on a delicious dry cab.
Scenic River View (Parc Rives de Seine): The Flow – 7th arr.
Hello, charcuterie! After enjoying a boat ride, my mom and I sat on this "River Restaurant" called the Flow and devoured fresh cheese and grapes while sipping on wine. They have other food, but we had been recommended to try the charcuterie board!
Just Stop & Eat
Are you wondering where to eat? My tip is to enjoy your day and stop and eat when you're ready. Stop and eat 5x that day for all I care! In my experience, Paris is all about the food. Each arrondissement has restaurants and cafés at every corner. Part of the fun is exploring different neighborhoods and finding the local favorites. Yes, it is fun to plan ahead, but in Paris, I'd stray away from making your trip hour by hour. I'd walk, watch, eat & enjoy the local experience by taking your time. Trust me, you'll be so happy where you end up…they all serve incredible food.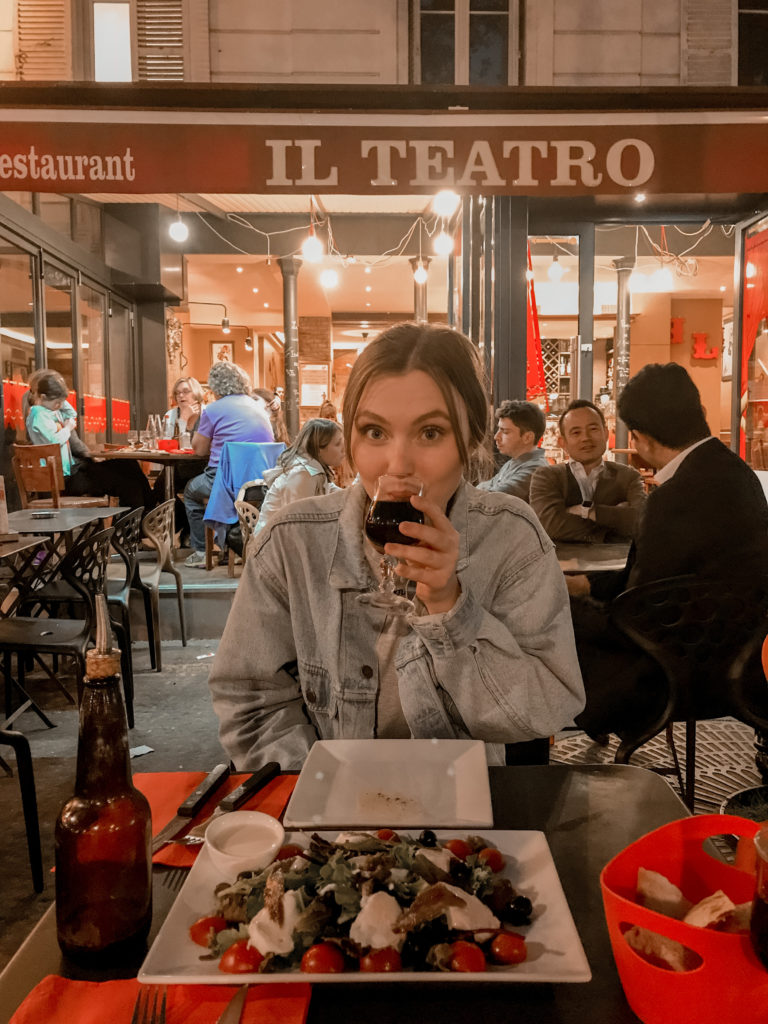 Fresh Food Markets
Tip: Wake up early! As we all love a good morning snooze, I highly recommend not doing that while you're in Paris. A lot of the arrondissements have fresh food markets in the morning. Go and explore these markets and grab a fresh croissant, fruit, or squeezed orange juice.
Breakfast
You also need to get up so you can try a yummy Parisian breakfast! My mom and I lived for waking up early and grabbing our morning espresso, sitting and watching the bustle of men and women go to work, and diving into a warm pain au chocolat (chocolate croissant). Again, you don't need to plan out your breakfast spot. On each corner, there are several small cafés on each street. You'll feel like a local.
Visiting the Parc du Champ de Mars and the Eiffel Tower
The Eiffel Tower is in Parc du Champ de Mars! I remember sitting in the cab and driving right next to the Eiffel Tower. I couldn't wait to get out and explore. Also, I couldn't believe I finally saw it in person. Exploring Parc du Champ de Mars was really fun to do in the summer because everyone was out on the lawn having picnics, drinking wine and listening to live music. It was a surreal experience.
Tip: Come prepared. So many people will try to sell you things while you're sitting and trying to enjoy the views. Also, if you're visiting alone, make sure to be careful around the Eiffel Tower at night.
The views are STUNNING! Make sure to bring your camera and a cute outfit. These photos will be ones you'll never forget.
Best Eiffel Tower Picture Point
Make sure to walk over to the Palais de Chaillot—the stairs are a gorgeous backdrop to the Eiffel Tower and perfect for picture taking. The view is breathtaking.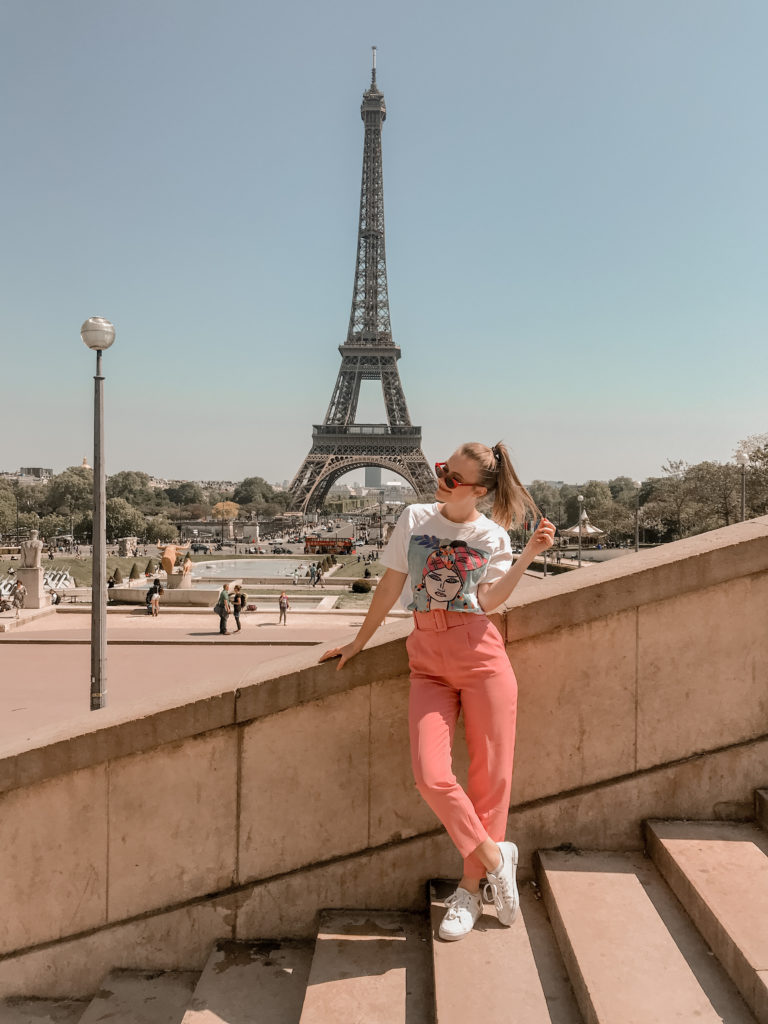 The Sights To See
Trocadéro Gardens – this spot is right "under" or near the Eiffel Tower with a beautiful Marry Go Round and again, great for photos!
Square du Palais Galliera – Picture perfect is all I can say. We never actually went into the Galleria, but we had a picnic outside and the surrounding park was so quaint.
Champs-Elysées – Hello, shopping! This is the luxury shopping district. It was fun to be able to go into the different shops and see the incredible Parisian fashion. It was also a great place to people watch. The shopping was to-die-for and the streets went on and on and on. At the end of the shopping district is the famous Charles de Gaulle-Étoile.
Charles de Gaulle-Étoile – This is a must. Not only is the architecture incredible but way larger than I ever imagined. They also have their flags raised and bands come and play several times a week as well.
Moulin Rouge – While some may say this is extremely touristy, my mom and I love music and theater and we thought…why not! I loved it. We met couples from all over the world, sipped on wine, and listened to the beautiful language. Also, the district we were in was roaring with people. It was a night to remember! I would recommend Moulin Rouge to anyone visiting France for the first time.
Ladurée – Say hello to the greatest tea party and classic Parisian macaroons. This Parisian shop is a favorite.
Centre Commercial Saint Lazare Paris – This is a great shopping district for people that aren't looking for that luxury experience from Champs-Elysées. They have some really beautiful stores next to fabulous restaurants. The day I explored this area, I shopped, ate and drank! How much better can it get?
Going up in the Eiffel Tower – Lots of people skip this, but the views were amazing. I think if I were to visit again, I would still pay to go to the top. It was stunning with 360-degree views of Paris.
Jardins des Champs-Élysées – These are the beautiful pillars with the golden horses. Around this area, there are several parks next to the river with music, wine, cafés and more. I wished I could've spent more time in this area.
Tuileries Garden – This was hands down my favorite garden/park! It has seating everywhere with amazing outdoor cafés. Picture perfect. It also had huge sculptures around the park and a small Ferris Wheel! This park leads to the Louvre Museum.
Louvre Museum – We did pay to go into and tour the Louvre…we had to. When in Paris. So, my recommendation would be to wait to visit the Louvre until you're visiting for longer than a weekend getaway. If you think you'll only be visiting Paris once, than you have to do it. But, if you feel you'll come back, I recommend waiting. It is a huge museum and if you want to truly enjoy it, I'd wait. We were a little rushed because it was so large that we didn't want to miss out on being outside during the beautiful weather, knowing we didn't have that long in Paris.
Île de la Cité – YES, YES, YES! This cathedral was incredible. If you enjoy visiting old churches, this is the one to see. Also, around this area, there are fabulous outdoor cafés and places to drink and shop.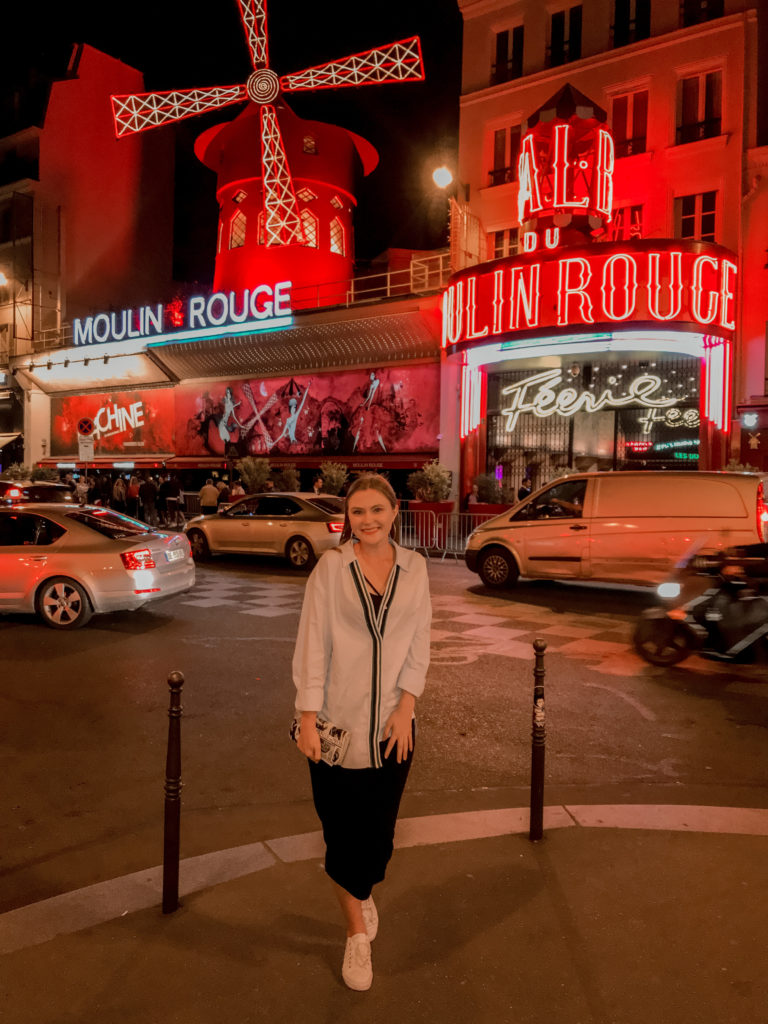 When to Visit
I've only been to Paris in the summertime, so, I can't necessarily tell you that the other months aren't as fabulous. But, here's why I loved visiting in the summer. It was amazing to be able to rent Scooters and Bikes and walk to see the city instead of relying on a cab. We loved being outside in the sunshine and going one outdoor café to the next and then to an outdoor restaurant for pasta and wine. Being able to be outdoors was awesome. I'd love to visit in the summer again.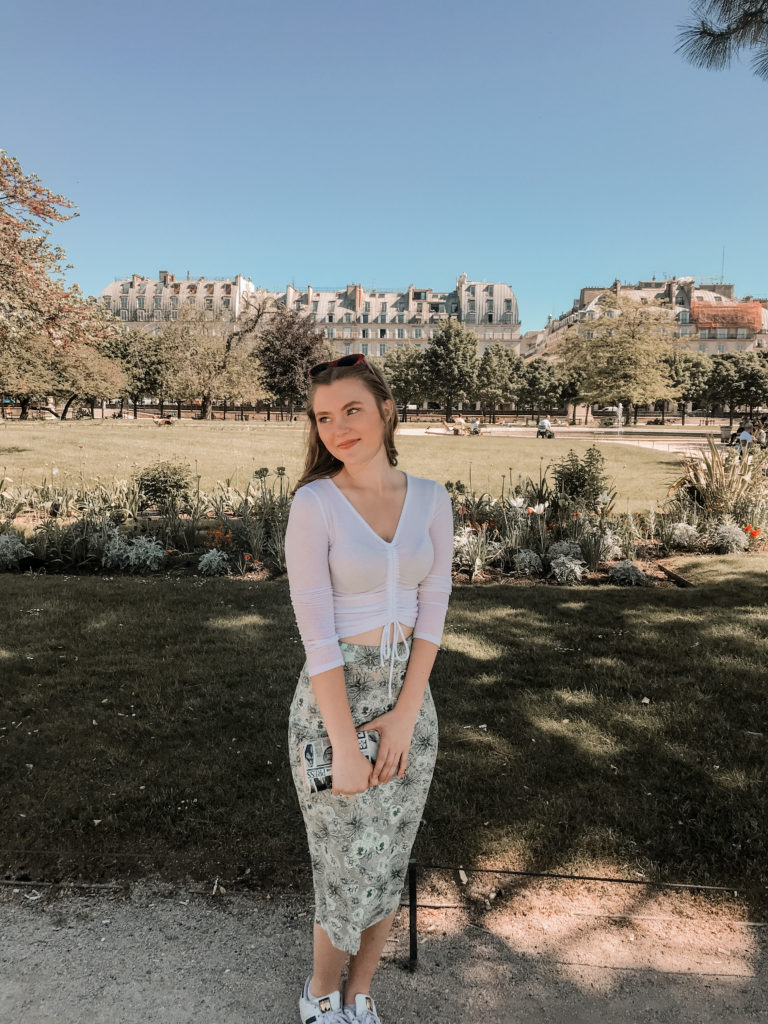 Summer Apparel
Not sure how to pack? Think black. Parisians are sleek and simple in my opinion when it comes to dress. I had so much fun packing fun prints and textures when it came to packing but most of the time, I stuck to black apparel…it'll never be wrong. But, Paris is also the city of fashion and luxury. So, like I said, I wore my favorite special dresses and tops that I usually can't wear day to day in the states. It was really fun to be able to pull out my favorite pieces.
Are you wondering how to visit Paris? Show up. I dare you to just pack your bags and show up! The city is simple. While lots of adventures need planning, this experience doesn't. Follow the lead of the city, eat as you walk and enjoy what the city has to offer you.