While planning your next beach vacation, if you're considering traveling to Southeast Asia, there are so many things you need to know before traveling to Bali and Indonesia as a whole. Luckily, we have a blogger who has rounded up the perfect trip for you from where to stay to where to shop.
Dearest D-RAVEL Traveller,
My name is Gabriella (@g.rods), and I hope this blog post makes you ever so excited to visit one of Asia's hotspots; Bali, Indonesia. And as I know it, the land of smoothie bowls, jungles, beach parties, surfing, and cute cafés! While traveling to Bali, I know you will love it as much as I do.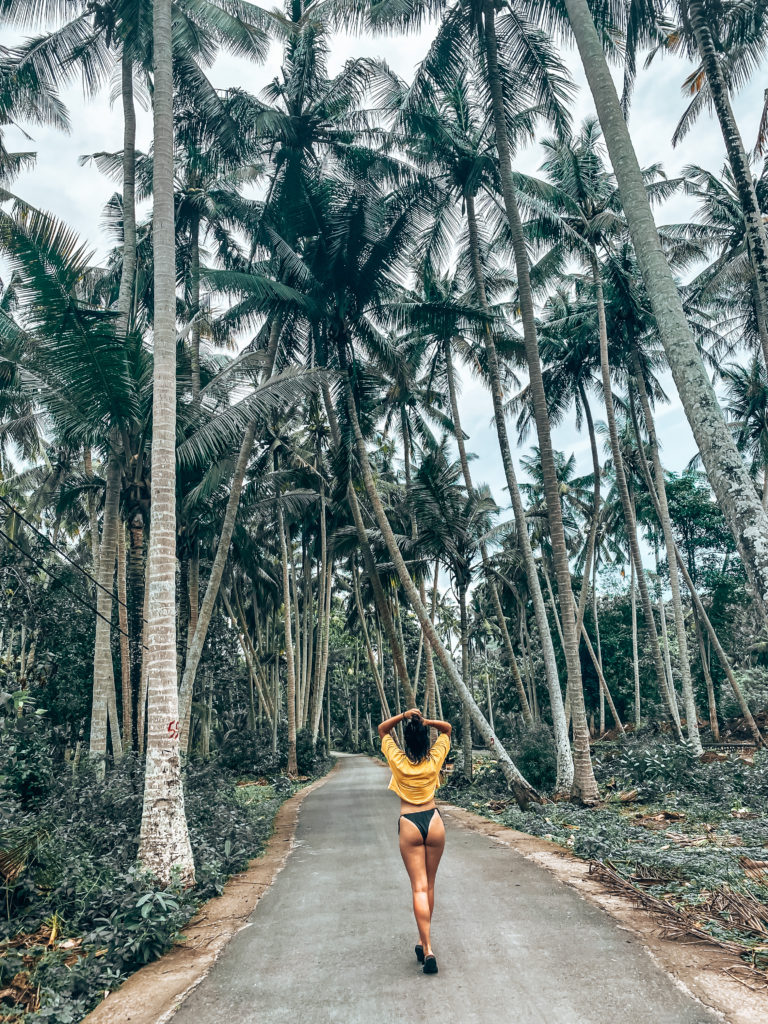 Weather and When to Visit
Bali is located near the equator; therefore, you can expect a tropical, humid climate. There are two distinctive seasons in Indonesia, the dry season (March-September) and the wet season (October-February). Peak season being Mid-June through to August, and the festive season, Mid-December through to January. If you are looking for undisturbed sunshine, I suggest going during the dry season; however, do not let the wet season scare you off. When it rains in Bali, it usually only lasts about an hour or two in the late afternoon. Also, after a hot and humid day, the rain is often welcomed!
How I Pack When Visiting
Linen, linen, and linen! Linen a stylish material, but it's also light, breathable, and will keep you feeling cool. Exactly what you will need for this ever so humid climate. While traveling to Bali, I suggest packing lots of light, airy clothing.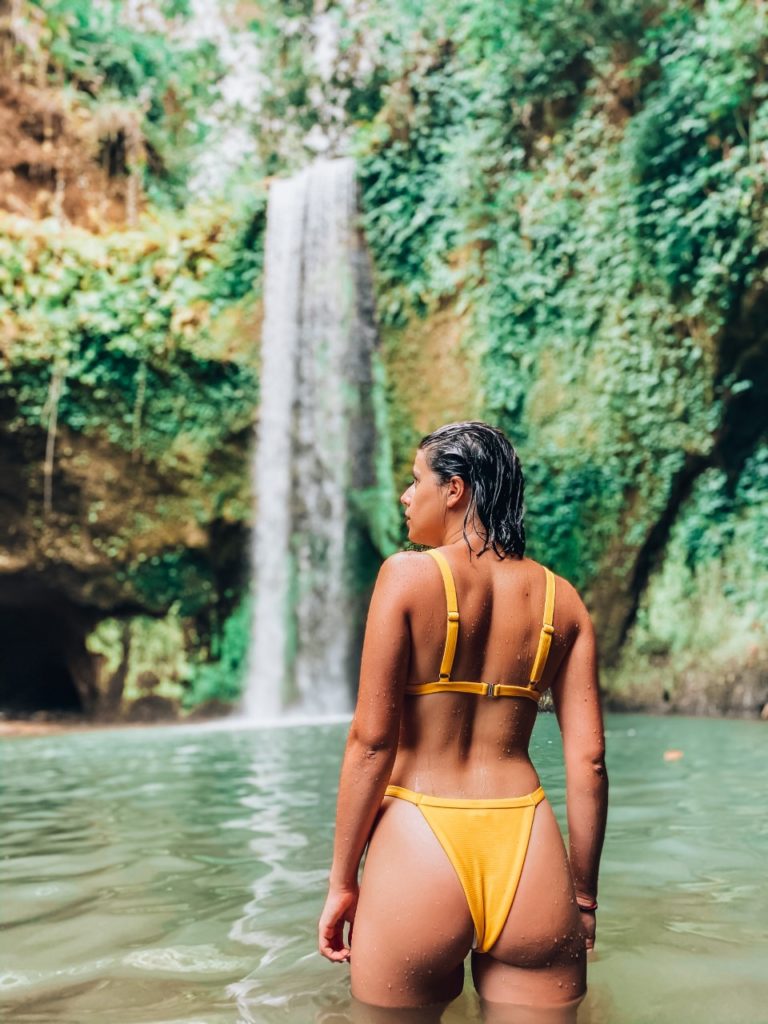 Appropriate Apparel
An essential is a long maxi skirt or two if you plan to visit temples and religious sites as you are required to cover your knees or not have any skin-tight clothing. Most sacred sites will provide you with shawls and skirts if you are not dressed appropriately, but my advice is to pack the maxi skirt as we are all fashionistas.
Comfortable Apparel
Other musts? Culottes are a great addition for every day wearing around the island, a personal fav for me. Personally, I love apparel that is convenient and still looks great. That's why I also gravitate towards rompers as coverups for my beach days. Rompers are also great to style up with a pair of heels or cute sandals and a bag for your evening rendezvous.
Weather Proof Apparel
If you are visiting in the rainy season, a lightweight jacket/windbreaker is necessary for the rain. Remember, light, breathable clothing, and lots of swimsuits. Bali is covered in pools and beaches!
Getting Around
Getting around in Bali can be tricky at times and in certain areas. When in the south, I recommend downloading Grab and Gojek while traveling to main tourist hotspots and definitely before heading to Indonesia. These are also the most reliable in terms of payment because it has a fixed price, so unlike meter taxis and other transports, you will not get scammed. In areas up north or certain parts of Ubud, Grab's and Gojek's are not allowed. You will have to hop on a local taxi. My suggestion? Rent a scooter. It is the most affordable way to get around Bali, and you will blend in just like a local. Scooters are readily available anywhere in Bali. You can simply walk down the street and find a place to hire a scooter within a couple of meters. Most hotels will have their own scooters which you can hire too. For approximately $5 a day, this is a bargain!
Areas to Visit and Places to Stay: Canggu
One of my favorite areas in Bali. A great mix of beach, nightlife, healthy food, and shopping. Canggu is a hip, trendy, and eclectic area filled with people from all around the world.
Where to Stay in Canggu
Kosone Hostel is a boutique hostel that any trendy traveler will love. This is not your average backpacker. It's equipped with a gym and events held every night to keep you busy and beach parties every Saturday.
Not a fan of hostels, check out Canggu Village Accommodation for private suites right next door. Instagrammers, this one is for you!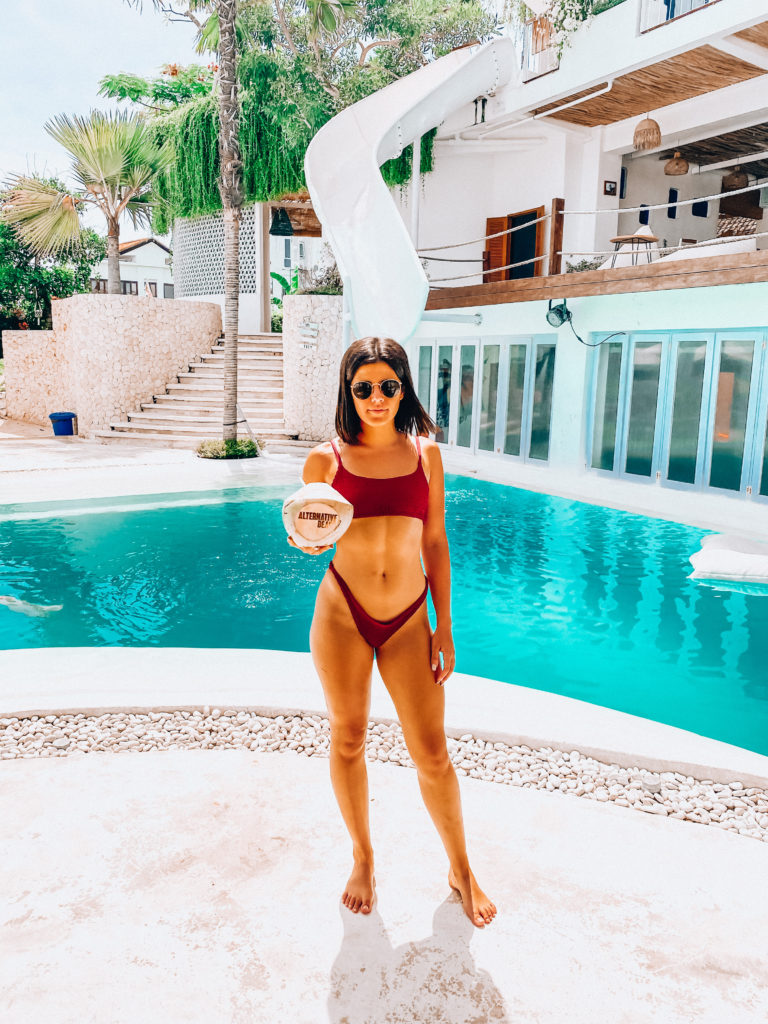 Areas to Visit and Places to Stay: Seminyak
Seminyak is a town right next to Canggu, filled with amazing streets to shop and some of the best beach bars and clubs.
Where to Stay in Seminyak
Want to splurge: The Seminyak Beach Resort & Spa
Mid-range: Potato Head Studios
Budget Friendly and oh so aesthetically pleasing: Lloyds Inn Bali
Areas to Visit and Places to Stay: Uluwatu
Uluwatu is known for its clifftop views and tranquil setting, filled with incredible beaches and villas for those looking to get away from the hustle and bustle.
Where to stay in Uluwatu
Want to splurge: The Edge Bali
Want cool boutique décor? Check out PinkCoco Bali
Areas to Visit and Places to Stay: Ubud
In Bali's uplands, Ubud is known for its traditional crafts, rainforests, rice paddies and temples. Bali's most famous landscapes are dotted across Ubud and should be on every traveler's itinerary.
Where to Stay in Ubud
Want to splurge: Hanging Gardens of Bali
Mid-Range: Firefly Eco Lodge. With loads of different suites, studios, and rooms to choose from, you will love this spot. Centrally located on a rice paddy, this is a traveler's Paradise.
To stay here, you will have to book via Airbnb.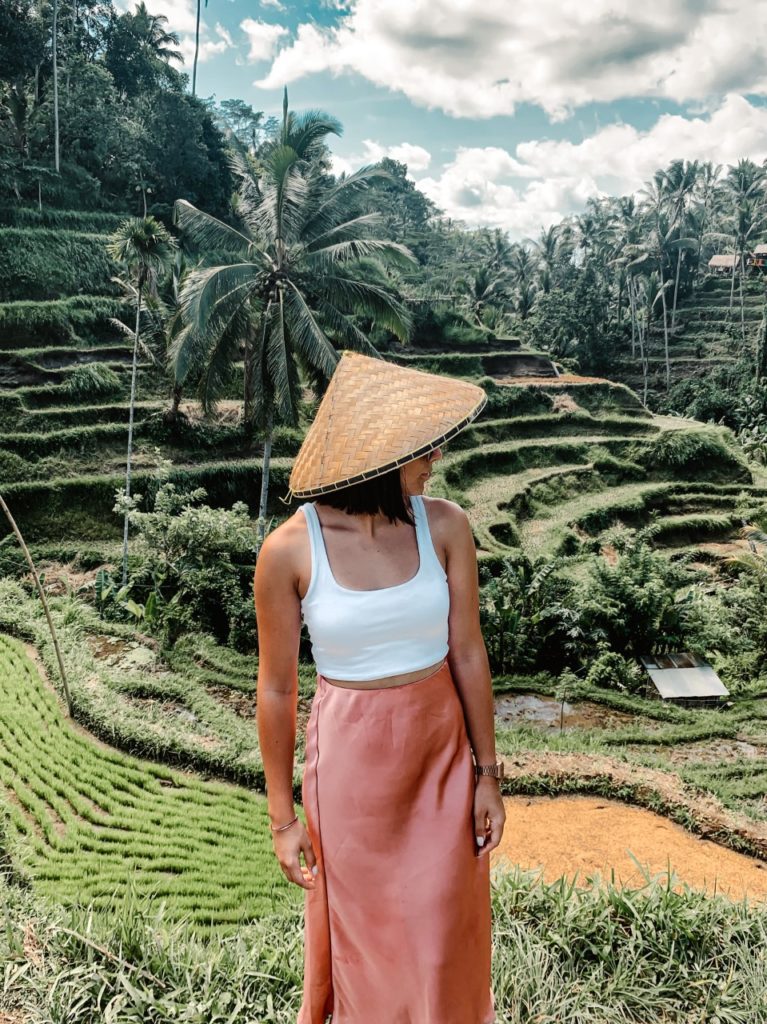 Areas to Visit and Places to Stay: The Nusa Islands
The Nusa Islands are a set of islands just off Bali's coast that will take your breath away. Some of the most serene beaches and undisturbed natural settings can be found amongst these islands.
If you chose to stay on one of the three, you could easily catch a ferry to the next island within a 10-minute boat ride for day trips.
Where to stay in The Nusa Islands
Nusa Penida
Splurge: The Mesare Resort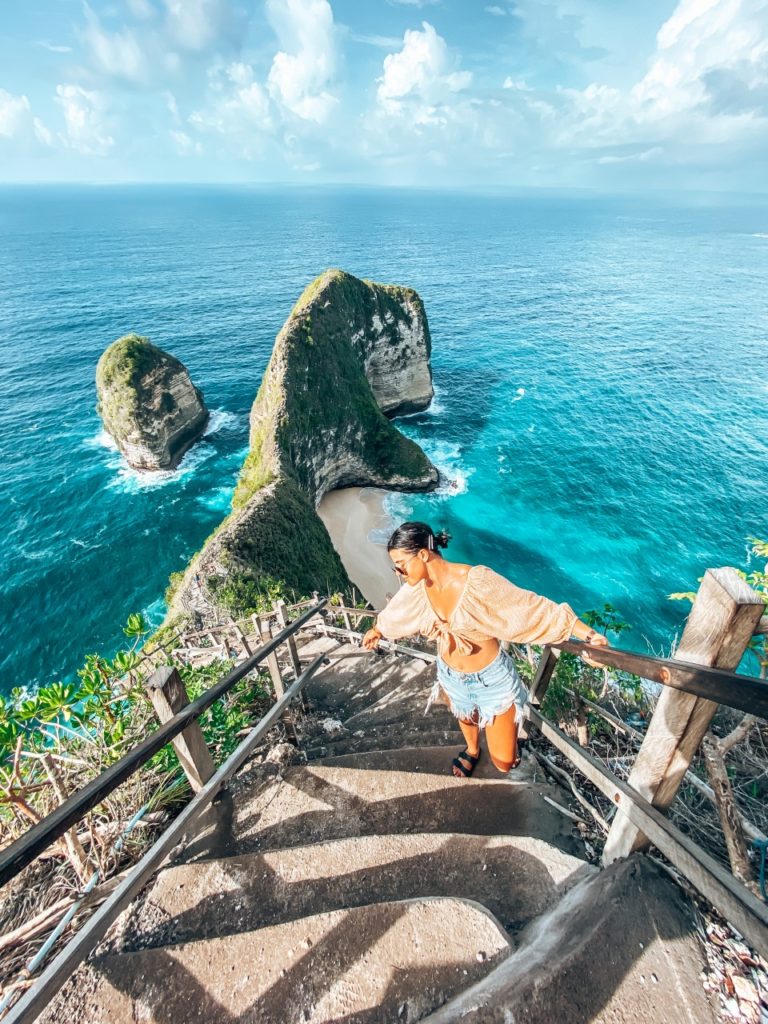 Nusa Ceningan
Affordable and Trendy, Le Pirate Beach Club
Other Cool Places to Stay
Bali is famous for its bamboo huts and villas, and if you are looking for a private getaway in the middle of a jungle oasis, then The Hideout Bali is for you.
Where to Shop
While traveling to Bali, you have to make sure you check out the shopping hub of Bali, which is on the south side of the island. You can find a wide array of cute boutique stores in Seminyak and Canggu. Kuta and Legian's area is where you will find the most popular malls (be sure to check out Beachwalk Shopping Mall).
Here is a list of some of the many stores you must drop by.
Uma & Leopold (stores in Seminyak and Canggu)
High-quality and high design. This store is well priced for the brand's unique handwork and signature detailing. The vibe is feminine resort wear.
COVE Island Essentials
Located in Canggu, this is a store that embodies the essence of dreamy island living.
Yoli & Otis
The linen haven. Think neutral colors that are a Bali trend, and you will love them because they are an eco-friendly brand.
Crate Concept Store
This store is a mix of eclectic and alternative designers. You can find a curated range of Bali's most sought-after boutique pieces.
Les. Basics
The name says it all. Here you will find your classic denim and t-shirt looks. They also offer lots of pastels and everyday pieces.
Lost in Paradise
Lost in Paradise is an island-like retail store that embodies a surf and beach style. A store with edge and summer staples. This is a Bali iconic brand.
Bamboo Blonde
This is a go-to shop for quick, affordable on-trend fashion pieces. Think pretty summer staples for everyday looks and beachwear.
Smile Clothing
Smile Clothing is a brand that's all about giving back. For every item sold, they donate a school uniform or shirt to those in need. You can find simple tees, shorts, and beachwear here.
Auguste the Label
This is an Australian born label that has become a popular store amongst tourists. They embody vintage florals and easy, relaxed pieces.
The Bali Tailor
LA streetwear and Coachella vibe. This store has made its mark in Bali by their custom made to order leather designs.
Eats & Bars
Canggu—
• The Lawn
• Crate Café
• Nalu Bowls
• La Brisa (great for sunsets and cocktails)
• Alternative Beach
Seminyak—
• Mrs. Sippy Bali—which is an all-day cocktail sipping and pool lounging
• KYND Community
• Motel Mexicola—which has excellent Mexican food and drinks, another Balinese nightlife icon
• Strawberry Fields
Ubud—
• Lazy Cats Café, a spot that doubles as a café, bar, and gallery
• Café Pomegranate—I promise you'll enjoy your meals with never-ending views of the famous rice paddies
• Akasha Restaurant
Nusa Islands—
• The Sand Ceningan
• Secret Penida Café
• Penida Colada
My Top 10 Must-See Sites and Things to do
Surfing in Kuta
You can reach out to any company in the Kuta region to go for a surf lesson. This is a popular activity in the area. Check out Mojo Surf School
Sekumpal Waterfall
This is by far the most incredible waterfall on the whole island. Located on the northern side of the island, you can take a day trip here from Ubud.
Love Anchor Market
On Sunday, this famous market in Canggu comes alive with people. Enjoy live music and loads of local vendors.
Tembeling Beach and Forest
On Nusa Penida, you can find this secluded site full of rock pools and a private beach.
Kelingking Beach
Brace yourself for thousands of tourists, and you will understand why when you see this glorious piece of earth. This is the famous spot of Instagrammers and photographers. The view from this clifftop is remarkable. If you want to enjoy this treasure in a quieter environment (highly recommend), get up at sunrise and head over before 10 am.
Diamond Beach—Nusa Penida
The climb down might be intimidating at first, but totally worth it!
Ubud Traditional Art Market
Tegallalang Rice Terrace
This famous spot that can be found in many brochures and travel company websites.
Tibumana & Tukad Cepung Waterfall
Located in Ubud, take a day out and visit these two waterfalls.
Manta Ray Snorkelling
If you are an ocean lover and want an unforgettable marine life encounter, make sure you head over to Nusa Penida during the manta ray season (August). I highly recommend this, but if you are still looking to snorkel, this can be done anywhere in Bali! I recommend taking a day trip out to the Gili Islands (Lombok) for snorkeling amongst the famous sites, and you are bound to see turtles in the crystal-clear water.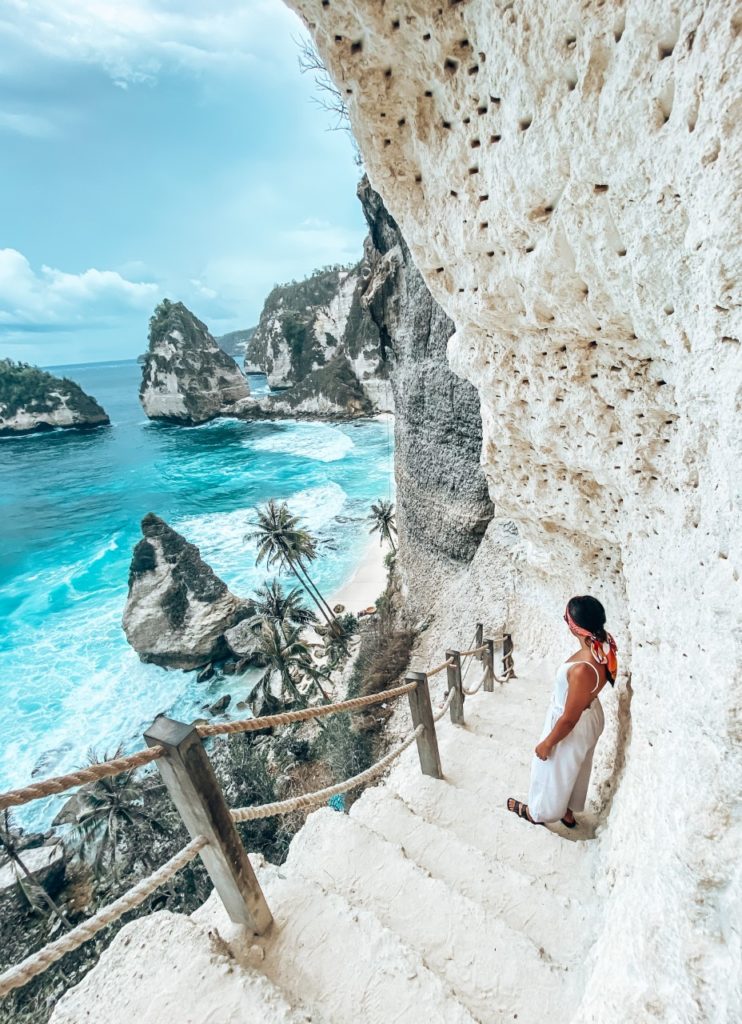 I hope the blog makes you confident in planning your next vacation while traveling to Bali or around the beautiful country of Indonesia—make sure to stay safe as well while traveling during these times! You won't regret this incredible trip.